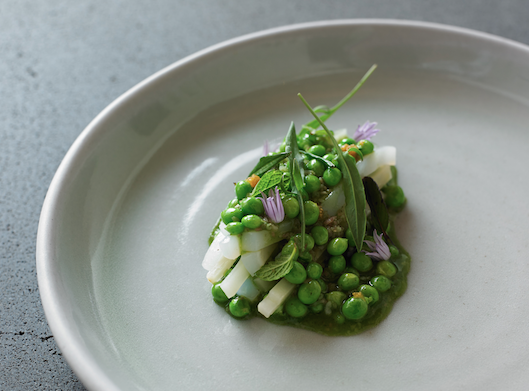 Joanna Simon's series on matching wines to wine country cuisine moves to Australia, and a complex contemporary calamari dish by chef Dan Hunter of Brae in Birregurra, Victoria.
I have two abiding food memories from visits to the Barossa Valley around the turn of the century.
One was having dinner with Peter and Margaret Lehmann at home in the kitchen. Peter had made a rabbit pie. It was nothing fancy—no one who knew him would have expected it to be—but it was all locally caught/grown and immensely satisfying, the rabbit meat in a white wine sauce with onion/leek, bacon, carrot and mushroom.
We tried a few wines, but the one we drank, the one that seemed to have been made for it, was a Peter Lehmann Margaret Semillon, its intense, rich lemon-curd flavour and lanolin texture cut by the ping of lemon-zest acidity.
I don't recall the vintage but early this year I was transported back when I drank a sumptuous, very much alive 2002 Margaret Semillon—there were the lemon curd, zest and lanolin, but with evolved notes of petrol, olive oil, and touches of patisserie and honey.
A revelation of local ingredients
The second memory is of dinner in a long-gone 16-seater restaurant called Landhaus, where the owner-chef was Sandor Palmai.
In comparison with the Michelin-starred, especially French restaurants I often ate in, it was a revelation of beautifully prepared, fresh, local ingredients put together with a feel for complementary and contrasting effects (and without obvious cream, butter or eggs).
Dishes such as seared blue fin tuna, apple and witlof salad, pomegranate dressing; roast shallot and celeriac tart, shaved parmesan and hazelnut dressing; duck confit and pistachio sausage, fennel marmalade). The seeming simplicity belying the expertise.
I thought of these when I was looking for a contemporary Australian dish for this series.
I could have chosen one from one of the excellent winery restaurants found in every region, but I wanted a current-day equivalent of Landhaus, where the dishes were not being created with wines from a specific winery in mind but to showcase the quality and character of Australian foods.
Chef Dan Hunter, now at his own restaurant, Brae, on a regenerative organic farm in Birregurra, Victoria, kept coming up. The farm produces seasonal vegetables, stone fruits, citrus, nuts, berries, olives, honey, and wheat grain.
Together with these, he draws on local farms and ethical, sustainable producers to create each day's changing set menu.
Calamari: Star of a complex dish
The dish Dan Hunter suggested is Calamari and fermented celeriac, barbecued peas and beef fat.
"The star of the dish," he said, "is local calamari, hand-jigged off the nearby coast and served with vegetables and herbs grown at Brae; young peas, celeriac, lemon myrtle, coriander seed, dill, chive flowers, Vietnamese mint, black mitcham, wild sorrel, and lemon balm. Beef marrow, pancetta, and smoke add a meatiness that brings all these flavors together to form a light, flavorsome stew."
It's a complex dish in terms of flavor and preparation, so it's not one for an inexperienced or time-poor cook or one without access to the fresh herbs.
The fermented celeriac takes three and a half weeks and the beef fat is made from veal marrow quickly smoked on a barbecue, liquified, boiled, skimmed, and sieved.
These two elements can be made in advance. The pea pods and larger peas are made into a juice and later mixed with pancetta that has been reduced to a paste and rendered in beef fat.
The small, sweeter peas are sautéed drizzled with beef fat over a barbecue. The calamari strips are cooked submerged in oil, then bundled with the celeriac in strips of the same size.
They are served on the pea mix, with the peas and juice, in turn, served on top with a few drops of toasted garlic oil and finally a scattering of leaves and flowers.
A lot to consider
It hardly needs saying that there is a lot to consider when it comes to the wine: The mild sweetness of the calamari, the gently salty tartness of the fermented celeriac, the meaty and smoky elements, the sweetness of the peas, the variously sweet, citrusy, peppery herbs, the tangy sorrel.
But the overall effect is one of harmony: nothing shouts over and above the rest.
It's not a dish that sits very readily with red wine. Tannin, body and assertive fruit can too easily overwhelm individual elements, but if you are wedded to the idea of red, choose a light-to-medium bodied, fresh, low-tannin wine, such as a Gamay, Cinsault, País, or Poulsard.
Even Pinot Noir tends to taste too sweet-fruited, and sometimes too oaky, but coastal Pinots that have a briny, salty, or seaweed accent and/or a savory, wild, or dried-herb streak can work.
Errazuriz Aconcagua Costa Pinot Noir 2020 has the saline, umami nori taste, although it's a little oaky to be perfect for the dish.
We are on easier ground with white wines, especially when notably textural in character.
Quite often it comes through vinification in concrete eggs or amphora, including with Semillon, although good Semillon—I'm thinking of the Peter Lehmann Margaret—has its own texture.
Pink and orange
It is worth looking out for amphora-fermented rosés too: I'm sure the Clos Venturi Sciaccarello from Corsica that I had last year would have been good.
Orange wines can also be very successful, as long as they're not at the extreme end of the spectrum.
Saddle Goose Skin-Contact Bacchus from England and LFE Macerao Naranjo from Chile are orange wines made from aromatic varieties—Bacchus and Muscat of Alexandria respectively—which pick up the sweetness and freshness of the peas and herbs.
Another wine/grape variety I recommend for its texture, concentration and quality, is Godello. Favorite producers include Rafael Palacios and Raúl Pérez.