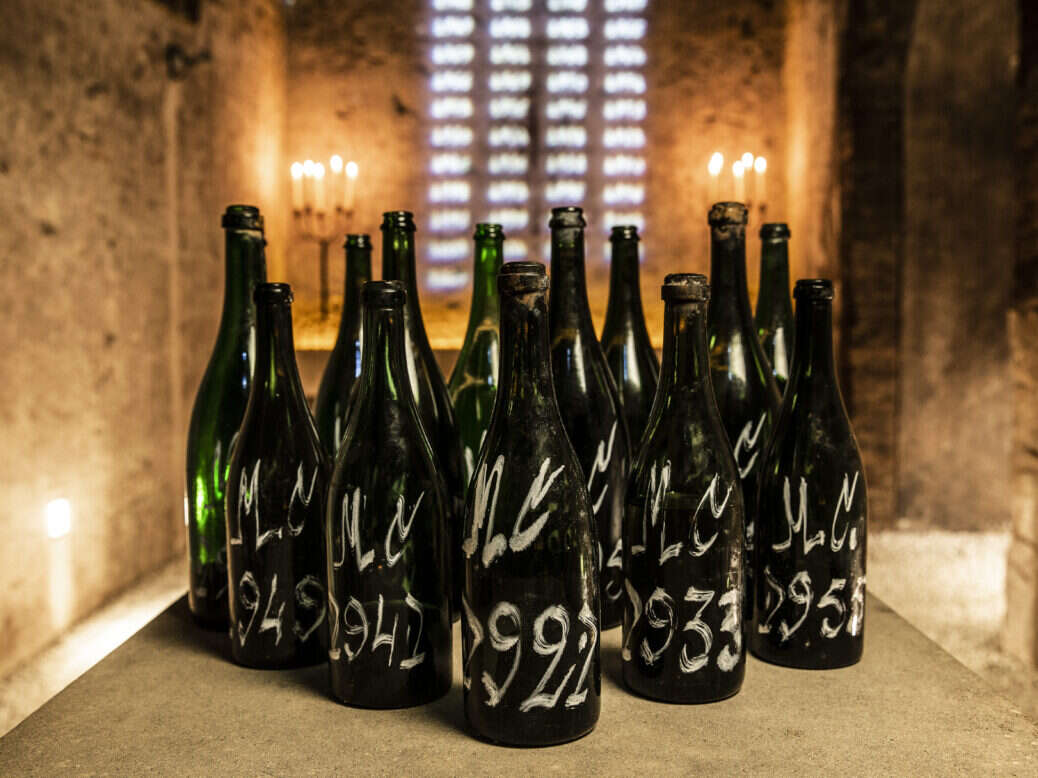 Over the past year, The World of Fine Wine has published hundreds of our writers' notes and scores on Champagne. Here we pick out some of 2022's Champagne highlights.
La Grande Année and La Grande Année Rosé 2014: The dream team
Essi Avellan MW kicked off a year of extensive Champagne coverage in WFW75 by tasting the latest vintage of Bollinger's La Grande Année, with the rosé clearly a preference over the white cuvée.
"Even if La Grande Année 2014 is not the cuvée's greatest vintage, it is a highly pleasurable, vibrant, and stylishly mineral one. To me, it is also showing hints of what is to come from the new winemaking team and viticulture. I was particularly impressed by La Grande Année Rosé 2014," Avellan said. 
"This soulful wine famously gets its pink color and unique character from the red wine of Bollinger's iconic La Côte aux Enfants plot. In the fascinating Bollinger Coteaux Champenois tasting I was lucky enough to do with Denis Bunner in 2021 (see WFW 73, pp.88–90), I was enchanted by the pleasurable elegance and seamlessness of the red wine  from 2014. So, I was delighted but not surprised to see that the wine works  its wonder in La Grande Année Rosé, too. It took only 5% of that joyous red to create a rosé of character and silky suppleness."
Bollinger La Grande Année Rosé Champagne 2014
Essi Avellan MW: Atop the pleasurable and vibrant Grande Année 2014 as the base, the red Pinot Noir wine from the Côte aux Enfants vineyard blends in perfectly, creating a Grande Année Rosé of effortless beauty and seamlessness. The wine comes with a bright, orange-hued peachy color. There is a sweet strawberry note to the nuanced nose of cherry, peach candy, vanilla, licorice, and quince. It is still youthful, with the rainbow of berry aromas dominating. Yet the refined spiciness comes forward more on the silky-smooth palate of utterly sophisticated phenolics. The overall impression is elegant, if vinous, with the brisk acidity enhancing the feeling of lightness and vibrancy. The wine ends on a gourmand, savory and fruity note. A gorgeous Grande Année Rosé. This bottle was disgorged in August 2021. | 95 with the potential for 97
Krug Vintage vertical: Swooning in a surfeit of perfection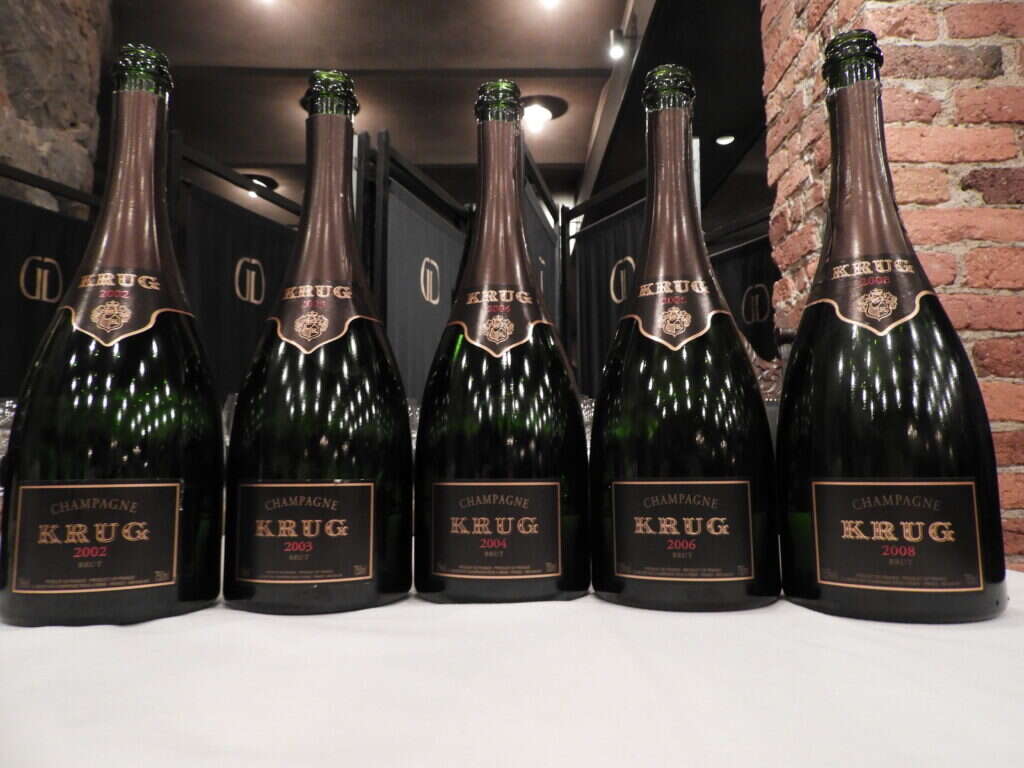 Also in WFW75, Simon Field MW joined a group of 25 lucky collectors in Stockholm for an unprecedented and thrilling tasting of all 17 released Vintage Krugs from 1976 to 2008, convened by the Champagne connoisseur, Marina Olsson 
It was, Field said, "A great treat, all in all, with few solid conclusions to unpick from the deluge of superlatives. I think, however, that I have great confidence in the quality and style of the younger wines and that, of  the more senior wines, I was especially impressed by two from the early '80s, though I was a little surprised when their identities were revealed. My top scores went to 1988, 2002, and, once again, 1996. If this, on reflection, can be seen as a benevolent variant on Stockholm syndrome, bring it on. Oh, to be trapped once again in a cellar with 24 bottles of Krug."
Krug Vintage Champagne 1988 
(50% PN, 18% PM, 32% C)
Simon Field MW: The coolest year of the famous trio it initiated, and now justifying the early praise from the wisest of critics. Good things come to those who wait, and all the rest of it. Surprisingly full-bodied, pineapple-rich, a creamy, generous style. Orange blossom, clearly defined crystallized lemon, yet with precisely defined salinity on the finish. Very long, high-toned, a Degas ballerina: pliée, tendue, degagée. | 97
Krug Vintage Champagne 1996 
(42% PN, 26% PM, 32% C)
Simon Field MW: Delicious nougat, buttered toast, quince. Creamy, lively, evolved profile; firm acidity. Long and powerful, linear yet broad at the same time; a deft weave of tension and chalky potential. Big-boned, magnificent cathedral-like structure, and spellbinding poise. Macadamia nuts and spice on finish, generous and yet not too generous. This is ultra-fine Champagne. | 98
Krug Vintage Champagne 2002 
(40% PN, 21% PM, 39% C)
Simon Field MW: Astonishingly young yet self-assured. I initially presumed that this was the 2008, but then the sheer depth of flavor and persistence pointed back to that other great recent vintage, 2002. Fine, almost ascetic acidity, hints of cinnamon and anise behind the citric fruit; forget the concerto, this is magnificently symphonic. An unfinished symphony, in some respects. | 97 
Côte des Bar Champagne: Embracing the other
Avellan and Field were joined by Anthony Rose for our first Champagne panel tasting of the year, which focused on the wines of the Côte des Bar. 
"With lush, round, and fruity Pinot Noirs and wines of more singular expressions than the polished blends from farther north, Côte des Bar Champagnes do stand out," Avellan said. 
"With the increasingly united messages of varietal and single-terroir wines, topped with the curiosity factor of the historical varieties and the undeniable potential for still Coteaux Champenois wines, the Côte des Bar has intriguing stories to tell."
It also has wines, such as the panel's overall favorite, from Champagne Clandestin, "fine enough to lure ever-more involved Champagne consumers to leave the beaten paths for new discoveries."
Champagne Clandestin Les Semblables Boréal Blanc de Noirs Brut Nature Champagne 2018 (12% ABV) | 92
Essi Avellan MW | Pretty peachy color. Appealingly fruity strawberry jam, yellow apple, candy, pencil shavings, and peach nose. Really clean and crisp fruit. Generous palate, with a fine, soft mousse and a seamless feel. Fruity, medium-long finish, ending on a dry note. | 90
Simon Field MW | Distinctive pale copper, very pale at the rim. A powerful nose, blue and red fruit, blackcurrant leaves, hints of thyme and lemongrass, then wild strawberries and quince; complex, in other words… The palate is generous, the berry notes nicely defined and clearly etched, the dosage well managed, and the finish strong. Gastronomically impressive, but certainly nice enough to approach on its own. A successful and honest statement of a blanc de noirs Champagne. | 92
Anthony Rose | A pale rose-gold in color, this could be a rosé if it wanted to, at least on color. It has an alluring bouquet combining fresh berries with complexing light toast and malty notes of autolysis; the bubbles are fine and persistent, and the texture is raspberries-and-cream rich, with flavors that linger—or at least you want them to—before inevitably dissipating slowly as they turn from ripe sweetness of fruit to savory, the zesty acidity helping to keep the balance right to the end of the road. | 93
Moët & Chandon Grand Vintage: 1921–2013: Champagne that will never be forgotten
Tom Stevenson broke the habits of a working lifetime as he traveled to Epernay for a once-in-a-lifetime tasting of selected Moët vintages from every decade over the past century. 
"I seldom accept invitations to join a press trip, preferring to visit where I want, when I want. And I never party," Stevenson said in WFW76.
"But this was a press trip like no other, offering the chance to taste selected vintages from every decade over the past 100 years—and yes, this time I did party, as fresh bottles of 1921 kept flowing! Who wouldn't?"
Moët & Chandon Grand Vintage Collection Champagne 1921 (75cl)
71% Pinot Noir and Meunier, 29% Chardonnay.
Disgorged à la volée, no dosage, 12.5% ABV.
According to my records, the breakdown of this Moët vintage was 35% Pinot Noir, 20% Meunier, and 45% Chardonnay. Although 1928 is probably the greatest Champagne vintage of the 20th century across the board, it is 1921, not 1928, that is definitely Moët's greatest 20th-century vintage.
Like 1961 in Bordeaux, the "secret" of 1921 in Champagne was how the negative elements of the growing season conspired to wreck the volume of the harvest, while ideal conditions before and during picking lengthened the veraison and ripened the crop to perfection. Black frost occurs when the humidity is so low that the dew point falls so far below freezing point. This is why there is no moisture to whiten, making the frost invisible as it penetrates the plants so deeply and quickly that it has a far more deadly effect than normal.
Between April 11 and 14, 1921, daytime temperatures soared to summer levels of up 82°F (28°C) and humidity plummeted correspondingly, causing the vine's metabolism to go into overdrive, pushing out sap and new growth everywhere. Then on the nights of April 15 and 16, black frost destroyed 80 percent of the potential harvest—but that tiny crop slowly ripened to magnificent effect.
This was not my first taste of Moët 1921, but it was my first taste à la volée. The pale color and brightness of this 100-year-old wine in 75cl bottles is astounding, as is its freshness, without a hint of oxidation. It is so linear, with an amazingly long, tapering acid-line.
There is no weight of fruit as such, just a vertical intensity that goes on and on so far that only Mrs Doyle could do justice to its length. The fruit is pristine, and there is even the prickle of a mousse that gently collects on the inside of the glass, even though it has had 100 years to escape and 3 percent of the gas has escaped before it was even poured. How can you not give a full 100 points to such a wine?
I would ask any serious taster failing to score 100 points for Moët 1921, what more could you possibly expect from a 100-year-old Champagne? If you commissioned a winemaker to produce a Champagne to last 100 years, would you truly be disappointed with such a result? Could you even imagine such a result? Of course not. This is a 100-point wine. It is beyond great. | 100
Moët & Chandon Grand Vintage Collection Champagne 1921 Brut (75cl)
71% Pinot Noir (35/20), 29% (45) Chardonnay.
Disgorged April 2012, dosage 7g/l, 12.5% ABV.
This is the disgorgement that was served at dinner with breast of Ardennes chicken, albufera sauce, bolete mushrooms, and salty crisp chicken skin. It was every bit as fresh as the à la volée version, but more complete, with additional notes of slowly evolved toastiness, more creamy texture, and a silkiness on the finish. All three 1921s are fully deserving 100 points, but I have used plus signs to indicate my order of preference. Very similar to the February 2013 disgorgement. Beyond great. | 100+
Moët & Chandon Grand Vintage Collection Champagne 1921 Brut (75cl)
71% Pinot Noir (35/20), 29% (45) Chardonnay.
Disgorged February 2013, dosage 7g/l, 12.5% ABV.
We drank this disgorgement in the bar, after dinner, bottle after bottle. It is the same disgorgement as my Christie's masterclass in 2014, and if I had been told it would be as fresh as this in another seven years, I would not have believed it. I used to believe that the older the Champagne, the less post-disgorgement aging required; and when they get this old, six months would probably be best and to drink all remaining bottles as quickly as possible, because they might last but will not get better.
On the other hand, Benoît Gouez was always adamant that the older the Champagne, the longer it needed, and when organizing a special WFW tasting, he always preferred to give such wines at least two or three years after disgorgement. I'm sure there is a graph that shows I'm right for the first 30-odd years and Benoît is right thereafter. He is surely right here. Not certain I could tell which of these two disgorgements is which, and I probably rate this as my ultimate best because I drank so much of it in the bar! | 100++
Organic and biodynamic Champagne: green fingers
Moving back to the present day, a region not always known for its environmental sensitivity is at last embracing sustainable practices, with a wide range of high-quality organic and biodynamic wines now available, said Essi Avellan MW as she introduced our second big Champagne panel tasting of the year in WFW77: an impressively varied tasting of organic and biodynamic Champagne she shared with Sarah Marsh MW and Anthony Rose. 
"A great selection of organic and biodynamic Champagnes is already available, as this tasting proved," Avellan said.
"Even more exciting is what is still in the pipeline. Given that 1,790ha (4,314 acres) are in conversion—a process that lasts three years—and that the wines will age for a minimum of two years prior to release, we can look forward to many more organically certified Champagnes."
Champagne L'Angélique (Sébastien Mouzon / Mouzonn Leroux) Les Fervins 7 Cépages Verzy Grand Cru Brut Nature Champagne 2016 (organic; 12.5% ABV) | 93
Essi Avellan MW: Deep lemon color. Lovely tones of complexity from maturation on the layered nose. Brioche, spice, and dried fruits. The palate comes across as more austere, after the promising aroma-bomb of a nose. Tight with tension, but the fruit could show more of its charms. | 90 
Sarah Marsh MW: Creamy frangipane aroma. Indulgent and sumptuous but refined at the same time. Opulence and restraint combine on the palate. It is rich and full-bodied, with supple muscularity. Notes of stem ginger and cumin are enhanced with a touch of aromatic cigar box. I love the alluring aromatics and the burly freshness and sheer vitality of this wine. | 96
Anthony Rose: There's a pale lemony hue to this fizz, which hits its stride immediately with a fresh, stylish aromatic character derived both from toasty autolysis and fruit, a character that continues in its bright, fresh-fruit flavors carried on a fine mousse of bubbles that dissolve in a fizz of good vinosity; a textured fizz, in other words, which is also a wine of vibrant, full flavor, combining orchard fruit with a succulently tangy dryness, all beautifully balanced and refreshingly, saltily dry on the finish. | 94