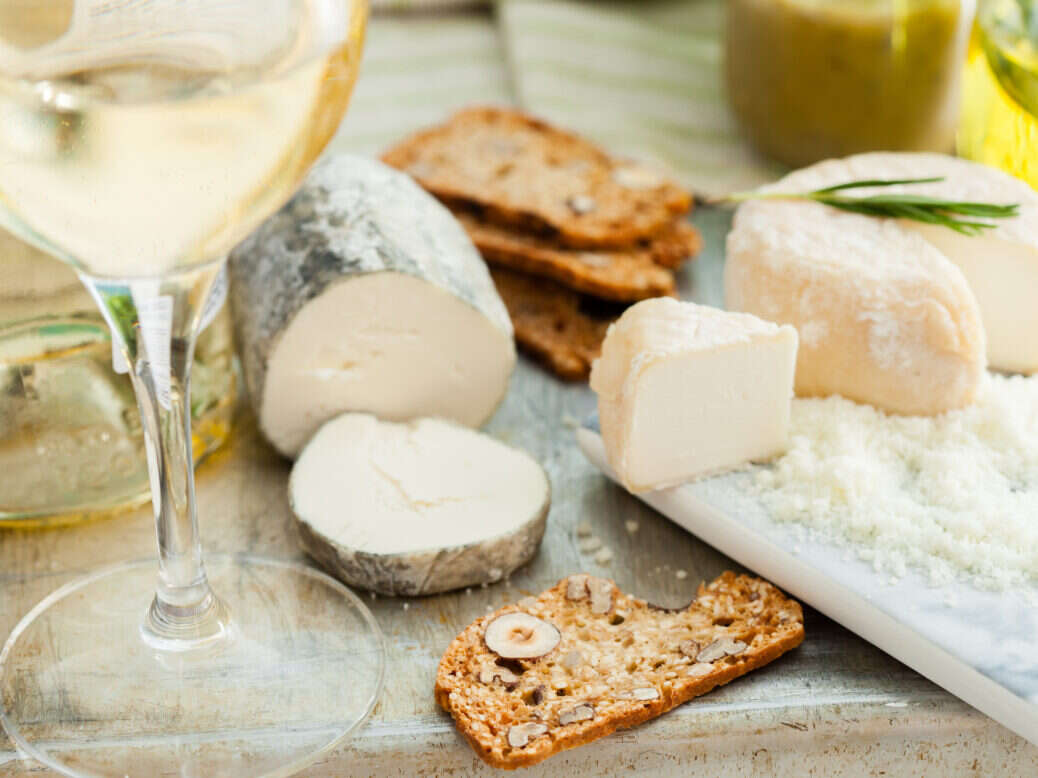 In the first part of a new series, Joanna Simon speaks to winners of The World's Best Wine Lists to discover the best wines to pair with cheese, before adding some delicious ideas of her own.
If I had a dollar for every time someone looked at me with a mixture of disbelief and horror when I said that red wines were seldom the best wines to pair with cheese, I would be rich. Sorry about the cliché, but it makes the point. Ask any sommelier and the chances are that, while they can suggest some good red wine and cheese pairings—most involving hard or semi-hard cheeses—when it comes to two or more contrasting types of cheese, especially if one is either washed rind or goat's cheese, dry red wines will come down the pecking order.
What is it about cheese? Perhaps it's so obvious the question hardly needs answering, but, for the sake of clarity: cheese can be very mild (which has its own considerations for wine), but often it's strong in flavor, sometimes to the point of pungency; most is high in fat; many are acidic; it can be very salty; it may have a dry, crumbly texture or be mouth-coating, almost gluey; and it can combine several of these attributes in one mouthful.
It may be a delicious mouthful, but it's no wonder that few cheeses are a shoo-in with an array of wines. Add in the way some cheeses change dramatically in texture and strength of flavor, throw in personal preferences—one person's perfect Camembert is dry and chalky, another's is cheese that runs as if the sluice gates had been opened when it's cut—and the challenges are obvious.
Who better to rise to the challenge of pairing wine and cheese than winners in the World's Best Wine Lists 2022?
The best wines for cheese
It's not so much best wines for cheese, of course, as for cheeses, unless there are some one-size-fits-all wines. There have to be, surely? Otherwise, restaurant trolleys groaning with perfectly matured cheeses and plated selections wouldn't exist. But which are the cheese-pairing wine paragons? Which is the best wine to pair with a cheeseboard? I have a few candidates, but over to the sommeliers first.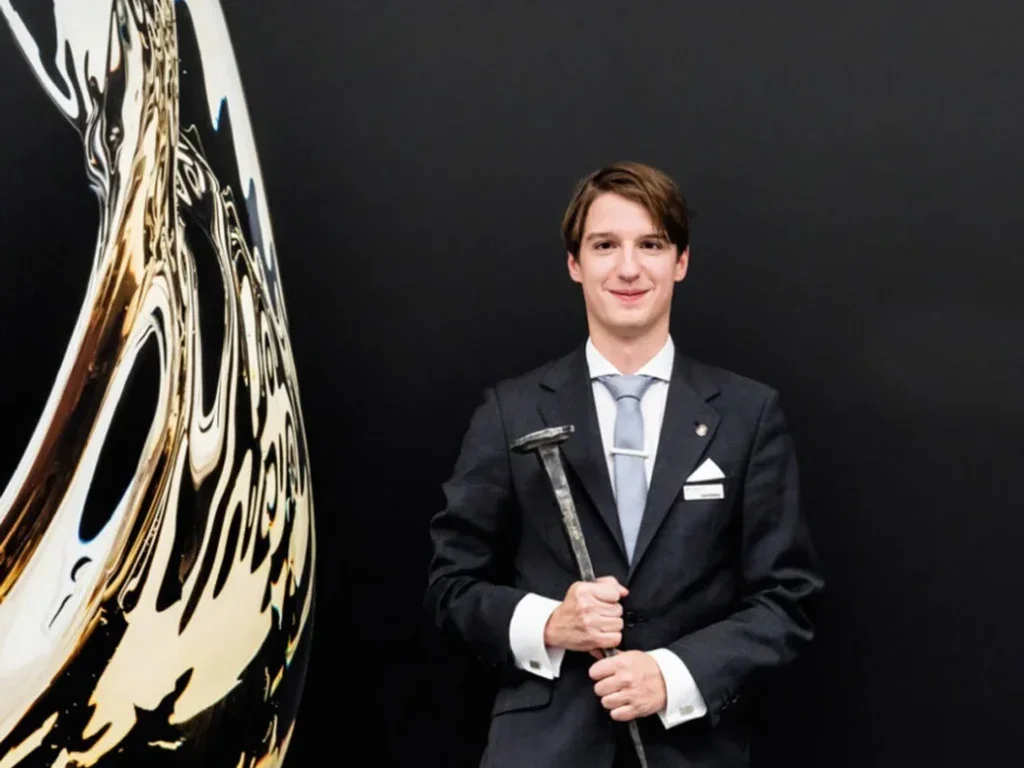 Marc Almert, reigning Best Sommelier of the World and chef sommelier at Baur au Lac Vins in Zurich, winner of our Best Hotel Wine List in Europe award, believes the best allrounders are wines with no or low tannin, a high fruit component and, ideally, a certain acidity. This leads him to off-dry Chenin Blanc (Vouvray or Montlouis) or Tawny Port. He also notes that aromatic whites such as Gewürztraminer and off-dry Pinot Gris excel with some cheeses.
Daniele Palomba, head sommelier of Matteo's at Annabel's, London, winner of Best Regional Wine List in the World (outside the region), for Italian wines, favors sweet wines: most of the different cheeses on a board are best paired with sweet white wines, she says.
At ëlgr Restaurant in Cape Town, winner of Best New Wine List—Middle East and Africa, sommelier Le Roi van de Vyver's is on a similar page to Marc Almert, but thinks you really need more than one wine, preferably three to five. His three are port, an oaked fruit-forward white, such as Chenin Blanc or Semillon, and an aged red in which the tannins have softened, for example, a mature Bordeaux or a Vino Nobile di Montepulciano. His fourth and fifth choices are a young fresh white such as Sauvignon Blanc or Riesling and an off-dry Gewürztraminer or even a Moscato d'Asti.
Pressed to choose just one, he would pick an older (around 10 years), lightly oaked or extended lees contact, off-dry Chenin Blanc, such as Longridge Ou Steen from Stellenbosch or a Vouvray such as Château Moncontour's off-dry La Belle Angerie, but he says that most people find a well-aged port the easier option.
My view is that tannins in red wine and the texture of many cheeses are the two most problematic aspects. Tannin can be tackled with naturally low-tannin reds or mature, mellow reds. If guests insist on red, Marc Almert suggests Gamay, Pinot Noir or aged Bordeaux. I would add a good Rioja Crianza or mature Reserva.
Alternatively, tannin can be counteracted with sweetness: think Port. There's also an affinity and balancing effect between sweetness and saltiness; hence port and Stilton.
As for texture, Marc Almert agrees that it makes many wines taste astringent, but Le Roi van de Vyver finds the opposite. "The texture is actually a big plus as it helps everything mould together […] I'd say the most difficult [element] is the strong flavor."
When it comes to the best wine for blue cheese, the message from sommeliers is clear: the classic match with port endures. But it isn't the only message. Another is that Port isn't only for blue cheeses like Stilton (or only for Christmas). Thanks to its sweetness—and in the case of aged Tawny or old vintage port, its mellowness—it complements most cheeses, if not necessarily the milder, fresher or delicately creamy ones.
Another message is that while Port shines, it's not the only pairing. Daniele Palomba likes the elegance of Recioto della Valpolicella, in particular Quintarelli. Marc Almert suggests mature Sauternes (the classic pairing with Roquefort). I would add Tokaji Aszú 5 Puttonyos for creamy blues as well as for Stilton, Bual Madeira, Recioto di Soave for Gorgonzola Dolce, and Sauvignon Blanc with Stilton, matching acid with acid if you want a lighter, dry wine.
Chenin Blanc
There were sommelier votes for both northern and southern hemisphere Chenins, the latter for oaked Chenin and the former for off-dry Loire classics Vouvray and Montlouis. The choice of Chenin gave me food for thought (and happy experimentation), as it isn't a wine I usually think of for a cheeseboard unless membrillo features.
Port
For blue cheese, port was the pairing, but Marc Almert at Baur au Lac Vins fine-tunes it, saying the creamier the blue the better it is to have a younger style of Tawny or Late Bottled Vintage. Personally, I like the depth and intensity of mature Vintage Port with Stilton, but also like fuller-bodied Tawnies (for example, Noval 20 Year Old), especially with Colston Bassett Stilton.
Sweet white
There's a good case for pairing sweet white wine with a cheeseboard, although it may not harmonise well with goat's cheeses. It doesn't have to be a botrytised wine like Sauternes, but it needs good concentration and acidity. At Matteo's at Annabel's, Daniele Palomba's wine of choice to pair with "any kind of cheese, soft or hard" on a cheeseboard is the Tuscan Ornus dell Ornellaia 2007, a late-harvest Petit Manseng.
Champagne
If only diners thinking of Champagne with dessert would have it with cheese instead. The natural acidity and slight sweetness of Blancs de Blancs or a Brut blend acts as both foil and complement to many cheeses—and the bubbles are a bonus, cutting the texture then melting into it. If it seems surprising, remember that several cheeses are produced quite near the Champagne region, among them Brie de Meaux, Maroilles, Chaource, and Langres. Champagne is also notably good with Parmigiano Reggiano.
Chablis
No sommelier mentioned it but, for me, the oyster-shell minerality, nuttiness, crème fraiche texture and tang, the power allied to elegance, fluent linearity and all-round complexity of a Chablis Premier Cru make it a match for many cheeses. Sauvignon Blanc may be better with young goat's cheeses, but Chablis handles many bloomy and washed-rind cheeses, ultra creamy cheeses such as Brilliant Savarin, waxy semi-hard cheeses (like Beaufort), and hard crystalline cheeses (like Parmesan).
Sherry
I think the nuttiness of oxidative Sherry is an unsung hero of the cheeseboard, especially Palo Cortado and Amontillado and including with a touch of sweetness. Oloroso also works with many cheeses, although can overpower delicate ones. Similarly, Verdelho Madeira, with its characteristic tang, is another versatile fortified for a cheeseboard. Vin Jaune—unfortified, but tangy and nutty—is another.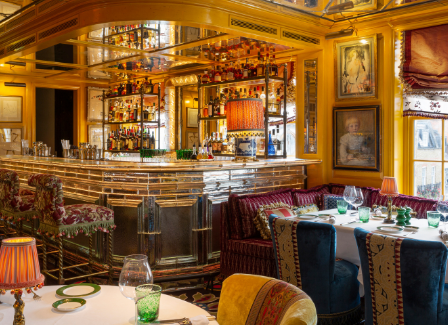 Can white wine pair with cheese?
I have no doubt that white wine pairs with cheese, its acidity cutting through the fat, and many, probably most, sommeliers agree. Le Roi Van de Vyver at ëlgr goes further: "I'd rather ask: 'Can you go without?' […] Please have white." Marc Almert at Baur au Lac Vins has "had many sensational pairings with Rieslings with some sweetness. Dry white wines work well too, think Sancerre and Crottin de Chavignol or Dézaley with Gruyère.".
But there are dissenters, among them Daniele Palomba at Mateo's at Annabel's: "I would not," she says, "I believe cheese would be too strong in flavors and intensity […making…] dry white wine taste dull."
What is the best wine-cheese pairing?
For Marc Almert it's creamy cow's cheeses like Brillat Savarin or aged Camembert with Blanc de Blancs Champagne. (I'm with him on the Brillat Savarin, although I also like it with Chablis Premier Cru.) For Le Roi van de Vyver, the best pairing is Huguenot (semi-hard, brushed-rind, Jersey-milk cheese aged for 6 months) with oaked Chenin Blancs, especially Ken Forrester FMC 2009.
Finally, for diners set on red wine, I suggest: Mimolette or aged Gouda with fine, mature Bordeaux (a classic match); Comté, Manchego and hard sheep cheeses from southwest France with Rioja Reserva or good Crianza; goat's cheese with crunchy, young Loire Cabernet Francs (not from really hot vintages); and 24-month Parmigiano Reggiano with Amarone.