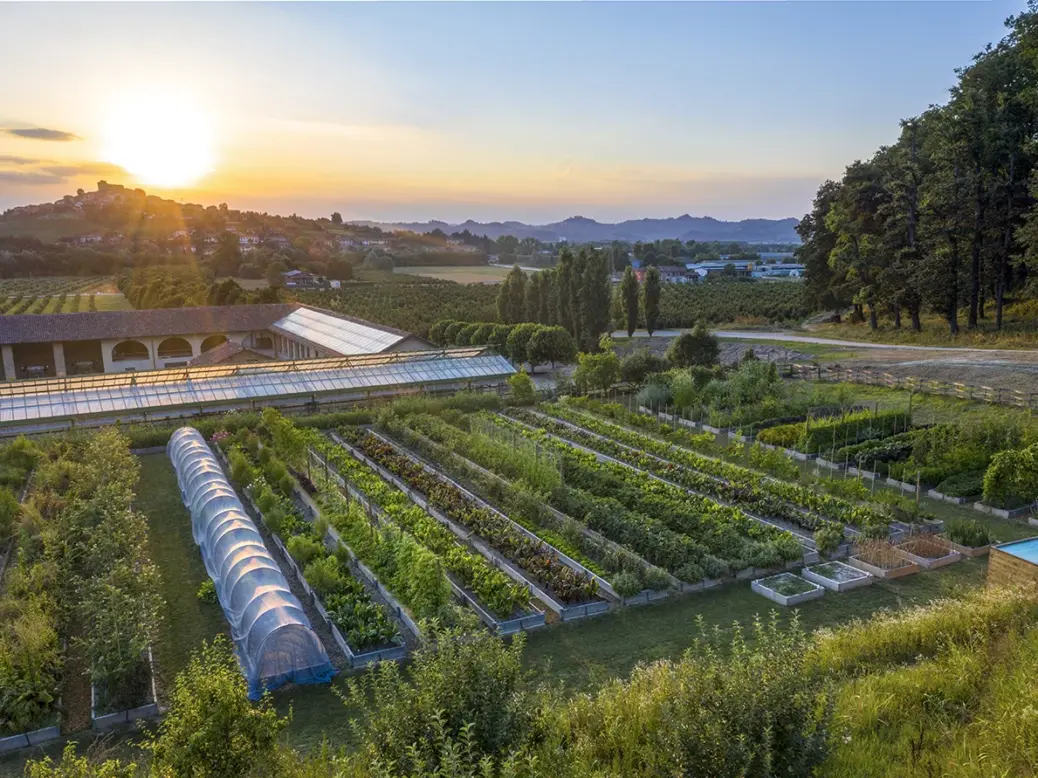 Joanna Simon enjoys an 11-course meal matched with the Barolo and Barbaresco wines of Ceretto at the family's Piazza Duomo in Alba, the only three-Michelin-starred restaurant in the region, supplied from its own garden.
There's nothing like a white-truffle hunt to work up an appetite for dinner, especially in Piedmont on a dark evening in November. In truth, though, an appetite-whetter was scarcely necessary—successful and diverting as the foraging was, thanks to truffle licensee Carlos and his dog Buck. The dinner in prospect was at Piedmont's only restaurant with three Michelin stars and the only triple-starred restaurant in the world to be owned by a wine producer (owner also of the private Monsordo-Bernadina estate where we were truffle hunting), and we were to have the Barolo menu.
Piazza Duomo in Alba was started from scratch by the Ceretto family of Barolo and Barbaresco fame. A gastronomic restaurant had long been a dream of Bruno Ceretto, and when he met chef Enrico Crippa in 2003, he knew "at the first bite of a pumpkin and Gorgonzola brittle" that this was his chef. Piazza Duomo opened two years later—along with La Piola, an informal restaurant serving typical Langhe cuisine—and won its first Michelin star the following year. By 2012, it had its third.
Before we get to the dinner, I should give some context. Ceretto, I hardly need to say, is a renowned producer of Barolo, Barbaresco, and other Langhe wines, not least the white Blangè. It was the success of this pioneering dry Arneis in the 1960s that funded the expansion of the next decade, a key element of which was the identification and purchase of individual plots in Barbaresco and Barolo by Bruno and his brother Marcello. At the time, the idea of pinpointing soils and making single-vineyard wines in Piedmont was almost unknown. They released their first such wine, Asili Barbaresco, in 1973.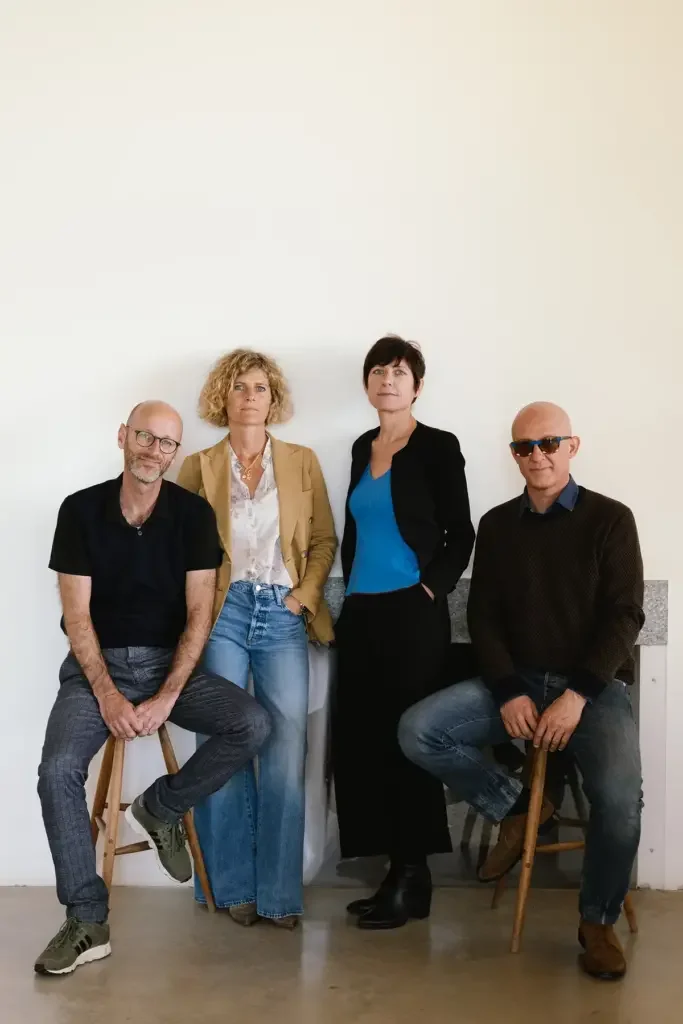 But there is more to Ceretto than wine and restaurants. The family is also a patron of contemporary art and modern architecture, as well as a Langhe hazelnut grower and artisan nougat producer (Relanghe). It's this focus on the region that makes Ceretto different from other successful wine producers. Instead of investing in high-profile wine projects around the world, the family has chosen to invest only locally, bringing people, enterprise, and money into the region all year round. 
The most famous artwork is the renovation, completed in 1999, of a neglected chapel. Built in 1914 but never consecrated, the Cappella di Santissima Madonna delle Grazie, now known as the Barolo Chapel, had come with the purchase of the Brunate vineyard in La Morra in 1970. It was being used as a tractor shed when the Ceretto family met artist David Tremlett in the 1990s and commissioned him and, at his suggestion, Sol LeWitt to transform it.
LeWitt covered the outside in startling, primary colors, a dramatic, modern statement standing amid the age-old vineyard-clad hills all around; Tremlett painted the inside in more muted tones. They were paid in wine, a bottle a week for the rest of their lives, originally all Barolo but in time both asked for a selection. David Tremlett, whom Roberta Ceretto, CEO and Bruno's daughter, describes as "a great friend," continues to receive his annual 52 bottles. LeWitt died in 2007, but his widow, with whom the family is still in contact, asked if the arrangement could continue, and she still receives some wines. (I'm tempted to become an artist myself.)
A more terroir-focused, purer-fruit style
Returning to the vineyards and wines, let's get the figures out of the way in one go. Ceretto has 180ha (440 acres) of vines and produces one million bottles a year, half of which are Blangè and another 300,000 of which are Moscato. The 25ha (62 acres) in Barolo and Barbaresco produce 50,000 bottles of blended Barolo and Barbaresco and another 33,000 of single-vineyard wines. The latter, the jewels in the crown, come from vineyards on higher slopes and older vines in various crus. The six in Barolo are, in descending order of size—from 5.3ha (13 acres) to 0.25ha (0.6 acres)—Brunate (in La Morra), Prapò (Serralunga d'Alba), Bricco Rocche (a Ceretto monopole in Castiglione Falletto, not that you can call it a monopole in Italian wine), Bussia (Barolo), Rocche di Castiglione (Castiglione Falletto), and Cannubi San Lorenzo (Barolo and, in effect, another monopole). The three in Barbaresco are Bernadot (4.3ha [10.5 acres] in Treiso), Asili (1.15ha [2.9 acres], Barbaresco), and, bought in 2018, Gallina (0.3ha [0.74 acre], Neive). There's also a vineyard in San Giuliano, purchased a couple of years before Gallina, which, for now, is going into the Barbaresco Classico. 
More interesting than the statistics are how the style of the wines has evolved over the past ten to 12 years and the fact that volume has decreased by about half this century, thanks to much stricter selection, less focus on Arneis, and conversion to organic (certified in 2015) and biodynamic farming (uncertified). The only exception is Blangè, for which they were obliged to buy in some grapes and forego organic certification in both 2021, thanks to hail, and 2022, thanks to drought. Fingers were crossed for benign conditions this year.
Apart from the impact lower yields have had on style and quality, there has been a transformation in winemaking under Marcello's son Alessandro since 2008, with the aim of allowing greater expression of terroir rather than taking the wines in a predetermined direction. Fermentation and maceration are shorter, and new oak has been cut from between 50 and 60 percent at the turn of the century, to between 5 and 10 percent. Alessandro favors large, oval Stockinger casks for aging (10, 15, and 20hl), though barriques are still used for the malolactic. Spontaneous alcoholic fermentation has been part of the mix since 2009. It took a few years to get right, but the pied de cuve method is now used for all single-vineyard wines. These are also unfined and unfiltered.
While the more terroir-focused, purer-fruit style is now well established, it is clear that things are not set in stone. Tucked away in the Monsordo Bernardina estate winery (the main winery and HQ), I spotted some amphorae. The intention hadn't been to show them to me, but, well, it was too late. I was told that Alessandro has been experimenting with them for the past four years but "isn't ready to talk about them yet." I hope to be there when he is—and may I suggest that a dinner in the pale pink, fresco-walled Piazza Duomo with Enrico Crippa's cuisine would be the perfect setting. Talking of which…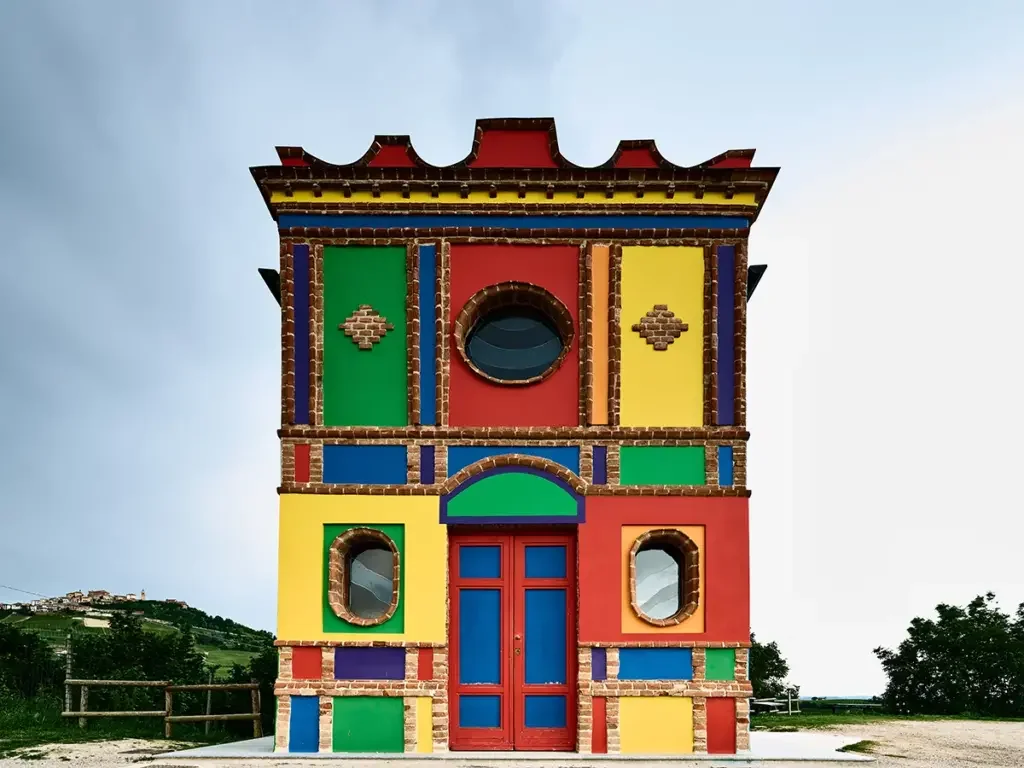 Inspired by the past, looking to the future
The Barolo menu grew out of lockdown, when Crippa was researching life in the Langhe and the history of Barolo. Discovering that Barolo was already being served in the royal House of Savoy during the 19th century with dishes such as risotto, venison, and hare, he reinterpreted these, together with peasant dishes of the region—all the while keeping the vegetable element that is a linchpin of his cuisine. Every morning, he goes to choose from among the heritage varieties of common vegetables and up to 400 other vegetables, herbs, and edible flower species cultivated in Ceretto's own organic and biodynamic garden and greenhouse. On the morning I visited, he had long since departed with all of his pickings for the day ahead.
The dinner comprised 11 courses, served with seven wines—Barbaresco and Barolo from 1989 to 2016, after kicking off with Barolo Chinato (aromatized wine) and soda with The Turin Apéritif. Seeing the Chinato on the menu, I confess that my immediate reaction was that it was a missed opportunity to serve another Langhe wine, but it gradually became clear that choosing any one wine for the seven complicated, playful, and exquisitely presented canapés would have been a minefield. They included soft chickpea sandwich, chicken mayonnaise, and marinated egg yolk; eclair stuffed with cooked salami; Russian salad, soy mayonnaise, aspic, and crunchy vegetables; and crunchy lettuce with tuna sauce. 
Tasting
Ceretto Barbaresco Bernadot 2010
Wine grower's salad
The wine—deep garnet, thinning at the rim—looked and smelled more evolved than it turned out to be. On the nose, the sweet intensity of prunes combined with a more exotic element—incense and sandalwood—and with deeply umami smoked bacon. The palate brought dark-chocolate depth and graphite, then surprising freshness and satin-smooth tannins, both equally welcome. 94
Wine grower's salad is a lettuce-encased mix of crunchy lettuce, hazelnut, Madernassa pear (a local cooking pear: perfumed, sweet, firm, tannic), green sauce, and veal tongue. The pairing worked, the graphite freshness and minerality in the wine playing it out with the fresh, green elements of the dish, the umami notes finding their match in the tongue and what I'm sure was some cheese, and the satin tannins giving the wine just enough support.
Ceretto Barbaresco Asili 2016 (in magnum)
Ceretto Barbaresco Bricco Asili 1999
Snails and polenta
Cardoon and cardoon
The 2016 was radiant ruby and had a bouquet to match: ethereal yet intense, very floral, with bright, sweet, red fruit. The palate was beautifully structured and choreographed, with a mineral focus, silk-chiffon texture, and pure, sweet fruit through to the finish. Probably all the better for being from a magnum. 96
The 1999 (same wine under its previous name) was richly savory and umami at first, with meat broth dominating and then prunes, wood, and cocoa powder in its wake. The palate was dense and umami-accented but had a freshness that wasn't evident on the nose, and the tannins were mellow with age but, even so, not as refined as in the flowing 2016. Overall, a bit foursquare in comparison. 92
The polenta cream with the snails is made from corn and buckwheat and served with wild herbs and leaves. The cardoon (cooked sous-vide) comes with cardoon cream, anchovy cream, hazelnut crumble, and a lavish covering of white truffle. The umami character of the 1999 resounded with the snails, but not more so than the more youthful 2016, and the latter was more in chorus with the oh-so-dainty-looking but flavorsome fresh herbs and leaves. Both wines were made for white truffle and handled the cardoon dish well, but I preferred the 2016 with the cardoon and anchovy. I can't deny that that could be because I preferred it as a wine.
Ceretto Barolo Brunate 2013
Potatoes, lapsang souchong and white truffle
The 2013 is the first vintage where the new-style winemaking is fully evident. Palish ruby, with a lovely, spicy fragrance; it had a distinctive strawberry streak that carried onto the palate, and there was a hint of orange peel that did the same. All in all, elegant, airy, and fine-grained, with sweet fruit and fresh acidity in lingering harmony. 94
The potato dish is a cream made from Alta Langhe potatoes sprinkled with lapsang souchong powder and enclosing a quail egg marinated in lapsang souchong, all generously covered with white truffle. Much as I liked the wine, the dish was so rich that it appeared to emphasize its acidity and the orange-peel note, making it seem a little thinner. I felt the more solid 1999 Bricco Asili was better suited.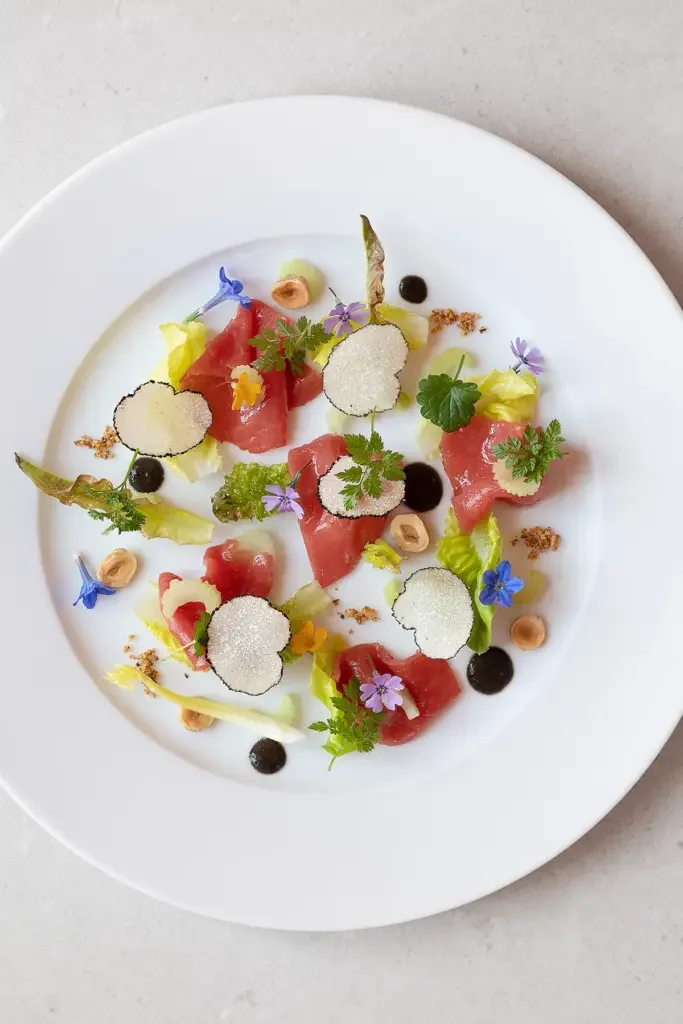 Ceretto Barolo Bricco Rocche 2006
Ceretto Barolo Bricco Rocche 1989
Risotto rooibos
The 2006 had an intricate, unusual perfume, encompassing orange blossom and fresh orange, peach and apple, sandalwood, oak, and hazelnuts. The palate, lively and concentrated, with ripe tannins, deftly pulled together what might seem the slightly disparate notes of the bouquet. 93
The 1989, deep ruby-garnet and thinning at the rim, was a definition of old-style Barolo, with prunes, dried cherry, sweet leather, and truffle, and tannins that were dry but not scratchy (however hefty and unapproachable they must surely have been originally). At 13 years old, the wine was complex and compelling and given vitality by a ping of fresh orange peel. 93
The risotto is made from carnaroli rice and involves an orange reduction, rooibos powder, bacon, and a China calissaja reduction (a key spice in Chinato). Rooibos is not a favorite of mine, but I liked the contrast with the creaminess of the risotto, even if I found the dish a little too salty. The salt, with the rooibos and the orange reduction, found their match in the younger wine. The 1989 came into its own with the lamb and hare that followed.
Ceretto Barolo Cannubi San Lorenzo 2010 (in magnum)
Lamb and chamomile
Hare à la royale
Ceretto bought the diminutive 0.25ha (0.6-acre) Cannubi San Lorenzo from the Bishop of Alba in December 2002 (the Duomo's roof was in need of repair) and releases the wine after 10 years' aging and in magnums only—just 500 on average. The 2010 had a sublime nose: spice, incense, summer berries, and peonies, interwoven with a subtle undertow of savory meatiness and minty, herbal freshness. The palate was detailed and mellifluous, the tannins sleekly subsumed into a gossamer-fine texture, the power and concentration worn effortlessly elegantly. A complete wine in every way. 96
Lamb is a friend to so many red wines, and the fat-rich chop—served with a goat-cheese cream, chamomile reduction, and leaves from the garden—was no exception. The wine's understated richness, savory undertow, and refined tannins were a match for both lean flesh and fat; its spice, fruit, and delicate minty freshness were at ease with the chamomile reduction and the fresh leaves. The Bricco Roche 1989 was supremely confident with the lamb and the goat-cheese cream, but the acid-salt intensity of the reduction and the perky flavors of the leaves slightly challenged its drier tannins. It was more assured with the intensely umami hare dish—a small, smooth, dense sphere (hard to describe, but majestic) with foie gras cream and black truffle served with a civet sauce (marinade reduction)—but the dish was equally flattering to the more elegant power of the Cannubi San Lorenzo.
Plin with fondue cheese and cugnà
Before we reached the desserts, there was a cheese course, a homemade Piedmont raviolo filled with Fontina fondue and served with cugnà, the Langhe's jam-like relish made from hazelnuts, grape must, and apples. Were I choosing a Langhe wine to pair with this, I would have picked Blangè Arneis or a Langhe Dolcetto or Nebbiolo. The Cannubi San Lorenzo and the 1989 Bricco Rocche more or less stood their ground, but the soft cheese and concentrated cugnà did them no favors.
Ceretto Vignaioli di Santo Stefano Moscati d'Asti 2013
Panna cotta Matisse
Zabaglione cream with Savoie biscuits and chocolate bonet
Yes, you read that correctly, 2013 Moscato, and yes, it was still fresh—thanks to its acidity. The aromatic intensity was honeyed with age and freighted with spiced apricot and orange fruit. Accompanying a complicated assembly of panna cotta, paper-thin sweet fruit and vegetable squares, zabaglione, different biscuits, and bonet (a Piedmont chocolate crème caramel) was never going to be easy, but the Moscato acquitted itself with credit.