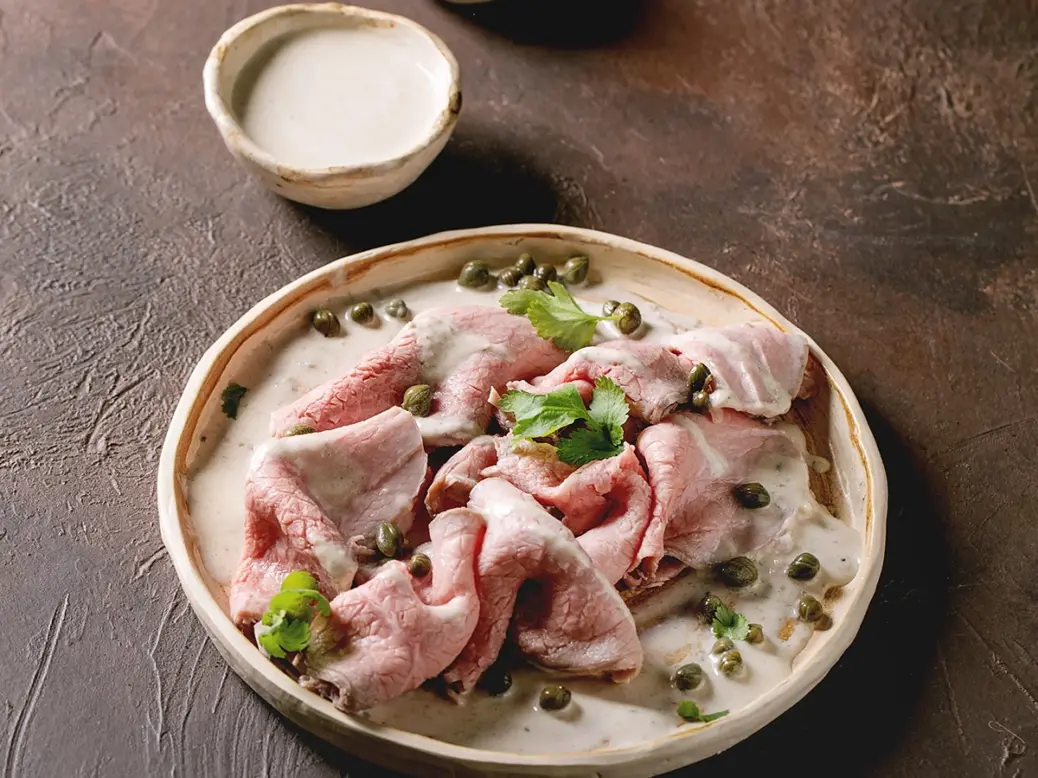 Just because vitello tonnato is relatively simple both in terms of preparation and its limited number of ingredients, it doesn't mean that there are none of the usual discussions about what is authentic; not least perhaps because this cold antipasto (appetizer) of sliced, poached veal covered with a tuna sauce is a classic dish in two different and distanced countries: Italy, where there is little doubt that it originated, and Argentina, where its name, vitel toné, is very like the Piemontese original vitel tonné.
In Argentina (where less commonly it's called ternera atunada), it's a traditional Christmas dish and is sometimes made with beef, pork, turkey, or beef (ox) tongue, rather than more expensive veal. In Italy, where veal rules, it's also predominantly a summer dish and often served at family gatherings on Ferragosto, August 15, the Feast of the Assumption of the Virgin. 
Dishes of leftover veal with sauces that included various combinations of anchovies, capers, lemon, and oil—ingredients that were traded through Piedmont and coastal Liguria—existed as early as the 18th century. Tuna was a later addition, probably dating from the 1870s or 1880s when the fish began to be canned. 
The first written recipe for vitello tonnato is firmly dated to 1891, appearing in Pellegrino Artusi's La scienza in cucina e l'arte di mangiare bene (The Science of Cooking and the Art of Eating Well).
It's hard to overestimate the importance and influence of this book. Written by a wealthy retired silk merchant for family cooks, rather than the professionals for whom most cookbooks were written until then, it was both practical and wittily anecdotal. What is also of great significance is that it gathered in one place for the first time regional recipes from all over Italy. By 1931, there had been 32 editions and it was one of the most-read books in Italy, alongside Pinocchio and the novel I Promessi Sposi (The Betrothed). It remains a best-seller and there are English, German, and Spanish translations, among others.
In Artusi's recipe, the boneless cut of veal is larded with two anchovies before being poached in water flavored with onion, cloves, bayleaf, celery, carrot, and parsley. The sauce, spread over the cold, thinly sliced veal, consists of tuna in oil, anchovies, extra virgin olive oil, lemon juice, and capers (drained of their vinegar). What it doesn't include is egg, either hard-boiled yolks pounded with the tuna and anchovy before the addition of oil and lemon and finally capers, or mayonnaise. 
Although there is no mention of either eggs or mayonnaise in the description of vitello tonnato in The Oxford Companion to Food (1999), it seems to have become popular during the 1980s. Already in 1980, in Marcella Hazan's The Classic Italian Cookbook, homemade mayonnaise is the first ingredient of the sauce and there's no suggestion that it can be made without mayo, or with hard-boiled egg yolk. The same applies to the Concise Dictionary of Gastronomy (2001) by Anna del Conte.
My wine pairings are based on tonnato sauce made with mayonnaise (which I agree with Marcella Hazan has to be homemade) and they are for veal, although I sometimes use the sauce in the same way for cold pork or tongue (pig's tongue in preference to beef in my case). The pairings don't vary that much, although tongue seems to make this umami dish even more umami.
While its popularity is testament to the triumphant combination of relatively few ingredients, it's not the easiest to match to wine. It's deeply umami and yet veal—even rose veal—is a fairly delicately flavored meat. There's also the richness of the mayonnaise and the contrasting sharpness of the capers to take into account. 
White wine would seem to be the obvious choice, but the savory character of the dish can overemphasize fruity and floral notes. Equally, its richness can make mineral, high-acid whites seem blade-thin.
The "when in Rome…" principle points to white wines such as Roero Arneis and Gavi di Gavi, but these are often too floral in the face of vitello tonnato. Instead I would head for the sort of Verdicchio that has ageing potential, such as Tenuta di Tavignano Misco Riserva Castelli di Jesi, or Soave Classico, especially wines such as Pieropan's La Rocca and Calvarinho. Fuller versions of Vermentino, including Clos Culombo from Corsica and Rolle-based white Provence, are another option. 
Other whites to consider from outside Italy include Godello and Verdejo from Spain; Chablis Premier Cru (as so often), although not in its steeliest, tautest manifestations; dry Furmint from Tokaji, such as Barta Öreg Király Dulo; Santorini Assyrtiko with an oak component; South African old-vine Semillon; and Chenin Blanc from both South Africa and the Loire. 
I've left Chenin until last, but over the years the complexity, fruit purity and mineral tension of serious Chenin Blancs, especially from old vines, preferably with a few years' age, have proved some of the best pairings, among them Savennières, such as Domaine aux Moines Roches aux Moines, and Cape Chenins such as Old Road Wine Company Anemos 2020 (Coastal Region) or Mullineux Old Vines White from Swartland.  
Complex Provence rosés that improve with age, above all Garrus from Château d'Esclans, are another favourite match. Corsican rosés based on Sciaccarellu have also been successful, too. 
There are some red wine pairings I like, too, and here the "when in Rome…" approach works for Nebbiolo d'Alba and other Langhe and Alto Piemonte Nebbiolos, served cool. Another grape variety that has worked well down the years, again served cool, is Cabernet Franc from the Loire, although climate change and improved viticulture and winemaking mean that some wines are now too ripe and full—not for their own good, but specifically to accompany vitello tonnato. The dish needs some of the grape variety's leafy freshness and no overt oak or tannin: a good producer's entry level Saumur rouge or Saumur-Champigny from a medium-ripe vintage does the trick.