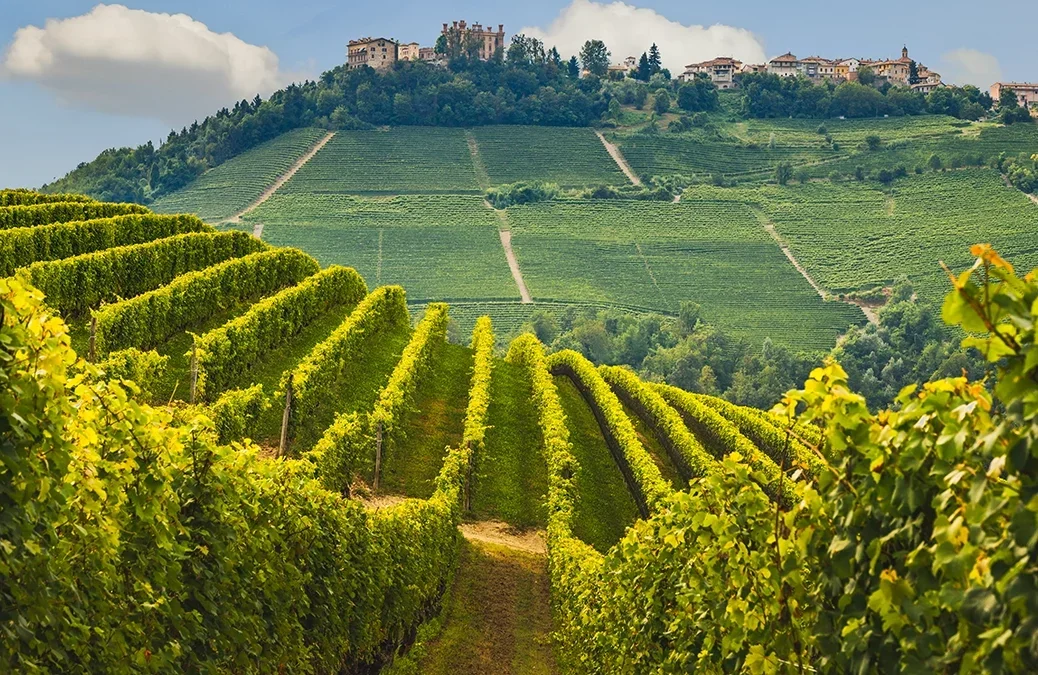 While it may not be a great vintage—and while it is certainly a step down from its high-performing predecessor—some attractive, drinkable wines in a lighter, "Pinot-like" style were made in Barolo in 2018, says Andrew Jefford, as he introduces a tasting shared with Bruno Besa and Michael Palij MW.
This is an extract from an article first published in Issue 79 of The World of Fine. For full tasting notes and scores for all 49 wines tasted by the panel, subscribe to The World of Fine Wine.
To what extent might winter weather underpin vine performance (and, with it, harvest quality) over the succeeding summer? The topic is underresearched and the subject of little press comment—for now. We may begin to pay it more attention, though, as climate change sinks its fangs into viticulture's jugular. A hot summer, once regarded as an unqualified blessing, will take on sinister allure if subsoils have not been adequately loaded with moisture during winter and spring. One reason for the success of the French vintages of 2018, 2019, and 2020, even though each broke records for heat, was the fact that the summer sun beat down on well-stocked subsoils. Winter frost and snow are precious, too. Climate-change disruption of the polar vortex makes mid- or late-spring cold snaps increasingly likely. Just how damaging they are will largely depend on winter's rigor. A warm January and February will have unlocked buds prematurely—to catastrophic effect.
After the fierce "Luciferian" heat and early harvest of 2017, what did Barolo's Nebbiolo vines need most over winter? Ample rain and extended cold in which to lie dormant, rest, and recover. What did they get? Exactly that. January saw "Snowmageddon" in the nearby Alps, with nearly 8ft (2.4m) of snow falling in 48 hours over the weekend of January 6–7 in Bonneval-sur-Arc close to the Italian border. In February, temperatures plunged to 18°F (-8°C) in the Langhe, with more snow toward the end of the month. And the celestial taps were hammered open, too; every month from January to May saw higher-than-average precipitation in Barolo. By May, indeed, the moisture was proving problematic; rain fell on 24 days in that month, and the sticky Barolo marls rendered vineyards inaccessible just when vine growth and disease pressure was at its worst. If this pattern had continued into June, the vintage might have been catastrophic—but it didn't, and it wasn't. Summer barged into the Langhe in June, drying the vineyards and firming the marls; July and August, too, were very hot, though the after-effect of all that spring rain was a tropical tinge to the heat. There was some local hail damage in August, with Serralunga suffering worst. The end of the season cooled, with the return of the rain in September inciting some growers to pick early; most, though, hung on for a "proper" October harvest.
Not a faultless script, then, but certainly a workable one: a full, unabbreviated season; adequate summer heat; unstressed vines. Perhaps there was a bit too much water about, for once; disease pressures were intermittently acute; vegetation and crop-load needed a careful eye; there were several moments of difficult decision-making for growers; and the harvest asked for some sorting, with a thoughtful approach and a delicate touch in winemaking. Navigate all of that, though, and something beautiful could be made in Barolo in 2018.
Barolo 2017: Weathering the storms
2018 Barolo: Generous in spirit
It's clearly not a great Barolo vintage; the growers told us that. Many of them opted not to make the single-vineyard cuvées they might do after truly cellar-seeking years; and more generic Barolo cuvées were made than in recent years, because different commune lots were considered best bundled. When we tasted the 2017 vintage, 33 wines in our tasting crossed the 90-point bar, and we found 19 wines meriting a score of 92 points or more (out of 52 wines scrutinized); for 2018, those figures are 25 and 11 respectively (out of 51 wines)—a clear step down. Readers are advised to pay more attention than usual to the lower order, where there were sometimes disconcerting failures. It is certainly a vintage to pick through carefully.
"Something beautiful," though, was indeed possible; the best 2018 Barolos are subtle, graceful, tender, allusive, scrutable. Michael Palij MW draws attention to their "charming aromatics and ripe tannins—surely the name of the Nebbiolo game," while Bruno Besa also pointed with approbation to their "finesse and charm." These are not wines that you will have to wait a long time to open; all have skipped happily into bottle with their arms flung wide, though the best will linger agreeably for a decade or so.
They have all the qualities that classicists relish, and are in general more "Pinot-like" after this switchback summer than they would have been had Lucifer come swaggering back into town. Most are fresh; none are tough. They may not be amply endowed but they are generous in spirit, delivering such loveliness as they possess freely—and in unusually drinkable guise, too. (I've never written "gluggable" about a Barolo until this tasting.) Just choose carefully.
What of the communes? As usual, I have compounded every score given to every wine by commune (or blend), then divided by the number of wines to reach an average score per commune per wine. Hail or no hail, Serralunga was (as usual) the clear winner, with a total of 276.63 (eight wines submitted). We tasted only three wines from northerly Verduno, but the average of 272.67 put that commune in second place, again true to recent form. It was followed by a good showing for La Morra in third place (270.22, based on nine wines). Then came Barolo (269.22; nine wines), Castiglione Falletto (268; three wines), and Monforte (266.72; 11 wines). The six blended wines we tasted brought up the rear, perhaps significantly in this vintage (266.5). This is a snapshot based on the wines we had a chance to taste rather than any kind of comprehensive or systematic scrutiny of relative commune success, and it may be a reflection of grower skill as much as propitiousness of site. For all that, it is, perhaps, a useful finger in the wind.
The top 5: The best of 2018 Barolo
Luigi Baudana Barolo Baudana Serralunga d'Alba (14.5% ABV) | 95
Bruno Besa | Bright ruby to pink. Compact, a touch closed on the nose, but layered red fruit, youthful, and complex, with roses, tar, violets, and blood oranges. Sweet, rich red fruit, mineral, with fine tannins, crushed stone, and a lively finish. | 96
Andrew Jefford | Clear, bright black-red. Softly fragrant, gently articulated (as so many 2018s are), with ample creamy grace. Teasing pomegranate and rosehip aromatics, with a lovely creamy bass note. Super aromas. Very much as the aromas on the palate: soft, gentle, graceful, teased to a point of perfect ripeness, with singing red fruits to provide energy and lift, and ample cream to smooth the wine's flow and tannic mass over the tongue. Skilled work here, and a compellingly beautiful wine. Spellbinding tannins over ultra-graceful fruits: How can you not fall in love with this? | 96
Michael Palij MW | An attractive and delicious nose, with cranberry, pomegranate, redcurrant, hay, licorice, and genuine Nebbiolo complexity. The palate shows a lovely progression of flavors, with the fruit supported by all that telltale structure. This is a superb example of 2018 Barolo, with all the aromatics and supporting components in place. Delicious. Drink now or keep. | 94
Ca' Rome' (Romano Marengo) Barolo Rapet Serralunga d'Alba (15% ABV) | 95
BB | Ruby to garnet pink. Intense, classic Serralunga, with a compact, mineral, salty nose. Medium to full body, refined tannins, clean, lively, and salty, with small red fruits and a long, fresh-mint, rosewater finish. | 95
AJ | Dark, clear black-red. Bright and glinting. Sweet, warm, and forthright. Finely crafted red-fruit aromas, with gentian, root-spice freshness. Very inviting. Vivid and deep; searching and spicy. Bright and impeccably defined fruits, but ample, firm, supporting tannins: deep textures and resonant flavors. Grand, resonant wine, with absolutely no sense of warm-vintage strain. A long, serene, but athletic finish. Top-notch. Could it be creamier or plumper? A touch—but there is so much else here to enjoy that you won't feel the lack. A truly dramatic wine on the palate. Tour de force. | 95
MP | Discreet and Burgundian nose, with very ripe red fruit including rhubarb and plum, beetroot and hawthorn. The tannins are pretty obvious and occlude the fruit, and the question is whether these will ever resolve. The finish, however, suggests that this has plenty more to give. It's long, complex, and not dominated by wood. Given the structure and concentration, this has a very bright future ahead of it. Keep and wait for the magic to evolve. | 96
GD Vajra Barolo Coste di Rose Barolo (14.5% ABV) | 94
BB | Garnet to pink. Refined on the nose: small black and red fruits, fresh herbs, violets, and roses. Medium-bodied, balanced and clean, with a lively, salty palate and a long, herbal finish. | 92
AJ | Translucent, bright red-black. Sweet and warm, soft, elegant, enfolding aromas of great grace and charm. Cherry and cherry blossom alike. Ample presence and tannic seize on the tongue, and tongue-coating concentration, too. Big, ample, broad-chested Barolo ready to enfold you in its embrace. Very much of its vintage in terms of warmth, and straightforward in its approach—but so much to like here. A big mouthful of broad, muscular fruit. Lots of inner fruit drive and lift. | 92
MP | The nose is perfect, with notes of violet, licorice, tinned strawberry, saddle leather, hawthorn, and rose petal. This envelops the palate with fully ripe tannins and a lovely streak of acidity that holds everything to account. The fruit highlights that ephemeral Nebbiolo complexity, with floral, red- and black-fruit notes all there. Keep this and watch it improve—a superb example from this vintage. | 97
Poderi Luigi Einaudi Barolo Cannubi Barolo (14.5% ABV) | 93
BB | Garnet to tawny. Closed, earthy, tobacco, cedar-wood nose. Medium body, fine tannins, sweet black and red fruits, and a long, herbal finish. | 93
AJ | Bright and clear; limpid garnet. A very good nose here: sweetly refined and poised, graceful and long. Lovely chiffon fruits teased to maximum aromatic accessibility—you want to sniff and sniff. Ample, expressive, warm, and long—the classical throb of Barolo di Barolo in a great vintage. The ripeness is just beautiful,glowing on the tongue like some pearl illuminated from within. Stylistically, it is very well judged; tender tannins, long, to match the glowing fruits. Honestly, it is not the subtlest wine in our tasting, but I challenge any Barolo lover to open a bottle of this, pour it out, and not smile, smile, smile. | 94
MP | Sweetly elegant red fruit, showing plum, damson, currant, strawberry, raspberry, and sandalwood. The palate is refreshing, with lively acidity and a solid core of focused red fruit, supported by fine tannins. The finish is long and has notes of leather, wet leaves, and damson. A lovely shape that just needs a little time in the cellar. | 92
Giacomo Fenocchio Barolo Villero Castiglione Falletto (15% ABV) | 93
BB | Bright ruby to garnet. Clean, compact, intense, and youthful on the nose, with red cherries crushed stones. Medium-bodied, balanced, and layered, with sweet red fruits and a long, mineral finish. | 93
AJ | Bright, light, and translucent. Elegant, fresh, fragrant, floaty, and layered. Lovely aromas, sliding out over the wine like mist on the water in autumn. Sweet but fruit-poised. Almost salty on the palate here, and very tenor, light and lifted—a completely different style of tannins, for example, from the Baroli di Barolo we have just tried. Grippy, light, seizing, aerial: a kind of drone wine that flies over everything, recording what it sees from the air. Very good in that style, but the actual fresh fruit notes are restrained. (That's the terroir at work—and by the way, most Barolo producers are very good at not deforming that.) Super Castiglione, but you must remember you are getting something very different from Barolo di Barolo or Monforte. | 92
MP | Complete nose, with a broad spectrum of ripe cranberry, pomegranate, strawberry, raspberry, blackberry, autumn leaves, and a gentle touch of woodsmoke. This shows a lovely balance of very finely etched tannins, refreshing acidity, and a gorgeous range of floral, spicy, and fruity aromas. The finish is drenched in fruit and ably supported by the acid/tannin structure. Beguiling. | 95