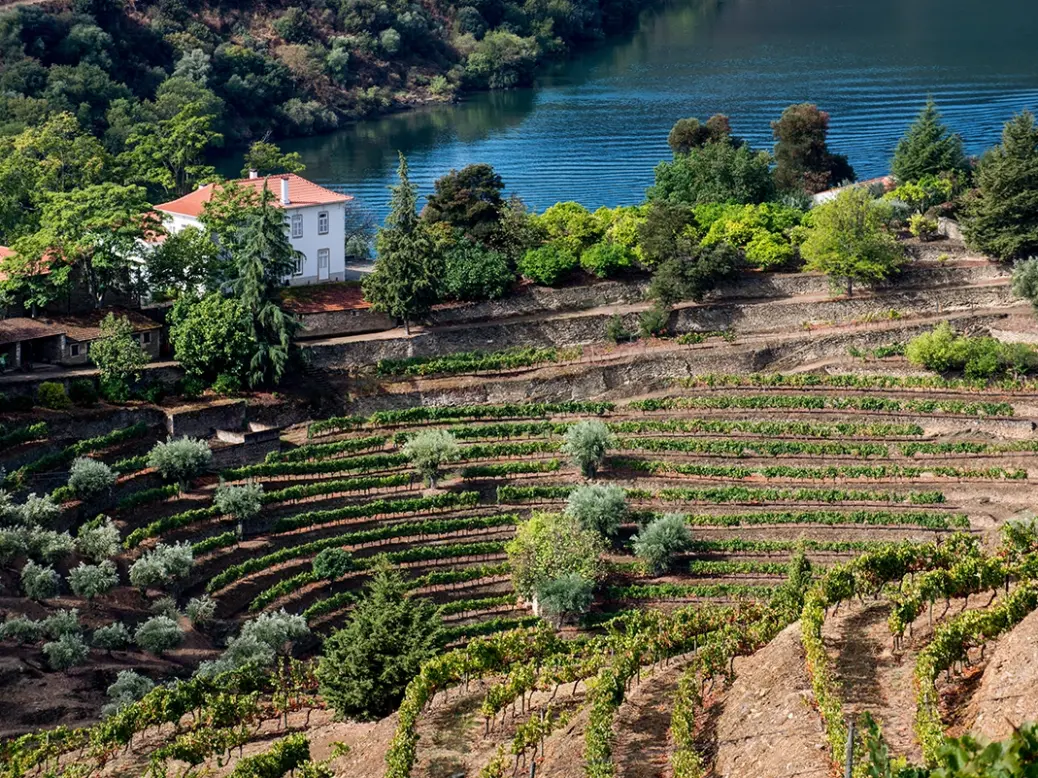 After one of the coolest years in recent Douro history, the Symingtons, Sogevinus, and Quinta do Noval have all declared 2021 Vintage Ports.
The declarations were led by the Symington family, who announced a rare outing for their "micro-terroir" Graham's The Stone Terraces Vintage Port.
The 2021 is only the fifth The Stone Terraces released, following the 2011, 2015, 2016, and 2017 bottlings. It is sourced from two low-yielding vineyards covering just under 3ha (7.4 acres) on narrow stone terraces at Graham's Quinta dos Malvedos, with the 4,800-bottle, 280-tappit-hen (225cl) 2021 release accounting for just 2 percent of the quinta's total 2021 production.
"The hand-built stone terraces at Quinta dos Malvedos have long been prized by my family for producing wines with an incredibly unique profile, which is entirely distinct from the rest of the estate," said Symington head winemaker, Charles Symington.
"After being abandoned in the aftermath of phylloxera, these terraces were meticulously reconstructed by hand in the late 19th century. They were designed to produce Ports of exceptional concentration and power, using viticultural techniques that have barely changed for hundreds of years.
"While the Malvedos estate is predominantly south-facing, the stone terraces are comprised of two vineyards with cooler aspects—one faces east and west, while the other faces north.
"The schist walls of the stone terraces have an incredible ability to store the sun's daytime heat through the night, which creates gradual and homogenous grape ripening. This effect—together with their orientations—are why the stone terraces are some of the most intriguing vineyards we farm, and why they produce one of the greatest wines we make in the Douro."
Graham's The Stone Terraces 2021 is, or will be, joined in the market by a further five of the family's wines, with the Symingtons concluding that "the best expression of the year came from the family's principal estates."
Cockburn's Quinta dos Canais 2021 Dow's Quinta da Senhora da Ribeira 2021, Graham's Quinta dos Malvedos 2021, and Warre's Quinta da Cavadinha 2021 Vintage Port will all be bottled at a later date after ageing in the family's cellar. A small quantity of Dow's Quinta do Bomfim will be released en primeur in 2023.
The family also announced that they had not bottled a Vintage wine from one of their most celebrated estates, Quinta do Vesúvio, in 2021. The winery had been forced to close during the 2021 vintage due to Covid-19 restrictions, meaning that no grapes were foot-trodden there for just the second time since it was built in 1827 (the first time was in 2020).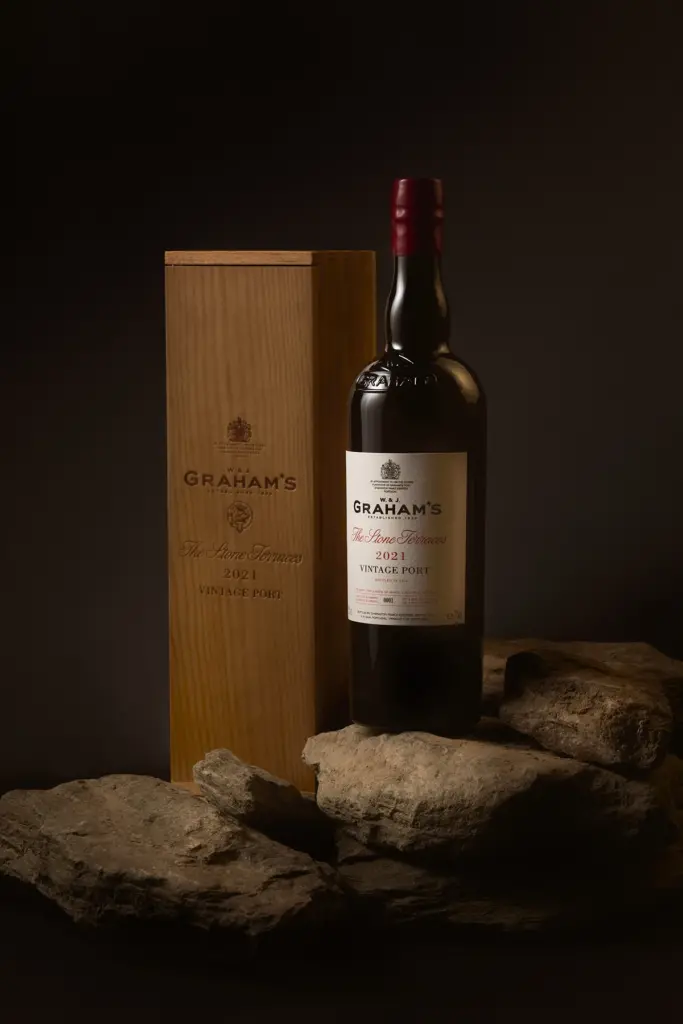 Sogevinus: Kopke and Burmester single-quintas
The Sogevinus Group, meanwhile, has announced the release of two single-quinta Vintage Ports for 2021, with both Kopke Quinta de São Luiz 2021 and Burmester Quinta do Arnozelo 2021 coming to market in September 2023.
According to Carlos Alves, head winemaker for Port wines at Sogevinus, "The 2021 campaign was defined by the irregular pace of grape maturation, which resulted in low levels of sugar, inducing our winemaking and viticulture teams to work closely with the aim to determine the exact optimum picking dates—an increasingly critical factor in the final quality of the wines.
"Although this harvest was a difficult one, we are pleased with the wines it's produced and so far I think the wines will stand out for their elegance rather than structure, and they will certainly age beautifully given their natural acidity—both traits that qualify for excellent wines," Alves added.
Some 12,133 bottles and 600 magnums of Kopke Quinta de São Luiz 2021 have been produced, with the blend comprising 67 percent old-vine fruit with more than 35 different grape varieties and 33 percent Touriga Nacional. For Burmester Quinta do Arnozelo 2021 the blend is 35 percent Touriga Nacional, 45 percent Touriga Franca, 15 percent Tinta Roriz and 5 percent Alicante Bouschet), with a prodcution run of 8,830 bottles and 250 magnums.
Quinta do Noval: A trio of 2021 Vintage Ports
Quinta do Noval continued its practice of releasing classic Vintage Port with much greater regularity than rival houses with the declaration of three 2021 Vintage Ports: Quinta do Noval Nacional Vintage Port 2021, Quinta do Noval Vintage Port 2021, and Quinta do Passadouro Vintage Port 2021.
Explaining the releases, Christian Seely, managing director of Quinta do Noval, gave a detailed assessment of the vintage. "Weather conditions in 2021 were in stark contast to those of the preceding year," Seely said. "A wet winter and regular rainfall in the month of April fully replenished much-needed water levels in the soil. An early flowering in May was followed by a very hot month of June, with some periods and hail, which fortunately did not affect our vineyards.
"July and August were mild and sunny with none of the extreme heat or water stress that we have seen in some recent years during these months. This permitted slow, homogenous ripening of the grapes, in excellent conditions.
"We began to harvest the red grapes on August 26, 2021. After some rainfall in early September, we suspended the harvest for three days and then resumed ins sunny weather with mild temperatures that permitted steady positive phenolic development right through to the end of the harvest on October 8, 2021.
"There were no spikes in sugar readings, which enabled us to wait for optimum ripeness in each plot. The resulst were excellent for everal parcels of Touriga Nacional, Touriga Francesa, and Sousão. The Nacional and various other old-vine parcels were exceptional.
"The wines have a marked stylistic individuality, reflecting the particular conditions of the vintage, very elegant and balanced, with great finesse and very pure floral and black fruit aromas. Strongly aromatic, with dense firm fine tannins, the purity of the fruit and the elegance and balance are among the most striking characteristics of this lovely vintage year."