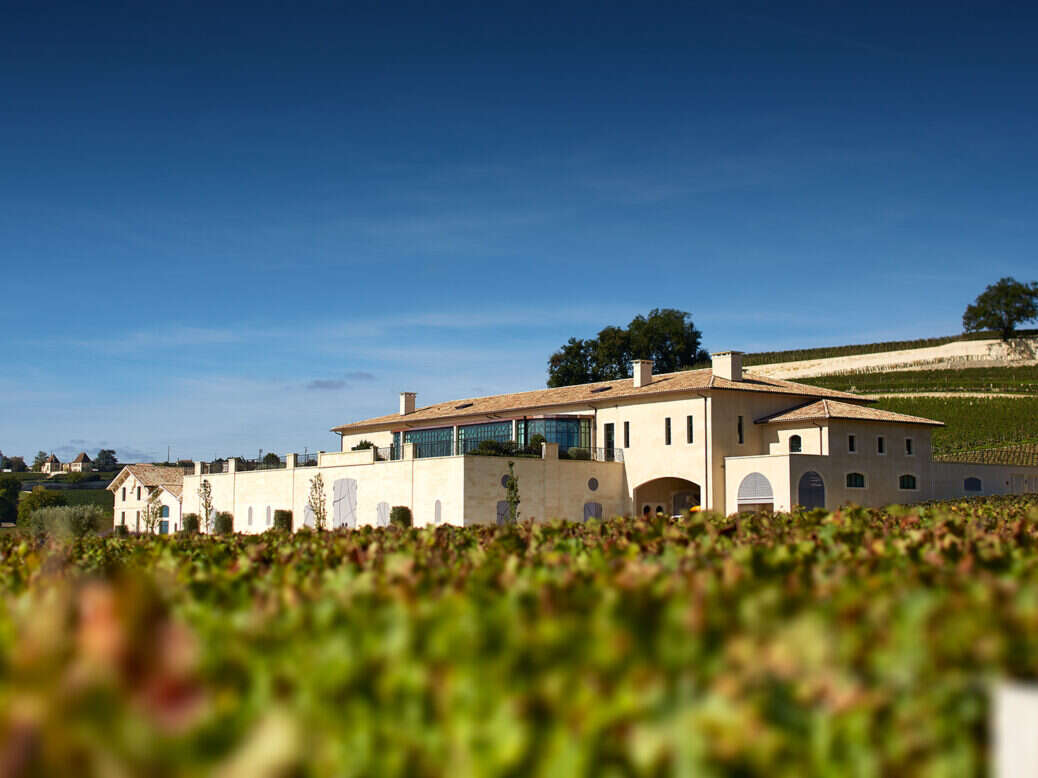 The World of Fine Wine's Simon Field MW is in Bordeaux for the 2021 vintage en primeur tastings. In the third of a regular series of dispatches from the region, he gives his verdict on St-Emilion's Châtaeu Pavie.
The reconstructed Château Pavie resembles a Spanish hotel. A five-star hotel.
Make that five stars deluxe: An immense monolithic structure, its honied brickwork and interior of polished wood and marble both wonderfully welcoming and somehow rather cold.
The electric artwork only amplifies this impression. A trompe l'oeil painting which turns out to be a lattice of mirrors, an enormous red stone bull guarding the entrance, a Botero-esque bronze, needy and curvy, and two magnificent 18th-century wooden carvings of angels, which look as if they may well have been borrowed from Burgos cathedral (they hadn't been of course).
Finally, the original stone archways from Bordeaux railway station, rescued from perdition, and adding a dreamy, faintly surreal quality to the maturation cellar, their symmetry perfectly aligned with row after row of brand new barriques.
All very smart and all very imposing, but inviting inevitable questions over issues such as authenticity and, put bluntly, a sense of place.
The winery might, it may be argued, give some clue as to the sensibility of the winemaker.
This is all the more important because, until September at least, Pavie is the last remaining bearer of the incredibly prestigious St-Emilion Grand Cru Classé A accreditation, which it won in 2012.
It may be seen, up to a point at least, to be carrying the reputation of the AOC on its shoulders. Quite a responsibility.
Thankfully the tasting itself served to assuage any fears of suitability for such a task.
Bordeaux 2021: The Perse family of wines
Across the family of six wines presented as the "Perse Latitudes" there was a register of harmony, balance, and, yes, a sense of place.
I was guided through the range of 2021s by Henrique Da Costa, son-in-law of the owner Gerard Perse, and came away reassured and strangely uplifted.
In addition to the senior wine, the two stand-outs were Château Monbousquet and Château Pavie Decesse, the former achieving its impressive concentration only as a result of having been farmed at parsimonious yields of 18.5 hl/ha, the latter an eloquent endorsement of the merits of St-Emilion's limestone plateau.
Monbousquet was the first winery to be bought by Gérard Perse, who had made his fortune in the world of Parisian supermarkets, and maybe, for all we know, supermarkets outside the capital too.
He went on to buy Pavie itself in 1988, and the subsequent chapters in its story have been far from ignominious, despite several dissenting voices.
One may even venture to suggest that there is a degree of envy at large, snobbery even. Who knows?
Most importantly Château Pavie the wine sings the hymn of the plateau, its voice clear and authoritative. And nothing and no one is allowed to distract from this central message.
Quite right! The moral is therefore clear; only judge this book by its cover if you plan to stay at the real Hotel Pavie, which is actually up the road in the centre of St Emilion, in which case you are also unlikely to be disappointed.
2021 Chateau Pavie Premier Grand Cru Classé A

(52% Merlot, 30% Cabernet Franc 18% Cabernet Sauvignon)
Deep ruby, brooding initially, then thinking better of it … a cascade of dark fruit and spice; plums, myrtle and even a hint of tapenade; a modest hint, mind—the voice of the limestone plateau resonates, elegant and crisp, holding its own despite the persuasive powers of the unusually high percentage of the Cabernets. Full-bodied, yes, foursquare, no; this wine will evolve with great dignity, revealing more of itself only gradually.
Bordeaux 2021 coverage
Bordeaux 2021 en primeur: Romance and reality
Bordeaux 2021 Field Notes: Château Figeac
Bordeaux 2021 Field Notes: Vieux Château Certan
Bordeaux 2021 Field Notes: Château Pavie
Bordeaux 2021 Field Notes: Le Dôme
Bordeaux 2021 Field Notes: Domaine de Chevalier
Bordeaux 2021 Field Notes: Sauternes and Barsac
Bordeaux 2021 Field Notes: Pichon Lalande
Bordeaux 2021 Field Notes: Enquiring Minds
Bordeaux 2021 Field Notes: The Whites Have It