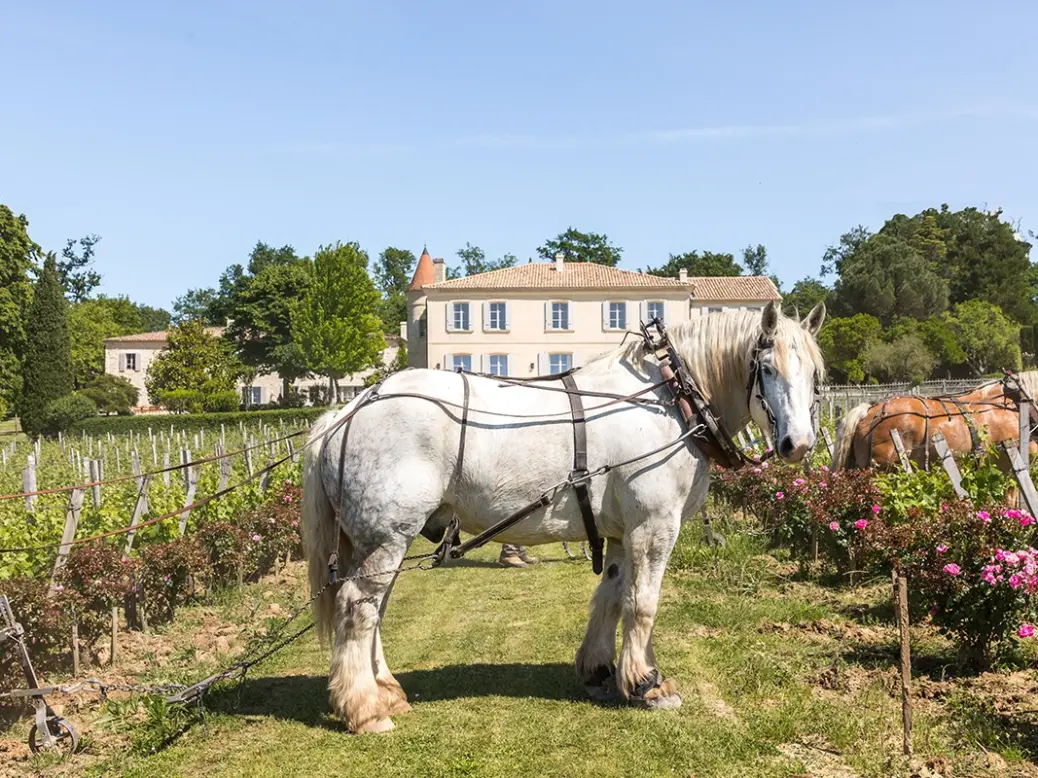 St-Emilion's Château Troplong Mondot has been through three distinct stylistic phases over the past 40 years, says Elin McCoy, who adds notes from a recent tasting of the youngest vintages to those from a 2019 retrospective in New York City.
Back in October 2019, before the pandemic changed everyone's lives for several years, I was in a light-filled, spacious, downtown New York City loft for an extraordinary tasting. Aymeric de Gironde, the CEO of St-Emilion's Château Troplong Mondot, was in town to host a 22-vintage vertical of the wines followed by a fantastic lunch cooked by David Charrier, the chef for the estate's Michelin-starred restaurant, Les Belles Perdrix.
Bottles from vintages 1983 to 2018 were lined up on a wooden-plank table pushed against a brick wall. On another table were maps of Troplong Mondot's vineyards and artfully arranged chunks of clay and limestone. The long tasting table had plenty of room for the several writers; each of us faced nearly two dozen glasses arranged in semi-circles. I could hardly wait to start sipping.
After all, Troplong Mondot is one of only 12 St-Emilion premier grand cru classé B estates (as of 2023), ranked just below the current two premier grand classé A estates, Château Pavie and Château Figeac, which was promoted in 2022. ("A" properties Ausone, Cheval Blanc, and Angelus have left the classification altogether.) Troplong's promotion in 2006 from grand cru classé was down to the tireless work and improvements by Christine Valette-Pariente, the owner who ruled its style from 1981 to 2014, when she died, and most of the vintages in the tasting were made by her. Her husband ran the estate until it was sold to French insurance company SCOR in 2017.
And de Gironde, who became the director in 2017, immediately—and a bit controversially—shifted the wine's style, from the rich, powerful, voluptuous, and extracted wines of Valette's era, to ones that were fresher, brighter, better balanced, and more energetic, more red-fruit than black. The inky, opulent, high-alcohol style popular when Robert Parker's sway was felt all over Bordeaux had never appealed to me. The question in the back of my mind was when that super-ripe, powerful style had debuted at Troplong, and how those wines had evolved. Had they aged well, or fallen apart?
Higher and purer
I'd visited the chateau, which sits east of the picturesque town on the highest point in St-Emilion, many times, and eaten in its restaurant, both inside on plushy banquettes and outside on the breezy terrace. Sadly, close by is a huge, ugly, pockmarked concrete water tower.
Troplong's history goes back to the 18th century, but the modern tale began in 1936, when the wine merchant Alexandre Valette bought it as well as Château Pavie. When his great granddaughter Christine took control in 1981, she set about upping the wine's reputation and quality with improvements: soil studies, hand-picking, lower yields, a second wine, replanting, and much more. She started with Michel Rolland as consultant, and her goal was to raise the château's classification. That was possible because the St-Emilion ranking system, which started in 1955, is revised every ten years. But when Troplong was finally upgraded in 2006, a heated legal battle temporarily dashed Valette's initial jubilation. Downgraded châteaux filed complaints and contradictory court rulings led to limbo. Troplong had to get new labels printed without its new classification. Eventually, however, it was all straightened out.
De Gironde, who'd been the managing director at Cos d'Estournel before taking up his role at Troplong Mondot, arrived on September 15, 2017 and immediately called for harvest to start. "It would have been one month later if I hadn't arrived," he said. He'd found the wines from hot vintages "over the top, with too much ripeness and extraction. The estate used to be the last to harvest," he added. "Now we are the first." And so began a new era.
Like so many in Bordeaux, de Gironde is pursuing the idea of precision viticulture and winemaking. In 2019, they divided the vineyard further, going from 20 to 51 plots, so they can pick at the optimum ripeness for each. A new cellar was ready for the 2020 vintage. New oak has been reduced and experiments have included Italian amphorae. But the de Gironde revolution is still in the early stages. More Cabernet Franc in the wine is in the future; he's purchased 15 acres (6ha) and planted 90 percent of it to Cabernet Franc.
The vintages from four decades in the New York tasting illustrated not just the estate's changes in winemaking philosophy but also the impact of climate change in Bordeaux. What struck me most was the dramatic difference in ABV levels—from 12.5% in 1986, to 16% in 2010—and the way the wines fell into three distinct styles. The new direction under de Gironde is a huge success. Better-balanced wines, with purity, sophistication, seamless textures, and wonderful lift and freshness are the result.
And by the way, the menu from David Charrier, one of my favorite chefs in Bordeaux, didn't disappoint either: wild seabass tartare, Black Angus ribeye with Troplong Mondot sauce, cheesecake with lemongrass jelly for dessert, along with four vintages of the wine, 2017, 2012, 2001, and 1988 from magnum.
We began with two vintages of Troplong Mondot's second wine, Mondot, which has gone under various names, then tasted the grand vin from youngest (a 2018 barrel sample), to oldest (1983). After my notes from the 22-vintage tasting, I've added four more recent ones, from April 2023.
Tasting Château Troplong Mondot
2016 Mondot (100% Merlot; 15.5% ABV)
All the grapes are from limestone terroir. You feel the high alcohol. Opulent, rich, scented, it's very dark, intense, and pure, but trails off on the finish.
2015 Mondot (92% Merlot, 6% Cabernet Sauvignon, 2% Cabernet Franc; 15.5% ABV)
Softer, broader, and more spreading, this has a very different profile to the nose, with hints of chestnuts. There's a ripe rush of fruit on the palate, and a long finish. You don't feel the alcohol quite so much, even though it's the same as the 2016.
2018 Troplong Mondot
(85% Merlot, 13% Cabernet Sauvignon, 2% Cabernet Franc; 14.5% ABV)
This was a barrel sample but didn't taste like it. I loved its purple-edged color and very pure cassis and other fruit flavors. It had lift and lusciousness, a definite Right-Bank opulence, but was light on its feet. Very scented, with red-fruit notes and a bit of licorice, it was long and layered, and a significant change from the Christine Valette era. | 96
2017 Troplong Mondot
(85% Merlot, 13% Cabernet Sauvignon, 2% Cabernet Franc; 14.5% ABV)
Not surprisingly, this lesser vintage lacked 2018's concentration. It's lighter, all about succulent red fruit, with earthy, savory notes, fresh and appetizing. And it has elegance. This was the turning point in the estate's understanding of maturity, according to de Gironde. In the cellar, the team adjusted the vinification with no pump-overs to preserve the aromatics, lowered the amount of new oak to 60% from 90%, and did less malolactic in the barrel. | 93++
2016 Troplong Mondot
(85% Merlot, 13% Cabernet Sauvignon, 2% Cabernet Franc; 15.5% ABV)
A top vintage on the Left Bank, but not quite as superb on the Right. Darker in color, almost opaque, with a nose that's intense and almost overripe. It's big, rich, and lush, with an opulent texture, but lacks a little freshness. | 93
2015 Troplong Mondot
(92% Merlot, 6% Cabernet Sauvignon, 2% Cabernet Franc; 15.5% ABV)
Very different in style from the 2015 Mondot, this leans toward a chocolate-y nose, and the flavors remind me of cocoa, dark chocolate, raspberry syrup, and espresso. The smooth, rich texture feels thick and long, almost a bit monotone. But I preferred it to the 2016. | 94+
2014 Troplong Mondot
(91% Merlot, 7% Cabernet Sauvignon, 2% Cabernet Franc; 14.5% ABV)
Brighter and even zingy compared to other vintages, this has minty aromas and the ripeness of dark fruit, plus power and an opulent texture. It finishes with roasted coffee-bean notes. You really notice the slightly lower alcohol level. | 93
2013 Troplong Mondot
(90% Merlot, 8% Cabernet Sauvignon, 2% Cabernet Franc, 14.0% ABV)
An undistinguished vintage in Bordeaux, and there are slight green-pea notes alongside a strong chocolate character on the nose. The flavors don't seem completely married, with Cabernet Sauvignon structure standing out. Still, it's sleek and almost juicy. | 87
2012 Troplong Mondot (90% Merlot, 8% Cabernet Sauvignon, 2% Cabernet Franc; 14% ABV)
The dark, intense color had zero browning, and the nose is super-scented, with textbook cassis and cedar. It doesn't seem all that over-the-top (as de Gironde suggested), and though not that complex, it comes with serious structure and a persistent finish. | 92
2011 Troplong Mondot
(89% Merlot, 9% Cabernet Sauvignon, 2% Cabernet Franc; 14.5% ABV)
This vintage was a surprise. 2011 was a notoriously poor year, yet Troplong seems quite concentrated, making me wonder whether they used a concentrator in the cellar or bled off some of the juice. You taste the wood and tannins. | 89
2010 Troplong Mondot
(88% Merlot, 7% Cabernet Sauvignon, 5% Cabernet Franc; 16% ABV)
2010 is one of the top vintages of the 21st century for Bordeaux, but this is 16% ABV! That's heading into Vintage Port territory, and in fact, this thick, smooth-textured, very modern wine is almost Port-like, though the fruit feels cool and the finish is velvety and long. The word that comes to mind is big. It has heaps of tannin and concentration and a color that's almost black, like a Cahors, even at nine years of age. For this vintage and 2009, said de Gironde, the team waited for the skins to ripen, but "they could have waited until Christmas. This was harvested way too late." I agree! | 92++
2009 Troplong Mondot
(86% Merlot, 10% Cabernet Sauvignon, 4% Cabernet Franc; 15.5% ABV)
Plenty of châteaux made completely delicious 2009s that were approachable, plush, and almost yummy from the beginning. This one is kind of over-the-top, with a big, broad, open character. On the nose, I smelled dark plums, olives, and chocolate. It's still dark and intense, but there's a note of acidity on the finish. | 91
2006 Troplong Mondot
(90% Merlot, 5% Cabernet Sauvignon, 5% Cabernet Franc; 14.0% ABV)
De Gironde says this in a new phase of evolution, with an emerging savory quality as well as unfurling more complexity. It's still very ripe, warm, and rich, and the texture feels a bit mushy, but it has better balance than some vintages, thanks to lower alcohol. | 91
2005 Troplong Mondot
(90% Merlot, 5% Cabernet Sauvignon, 5% Cabernet Franc; 14.5% ABV)
This is one of my favorite 21st-century Bordeaux vintages, a year when winemakers said that it was so easy to make a good wine that if you didn't, you should find a new profession. Everything is in balance in this Troplong Mondot, with its complexity on full display. The nose exudes aromas of licorice, dark plum, earth, and more. The flavors of damp earth, dark chocolate, and warm leather are generous and spreading, though there is still a bit of tannin on the finish. | 95+
2004 Troplong Mondot
(80% Merlot, 10% Cabernet Sauvignon, 10% Cabernet Franc; 14.0% ABV)
2004 has been sort of a sleeper vintage, appreciably better than critics—who included me—originally thought. This isn't as layered as the 2005, but it has verve and energy. The red-fruit flavor-rush comes with truffle and mushroom notes, and the nose is the definition of pencil shavings. This is one of de Gironde's current favorites from the previous era. | 94
2002 Troplong Mondot (85% Merlot, 15% Cabernet Franc and Cabernet Sauvignon; 14% ABV)
The nose reminds me of red strawberries and pencil shavings, a surprisingly nice combination. The flavor sort of matches, but there are still hard tannins in the background. | 88
2001 Troplong Mondot
(85% Merlot, 15% Cabernet Franc and Cabernet Sauvignon; 13.5% ABV)
Another surprise. Darker than 2002 and 2004, this vintage has that same distinctive pencil-shavings nose, but much more power and tannin. It's intense, vibrant, almost juicy, with lots of structure. This was one of my top older vintages from the tasting, and delicious with the Black Angus ribeye over lunch. This should still last and last. | 95
2000 Troplong Mondot
(85% Merlot, 15% Cabernet Franc and Cabernet Sauvignon; 13.5% ABV)
Everyone wanted a great vintage to mark the turn of the millennium. This is a good, but not stunning example with deep vertical character. Still dark and intense, it's scented with cinnamon and other baking spices and warm fruit and shows lush freshness, the taste of candied fruit, and a very long finish. | 93+
1999 Troplong Mondot
(85% Merlot, 15% Cabernet Franc and Cabernet Sauvignon; 13.5% ABV)
Long, tangy, and spicy, this is lovely drinking right now, though there's still tannin on the finish. The nose is an interesting combination of cocoa and pencil shavings; the taste is savory fruit. | 91
1998 Troplong Mondot (85% Merlot, 15% Cabernet Franc and Cabernet Sauvignon; 13.0% ABV)
On the Right Bank, this was considered a great vintage. This enticing wine was one of my favorites from the Valette era. Everything is showing beautifully—wafts of spice and red fruit on the nose, then lush, ripe, red fruit on the palate, framed by perfect structure and an opulent, tangy finish. De Gironde calls it "very civilized." | 94
1989 Troplong Mondot (85% Merlot, 15% Cabernet Franc and Cabernet Sauvignon; 13.5% ABV)
Compared to the 1998, this was a bit of a step down, but this is still an appealing wine, with a lighter, silkier texture and plenty of brightness. The aromas and flavors reminded me of red candy. | 92
1988 Troplong Mondot
(85% Merlot; 15% Cabernet Franc and Cabernet Sauvignon; 13.0% ABV)
Very sweet, ripe red fruit, with truffly notes and a pencil-shavings finish. A bit rustic. This is my note on the magnum served at lunch. | 93
1986 Troplong Mondot (65% Merlot, 35% Cabernet Franc and Cabernet Sauvignon; 12.5% ABV)
This has more density than the 1989 and a nose verging on the herbaceous. Is that a result of the level of alcohol or the greater proportion of Cabernet Franc and Cabernet Sauvignon or the combo? This has a completely different character than later vintages, with a balance that seems like a taste out of the past. The sweet ripe fruit backed by structure is there. | 89
1983 Troplong Mondot (65% Merlot, 35% Cabernet Franc and Cabernet Sauvignon, 13.5% ABV)
Long and layered, still juicy and earthy, but seems to have a touch of Brett, which is not unattractive. | 87
Four vintages tasted in April 2023
2018 Troplong Mondot
(85% Merlot, 13% Cabernet Sauvignon, 2% Cabernet Franc; 14.5% ABV)
Serious, intense, and almost flamboyant, this has brightness and lift and more raspberry and black-cherry aromas than it did as a barrel sample. What stand out are the pure, dark-fruit flavors and spiciness, with notes of earth, and the smooth, silky texture and fine, chalky tannins. This is bigger than de Gironde's first, 2017 vintage, in keeping with the year's heat, but so harmonious. | 95+
2019 Troplong Mondot
(85% Merlot, 13% Cabernet Sauvignon, 2% Cabernet Franc; just under 15% ABV)
The first vintage made without any malo in barrel. For me, it showcases a new sense of vividness and energy, an incredible purity, and oodles of charm. It's medium-bodied and elegant, with violet, red-plum, and cranberry aromas, with layered flavors that include slightly dusty earth, minerals, and spice on the finish.
The silky texture is so succulent you feel that you could just start drinking it now. Stunning, and I preferred it even to the 2018. | 96
2020 Troplong Mondot
(85% Merlot, 13% Cabernet Sauvignon, 2% Cabernet Franc; 14.5% ABV)
Long and intense, with subtle, layered aromas of flowers and crunchy red fruit, this vintage feels more elegant than the 2018, richer and denser than the 2019. I couldn't decide if I preferred it to 2019. There's a pleasing saline aspect to the aromas and flavors, and a deep sense of the limestone terroir. Complexity reigns and the length is amazing. | 96++
2022 Troplong Mondot (barrel sample)(85% Merlot, 13% Cabernet Sauvignon, 2% Cabernet Franc; 15% ABV)
Wow! The words that define this barrel sample for me are intense, succulent, vivid, multidimensional, seamless, silky textured, concentrated, and supple. It's full-bodied and a bit exotic, with the taste of dark berries and a chalky, saline minerality that shouts terroir. All the work that has been done in the vineyard is on show. The freshness stands out despite the alcohol. | 97