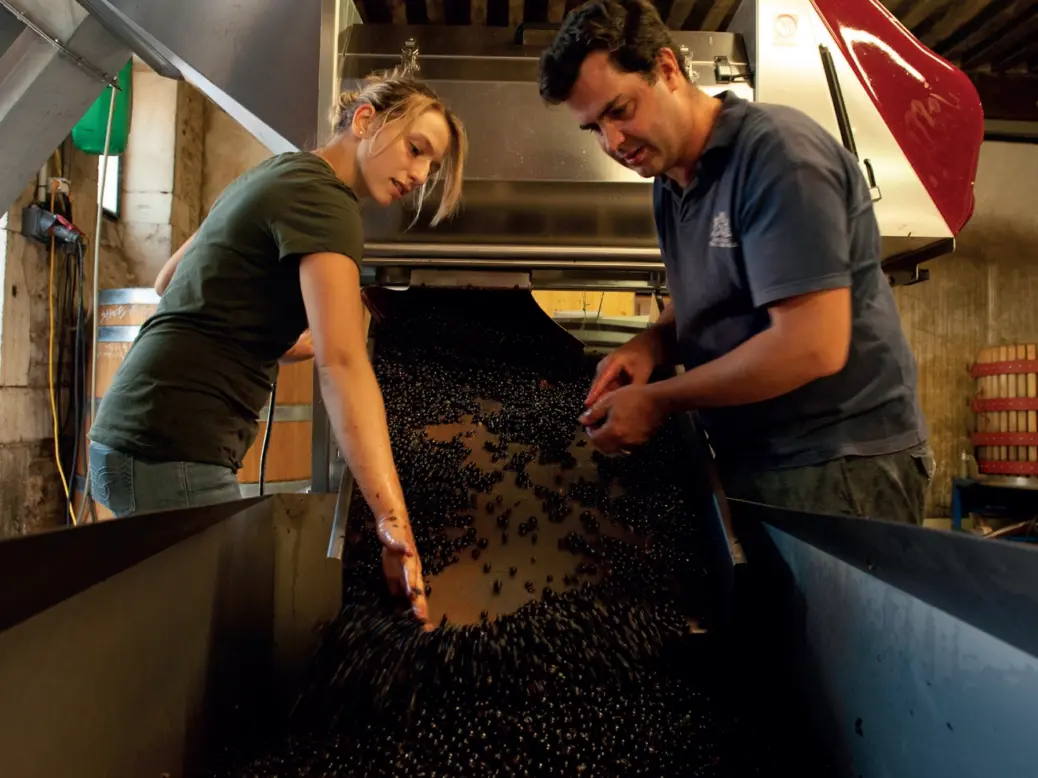 The Comte Liger-Belair en primeur tastings, this year and last, came too late for the World of Fine Wine Burgundy presentation schedule, but a tasting of the 2021s in London in April make it possible for Michael Schuster to present these two contrasting but equally exciting vintages together.
A brief reminder about the Domaine's viticulture and vinification: The 8.1ha (20 acres) of vines are managed meticulously on organic and biodynamic principles, and the yields are very low. The majority of the grapes are destemmed (which seems to contribute a lovely floral character to so many of the bouquets), except for a small proportion of clay-based premier and grand cru fruit—20 percent at most. Yeasts are indigenous, handling is very gentle, extraction judicious, and all the wines are aged in 100 percent new wood for 13–15 months (the sole exception being the white Nuits-St-Georges, with only 30 percent new), ideally without racking or sulfuring, followed by three months in tank prior to bottling without fining or filtration. The resulting Burgundies are wines of outstanding quality, purity, and beauty. There are benchmark examples across the hierarchy.
2021 Comte Liger-Belair: Purity, transparency, delicacy, intensity
Tasted at Studio Frantzén, Harrods, London; April 18, 2023
The dominant headline to the year is, of course, the devastating overnight frosts of April 6–8, 2021, which resulted in a dramatically reduced harvest, one of the lowest for many decades. If 2020 was a "small" crop (similar to 2019, half that of 2018), 2021 was tiny. Frost is a problem at any time after budburst, but it was greatly climate-change-exacerbated in 2021 because there was a mini-heatwave in the last week of March, with unusually high temperatures for the time of year, close to 86°F (30°C), encouraging a widespread, much earlier than normal budding. This made the tender, emergent shoots particularly susceptible to the severe frosts a week later. The viticultural year subsequently was, for a change in the current context, not subject to any extremes of heat, nor was there any lack of rainfall. And the late-season weather, from mid-August on, was characterized by plenty of warmth and sunshine, dry days, cool nights, and northerly winds—pretty much ideal conditions for long, slow ripening up until the late-September harvest, and for producing fruit that was sweetly ripe, with sufficient matter, vividly defined by its acidity. The 2021 Comte Liger-Belairs are very fine red Burgundies of classic, moderate proportions.
The 2021s here don't have the substance or structure of their respective 2020s (I didn't taste the 2019s because of Covid), and if they don't have quite the "star" quality of the previous year, they are wines that combine purity, transparency, delicacy, intensity, and—at the top end—great beauty. You will see that I score the two vintages qualitatively very closely, but as usual, the style and character that the notes recount are very different for the two years. The freshly sweet juiciness and easy harmony of the 2021s will reward enormously from early on, but their real class and completeness will emerge with time. Because, for all their likely early appeal, they have the requisites to age beautifully, too.
2021 Nuits-St-Georges Premier Cru Clos des Grandes Vignes Monopole Blanc (bottled)
Pale gold; a fresh but honeyed fruit, floral, pretty, persistent, and dense; a firm, concentrated, medium-full wine; a dry, subtle, refined flavor, lemony, racy, long, and graceful to taste, with clear premier cru scope and excellent, gentle aromatic length. Pure, vital, pristine, stylish, and very good. A classy, tight, beautifully defined dry white that will drink deliciously early but keep and mature well, too. Now to 2035+. | 93
2021 Vosne-Romanée (bottled)
Very pale purple; light, fragrant, the faintest sense of reduction/game on the nose, often there at this stage; medium-full, fresh to lively, very fine in tannin; delicate, sweet red-fruit in flavor, pure and graceful and fine village quality in scope, with lovely, fragrant, floral persistence. Very Vosne in character, lighter vintage style in scale, concentration, proportions. Excellent for what it is, in a more restrained vintage expression. Delicious already, but will certainly repay keeping a while. 2025–31+. | 91
2021 Vosne-Romanée La Colombière (bottled)
Pale purple; a nose that is fresh, full of mineral-tinged ripe red fruit, scented and floral, too; a moderately rich medium weight, with a lively defining acidity and light, firm tannin; vivid ripe red cherry fruit in flavor, long and subtle and gently racy, marked by a subtle mineral element, and with excellent, floral, fragrant length. A touch darker, more persistent to smell, and with more vitality and presence than the basic Vosne-Romanée. A clear step up, this is lovely, with a real tenacity of flavor for its village level, nudging indeed premier cru. Most attractive. 2025–35+. | 92
2021 Vosne-Romanée Clos du Château (bottled)
Very pale, paler and less purple-tinged than the Colombière; red-fruit ripe to smell, a touch of iron, subtly mineral and persistent in the glass; rich, gently fleshy, succulent mid-weight, fresh in acidity, very fine in a mouthwatering tannin, a really lovely village balance. Sweet, graceful, beautifully flavored wine, delicate, long, and intricate, mouth-coating in fragrance, pure, stylish, and remarkable for its level. A premier cru, for sure, at any blind encounter. Classy, complete, and with remarkable scope. A restrained, but very special, porcelain-fine Clos du Château. 2026–36+. | 92+
2021 Nuits-St-Georges Les Lavières (bottled)
Pale ruby; light, freshly sweet red-cherry nose; medium-full, fresh in acidity with, after the Vosnes, an immediate sense of Nuits-St-Georges tannin, but delicate, that said—a fine balance; sweet, medium depth, gently succulent flavor, another real beauty at village level and with, as is always the case here, remarkable finesse for (the image of) the commune. Long and graceful, tasting of lesser premier cru class in terms of race and complexity, and with excellent presence and persistence on the aftertaste. Exceptional commune NSG performing, as do all of these, well above its "nominal" level. 2026–38+. | 92
2021 Nuits-St-Georges 1er Cru Clos des Grandes Vignes Monopole (vat sample)
Pale mid-purple; light, mineral-tinged, sweetly ripe red-cherry fruit to smell, a clear notch up in complexity on the nose from the Lavières; medium-full, teasingly firm in acidity, subtly textured in tannin, a very finely, structured Nuits-St-Georges. Sweet, vital, intensely flavored wine, with an attractive depth for the more restrained character of the year; long and energetic, a lovely aromatic aspect, gently mouth-coating, a refined premier cru, with fine persistence. Really lovely. Will need a few years. 2029–40+. | 93–93+
2021 Vosne-Romanée Premier Cru (bottled)
The yields of three of the Vosne-Romanée premiers crus were so badly affected by the 2021 April frosts that Petits Monts, Suchots, and Chaumes were blended together to produce just 400 bottles of this Vosne Premier Cru—"something I never want to have to do again," lamented Louis-Michel. Pale ruby; a fairly closed, tight, mineral-dominated nose; a nicely concentrated mid-weight, with a juicily fresh acidity and very delicate tannin. Sweet, floral, and quite delicious to taste, a marked inner dynamism, complex, long, and gratifying, very Vosne in its gentle class; pure, transparent, and with lovely persistence. Rich in aromatics by comparison with, for example, Les Grandes Vignes at the premier cru level, and with a marked scented presence on the finish. Vosne delicacy, but also intense and lingering. A tragic but beautiful blend. 2028–40+. | 94
2021 Vosne-Romanée Premier Cru Aux Reignots (vat sample)
There are only 600 bottles of this top premier cru cuvée, one quarter of the norm. A clear mid-purple, as distinct from ruby; an immediately classy and fairly dense presence by comparison with what has gone before; glass-filling, subtle, fragrant, much richer and more complex to smell than the premier cru blend and, at the moment, more mineral than fruit in presence. A concentrated, fleshy, medium-weight wine, fresh in its acidity, particularly fine in tannins, rich in the 2021 context; deep, sweet, pure, succulent, very long and perfumed to taste, juicy, gratifying, subtle, and with great aromatic persistence to finish. A most complete premier cru, performing at grand cru level. Wonderful class, succulence, purity, all at the year's mezzo-piano level. Gorgeous in the vintage. Fabulous Vosne-Romanée. 2029–45+. | 94–95
2021 Clos de Vougeot Grand Cru (vat sample)
Deepish mid-purple; clearly the most concentrated nose so far: iron, animal, earth, mineral, with a fruit density that marks out all three grands crus and, on the Clos Vougeot in particular, a sort of immediate muscular presence even to smell. Rich mid-weight wine, with plenty of matter in the vintage (a clayey presence in the soil?), firm in acidity and firm- but also very fine-textured in tannin. Deep, sappy, appetizingly sweet in flavor, close-grained, vital, most satisfying in its depth and mouth-clinging character. Strikingly different in character from the Vosne-Romanées and Nuits-St-Georges. A most individual personality with, of course, more matter and muscularity than the Reignots, and with great class and, indeed, subtlety—not an adjective that comes immediately to mind for most Clos de Vougeot! A lovely, graceful, beautifully proportioned, and complete expression of the best of the commune. Tenacious to taste, prolonged to finish, a splendid combination of fruit and scent. If not fortissimo (that's not the vintage), definitely a resounding mezzo forte! 2030–50+. | 95–97
2021 Echézeaux Grand Cru (vat sample)
Mid-purple; dense yet ever so subtle and fragrant to smell, a veritable bowlful of perfume already; full, concentrated, very finely fresh in acidity, very fine in its tannin texture, too, a most beautifully proportioned and balanced wine. Rich, intense in ripe-cherry fruit, of great purity, a tenacity of taste filled with gentle energy—all transparency, delicacy, and notably sweet palate-clinging, palate-coating fragrance. A really thoroughbred feel and sense of seemingly weightless, absolutely effortless, class. Beautiful, intense yet delicate wine, a gorgeously restrained grand cru presence, with all the fragrance of the nose and fruit on the palate echoing through its great finish. A magnificent Echézeaux from this understated year. An even sweeter, finer, more beautiful (on this showing anyway) grand cru than the La Romanée. Extraordinary. A quite fabulous wine, a privilege to taste, even as a vat sample. This will be mesmerizingly seductive at a decade in bottle but, should you have the opportunity, all the better at two decades and more. 2031–50+. | 97–99
2021 La Romanée Grand Cru Monopole (vat sample)
Deepish mid-purple, the darkest wine in the lineup; the density and presence of the Clos de Vougeot to smell but with much more subtlety, presence, temptation to linger—haunting. Rich, medium-full wine, freshly defined in acidity, gently firm but fine-grained in tannin, a relatively structured constitution in the vintage, indeed with some of the structural presence of the Vougeot. Deep, dense, and sweetly ripe in its fruit core, close-grained, complex, notably tight in the group, with great, class, complexity, perfume, and persistence. A grandeur, a magnificence, of a different style and presence to the Echézeaux. Wonderfully tenacious wine, which will need time in a way the other 2021s won't. Superb, long-term La Romanée, utterly complete, and by some measure the most long-term and backward of this lineup. 2036–60+. | 97–98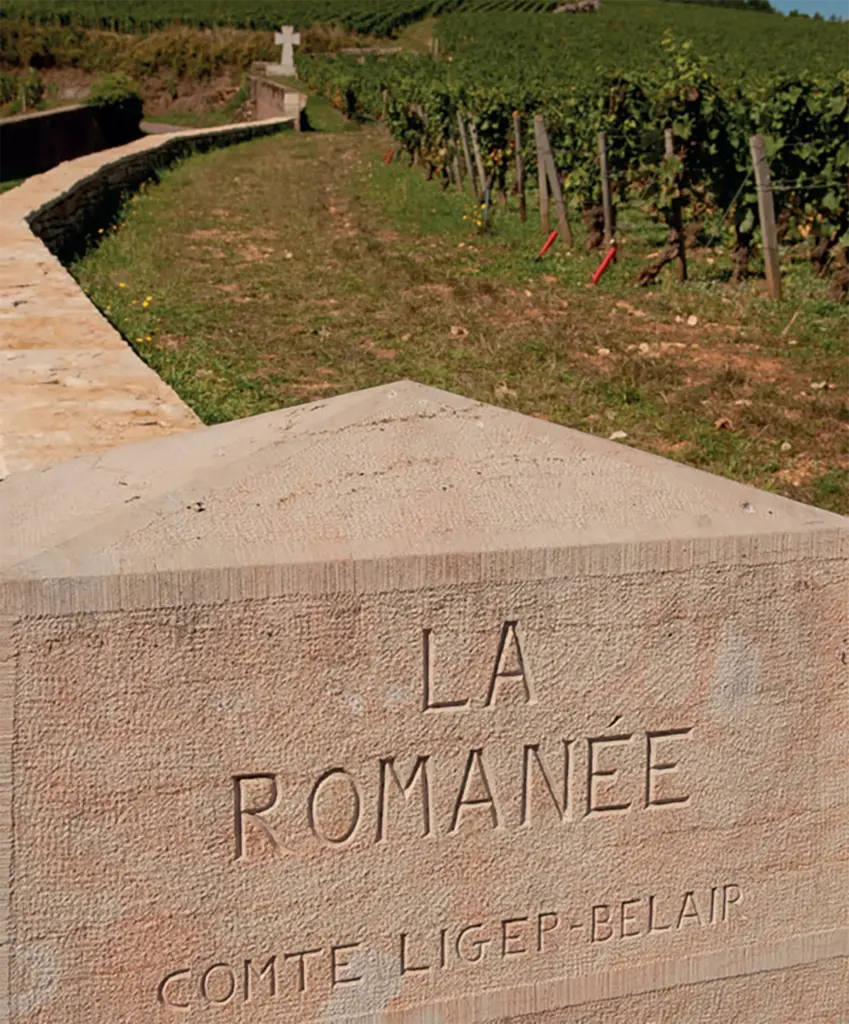 2020 Comte Liger-Belair: Bounty and class combined
Tasted at UK agent Justerini & Brooks, London; March 13, 2022
2020 was, yet again, a low-yielding crop, similar to 2019, half that of 2018. It was hot, yes, but far from the excesses of 2003 (which was similarly early across the viticultural year), and it was, above all, dry. But a dryness that was offset by the very wet preceding winter, so that there was sufficient moisture to keep deep-rooted vines healthy even over the particularly dry summer. Leading up to the very early harvest (late August/early September, in perfect conditions), the winds blew from the north/northwest, and the warm dry days were followed by cool nights. This made for grapes that were small, thick-skinned, with limited juice, sugar-rich but with remarkable freshness, given the weather, from the concentration of all aspects of the fruit—acidities included. The acidity seems also to be enhanced by biodynamic farming.
The resulting wines are dark in color, marked by ripe black, as well as red, fruit and, in addition to the great freshness, abundant in finely structuring tannin. Ripeness, structure, definition. It is a magnificent year across the board for Comte Liger-Belair, one that had me noting, as I tasted, "Every wine is a star at its level." And looking for a vintage comparison, it made me think of a sort of latter-day, better-defined, super-1990. The image, anyway, of the best 1990s. Wines with a profusion of flavor, a flatteringly rich fleshiness of texture, but a marked minerality, defining freshness, and sense of origin, too. Bounty and class combined. And enhanced by the polished perfection of Comte Liger-Belair's viticulture and winemaking today.
2020 Nuits-St-Georges Premier Cru Clos des Grandes Vignes Blanc Monopole (barrel sample)
Pale gold; light, fresh, lemon and mineral nose; full, fresh, particularly elegantly balanced for this wine; a ripe, juicy core-flavor, beautifully defined by its acidity. Long, graceful, linear white Burgundy, with a clear premier cru complexity and length, and a fine aromatic persistence. A particularly classy, well-defined expression of the vineyard. Now to 2034+. | 93–93+
2020 Vosne-Romanée (bottled)
Deepish purple; freshly sweet, black-cherry fruit to smell, quite dense for this wine; fairly concentrated, medium-full-bodied, marked by a finely firm tannin and a lively, defining acidity. There is here a notable sense of both matter and definition at the level, fairly fat and juicy on the palate, moderately complex, and with excellent length. As usual, a village wine performing at lesser premier cru level. This will be richly delicious in a decade but certainly accessible earlier. 2025–35+. | 91+
2020 Nuits-St-Georges Les Lavières (bottled)
Dark purple; rich, dense black-cherry fruit to smell; fairly full, moderately firm in very fine tannin, fresh to lively in acidity; sweet and succulent in flavor, a ripe, juicy, flattering village Nuits-St-Georges, with the vintage's deliciously ripe and juicy fruit alongside its mouthwatering vitality. A particularly engaging combination. Long and satisfying to taste and to finish. Most complete at the level, a remarkable village wine. 2026–38+. | 92+
2020 Vosne-Romanée La Colombière (bottled)
Dark purple; dense, mineral-saturated, sweetly ripe black-cherry fruit on the nose; persistent and fine and very seductive; rich, generous, fleshy wine, finely tannic, vital in acidity, with an exceptional richness of texture at the level and for the lieu-dit. Long and juicy and satisfying, with a remarkable "fat," as though you can sense the clay richness of its site. This is lip-smackingly good already, with a lesser premier cru complexity and fine, sweet, scented length. Exemplary, special. 2025–40+. | 92+
2020 Vosne-Romanée Clos du Château Monopole (bottled)
Mid-purple, a hint of bricking already, a noticeably paler "limestone" color than the clay-based La Colombière; that typical hint of reduction/gameyness behind the ripe red-cherry fruit; medium-full, very discreet in tannin, fresh in acidity, classic, elegant, stylish Vosne proportions. Pure, sweet, transparent, graceful wine, with a lovely fragrance, a lesser premier cru scope, and fine, scented length. Juicy, too, but with more finesse, if less fat, than La Colombière. Delicious. A prolonged, delicate village beauty. Accessible early, but no hurry at all. 2027–40+. | 93
2020 Nuits-St-Georges Premier Cru Aux Cras (barrel sample)
Deep purple; dense, ripe black-fruit and mineral-tinged nose, an immediately flattering impression of matter fills the glass; rich, dense, vital, a splendid combination of plenitude and ripeness and defining vitality, with an almost-velvety tannin. Deep, sweet, succulent, and generous in flavor, black-cherry ripe, a fleshy breadth but a subtle sinew of tannin, too. Very much a Nuits-St-Georges, but on its softer, northern, Vosne-close border; long, subtle, gently racy, fine mid-rank premier cru quality, with a finish combining the year's ripe fruit and the commune's aromatic "minerality." Lovely, particularly rich Aux Cras. 2028–45+. | 93–93+
2020 Nuits-St-Georges Premier Cru Clos des Grandes Vignes Monopole (barrel sample)
Deep purple; immediately dense to smell, minerally, vitally black-fruit, black-cherry ripe. A rich, ample, abundant wine, beautifully defined by its fresh-to-lively acidity; deep, sweet, and fleshy textured, long and satisfying to taste, mouth-filling, warm, with a firm, gently muscular sinew of very fine-textured tannin; a wine of more breadth and power (without excess), but also more subtlety than Aux Cras, performing at a most complete, top premier cru level. Very long in flavor, always succulently sweet, and with fine aromatic length. Depth, generosity, scope. A classy, imposing expression of the commune. You could enjoy this very young, but it might be a waste. Unless you (should be so lucky as to) have an abundance. 2030–50+. | 93+ –94
2020 Vosne-Romanée Premier Cru Les Petits Monts (barrel sample)
Deep purple; a flatteringly fragrant, subtly mineral, and very persistent nose—haunting, beautiful—which will make a wonderful bouquet at full maturity; full, vital, very fine-textured in gently firm tannin. Deep, lip-smacking in juiciness and texture, with the best of the year's deliciously mouthwatering acidity alongside its fleshy ripeness; succulent, flattering, long, and complex, subtly mouth-filling, and with great aromatic persistence. A splendid expression of fine premier cru Vosne-Romanée. 2030–50+. | 93+ –94
2020 Vosne-Romanée Premier Cru Aux Reignots (barrel sample)
Very dark purple, deeper than the Petits Monts; both "denser" to smell and more persistent, just begging to be lingered over—and you sense a particular vitality alongside the richness, as well as the merest hint of oak. Rich, fleshy, fresh, and firmly but finely tannic, a graceful, effortless, most harmonious balance; sweet, refined, intense yet delicate Vosne, with an abundance of ripe fruit, but also a marked fragrance, long and subtle and tenacious to taste, and with great, floral-scented length to finish. A benchmark, top premier cru Vosne-Romanée performing at grand cru level. Elegance, poise, restraint—remarkable. An absolute beauty. This is on the firmer side for the year and will benefit from a bit of time to mellow. 2035–55+. | 96–97
2020 Clos de Vougeot Grand Cru (barrel sample)
Very deep purple; dense, tight, relatively closed to smell in the context of these wines—red-and black-fruit ripe but inexpressive today; full, dense, compact, vital, and tannic—a long-term, firmly constituted wine; deep, concentrated, vivid in flavor, a notably elegant expression of this vast vineyard, with great length of flavor, considerable complexity, graceful, contained, and very persistent. A splendid Clos de Vougeot of notable class and refinement but whose tight, closed, muscular structure indicates, I would say, a minimum of a decade and a half even to begin to ease and mellow into what will be a glorious maturity. 2037–57+. | 95–97
2020 Echézeaux Grand Cru (barrel sample)
Deep purple; a particularly subtle, glass-filling nose, fragrant, rose-petal floral, seductive, beautiful; full, rich, fleshy, and also vital in acidity, perfect grand-year, grand cru proportions; deep, sweet, succulent, racy wine, mouth-filling, abundantly perfumed, very long across the palate. At once so sweet and yet so mouthwateringly vivid, and all the while a wine of enormous grace, delicacy, discretion, and restraint. An outstanding grand cru—complex, harmonious, and complete. Achingly wonderful. 2030–60+. | 97–98
2020 La Romanée Grand Cru Monopole (barrel sample)
Deep purple; relatively closed to smell, rather like the Clos de Vougeot, but clearly dense, complex, glass-filling, floral-fragrant, persistent, and minerally—this youthful nose alone calling on one to linger long; deep, rich, and generously proportioned, freshly defined, finely and firmly tannic, wonderfully packed yet elegantly contained Vosne proportions; profound on the palate, mouth-coating, sweet, abundantly scented, and teeming with endless, effortless, gentle inner energy. A sublime expression of top Burgundy, so long to enjoy, and with tremendous length to finish. That a liquid you explore in your mouth can so quicken the senses and be the source of such wonder should remain an astonishment to even the most experienced wine lover. To appreciate on bended knee. In 20 years' time. A tribute to both site and winemaking. So that putting a bald, figured score here—even the one I have to give—just seems a bit silly. Wine doesn't get any better than this! 2035–60+. | 100