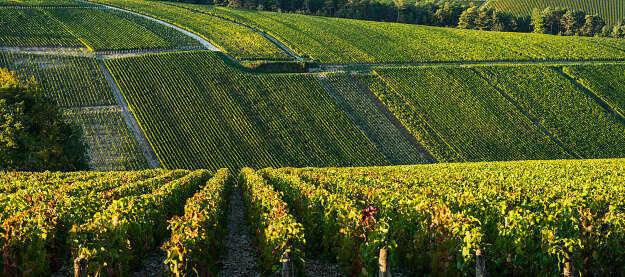 Geographically and culturally closer to Chablis than Épernay, the distinctive Champagnes of the Côte des Bar deserve their new-found respect, says Essi Avellan MW, who introduces a tasting shared with Simon Field MW and Anthony Rose.
This is an extract of an article from Issue 75 of The World of Fine Wine. For the full report, including tasting notes and scores for all 26 wines tasted by the panel, subscribe to The World of Fine Wine.
Nestled in its own peace and quiet, the Côte des Bar presents a notably different landscape, climate, and soil from the Champagne vineyards of the Marne. Situated some 90 miles (150km) southeast of Épernay, nearly all of its vineyards lie in the départment of Aube.
In fact, the region has closer physical proximity to Chablis than to Épernay or Reims. Soils of Kimmeridgian marl and Portlandian limestone reinforce the link to Chablis rather than Champagne.
But there seems to be a mental connection, too; many of its winemakers study in Burgundy and the Burgundian single-terroir, varietal approach is dear to many.
Still, Burgundian winds are nothing new to the area. It was as early as the 12th century that St Bernard brought the Morillon Noir grape—ancestor of Pinot Noir—from Burgundy to the Côte des Bar.
Côte des Bar: To be or not to be Champagne?
Historically, the Côte des Bar's geographical isolation has put its inclusion in the Champagne appellation in question. In 1908, Champagne Viticole was defined as roughly 37,000 acres (15,000ha) in the Marne and the Aisne but the Aube départment was excluded.
In 1911, riots flared and in an attempt to cool down the protesting Auboises, the government designated Aube as part of Champagne but as a deuxième zone. Finally in 1927, a new legal delimitation of the area was drawn, comprising some 85,000 acres (35,000ha)—this time including the Aube.
Still, the échelles des crus ranking gave none of Aube's villages the prestige of grand cru or premier cru, which didn't help in removing the stigma of being a lesser area.
Fortunately, the current era—with its heated demand and more open-minded Champagne-makers—has brought deserved and long-overdue appreciation of the region. Now, the 20,027 acres (8,105ha) in the Côte des Bar make up 23 percent of Champagne, and the past 20 years have seen its vineyard surface grow by 3,178 acres (1,286 ha).
The lucky seven
Even if a great wealth of grape varieties used to be grown in the Côte des Bar, today it is very much Pinot Noir country with an 82 percent share of plantings. Considering the climatic and geological similarities with Chablis, Pinot Noir's dominance here is perhaps rather surprising. Being the warmest part of Champagne, this makes sense.
Chardonnay, however, surely has more ground to conquer and, in fact, over the past 20 years its share has risen from 9.5 percent, to 13.7 percent.
The Côte des Bar also holds the lion's share of Champagne's small pockets of historical grape varieties. There are altogether 252 acres (102ha) of Pinot Blanc (locally called Blanc Vrai), Pinot Gris (Fromenteau), Arbane, and Petit Meslier. The past two decades have seen returning interest in these heritage grape varieties, and their surface area in the Côte des Bar has slowly crept up by 60 acres (24ha).
In addition to the pioneering advocates such as Drappier and Famille Moutard, others including Alexandre Bonnet, Cédric Bouchard, Fleury, Olivier Horiot, Vouette & Sorbée, and Château de Bligny are now making Champagne solely or partially from these grape varieties.
Raising the Bars
The Côte des Bar is divided into two sub-regions—Bar-sur-Aubois and the Barséquanais. The town of Bar-sur-Aube by the River L'Aube lends its name to Bar-sur-Aubois, a lush, cooler area with gently undulating hills.
Here, the village of Urville stands out, doubtless due to Drappier fame. But already in the days of St Bernard of Clairvaux a cellar was built in the village, which today functions as the heart of the Drappier cellars. Bligny has one of Champagne's rare châteaux, Château de Bligny, where the Rapeneau family of GH Martel have established a clos growing six of Champagne's seven permitted grape varieties.
The much more sizeable Barséquanais to the west is located along the Seine River and is named after the town of Bar-sur-Seine. Here the topography is hillier, including some uncommonly steep hillsides for Champagne. The Seine tributaries of Arce, Laignes, Ource, and Sarce play a key role in forming the landscape and defining the complex patchwork of microclimates.
At the very south of the region, by its border with Burgundy, lies Champagne's largest village, Les Riceys. Its unique Rosé des Riceys enjoyed great fame already during the Sun King Louis XIV's era, but today Les Riceys is known foremost as a great source of white and red colored Pinot Noir base wine for many Champagne houses. Yet, this 2,140-acre (866ha) village is also home to dozens of Champagne producers—among them, Alexandre Bonnet, Olivier Horiot, Guy de Forez, and Gallimard Père & Fils.
Tasting the Côte des Bar
Since our previous Côte des Bar tasting back in 2011, the region has evolved developing a highly dynamic spirit thanks to its many up-and-coming producers. This time we had a sample of 26 wines to taste coming from both growers and houses.
We tasted a mixed bag of Non-Vintage and Vintage wines, including one odd rosé bringing pink color to the otherwise white pack.
There were as many as 13 blanc de noirs and five blanc de blancs, but only seven blends. Curiously, very few of the blends excelled, with merely one of them making it into the top 15. Perhaps this is Burgundy's influence overriding Champagne's traditional cult of blending?
When tasting Côte des Bar wines, it is surely Pinot Noir that is expected to shine. And it did. It was, however, the blanc de blancs that brought the tasting's biggest surprises, with all five of them finishing in the top dozen and three making it in the top four.
Clearly there is further potential for Chardonnay here, something style-wise fleshier and fruit-forward, interestingly different from the classic Côte des Blancs benchmarks.
Overall our results showed quite a spread in opinion. Anthony's scores were the highest, his points ranging from 87 to 94, with an average of 90.7 points.
My average score and Simon's were closer together, at 88.4 and 88.5 respectively. As usual, I had the lowest tolerance to the more oxidative styles. Nor did I find Fleury's "no sulphites added" Sonate correct.
The Côte des Bar: An organic and biodynamic hotspot
Pioneered by Fleury, Côte des Bar boasts today a wealth of organic and biodynamic growers. This genre seems to be becoming a real forte for the region, with the likes of Vouette & Sorbée, Clandestin, Piollot, Marie-Courtin, Vincent Couche, Olivier Horiot, Ruppert-Leroy, and Val Frison contributing to the ever-expanding pool. Thus it was pleasing to find them perform in our tasting.
Overall, we were impressed by the wines of Clandestin, a joint venture between Bertrand Gautherot (of Vouette & Sorbée) and Benoît Doussot. The duo has become famous for their wines of cooler, west-facing expositions of Buxières-sur-Arce.
From such terroir came Clandestin Les Semblables Boréal Blanc de Noirs 2018 that came top of the tasting, together with Jean Velut's Témoignage Blanc de Blancs 2010.
The mellow and textured Témoignage actually originates in Montgueux near Troyes, which isn't officially part of Côte des Bar, but a small, superb region of its own. Thus, it was a little out of place here, but nevertheless a great wine contributing to the strong Chardonnay gospel of Montgueux (as did the same producer's cuvée Lumière et Craie).
Back to our Côte des Bar highlights, the well-established husband-and-wife duo, Roland Piollot and Dominique Moreau performed as expected: Moreau especially with her organic Marie-Courtin Eloquence Chardonnay 2016 and Piollot with his biodynamic Come des Tallants Pinot Noir NV.
Some great growers on the rise showed promise, notably Coessens with the fragrant single-vineyard Largillier Blanc de Noirs 2016 and Domaine La Borderie with the finely crafted Trois Contrées NV.
It was no surprise that the wines of the famous Les Riceys were strongly represented in the tasting. Guy de Forez's Intense Les Riceys 100% Pinot Noir NV, alongside the near-neighbor Gallimard's Les Riceys Cuvée de Réserve Blanc de Noirs NV were true to the fleshy generosity of Les Riceys wine.
It was also fascinating to discover blind the new releases of Alexandre Bonnet, the Lanson-BCC house turned "terroirist," which now has a strong focus on single-vineyard Les Riceys expressions. A producer to keep a close eye on, since it is turning récoltant-manipulant for its Domaine Alexandre Bonnet brand.
The Côte des Bar's super-cooperative Groupe Vinicole Champagne Devaux is not exclusive to Côte des Bar fruit, thus we only tasted one cuvée from the Devaux range: the Coeur des Bar Blanc de Noirs NV. But Devaux also makes Champagne in a joint venture with the Rhône legend Michel Chapoutier.
The oak-influenced Sténopé is still work in progress when it comes to reaching the required finesse for such a prestigious bottling. We enjoyed a lovely "magnum effect" in it but nevertheless the wine wasn't able to escape the vegetal characters so typical to the 2011 vintage.
Encouraging results
Even if our points spread wide and far, the tasting was encouraging overall. And even more so if we consider we missed wines from some of Côte des Bar's most iconic producers like Cédric Bouchard and Vouette & Sorbée.
With lush, round, and fruity Pinot Noirs and wines of more singular expressions than the polished blends from farther north, Côte des Bar Champagnes do stand out.
With the increasingly united messages of varietal and single-terroir wines, topped with the curiosity factor of the historical varieties and the undeniable potential for still Coteaux Champenois wines, the Côte des Bar has intriguing stories to tell. And wines fine enough to lure ever-more involved Champagne consumers to leave the beaten paths for new discoveries.
The Top 5: The Best of Côte des Bar Champagne
Champagne Clandestin Les Semblables Boréal Blanc de NoirsBrut Nature 2018 (12% ABV)| 92
Essi Avellan MW: Pretty peachy color. Appealingly fruity strawberry jam, yellow apple, candy, pencil shavings, and peach nose. Really clean and crisp fruit. Generous palate, with a fine, soft mousse and a seamless feel. Fruity, medium-long finish, ending on a dry note. | 90
Simon Field MW: Distinctive pale copper, very pale at the rim. A powerful nose, blue and red fruit, blackcurrant leaves, hints of thyme and lemongrass, then wild strawberries and quince; complex, in other words… The palate is generous, the berry notes nicely defined and clearly etched, the dosage well-managed and the finish strong. Gastronomically impressive, but certainly nice enough to approach on its own. A successful and honest statement of a Blanc de Noirs Champagne. | 92
Anthony Rose: A pale rose-gold in color, this could be a rosé if it wanted to, at least on color; it has an alluring bouquet combining fresh berries with complexing light toast and malty notes of autolysis; the bubbles are fine and persistent, and the texture is raspberries and cream-rich, with flavors that linger, or at least you want them to, before inevitably dissipating slowly as they turn from ripe sweetness of fruit to savory, the zesty acidity helping to keep the balance right to the end of the road. | 93
Champagne Jean Velut Témoignage Brut Millésime Blanc de Blancs 2010 (12.5% ABV) | 92
EA: Deep lemon color. Some autumnal tones to the nose of baked apple, dust, and apple peel. A mouthful on the tart palate of appealingly smooth texture and mellow feel. The aromas could be more refined. | 88
SF: Straw-green, small, poised bubbles, then a pleasing nose of Mirabelle plum, honeydew melon, and soft spice; smoke, poached pear, and briary. A pleasing matrix of complexity; nice soft honey on the palate, summer flowers and ripeness rather than sugar underwriting the innate complexity; composed and yet not lacking for authority on the finish. | 93
AR: Pale gold with green glints, this is both bright and evolved at the same time, showing autolytic popcorn and buttery notes; still remarkably youthful in taste, with richly concentrated farm butter, light toast, and popcorn notes, witha full-flavored peaches-and-cream mousse that's expansively buoyant and finishes on a mouthwateringly dry note. | 94
Marie-Courtin Eloquence Chardonnay Extra Brut 2016 | 91(12% ABV)
EA: Lemon color. Overt, evolving, toasty nose, with charred and yeasty tones. Stewed appley fruit with confected notes, pineapple and vanilla. Very sweet fruitiness on the long, intense, and fresh palate. | 89
SF: Lively luminosity, the beads then repay the compliment. As does the nose, which majors on dried fruit, verbena, quinine, and gorse, Viennese pastries set out invitingly somewhere in the background, maybe a ginger slice or two as well. The palate is structurally ambitious, underscored by rococo architecture, with plenty of ornamentation to admire. The ensemble is felicitous, however, with hints of umami, Victoria plums, dried apricot, and slate behind the riper display of red-berried fruit, all integrated pleasingly. | 92
AR: Mid-gold; there's plenty of invitingly fresh, malty, and toasty autolytic character in the aroma—Chardonnay not a fish out of water in the Côte des Bar here. There's a really buoyant mousse, too, keeping the bubbles so alive that they're practically prancing their way across the tongue in a lively dance of creamy richness with buttered popcorn notes, tapering to a zesty dry finish. | 93
Champagne Serge Mathieu Cuvée Select Tête de Cuvée 100% Chardonnay Brut NV (12% ABV) | 91
EA: Lemon color. Soft fruit-forward nose, with lemon, quince, and orange blossom. Fresh and youthful. Zingy and lemony on the palate. Fluffy mousse and bright fruitiness until the medium-long finish. | 89
SF: Attractive, nacreous hue; resplendent bead, persuasive and long. A nose of spring flowers, quince, and windfall apples, eased off the trees by the intimations of Autumn. Petrichor restraint on the mid-palate, plenty of zesty, citric charisma, and a fine, flinty finish. Well-judged dosage, and with aeration there are notes of sour honey and macadamia nuts. Impressive. | 91
AR: Pale gold, fresh and bright, with smoky autolytic notes of almond sweetness and vanilla, and in the mouth there's an equally fresh and lively if supple mousse, cut by a trenchant bit of refreshingly citrusy acidity in white-Burgundy-with-bubbles mode. An attractive, pure Chardonnay, perhaps from one of the Côte's chalky outcrops. | 92
Piollot Père & Fils Come des Tallants Pinot Noir Zéro Dosage NV (12% ABV) | 91
EA: Pale lemon color. An appealingly clean and fresh nose of cool fruitiness. Fresh peaches, yellow apple, and strawberries, with a light, toasty undernote. Zesty palate, with intense juicy fruit. Lovely creaminess to the mousse. Delicious, pure, and sweetly fruity finish. | 91
SF: Buckwheat color, a playful bead, and assertive aromatic; yeast, sourdough, then hints of baking powder; power on the palate maintains the assertive leitmotif, grip and Pinot red fruit in evidence, white chocolate and quinine; the acidity runs though the piece with an iron grip; stylistically this is faithful to its southern red-fruit origins and has gastronomic potential beyond any presumption of autolytic complexity. | 89
AR: Mid-gold, a tad shy in aroma, but fresh and subtly fragrant, with a hint of bruised apple and malty sweetness, this is rich and full-bodied, with nicely concentrated stone-fruit and apple flavors, an expansively textured creamy quality of bubbles, whose immediate fruit sweetness tapers gradually to savory, finishing with a light phenolic grip that adds to the feeling of balance and freshness. | 92