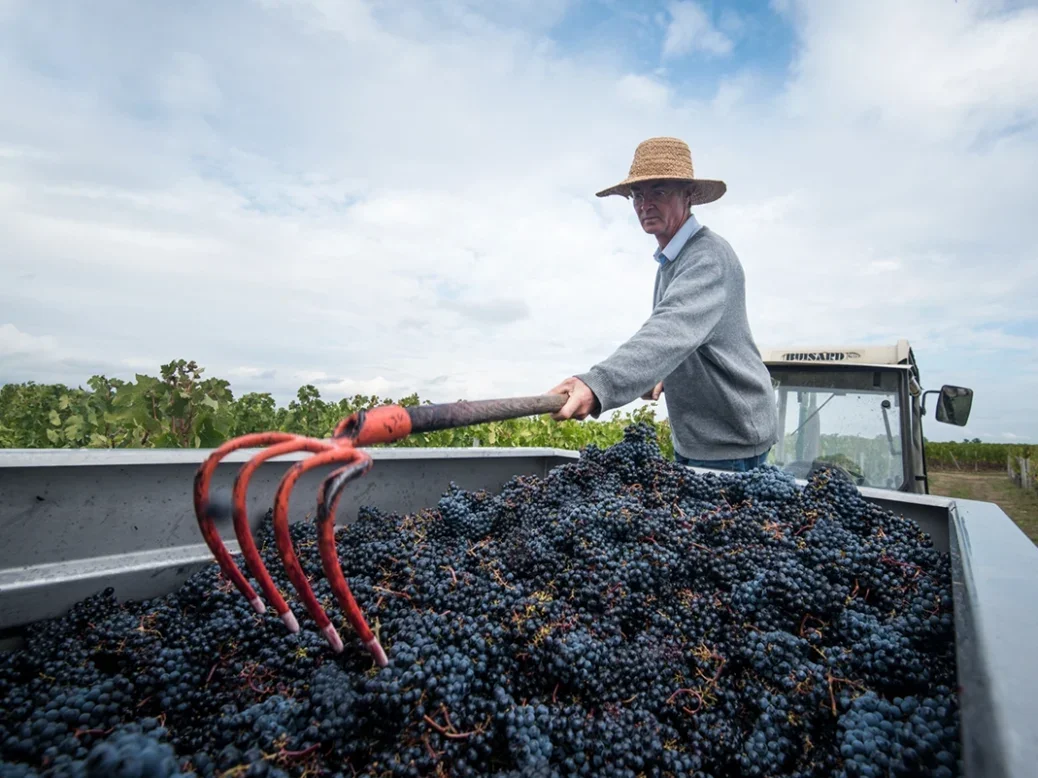 As Bordeaux gears up for the 2022 en primeur campaign, we are posting online for the first time some of our favorite pieces on the region, its producers, and their wines from past issues of The World of Fine Wine. We begin here with an in-depth profile of the Thienpont family by Roger Morris, which was first published in WFW77 in June 2022.
With the family beginning its second century of winemaking and trading in Bordeaux, the Thienponts are also entering a period of profound changes while continuing to produce great wines. Roger Morris explains how they pull it off.
As 2021 wound down, Jacques Thienpont announced the formation of a new company, Domaines Jacques Thienpont, to administer his three châteaux on Bordeaux's Right Bank—Le Pin in Pomerol, L'If in St-Emilion, and L'Hêtre in Côtes de Castillon—the first property already world-famous and the second quickly becoming so.
The rest of his announcement was something of a surprise. In a family network of Bordeaux fine-wine producers that, to date, has been rigorously dominated by three generations of male cousins, Jacques Thienpont was naming a young woman as managing director. Perhaps more surprising still, the woman, Diana Berrouet Garcia, despite her own impeccable wine family connections in Spain and in Pomerol, was not a Thienpont.
Belgians have long been legendary for their love of French wines, especially those of Bordeaux, and the Thienponts—a Flemish family who had been, and still are, wine merchants in that country—decided in 1921 to backward-integrate the business by buying a Bordeaux property—Château Troplong Mondot in St-Emilion. Although a reversal of fortunes during the Depression caused them to sell that property in 1935, they had purchased a second estate in 1924, Vieux Château Certan in Pomerol, which served as their beachhead in the Gironde. 
Today, as the Thienponts enter their second century as Bordeaux winemakers, they are arguably the first family of Right Bank wine producers, masters at creating world-famous red wines from chiefly Merlot and Cabernet Franc grapes grown on clay and limestone with a handful of gravel tossed in. At the same time, the family is not a monolith but rather a loose confederation of château-based ventures with individual family members often joining together in twos or threes and everyone seeming to have more than one responsibility. There is no joint family ownership of all these ventures, and thus no central planning. Only Vieux Château Certan—or VCC as it is familiarly known—stands as a commonly held property among the Thienponts, but even there not all Thienponts are equal owners.
In addition to Jacques, who is 75, the reigning generation of Thienponts still very active in the wine business comprises his cousins Nicolas, 74, and François, 65, who are brothers, and Alexandre, 66. The rising generation, all very active in one or more of the properties, includes Cyrille (46), Jan (43), Guillaume (40), Florian (39), and Maxime (35). Among and between the generations, the Thienponts profess to get along very well, even though there may be the historic slights and current disagreements that any family has.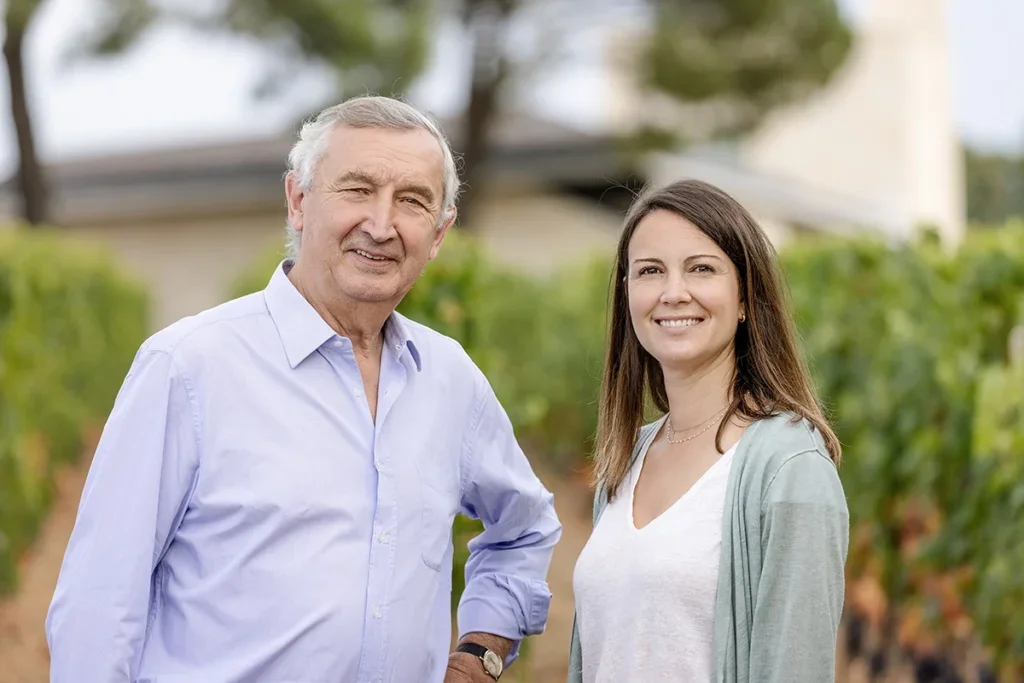 Collectively, the Thienponts' enological reach in terms of the number and quality of properties is stunning. They own, manage, or make wine for châteaux including Alcée, Bouty, Chantecaille Clauzel, Clos Fontaine, Guillot Clauzel, Laclaverie, Larcis Ducasse, La Prade, L'Hêtre, L'If, Le Pin, Les Charmes Godard, Pavie Macquin, Puygueraud, Robin, and Vieux Château Certan, as well as owning other wine brands and merchant businesses.
Nevertheless, the appointment of Berrouet Garcia, along with the fact that the four reigning cousins are nearing retirement age while the younger generation is taking more responsibility as they collectively near middle age, all indicate that the Thienponts as a family, after two prosperous decades of relative calm, are entering a challenging state of transition, one that will see significant changes—some difficulties, certainly, but also continuing opportunities.
The fountainhead: Hof te Cattebeke
While the history of the Thienponts in France encompasses the whole of the previous century, their historic roots trail north into the Flanders section of Belgium and the small town of Etikhove, located a little more than an hour's drive west of Brussels and not far south of Ghent. The Thienpont family had lived there for centuries when, in 1842, they became wine merchants, buying barrels of wine from the Douro, Jerez, and Bordeaux to be bottled at the family seat, Hof te Cattebeke. That elegant structure, dating back to 1612, still serves as home to the Belgian business, as well as being the residence of Jacques Thienpont and his wife, writer Fiona Morrison MW.
Although the bottling business faded ages ago as producers began doing that themselves at the source, some collectors of rare wines have bottles marked "Bottled by Georges Thienpont—Etikhove." Jacques says, "We have a letter from Yquem telling us they would no longer be sending wine to be bottled, but we still have a bottle of Yquem and from Domaine de la Romanée-Conti that were bottled here in the 1930s."
Georges Thienpont, who made frequent buying trips to Bordeaux, decided to purchase the two châteaux there a century ago, with the gradual result that some family members relocated to France while others stayed in Belgium. It is impossible— even for Fiona, the unofficial family historian—to keep track of all of them, to know who dabbles in wine and who does not. Born in America of British parents and long associated with the wine business, Fiona first met Jacques while tasting the 1996 Le Pin en primeur, and they were married not long after.
In her recent book 10 Great Wine Families: A Tour through Europe (Académie du Vin Library, 2021), Fiona devotes a chapter to her family. "I have still not mastered all of the second and third cousins, or cousins once or twice removed," she writes. "Remember that in the years after the Second World War, there was a baby boom, and like many good Catholic families with no television in those days, they multiplied."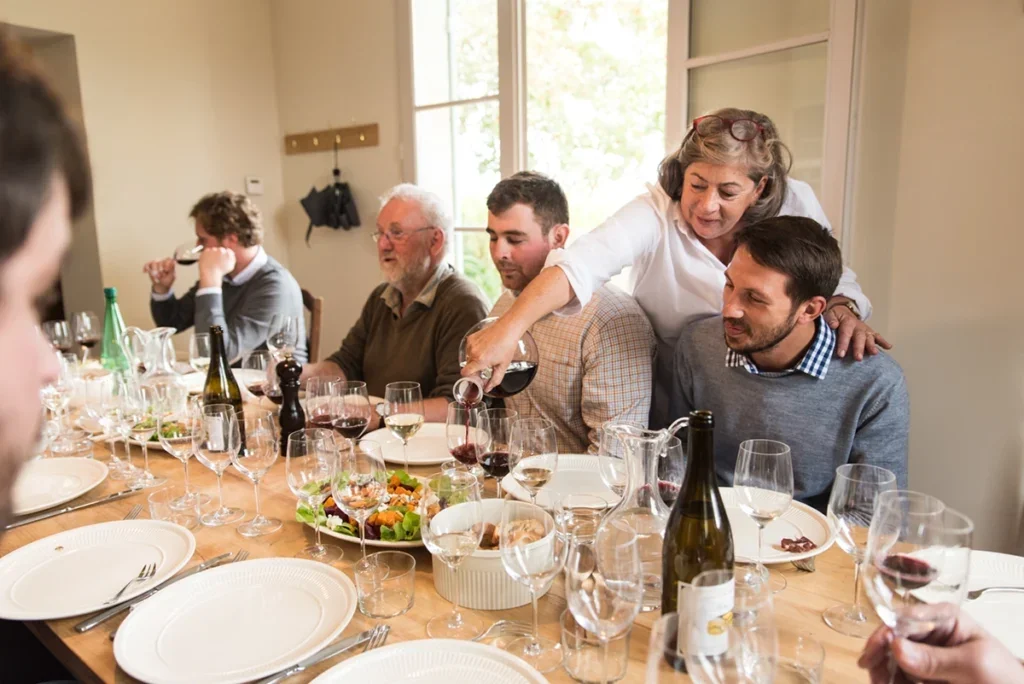 Among Georges's sons, George (with no s), Léon, Marcel, and Gérard are most noted in family wine history. While Marcel became a banker, some of his sons, most notably Jacques, followed their grandfather's passion. And Gérard was unusual among the prolific Thienponts in having no heirs. When he died in 1995, Jacques, who worked for him, inherited the business and the family seat. Ever since, Jacques has kept one foot in Etikhove and one in Bordeaux.
"Fiona runs the business here in Belgium, while I handle Bordeaux," Jacques updated recently, shortly after announcing the new company and his surprise new hire. "I think the decision [to hire Berrouet Garcia] was quite hard for some members of the family," Fiona notes. 
The lodestar: Vieux Château Certan
Although Vieux Château Certan was the second purchase, it was not the château that was put on the block during the Depression. And its purchase history itself is interesting, as Jacques elaborates. "My grandmother asked her father if she could buy VCC," he says; "women had to do so in those days. And my grandfather then allowed her to buy it."
But it was his grandfather, Georges, who elevated the estate—which had been making wine at the edge of the Pomerol plateau since the 1800s—with a series of vintages that still are considered outstanding. Following Georges's death in 1962, Léon, born in 1924, assumed control of VCC and for a time lived at the fine old château with his family. When Léon died in 1984, the duty of making wine at the estate—now owned by Georges's many heirs—fell to his son, Alexandre, not yet 30, causing considerable angst for some family members.
I first met Alexandre on an early Sunday afternoon in 2007 during the en primeur tastings of the 2006 vintage and found him every bit as delightful as his elegant yet substantial Merlot and Cabernet Franc blends. Bespectacled, thin, almost frail-looking, Alexandre could have passed for a priest or aesthete, belying his solitary pursuits of gliding and challenging the Pyrenees on his bike. He was exceedingly polite but also very forthcoming as we tasted the wine on a plain barrel head. (Alexandre and his cousins are not a flashy lot.) "Early on, we decided for the first time to make a second wine, and we also did crop thinning," he said of his accession at VCC. "My uncle [George] said, 'I do hope you know what you're doing.' The ground was more green than brown [from bunch thinning]. Even the priest said in Sunday mass it was a sin to drop fruit." VCC later survived a trauma in the 1990s, family members relate, when it was almost sold to a Champagne house.
Today, Alexandre is grand master of his vineyard—about 14ha (35 acres), allotted to 70 percent Merlot, 25 percent Cabernet Franc, and 5 percent Cabernet Sauvignon—but is now assisted by his technically inclined son Guillaume. "My father and I have a real symbiotic relationship," Guillaume says. "He says about me, 'I took him on as my assistant ten years ago. Now I am his assistant.'" Guillaume laughs. "But I would never be confident enough to try to push him out."
Nevertheless, Guillaume is already making his impact at VCC, especially in the use of technology. "We are trying to bring more and more things in-house," he says, and he has installed the winery's first technical lab. "The new lab is a great tool, particularly in working with fruit ripeness—a big advance for us. We get quicker feedback mainly during harvest and vinifications, when we need quick results."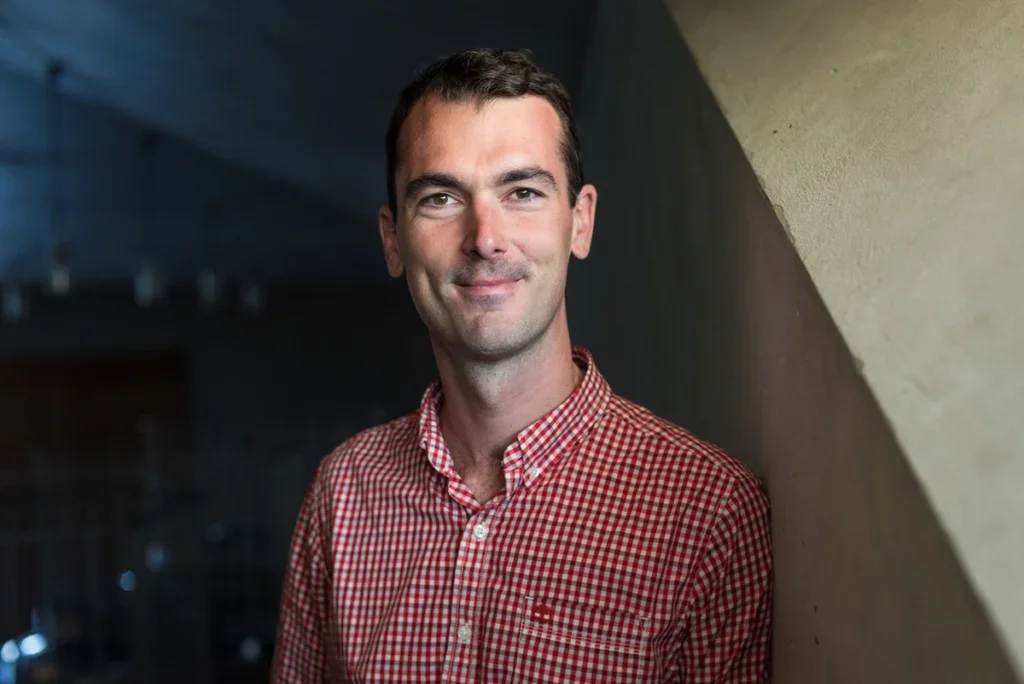 He and his father are now in the process of replanting an old block of Cabernet Franc with a new one of the same variety, but Guillaume adds, "In the future, with global warming, we may plant more Cabernet Franc instead of Merlot—but maybe also Cabernet Sauvignon. We try to adapt to the conditions and don't follow a recipe—for example, we'll change canopy management for heat or drought." Ever the scientist, Guillaume is agnostic regarding the wave of biodynamic conversions in Bordeaux vineyards, especially on the Left Bank. "I would be interested if someone could prove the science of it to me," he says. "My question is the fogginess of it all."
And he is aware that he is performing for a family of shareholders—the number estimated by family members lies between 100 and 150—whose income at least partially depends on how well Guillaume and his father perform. Each December, many appear at VCC for an annual general meeting event, though Fiona notes mainly it's those not active in the wine trade.
"I'm a professional, and it's the same whether its family members or wine trade or consumers," Guillaume says. "They [attending family shareholders] are always asking why we do something. They don't have the skill to do it, so they have to ask the questions. But they see the results. The bottom line is always good."
Garden of Eden: Puygueraud
"When I was a child, Château Puygueraud still had a lot of polyculture—kiwis, apples, plums, cow breeding, in addition to wine," says Florian Thienpont. "My year of birth corresponds to the first vintage of Château Puygueraud in 1983."
The Thienpont family has invested heavily in properties in Castillon Côtes de Bordeaux and neighboring Francs Côtes de Bordeaux, where Puygueraud is located, especially over the past five years. Florian notes that most of his cousins, as well as uncles Jacques, François, and Nicolas, are all invested there. "Castillon is our America," he says by way of viticultural analogy. "But we are still waiting for Alexandre and Guillaume [to become involved in Castillon], and then we will be complete."
Florian is a grandson of George without an s, who bought Puygueraud in 1946 and ran it as a commercial farm for years until his son, Nicolas, began making wine in 1983 and gradually turned the property into vineyards, though the kiwis remain.
Nicolas's younger brother François left the farm at an early age to travel in America, for a time as a wine agent. "But I also sold cheese for four years in Houston," he says. After returning to Bordeaux in 1985, François headed the Côtes de Francs appellation and became a wine merchant in 1995, when he established Wings.
"As a teenager, I wanted to be in the wine trade, to travel," François says. "I love to taste wines, especially when they are just made. But to be a 100 percent vigneron, it's not my life. I like to promote the people behind the wine." Easygoing and instantly likable, François is almost certainly the Thienpont whom people in the wine trade are most likely to meet, though he makes far less wine than any of his cousins and certainly none that is as highly rated.
It's impossible to have lunch with François without people dropping by his table. I first met him at the Wings booth at the 2005 Vinexpo. The following year during the en primeur campaign, we arranged lunch at L'Envers du Décor. François had broken his leg in a skiing accident and hobbled to the table where I was already seated, and before long the welcome interruptions began, with glasses of wine being exchanged between tables. Leading French journalist Michael Bettane stopped by before being seated and later sent over a glass of "real Beaujolais" for François to taste. 
On a subsequent visit, François drove me to his childhood home, past other châteaux Nicolas had acquired or was planning to purchase. In St-Cibard, we explored the Puygueraud cellar before walking to the back of the property overlooking a valley beyond. "This is where the plateau ends," François said, referring to the elevated layer of limestone that underlies St-Emilion and parts of the surrounding appellations and is given due credit for the character of the region's wine. "I had a childhood people would dream of," François reminisced as we walked back, "with 13 kids, horses, our own gardens." In addition to Nicolas and François, siblings Bernadette and Dominique were also in the wine business as merchants. 
Two of Dominique's children, Florian and Jan, are now business partners. Florian says that in addition to their stakes in VCC and Puygueraud, the two manage three châteaux in the region with combined vineyards of 28ha (69 acres) and also have their own trading company, Terroir de Crus. "My grandfather said, 'Don't make this country a desert, or you will leave it,'" Florian recalls. "I chose to live here and to raise my three children in the countryside surrounded by vines."
The Gold Côtes: Pavie Macquin
During the 2017 primeurs, I was fascinated to watch Nicolas Thienpont, Florian's uncle and François's brother, work the room from behind the bar at Pavie Macquin, just down the western slope from Troplong Mondot. While conducting multiple conversations, Nicolas efficiently dispensed 2016 barrel samples—Puygueraud, La Prade, Alcée, and Charmes Godard, all Thienpont properties from Castillon and Francs in the distance, as well as wines he was making at the time for other owners—Berliquet and Beauséjour, who have since changed arrangements, as well as Larcis Ducasse and Pavie Macquin, all from the fabled eastern portion of the St-Emilion hillside that plunges down from the plateau toward the Dordogne across the flatlands below.
Jovial and rosy-cheeked, it was easy to imagine Nicolas behind a neighborhood bar anywhere, chatting up the crowd, keeping the wine flowing. And in the beginning, he certainly didn't imagine himself a wine magnate, owner of all those properties in the ancient city's northeastern reaches, but, more importantly, as recognized master of winemaking of these prized Côtes estates.
Considered the intellectual among his 13 siblings, Nicolas attended Jesuit boarding school before pursuing studies in the classics, philosophy, and law in Paris and Switzerland, as well as Bordeaux. For a year, he tried his hand in teaching philosophy in Reims, then worked five years in business as a social affairs manager for a boilermaker in Provence before returning to the farm and—eventually—winemaking.
After a decade of making wine at Puygueraud, Nicolas was hired in 1994 as director of Pavie Macquin, which was promoted to premier grand cru classé status only two years later and where he has remained ever since. His reputation as master of the slopes continues.
Today, Nicolas's right-hand man is his son Cyrille, who was born in Aix-en-Provence while his father was working there but shortly thereafter moved to Puygueraud at the age of five. "My father decided to go back to the earth to transform the farm into a vineyard," he says. Like his father before him, Cyrille did not initially expect to be a winemaker, being first drawn to engineering studies.
In 2004, he traveled to Tuscany, where, he says, "I learned two things: that it was possible to make wine outside of Bordeaux, and that the wine could taste good. I didn't know that before." He returned to the Right Bank in 2008. "I have two hats—with Jacques at L'If and working with my father," Cyrille says. "And my father is not ready to retire just yet."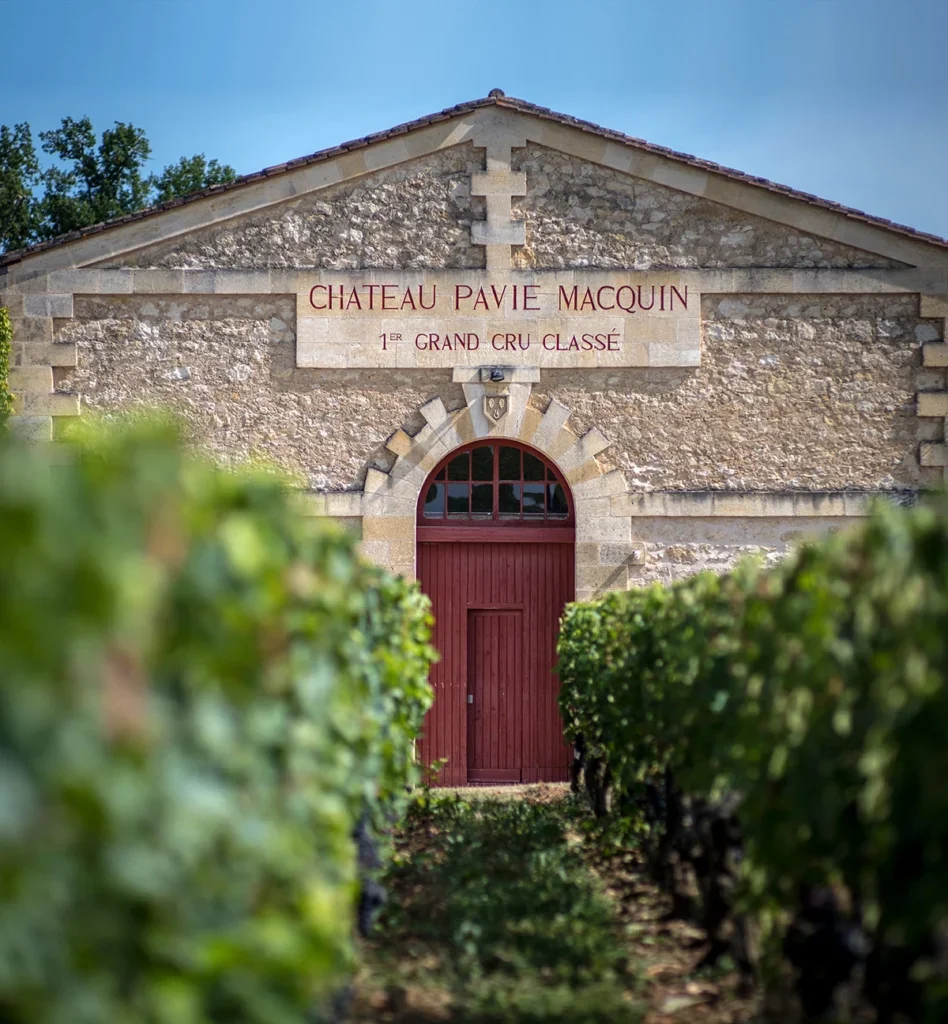 Out of the garage: Le Pin
On a June Saturday in 2009, Fiona Morrison arranged to meet me at Vieux Château Certan with its massive, leafy yard. "VCC has the most expensive lawn in Pomerol," she said, referencing the fact that Pomerol is so small that every available square foot seems planted to vines. Fiona and I had briefly met years earlier in the US, when she was working with wine merchant Chateau & Estate Wines.
"The distance is so close that we ride bikes," Fiona said, then pedaled away. I followed in my rental car at a safe distance for my first visit to Le Pin.
Jacques purchased the small house with one hectare (2.5 acres) of vines in 1979 at the urging of his uncle Léon at VCC, the million-French-francs asking price considered too much by the family as an addition to VCC. Le Pin's great terroir, the fact that cramped working quarters necessitated that malolactic take place in a barrel, and Jacques's perhaps intuitive winemaking skills quickly set Le Pin apart as a target for collectors.
There continue to be arguments as to whether Le Pin, which has now expanded to 3 hectares (7.4 acres), was the first garage wine in Bordeaux—or a garage wine at all, since the quality of terroir necessitated little mechanical assistance. But it was considered one by Right Bank garagistes of the 1980s and '90s, as well as by its detractors. For example, garage wines were still a hot topic when I was interviewing the late Jean-Bernard Delmas at Château Haut-Brion in 1999. Delmas had just returned from a luncheon with fellow estate directors where one had opened a bottle of Le Pin. Asked if anyone had ever tasted Le Pin, Delmas related, "Only one hand went up. My wine is expensive, but at least anyone can find a bottle." Delmas then went to a wall map of the estate showing parcels, any one of which could, he protested, be used to make a garage wine.
On that first memorable visit to Le Pin, I found it charming—a crowded, ramshackle cellar huddled beneath the upstairs living quarters. It has since been replaced by a still petite but more modern winery. I also found Jacques charming, with his rugged good looks—rather reminiscent of the actor Robert Mitchum—and his generosity with his wines and willingness to discuss them. On a subsequent visit in 2012, he said, "People always think we're powerful, but Le Pin has always had finesse." By that time, he and Fiona owned a second winery, L'If, formerly Château Haut Plantey, purchased in 2010 and located just down the eastern slope from Troplong Mondot. The price of his first vintage, he said, would be just a few euros. "If my name is on the label, people expect a lot," he admitted. "But they have to know right now that L'If is not Le Pin." Maybe not back then, but the major critics rated the 2018 L'If between 92 and 99 points, and it sells for about £180 ($243).
"When I started at L'If," Cyrille says, "Jacques told me three things: that he wanted quality, not quantity; that I was making wine not for myself but for my children; and that no bottle was to leave the building without his okay." Indeed, Jacques says, "In 2010, I gave Cyrille a free hand with the first vintage, but I didn't like the wine. I don't like wines to be heavy. I prefer elegance. He listened to my advice."
Now there is a third Domaines Jacques Thienpont property—L'Hêtre in Castillon, purchased in 2016 in joint partnership with his sister, Anne De Raeymaeker. Formerly Château Goubau, the estate had been farmed organically and will continue to be. An adjoining property, Château Montagne, has since been added.
L'Hêtre is being managed by another member of the new generation, Maxime, who grew up on the Left Bank where his father Luc—a brother of Jacques—headed Château Labégorce Zédé from 1979 to 2004, a rare Thienpont venture across the river.
Recently, I asked Jacques about his future plans. They do not, he says, include the Left Bank. "For me, I'm 75 years old and still ambitious, but that is a little too far." Nor is he interested in an established property, not even the old family homestead Troplong Mondot, a next-door neighbor to L'If. Instead, he says, he prefers distressed properties with good terroirs, because "I like to start from scratch." Jacques adds, "If I see the opportunity to buy something—why not? My father always said, invest in your own business."
The next gen digs in
Although all Thienponts are well aware of their Belgian heritage, most don't consider themselves still a Belgian family. The younger generation who are descendants of grandfathers Léon and George are now twice removed from Etikhove—the Sansei generation—and thoroughly French.
As a group, they are well traveled, and most had prior experiences in other professions or at other wineries before returning to the family vineyards. Florian trained to be a chef and worked in "the gastronomy trade." Brother Jan studied industrial logistics and worked in Asia and Africa for a while. In addition to his Right Bank experience, Maxime was the co-owner of a wine trading company before trading sides of the river. In addition to his engineering studies and Tuscan experiences, Cyrille spent time in Syria at a family winery. Guillaume was first attracted to telecommunications and mass media and made wine elsewhere.
They also collaborate. For example, Florian explains that he and Jan joined with cousin Thomas Heymans in the purchase of Château Robin, and that he and Jan are working with Guillaume to develop the Guillot Clauzel and Chantecaille Clauzel properties. "I have great relations with my cousins," Guillaume agrees. "We all have the same passion for wines."
As for the older generation, Jacques says, "I don't forget that I was young once with new ideas. We have experience, but they grow up with new ideas. We have to respect that. We learn from each other."
Then there is the newest generation, though the 40-something Thienponts are quick to say they want their children to make their own career decisions. Nevertheless, Cyrille notes, "I have two boys, seven and eight. The first one is really into vineyards. During [the Covid] lockdown, he went to the vineyard with me every day." The boy also drives a small tractor, Cyrille says, and sometimes enlists his younger brother to clear vine cuttings from the vineyards.
But for now, Cyrille says, he and his cousins "are ready to continue the history of the Thienpont family. We all feel the heritage."