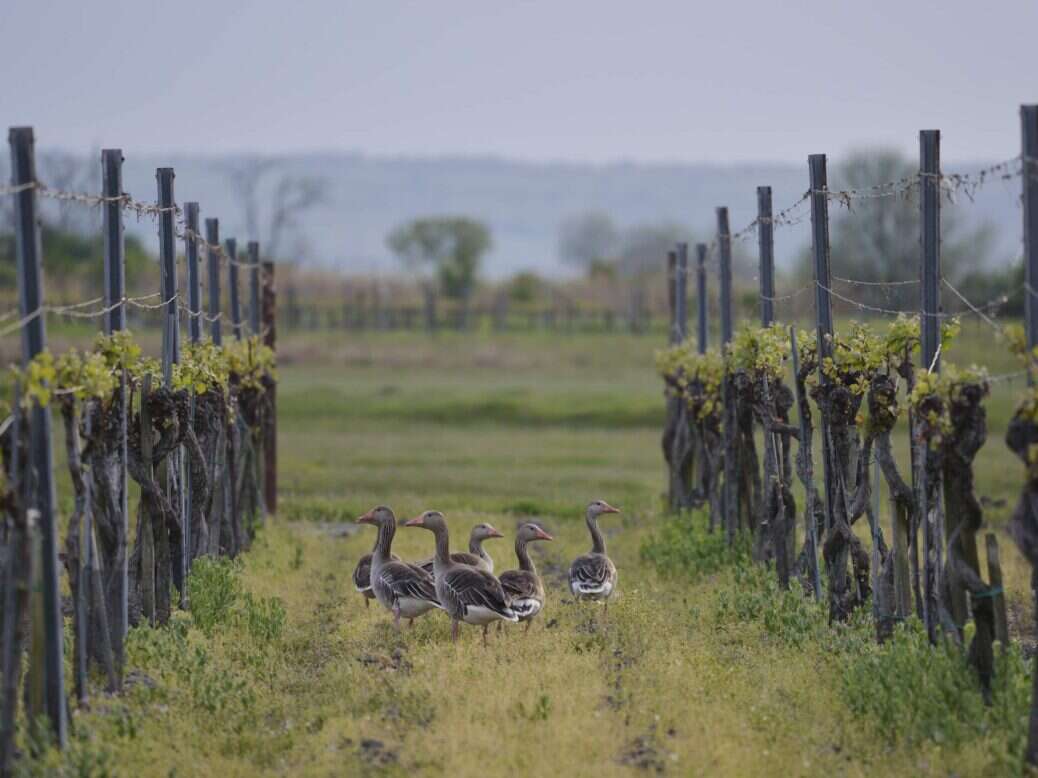 Unfamiliar with Zweigelt? It may be time to get acquainted with this instantly friendly red grape variety. It produces fruity wine with an unexpected capacity to evolve in bottle and, in the right hands, wines of surprisingly fine texture and finesse. 
Zweigelt, which is a crossing of St-Laurent and Blaüfrankisch, is the most widely planted red grape in Austria. The domestic market has fallen for its fruity charms but convincing the world at large of Austria's red-wine credentials has been much more challenging. Grüner Veltliner is after all Austria's great success story. And it's white. Undeterred, a group of producers with eyes on the international market are hoping that Zweigelt will follow in Grüner's wake. Burgenland is the spiritual home of Austria's reds and half of Zweigelt's total hectarage is planted in the sub-region of Neusiedlersee. So that was the logical place to go to find out more about this intriguing, very friendly variety.    
Zweigelt: In the shadow of the wind
The wind blew and blew, whipping hair in my eyes and ripping through the pages of my notebook. Visiting vineyards is key to understanding terroir, but tasting and writing notes in the vineyards can be a challenge. The wind however is an important part of the story.
The Neusiedlersee wine region lies in the easternmost province of Austria and is the warmest and sunniest in the country. It can often reach 35°C (95°F) in summer and, in June, July, and August, it can be hotter than Bordeaux, so it should be no surprise that reds can be ripened successfully. It is situated on the east side Lake Neusiedl, which at 36km (22 miles)long and 2 to 14 km wide, is the largest steppe lake in Europe after Lake Balaton. Just a 40-minute drive south of Vienna, it draws windsurfers and wine enthusiasts from the capital at weekends. Don't expect hills alive with the sound of music in Neusiedlersee. This is Austria at its flattest. 
Lake Neusiedl moderates the climate, absorbing heat in the daytime and releasing it at night so there are no significant diurnal shifts, but it also cools the air on its surface during the day and the ever-present wind, prevailing from the northwest, pushes that cooler air across the vineyards. This freshens things, helping to preserve somewhat fresher acidity in the wines than you might expect.
It's warm but also very dry, concentrating both berries and wines. I found myself drawn to the vintages—2021, 2019, 2017, and 2013 among them—which had a little more rain and tasted brighter and more energetic for it.
Within the Neusiedlersee DAC, which spans just 7,800ha (19,274 acres), there are three distinct areas. Neusiedlersee-Seewinkel is right beside the lake; Neusiedlersee-Heideboden lies on the low-level Pannonian plain; and Neusiedlersee-Wagram is a low range of hills at the top end of the lake. Earlier this year, I set off to taste my way around them.
Neusiedlersee-Seewinkel
Starting beside the lake, the area of Seewinkel was still partially underwater before it was successfully drained in the 1870s as part of an engineering project to reclaim the land for farming. This left behind sandy soil interspersed with small lakes, many of which dry out in the summer leaving shallow salt-encrusted shadows. Carried on the wind, the salt is blown into the vineyards. This saltiness, together with the deep, warm, and well-drained sand and a microclimate which most producers agree is warmest near the lake, produces a ripe and soft style of wine. It is especially noticeable in the dry whites. The best examples, red or white, are most satisfactory when they show a hint of salinity to pep up the finish.
I should explain that the Neusiedlersee DAC is quite narrowly defined. While the region produces 49 percent red, 42 percent white and 9 percent sweet wine, the DAC created in 2012 is reserved in red for Zweigelt and in white, only for sweet wines. The latter can be made from a basket of varieties including Welschriesling which is particularly susceptible to botrytis. From 2020 the sweeties have their own subregion, Neusiedlersee Seewinkel DAC, for wines from a triangle of villages (Illmitz, Apetlon, and Podersdorf) near the lake, for it is here in Seewinkel that misty conditions in autumn encourage the development of noble rot.
That's not to say Neusiedlersee doesn't make some attractive dry white wine and although this was a visit to discover Zwiegelt, I tasted plenty of whites. There is no lack of fruity Welschriesling, although most producers use Pinot Gris and Chardonnay for their higher-end wines and I found  the former more successful. But I felt the lack of acidity in whites, and this was most notable nearest the lake, while in Zweigelt acidity was not an issue. 
In the Zweigelt wines coming from the Seewinkel area the palate is typically relaxed, soft, and fruity and should finish off with soft salinity. In the village of Apetlon, Robert Preiner and his wife Andrea left careers in finance to take over the family farm of mixed crops including 24ha (59 acres) of vines. They produce an attractive red cherry Zweigelt with soft tannins and just enough acidity. The 2021 vintage certainly helps to bring a little more freshness, particularly to the wines of Seewinkel, where the soil and temperature are generally the warmest in Neuseidlersee.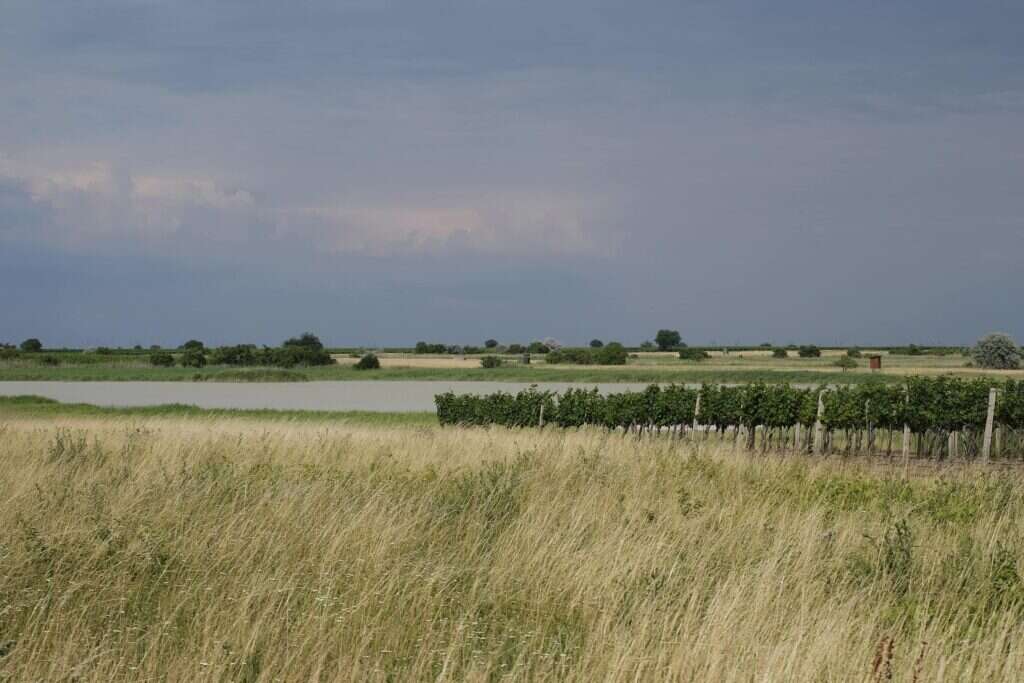 From the same vintage, but with vineyards in the village of Illmitz bang on the lake, Salzl Seewinkelhof Zweigelt Selection 2021 is laden with dark cherry fruit. There is a hint of cassis, a touch of oregano, and a slightly herbal bite on the finish.
We tasted it from an upturned barrel in Ried Lüss a vineyard on the edge of the conservation area that fringes the lake. Apparently, there is no other region in Austria with greater biodiversity than the national park of Neusiedlersee, a UNESCO World heritage region. The wildlife is protected—including the common and very destructive starling which forces many a producer to net their fruit. Deer are also a problem, but they're fair game. 
Salzl Seewinkelhof SACRIS is a reserve wine from Lüss. This warm vineyard on a well-drained gravel soil produces a full-bodied, quite dense, and concentrated wine with soft acidity, all wrapped up in new oak.
Neusiedlersee-Heideboden
Moving further inland, the hottest village in Neusiedlersee is Andau, 25km (16 miles) from the lake. This lies on the eastern edge of Heideboden, the lowland Pannonia plain which is just 120m to 126m (394ft to 413ft) above sea level. It's a touch higher than Seewinkel, which at 112m (367ft) is the lowest point in Austria.
Among a group of 15 Neusiedlersee producers who have come together to promote their wines to the export market, Hannes Reeh in Andau is the largest with 65ha (160 acres) of land and a further 100ha (240 acres) under contract.
The land around Andau was traditionally used for potatoes but is now the fastest-growing viticultural area in Neusiedlersee, with a newer style of intensive production concentrated in a handful of larger producers.
Neusiedlersee is at the very tail end of the Alpine slopes, and the dominant soil is gravel washed down from the Alps by the primeval Danube about two million years ago. The Danube gravel is interspersed with thin layers of humus. 
In Andau, Lake Neusiedl is too far away to have any influence on the temperature which in the summer can spike at 38°C (100.4°F), and with no humidity it's a very dry heat. Hannes Reeh starts harvest in late August, with the whites machine-picked at night. That wind persists and turbines march across the plain: 650 of them. All turning and generating more energy than the region can consume.
It came as no surprise that Hannes Reeh Zweigelt Neusiedlersee DAC 2021 is a big, fruit-driven wine, succulent and generous, lifted by a crunch on the finish. I also tasted Zweigelt Rohstoff from 2020 a burly, spicy, full-bodied wine enveloped in smoky oak.
Neusiedlersee-Wagram
The third area is Wagram which is described as the highlands. At a mere 139m to 177m (456ft to 580ft), the description is clearly a bit of a stretch, all the same, some single vineyards have "berg" in their name. This range of gentle hills provides a light southwest-facing slope, although as the shallow hills fold and roll, it encompasses greater variation of aspect. Here it is possible to find numerous scattered pockets of calcium carbonate, deposited on the former shoreline of the lake, but the primary soil type is well-drained gravel with a loamy, more fertile topsoil.
This Wagram area benefits from the cool air carried across the plain from Lake Neusiedl, although there are some more sheltered nooks and in these Blaüfrankisch thrives. Blaüfrankisch is a thick-skinned, late-ripening variety, which prefers gravels to sandy soil but is most fussy about microclimate. The producers tell me it's difficult to get Blaüfrankisch phenolically ripe on a consistent basis in Neusiedlersee, except in the most protected areas of the hills, and that it shows best in hot years. 
Zweigelt was created in 1922 by Professor Friedrich Zweigelt. It was bred at a time when Austria was bankrupt after World War I and the intention was to create a crossing which would give generous and reliable yields. The professor sought to bring together the good color and rot resistance of the thick-skinned Blaüfrankisch with the red fruit, aromatics, and softer tannins of thin-skinned St-Laurent. Initially it was called Rotburger, before taking on its current name in 1978. Zweigelt didn't really take off until Lenz Moser started using it in the 1970s, when plantings escalated from 770ha (1,900 acres) to over 2,200ha (5,430 acres).
Some of these early plantings were in Neusiedlersee. Producers who regularly harvested large yields exhausted their vineyards, says winemaker Georg Preisinger. But his father was always more interested in producing higher quality wine from smaller yields, so the 10ha (24.7 acres) family estate still has its older vines.
Many producers commented on the vigor of Zweigelt and the importance of restricting yields using green harvest and other methods. It seems quality conscious producers go through their Zweigelt vineyards more than once at harvest, taking underripe fruit for rosé, while in the winery, it's usual to bleed the tank to increase the skin-to-juice ratio.
Style, terroir, or variety-led wines?
Most producers in Neusiedlersee make a fruity "classic" Zweigelt DAC which generally comes from a blend of parcels, and for smaller, family-run estates these are often located in one village. I'd like to say that discernible village characters emerged, but it's not the case. Maybe they would in a focused tasting, but a "classic" Zweigelt is more about expressing the variety itself, with its juicy, cherry fruit and soft structure.
In most portfolios, the "classic" Zweigelt Neusiedlersee DAC will have a "reserve" big brother. Today, the reserves tend to come from single vineyards, and, during my visit, I was able to taste some of them while standing in the very vineyards from which they were made. Single vineyards have only recently been delimited officially. The designations were based on historical plantings and old maps, passed through village and regional committees to be approved by the ministry of agriculture.
This would indicate these vineyards produce the best quality fruit. However, for the moment there is little sense that producers are seeking to represent specific terroir through their wines. On the contrary, reserve wines are more a reflection of winemaking process and there appears to be a generally accepted belief that the full-bodied, oaky style is what makes a premium-level wine.
Hence Chistoph Salz feels that the Lüss vineyard which produces the structured wine called SACRIS calls for 100 percent new oak. I feel this embellishes rather than enhances the terroir, but Salz is very far from alone, and, since the majority of producers favor the "bigger is better" approach for their reserve, I often preferred the fruity "classic" wines.
There is a standout exception, however. Franz Schneider has a very small family domain called Artisan Winery. Established in the 1970s, it has grown to just 7ha (17 acres) in the intervening years. Schneider's wines are delicate, fine-textured. and precise. Samples of his rosé and St-Laurent clearly stood out in an introductory tasting on the first day of my visit, which brought together bottles from many estates with the full gamut of varieties and wine styles.
Artisan Winery's vineyards are in Halbturn, one of five villages—the others being Neusiedl, Weiden, Gols, and Mönchhof—that punctuate the hills in Wagram. Schneider tells me that Halbturn, which is the furthest in Wagram from the lake, is the coolest village and I am inclined to believe him for two reasons. In a tasting of 11 white wines, with one exception, those from nearer the lake were softer and fuller with TAs which supported this sensation. As Schneider points out there can be a significant difference with as much as 1 g/l lower total acidity in a warm vintage in wines closest to the lake than those found 8 to 10km (5 to 6 miles) away.
At Artisan Winery you sense a coming together of the producer's approach and the terroir. Halbturn is not only cooler but characterized by lighter gravels and scattered calcium carbonate on gentle south-facing slopes. Artisan Wines Zweigelt Neusiedlersee DAC is a light and vibrant blend of small parcels from around the village. On the nose it has red cherry, a hint of mint, and pink peppercorn and the pretty perfumed palate is pure and delicate with a light crunch. Artisan Winery Zweigelt Neusiedlersee DAC Reserve 2020 from Ried Römerstein has a delicately silky texture. It is subtle, refined and carries on to a lightly mineral and fragrant finish. The oak is well judged. Schneider uses Hungarian 500-litre barrels of which 25 to 35 percent are new. Both wines are nicely fresh, despite the warmer 2020 vintage. In the exceptionally hot 2018 vintage, Schneider began trials using whole bunch which he found boosted freshness, and he has incorporated 20 percent whole bunch in subsequent vintages of the reserve.
On further tasting from Artisan Winery, the pure red fruit and translucency was consistent. Any attempt at working out how much of the Artisan style was due to the winemaker and his decisions, and how much a direct expression of the terroir, is impossible to say without tasting widely from Halbturn.
My next visit was Nestor winery, also in Halbturn. Soon after Thomas Stadler took over as winemaker of the Stadler's 40ha (100 acres) estate, he teamed up with Günther Neukamp, an enthusiastic and vocal investor, to produce a higher end tier for export.
I rather liked Nestor Zweigelt Neusiedlersee DAC which comes partly from the Kaiserberg vineyard. As is typical of classic level Zweigelt, there is no new oak. It has oodles of morello cherry fruit, an attractively bitter and crunchy cranberry bite, and plenty of energy. Albeit from the fresher 2021 vintage, it appears in a small way to support my impression that Halbturn wines have a particularly vibrant red fruit profile and freshness, although the style of Nestor winemaking differs from Artisan Winery.
Sadly, the wind was such that I have no tasting note on the barrel sample of reserve from Ried Grannawitzl (juniper vineyard). I was distracted as my ejected sample carried on the wind into the very understanding Schneider who was tasting with us. Time to move on, but not before stepping into Hungary. These vineyards are right on the Austrian-Hungarian border. Today there is a smiling official, but during Schneider's childhood there were barbed wire fences, 10m-high (33ft) watchtowers, guard dogs, and guns.  
The bold and the balletic
Staying in Wagram, a producer taking a decisively bold approach for all his wines is René Pöckl. Weingut Pöckl turns out concentrated wines from the village of Mönchhof which abuts Halbturn along the Wagram hillside. If Artisan Winery produce the most balletic wines, Pöckl's wines are the region's body builders.
Weingut Pöckl Zweigelt Neusiedlersee DAC 2021 is generous, creamy, soft, and full. In Pöckl's hands the cherry fruit of Zweigelt is black. The family business which was founded in 1910 includes old vines and Pöckl explains that his double-guyot training helps concentrate the fruit, which he further intensifies by bleeding the tank. 
His classic wine is a blend of parcels from 42ha (104 acres) including Reid Langberg, a southeast-facing vineyard where the dark gravel soil with its humus topping is tinted red with iron. Although 6km (3.7 miles) from the lake, Pöckl explains this particular vineyard is warmer and the grapes always have lower acidity.
He makes a selection from among the barrels of Langberg for his reserve, a muscular, powerful, and richly textured wine laced with spices and vanilla which expresses the warm, iron-infused site together with Pöckl's focus on concentration and new oak. The "fresher" 2021 vintage is still a hefty 15% ABV.
Incidentally Mönchhof village in Wagram has the earliest record of winemaking in Austria, dating back to the 12thcentury. Alongside the legacy of viticulture is one of mixed farming: grain, vegetables, and livestock. Pigs snuffed contentedly in a fenced area beside Langberg vineyard while we enjoyed a plate of ham from the upended barrel thoughtfully provided for the wine glasses.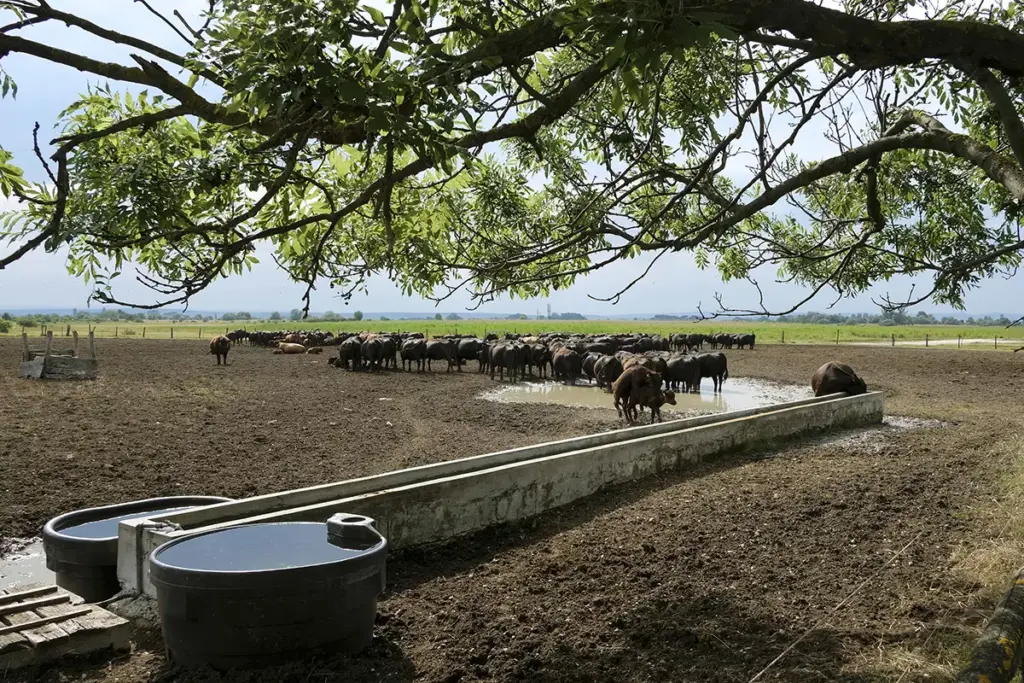 It's clear that producers feel an extractive and oaky approach is appropriate for their rich and warm terroir, but I wonder if it just as much about the variety. In the reserve wines the goal seems to be to demonstrate the full-bodied structure and tannin that is the legacy of the Blaüfrankisch side of its heritage, while St Laurent's fruitiness and subtlety are deemed more suitable for "classic" wine. 
While some go for broke, others are pursuing a more moderate approach which includes a return to the Acacia barrels that were popular in the 1990s, but were subsequently replaced by French and America oak. Larger barrels of 500 litres are also more in evidence.
Hans Michael Nittnaus manages a 112ha (277 acres) estate with his brother Andreas in the village of Gols where the family have been in viticulture for 300 years. Gols is also in Wagram on the other side of Mönchhof. Nittahus pulled back on extraction when he took over the winemaking in 2019 to achieve a smoother more elegant finish to his reserve wine from Ried Luckenwald. 
Luckenwald is a cooler west northwest-facing vineyard where the gravelly soil includes a decent loam layer. Nitthaus tells me the loam layer is useful in holding moisture, giving more structure to the wine. The typical cherry character of Zweigelt is dark in his wine, but not overly sweet: black chocolate freshness and bitterness give the ripe Zweigelt Neusiedlersee DAC 2020 some verve. The texture and finish demonstrate some evolution in the winemaking when compared with 2017.
Also in Gols, Georg Preisinger is the fifth generation working a much smaller (10ha [24.7 acres]) estate. Gols is just 2km (1.2 miles) from the lake and where most of the Blaüfrankisch is found. "It's warm enough to ripen the thick skins and there's no limestone to delay this process," says Preisinger. "It can be 35°C [95°F] even 40°C [104°F] in summer, only dropping to 23-25°C [73-77°F] at night. When I was a child, we never picked before my birthday on September 15, but now we can start at the end of August." It seems climate change is beneficial for Blaüfrankisch.
We tasted 2012 and 2015 Blaüfrankisch which Preisinger says are the best of recent vintages for properly ripe Blaüfrankisch. With a bit of bottle age these wines have an earthy, gamey spiciness, with quite an austere tannic grip. "You have to be careful not to over-oak it," remarks Preisinger. These wines paired well with the venison I had for dinner at Das Fritz, a glamorous lakeside restaurant, while Preisinger's Zweigelt '68 Neusiedlersee DAC Reserve from Ried Dorfweingarten was equally good with prawns or venison.
Ried Dorfweingarten has gravely, black loam with some sand and no limestone. Preisinger passes through the vineyard several times at harvest syphoning off the less ripe bunches for pet nat. Only the best fruit makes it into the reserve which spends three years in barrel, 20 percent of which is new. The 2020 is spicy and has surprisingly good tension from this warm vintage, while the 2015, another ripe vintage, has deep forest fruit and a soft velvety texture with more freshness than I expected.
The only producer who gives full voice to the St-Laurent parent in his Zweigelt wines is Franz Schneider at Artisan Winery, but clearly some producers are moving to a more elegant style, including Schneider's nephew, Markus Lentsch.
Lentsch has a 17ha family estate in Podersdorf, a lakeside village in a subregion of Seewinkel. As I've explained, this warm area can produce fulsome wines, so Lentsch's somewhat more refined style is a combination of vineyard management and picking date together with his approach in the winery.
Lentsch makes a red cherry and crunchy classic Zweigelt Neusiedlersee DAC which is an energetic wine for the warm 2020 vintage. His reserve comes from Ried Seeweingarten, a lakeshore vineyard with a very light, dry warm soil. We tasted this from the brighter 2017 vintage. It's concentrated and focused, neatly compact, and trimly edged, with an attractive salty character adding to the freshness.
Lentsch used 100 percent new oak, but the barrels were untoasted. Using blond wood which has a sappy character is an astute move, since it gives tannic freshness and bite; but I also feel Lentsch has extracted carefully to achieve the finer texture.
Moreover, he settles the wine in stainless steel for a winter after fermentation—which will precipitate the heavier tannins—before transferring them to barrel. In the 2019 vintage he decreased the percentage of new oak to 25 percent and the resulting wine has good tension, a fine snap to the tannin, and a salty finish. I liked his fruity and aromatic St-Laurent too. Lentsch is d efinitely a winemaker heading in the right direction and one to watch.
Believing in Austrian reds
Over dinner with Réne Pöckl and Franz Schneider, Pöckl told me that "our biggest problem is that people don't believe Austria can make good red wine."
"And people here in the region will not keep them," Schneider added.
Right on cue Pöckl pulled out two sheathed bottles, which proved to be much older than we guessed: his Zweigelt 2011 and 1993. As Pockl says, "it's much easier to show you that Zweigelt can age than try to persuade you."
If I needed more convincing, it came the following day in a tasting of wines from 12 producers across vintages going back to 2001. It was a pleasure to see how Zweigelt can develop with age in bottle—and it wasn't just the body builders that had mellowed. Artisan Winery's delicate Reserve 2013, under Stelvin, impressed with its chiffon texture and whistling finish. Two of the 18 bottles had cork issues, but most producers have moved to glass, Diam, and Stelvin closures.
There is much to like about Neusiedlersee's Zweigelt. Maybe I most enjoyed the "classic" level, and this type of lip-smacking Zweigelt is an easy-going friend in the fridge, a red that is at its best lightly chilled to enhance its inherent freshness and which is super-flexible for food paring.
I feel Neusiedlersee has a distinctive regional character, but the producers have yet to demonstrate discernible village styles and there is no real evidence for terroir-driven wines from specific vineyards. I was taken to visit these vineyards, but I think it speaks volumes that producers don't tend to include their names on their labels.
In general, I found the high-octane reserve wines rather less joyous than the fruity "classic" style. If the producers want to catch the eye of the discerning wine lover, their premium wines should not be bigger, richer, and bolder than their classic wines, but more reserved, refined, and discreet. Were they to pursue a more translucent style, they may well  discover there are finer nuances of terroir to be revealed.  
Vintages
*stand out vintages
2022 – Dry, warm vintage.
*2021 – Rain at the right time has produced ripe, but nicely fresh and energetic wines with a firmer structure. Most in common with 2017 and 2019.
2020 – A warm to hot vintage with low rain. Not as warm or rich as 2022.
*2019 – Warm, but fresher vintage.
2018 – Very hot vintage. Picking started in August.
*2017 – Cooler vintage, more elegant, lighter wines. Many of the producers mentioned in this article have kept back some 2017, so it is available.
2016 – Frost.
2015 – Warm, good quality and generous vintage.
2014 – Difficult, cold rainy vintage with flooding. Lower quality.
2013 – Colder vintage with later harvest into October. Lighter wines. I had some attractive 2013s.
2012 – Warm good quality vintage. Good for Blaufrankisch.
2011 – Warm vintage with lower acidity.
2010 – Cold vintage.
Good vintages of the 2000s
2000, 2001, 2004, 2006 (I tasted some good 2006s), and 2009.