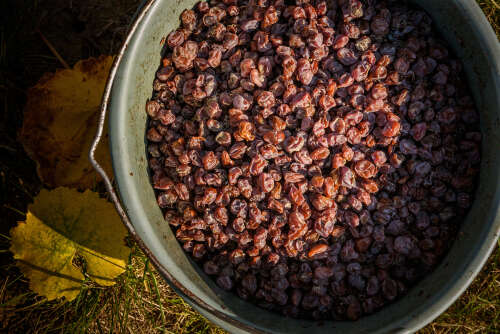 Joanna Simon's latest excursion into wine-country cuisine features a contemporary recipe from an historic region: Mangalica tomahawk with parsley root cream, spring rolls, pear and apple concassé, and Aszú jus, from Ádám Taskó, chef at LaBor restaurant.
We're on a virtual visit to one of the wine world's great and most historic wine regions, Tokaj, but rather than a traditional dish I've chosen a contemporary one, Mangalica tomahawk with parsley root cream, spring rolls, pear and apple concassé, and Aszú jus, from Ádám Taskó, chef at LaBor restaurant on the main square in the town of Tokaj.
Having said that, serving Mangalica (or Mangalitza) pork with Aszú jus, and sometimes berries, is probably well on its way to becoming a new classic. Or it is of the higher echelons of modern Hungarian restaurants.
It's unlikely to be widely cooked in homes locally simply because Tokaj is far from being an affluent region and Mangalica pork is something special (we'll come back to the pig in a moment).
Similarly, Tokaji Aszú was never a wine aimed at local home consumption, as Royal Tokaji's managing director Charlie Mount points out. Throughout its history it has largely been exported, not least to a peal of kings, queens, emperors, popes, and aristocrats. It's not an everyday wine.
Consequently, Aszú wines haven't grown up in tandem with a repertoire of local dishes, although they do, of course, pair with foie gras, of which Hungary is one of the world's principal producers.
In restaurants—not just in Hungary but certainly there—it's often served with an Aszú jelly to cut through the umami richness of taste and texture. (A brief aside for readers who don't know. There is now an ethical alternative to foie gras called Foie Royale produced from free-range ducks and geese in Germany without gavage—force feeding.)
Tokaji Aszú is obviously also served with desserts, of which Hungary is a champion, and in other countries with blue cheeses, particularly creamy blues, as well as with desserts.
A different approach
The result of this is that my starting point this month was different. Previously it has always been the dish, whether from the Old World or something modern from a newer wine country.
But with the glittering global reputation of Tokaji Aszús far outshining that of the local cuisine, it made much more sense to come at it wine first and look at the sort of dish—beyond foie gras and desserts—that creative contemporary chefs in Hungary are coming up with to pair with Tokaji Aszú: savory main dishes.
I do this—another aside—despite a five-day trip to Sauternes very early in my career that nearly put me off sweet wines for ever. Château after château served Sauternes from the aperitif all the way through to dessert, to demonstrate how well their wines went with everything.
They didn't. But I'm over that now. I should also add that I have had Aszú matched to spicy Sichuan and Indian dishes, with mixed results.
Tokaji, Mangalica, and thrilling acidity
The thing that sets Tokaji Aszú, apart from other sweet wines such as Sauternes is the intensity of the acidity. It slices through the richness of foie gras – and so brings us to Mangalica pork.
The Mangalica is an indigenous heritage breed that almost died out under Communism (there were 198 left) but which has been enjoying a resurgence since the 1990s, especially in the northeast of Hungary, feeding on a natural diet of forage, wheat and other cereals. There now are also a few in the US and UK.
It's spectacular looking, with thick, curly, sheep-like hair (blonde, red, or dark). More importantly, it's one of the fattiest "fat-type" or "lard-type" hogs in the world. A very thick layer of lusciously creamy, smooth fat/lard (high in monounsaturated acids) sits under the skin, and the meat—darker than most pork—is generously marbled, which is why it's so valued for air-dried charcuterie. The meat has a sweet, nutty, slightly gamey intensity. Think Iberico-plus-plus.
Now to Mangalica tomahawk with parsley root cream, spring rolls, pear and apple concasse and Aszú jus. Can the intense sweetness of Tokaji Aszú really go with it?
The answer is yes, with 5 Puttonyos—6 is too sweet—because the acidity really does counteract the sweetness and because the dish is so skilfully constructed. I can recommend the Disznoko 5 Puttonyos 2018 and Royal Tokaji 5 Puttonyos 2017 or, perhaps better, slightly older vintages, but you may your own Tokaji favourites.
A 5 Puttonyos Aszú complements the natural "sweetness" of the fat-rich pork and its "not too sweet" Aszú gravy (Aszú reduced in a traditional brown sauce made with the meaty Mangalica bones).
The wine's acidity provides the cut and contrast. It works in a similar way with the mellow parsley root cream (if you're not familiar with parsley root, or Hamburg parsley, think of it as celeriac-meets-parsley-meets-parsnip/carrot).
The spring rolls, which include fresh ginger and coriander, cabbage, carrot, soy sauce, and rice vinegar, bring freshness and spice, which the Aszú's acidity again plays to.
And again, the Aszú has an affinity with the fruity sweetness and gentle acidity of the apple and pear concassé (made using a little butter, salt, honey, cinnamon and white wine).
Something a little less sweet
So, it works—faultlessly, really— but would it always be my go-to wine for this dish? No; I can't pretend. Maybe it was that Sauternes initiation long ago, but I prefer to drink dry or off-dry wines with a main dish. This one can happily range quite widely through the wine world.
Among whites, I suggest a luscious dry or off-dry Chenin Blanc, such as Domaine Cady Cheninsolite (late-picked, barrel-fermented dry Val de Loire from Coteaux du Layon) or Ken Forrester The FMC (complex, rich, off-dry, old-vine Cape Chenin). Grand Cru Alsace Riesling or Gewurztraminer (as long as the latter has sufficient acidity) are other candidates: from Rangen, for example, or a Domaines Schlumberger Saering Riesling. Another possibility is Grüner Veltliner from a producer such as Bründlmayer.
Red wine matches are more limited, but Pinot Noir goes very well with the pork. The aim here would be one that is a showcase for the sweetness of Pinot fruit, rather the grape variety's more savory, Burgundian side.
New Zealand has plenty, so I'll pick out just two: Akitu A2 and Craggy Range Aroha, from Wanaka, Central Otago and Martinborough, respectively. Fresh, perfumed Grenache/Garnacha-based wines are also a possibility, for example Domaine Elodie Balme's fragrant, fruit-forward Rasteau. And I can always make room for a Moulin-à-Vent at the table.