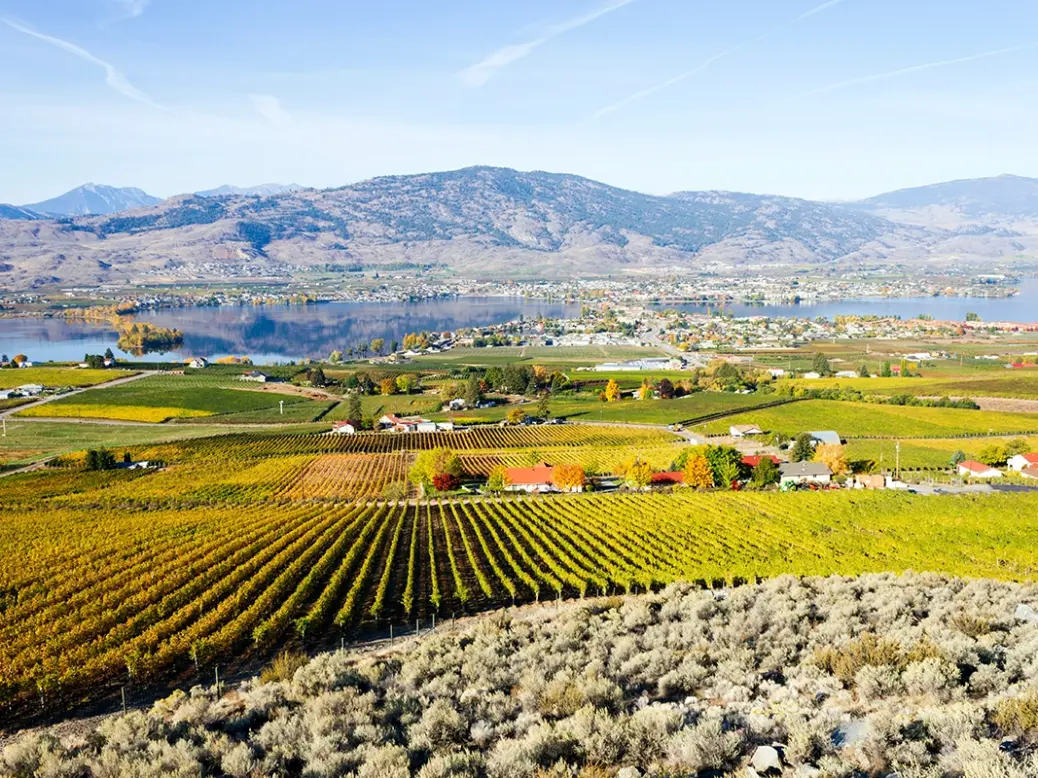 Sarah Marsh MW concludes her Canadian adventure in the southern part of the Okanagan Valley, where she is excited by the potential of red wines, notably Cabernet Franc and Syrah.
Now we enter the southern section of the Okanagan Valley which runs down to meet the US border. As we pass McIntyre Bluff, the valley becomes wider. There is more sunlight, and the soils are sandy. This is rugged desert country and were it not for irrigation nothing would grow but brush. Rattlesnakes shelter in the shade of the rocks and the smell of black sage scents the air.
When the ice dam burst, the lake of water behind it gushed into the land below bringing with it glacial outwash, lots of sediment with a high proportion of sandstone, and this settled along the lower part of the valley. A huge river formed and in time, when this receded, it left sandy benches along the former sides of the lake. In the southern part of the Okanagan Valley, the influence of water is is far less significant than in the north where deep waters moderate the climate. The lake which narrows to a river through the Okanagan Falls, all but disappears, before widening into a shallow lake in Osoyoos. However, the nights are cold and it is this extreme diurnal which makes the wines super fresh, despite the searing heat of the day.
East side: Black Sage Bench and Osoyoos
On the east side of the valley the landscape is more open and there is a gentle ripple effect from a series of small shallow benches which are predominantly composed of sand. The vineyards here are west-facing and bask in sunshine through long summer days when the sun doesn't set until 9pm. Midway down the valley is Black Sage Bench, where the sandy soil is deep with only minor variation where it includes some stone and loam. This is where such well known estates as Phantom Creek, Black Hills, and Le Vieux Pin are to be found. The fine-gained sand didn't settle, but blew down to the neighboring area of Osoyoos. Mission Hill's Buena Vista Vineyard is on the border with the USA, as is Moon Curser, a tiny 6ha (15 acres) vineyard where Chris Tolley has planted an eclectic collection of varieties in the desert terroir. The Arneis and Syrah are the most digestible.
As you might expect this area produces full-bodied, rich wine. Bordeaux varieties and Syrah thrive here and big red blends—among them Black Hills Estate's Notabene, first produced in 1999—became cult wines. This style of "seat belt" wine, heady and laden in America oak, is a profile many producers are pulling back from.
A Canadian terroir story part I: Niagara and Prince Edward County
If you stand on the west side of the valley it's possible to see how the topography has been shaped by glacial activity on the east side. Behind the sandy bench of Black Sage, in the foothills of the Okanagan Highland, the hillside range is broken—smooth on the north side and jagged on the south, shaped by the receding ice. This is where Anthony von Mandl's Jagged Rock Vineyard is located.
Wherever I visited, the conversation would turn, sooner or later, to the prevailing change in winemaking approach, with every winemaker explaining how they have adapted techniques to produce more elegant wine. The style of wine, particularly on this hotter side of the valley, will always be rich and full. There is no disguising that. But they do not have to be heavily extracted or heavily oaked. I think the narrative should change to wines with a sense of place.
West side: Golden Mile Bench
On the west side of the valley, it is both a little cooler and the soil is more diverse. Admittedly it's all hot and sandy here, but there are terroir differences. The lake shore area is narrower, steeper, and hemmed by a low mountain range. These east-facing vineyards receive the morning sun, but Mount Kobau casts a shadow cutting the day shorter and the vines lose the sun by 6pm. The topography of this side was not only shaped by glacial activity, but by water running down from the hills which formed creeks and five gravelly alluvial fans. Hence the soil is a mix of sand, rock, and alluvial matter.
This side of the valley naturally produces slightly more elegant, fresher, more restrained wines than those of the eastern side. The most important area along the west side is Golden Mile Bench, which lies opposite to Black Sage Bench and was the first sub-GI to be created in 2015. Four of the five creeks run down through Golden Mile Bench, which is about 8km (5 miles) long and concentrated on the lower slopes, where you will find the well-known estates of CheckMate Winery and Culmina Family Estate Winery, while Ossoyos Larose lies just across the southern boundary.
Whites
The beating heart of the southern Okanagan Valley is its red wine, but there is some white of merit, notably the ever-adaptable Chardonnay, and any report would be incomplete without mentioning them.
CheckMate Artisanal Winery makes seven Chardonnays including five single-vineyard cuvées. Capture Chardonnay, from the Buena Vista vineyard in Osoyoos, is undeniably tropical, full, and spicy but balanced with firm acidity as a result of the cold nights. Knight's Challenge, a rich and honeyed, but lively single-vineyard Chardonnay from Black Sage Bench, is picked early to retain freshness to cut through the candied citrus fruit.
But most of all I enjoyed tasting two Chardonnays from adjacent vineyards on Golden Mile made in the same way with full malolactic fermentation and 50 percent new oak. The energetic, intense, and citrusy Queen Taken, contrasted with the broader more savory, stony, and fuller-bodied Queen's Advantage. These cuvées, made from very old vines planted in the mid-1970s and probably the oldest Chardonnay vines in the Okanagan Valley, are an eloquent example of site-specific wine.
It became apparent that some winemakers across the valley avoid malolactic fermentation, concerned their Chardonnay will be flabby, but those I tasted didn't. Since the malic acidity is fairly low, malolactic will only marginally alter the total acidity, but it can add complexity.
Golden Mile Bench GI is confined to the mid and lower slopes, but there are higher altitude sites along this western side of the valley which are great locations for Chardonnay and aromatic whites. In 2011 Culmina planted Chardonnay on the high-altitude Margaret's Terrace. The richness in Dilemma Chardonnay 2017 is balanced with tension and freshness.
Several producers in the southern part of the valley draw Chardonnay from vineyards just south of the Okanagan Falls, which are cooler. LaStella Winery, located in Osoyoos, makes Chardonnay from a coolish site with sandy/stony soil below Eagle Bluff just south of the Okanagan Falls. The 2021 Leggiero Chardonnay is lightly creamy and bright with a fresh line on the finish. I tasted vibrant and zesty Chardonnay grown in the cooler Hidden Terraces Vineyard, a 330m (1,083ft) elevation, 300-acre (121ha) vineyard with a slightly east-facing incline near McIntyre Bluff. Ross Wise MW from Black Hills Winery makes a lively example.
Wise uses an exceptionally long, gentle press cycle with few tumbles and full oxidation. Fermentation and MLF go through with indigenous yeast and bacteria and the wine is aged on lees in concrete with no bâtonnage. These are techniques for building texture and complexity in savory rather than fruit-driven wine, which Wise practiced while working with Riesling at neighboring Phantom Creek—an approach which was introduced by Olivier Humbrecht MW.
I am not terribly keen on big rich Chardonnays, so I prefer those from cooler pockets in the southern section of the Okanagan Valley, while other white varieties make more distinctive wines from the hotter sites. Le Vieux Pin have an inviting Roussanne with a touch of Viognier from the sandy soils and warm exposure of Black Sage Bench. 2020 Cuvee Dorée is more elegant than expected with orange flower and lychee, while Le Vieux Pin Ava is fatter and creamier, suggests that Marsanne is not so well adapted to the sandy soil.
What's most surprising is Phantom Creek's Estate Riesling 2020 from Black Sage Bench. This is the wine to which Humbrecht brought his expertise. In the appetizingly dry Riesling, he uses textural richness and glycerol from extended lees ageing to balance the high acidity rather than sugar. It goes though full malolactic fermentation and is aged in Stockinger foudres for nineteen months to produce a full, rich, 13.9% Riesling with creamy notes of crème pat' and a fresh line of acidity.
Enough about the white varieties. They are almost a distraction. The southern section of the Okanagan Valley is better suited to red, and I was bent on finding out which varieties most eloquently express the terroir on either side of the valley. It is a challenge for producers to make a wine with a sense of place when the market has pushed for a certain style. It requires a change of approach in the vineyard and the winery. Most fundamental is planting the grape varieties which are best adapted to express the specific terroir.
Merlot
Merlot is the most widely planted grape in BC and in the Okanagan Valley. In British Columbia, there are 654ha (1,616 acres). It was planted indiscriminately since it is easy to grow and winter-hardy, which is a significant consideration where temperatures can plummet to -25°C (-13°F). The variety also yields well and delivers the style of wine the home market has been looking for with ease. But from a quality standpoint I can't help but feel it does the Okanagan Valley few favors. Most of the Merlot I tasted had, to a greater or lesser extent, jammy, cooked fruit, rough tannins, and high acidity coupled with high alcohol. And usually exacerbated by too much new oak.
So why are the tannins rough? Merlot, and Pinot Noir for that matter, are thin-skinned varieties renowned for their smooth textural characters, both of which seem to have firmer tannin than expected in the Okanagan Valley. After days of listening to the producers explain their approach to viticulture and winemaking, while walking in their vineyards and tasting their wine, it became apparent that the issue with tannin is not limited to winemaking, but is as much an issue of viticulture. There is widespread enthusiasm for hanging the fruit as long as possible in pursuit of phenolic ripeness and for plucking the leaves around the fruit. This was evident as I visited just before harvest. But maybe the extended hang time is not softening but rather toughening the skins. I could see shrivelled berries, particularly where the vines had been leaf-plucked to expose the grapes. It's possible the combined effect of hang time and leaf plucking promotes thicker skins, greater skin-to-juice ratio, higher sugar level, and jammy flavors. The tartaric acidity from the cold nights may reduce a little, but it remains pretty high and this itself will exacerbate the tannin. It is easy to say but maybe more producers should just pick on taste.
A Canadian terroir story part II: Northern Okanagan Valley
Micheal Kullmann, a young English winemaker who cut his teeth making wine in Bordeaux, is convinced that Merlot in particular, is being left too long before harvest. As winemaker for Osoyoos Larose, where the Grand Vin is made of 65% Merlot, he is introducing many interesting changes. It takes a cultural shift to accept a leaner, slightly more herbal flavor profile, for Merlot and Pinot Noir, but maybe this is the way forward. The picking date is key. Following on from this, a gentle, less extractive approach with less new oak and careful finishing will create the elegant, fresher, and finer-textured wine he is aiming for. I am looking forward to tasing the 2022, the first vintage for which he will be fully responsible.
It's smart newcomers like Kullmann who recognize that it's not possible to produce wine the way it was done 20 or even 10 years ago. In 2022, there was a cold spring and delayed flowering with a hot peak in summer. When the temperature reaches 35°C (95°F) the vines shut down. With a compressed season it is challenging to achieve physiological ripeness, although the 2022 is looking much more promising than 2021. The Okanagan Valley is classified as a cool climate, but the southern section is a desert. The vines are kept alive with drip irrigation, but Kullmann is experimenting with a MaxiJet system that cools down a wider surface area keeping the vines functioning, while composting and cover crops retain moisture in the sandy soils.
Osoyoos Larose is located on the west side of the valley, just off the Golden Mile Bench. I think it's generally too hot for Merlot in the Southern Okanagan, except in coolest sites on the west side.
Where the Merlot has been planted in the wrong place there are options, less dramatic than replanting. It was encouraging to see examples of producers changing the variety to one more suited to the site, by grafting over.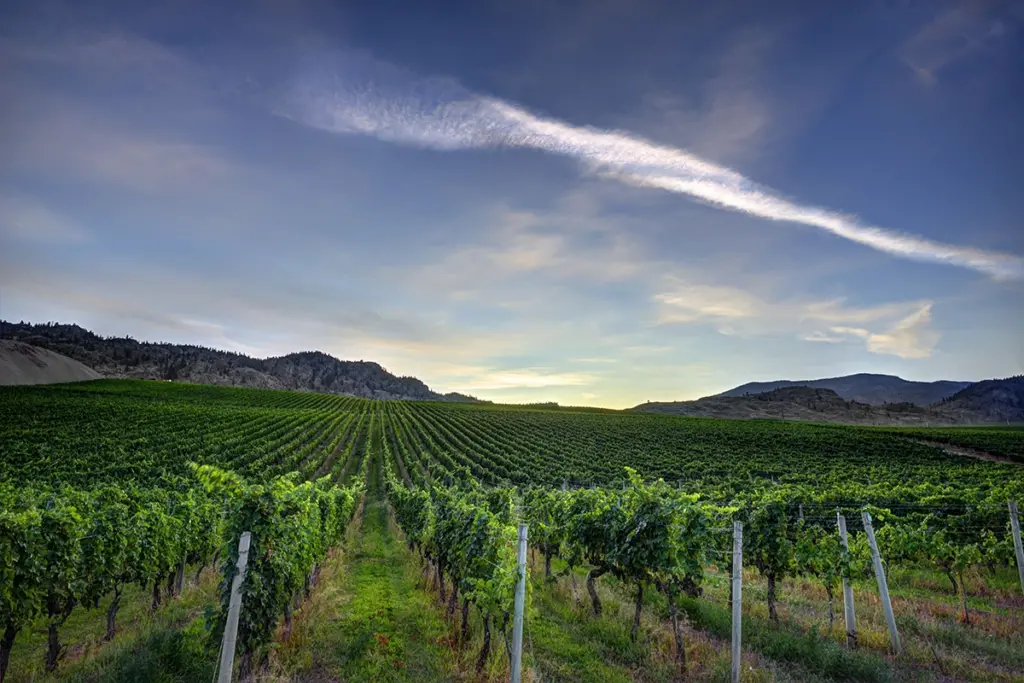 Syrah
Syrah may be the most suitable and reliable conduit for the terroir in the southern Okanagan. It can produce beautifully balanced, intense, supple-textured wine with cooler or warmer expressions depending on the side of the valley where it is grown. It probably makes the finest wines of the southern Okanagan valley.
But Syrah is dying. Vines fall into degenerative condition at around 15 years. This seems to be linked to clonal material, so producers are ripping out old vines and replacing them with Clone 7 or another variety altogether. I tasted a rich, satin-textured, vibrant 2018 Syrah from Phantom Creek Becker Vineyard Block 1A at a Visa Infinite dinner hosted in the winery, only to be told the vines have been removed. Becker vineyard is on Black Sage Bench. When Syrah bathes in the long sunlight hours here it makes rich, full, smooth, and sleek wine.
Across the road from Phantom Creek, Ross Wise is nursing his Syrah Clone 99 which he tells me is much finer than Clone 7, more savory and complex with violet aromatics. I enjoyed Black Hills Estate Syrah 2019 a rich wine which combines floral aromas with savory and gamey notes. Staying on Black Sage Bench Severine Pinte at Le Vieux Pin makes three cuvées of Syrah, each with distinct personalities from different terroir. The fullest, most balanced, and most intense is the inky, rich Equinox, which seems to absorb the heat into a molten black chocolate.
Moving to the west side of the valley, Syrah channels the terroir, producing fragrant, slimmer, well structured, lively wines with a taffeta crunch to the texture. Marcus Ansems MW picks his Syrah from Golden Mile Bench at the same time as Viognier in Naramata and co-ferments. Daydreamer Amelia with a 10% shot of Viognier, has floral aromas and ages well. I tried 2020 and 2013. The young wine is fresh, floral and fruity; the older is smooth with silky soft tannins and notes of roasted coriander seed and biltong. Phantom Creek's Kobau Vineyard, also on Golden Mile Bench, is fresh and spicy with vibrant blackberry fruit, taffeta tannins, and crunchy spiciness. With two to three hours less sunlight, the west-side Syrah wines are elegant, spicy, and fresh, while those from the east side are fuller and more savory with richer tannins.
Cabernet Franc
As good as it can be, Syrah has a rival for the position of southern Okanagan's signature grape: Cabernet Franc. The deep sandy soils on the east side help control Cabernet Franc's natural vigor. Black Hills Winery Per Se was possibly my favorite wine here. This pioneering estate was originally planted in the 1990s, before it was bought in 2017 by Andrew Peller Estates. It has a following for Bordeaux blends in the seatbelt style, but Ross Wise has been left to evolve the estate in a more retrained direction. While he has kept the style of Notabene, the other reds are being refined. 2019 Per Se is a Cabernet Franc-led blend (60% Cabernet Franc, 40% Merlot). In the cooler 2019 vintage it is a richly floral, black-satin wine with a delicious ribbon of fruit that finishes on a fresh note.
Maybe Cabernet Franc will claim the east bank and Syrah the west, but both are adaptable to warmer and cooler areas of the valley.
Cabernet Franc can ripen successfully in Oliver, which is a relatively cooler region of at the top of the southern section, just below the Okanagan Falls. In sight of McIntyre Bluff, Riverstone Winery producers a rather silky Cabernet Franc. The small stones in the vineyard are coated with calcium carbonate and I had already seen in Niagara how well Cabernet Franc responds to limestone. The surrounding bowl of hills creates a warmer mesoclimate than in the Okanagan Falls and so it is possible to ripen Cabernet Franc.
At Mission Hill my favorite red was the Cabernet Franc Vista Vineyard from Vista Edge vineyard in Oliver. Winemaker Corrie Krehbiel explains that she has started to make it like Pinot Noir. It has a dark cocoa powder intensity. Aromatic, floral, and fresh, it has a fine talcy texture.
The profile of Cabernet Franc has far fewer of the pyrazine characters when it is ripe and low-cropped. In the southern Okanagan Valley, the focus on sweet fruit and freshness, floral aromatics, and smooth textures is very appealing. It could have a future replacing some Merlot vineyards, but there is a distinct drawback to Cabernet Franc. I'm told it is most susceptible to smoke taint from summer wildfires, which is a serious consideration in the Okanagan Valley. Some producers spray the fruit with clay in the hope that it may protect from sunburn and smoke taint. All the same, 2021 was a vintage of forest fires that led to smoke taint on some wines.
Cabernet Sauvignon
Whereas Syrah and Cabernet Franc seem a good fit for the southern Okanagan, Cabernet Sauvignon is more of a struggle. Cabernet Sauvignon has a long growing season, while the valley's season is short. In 2022 it had time to reach full phenolic maturity, but 2021's heat dome, which reached over 45°C (113°F), cut the season short. It's not a vintage I enjoyed so much in the Okanagan Valley. In the right vintage, in the right hands, Cabernet Sauvignon makes a deliciously sleek and urbane wine, but with ever-more extreme weather it can only become more unreliable.
In any event, a good result with Cabernet Sauvignon is very site specific, and the suitable sites are already planted. It will inevitably remain a minor variety, usually becoming part of a blend. I particularly liked Expressivo from LaStella, which is a three-way split between Cabernet Sauvignon, Cabernet Franc, and Merlot made by Severine Pinte. She was engaged as winemaker for LaStella and Le Vieux Pin for her technical skill in blending and her more restrained approach. She is among a growing cohort winemaking to a more European palate.
Pinte sensibly doesn't include stems in her wines, since the season is too short for stems to properly lignify. Moreover, stems increase pH and Pinte explains that the soil here delivers juice with high pH, irrespective of high TA. There seems to be a move to lighter extraction on the bigger reds with an emphasis on the early stages when the alcohol is lower. It seems concrete is the fermentation vessel of choice for big reds as well as whites. Bubbles of CO2, which are reductive stick to the rough interior walls and help retain freshness. Concrete vat producer Nico Velo is doing a roaring trade in the Okanagan Valley. I don't think I visited a winery that wasn't either using them in their mainstream production or experimenting with them.
Nonetheless, there is still too much oak for me from winemakers relying on its sweetness to balance the high acidity, while too many winemakers seem to believe that a warmer vintage can absorb more new oak, when the contrary is true. However, Wise is among those moving to using 500-liter puncheons and neutral oak, which helps calm the 14% alcohol. Pinte has decided that the tight grain of French oak is too strong and is using Hungarian instead. I would like to see more experiments with oak. François Frères seems to have cornered the market and while they are an excellent cooper, the low-toast barrels are strong and can easily mark the wine.
Tasting wines the length and breadth of the Okanagan Valley, I was captivated by their diversity and by the energy and talent of the winemakers. It has taken time for the initial enthusiasm in the Okanagan Valley to settle down to a more measured approach matching variety to site, but this has been happening for more than a decade now. Tasting back through vintages has revealed an evolution after the hot 2015 and 2016 vintages at which point many wines were still style-led. With measures taken in the vineyard and winery there has been a shift in focus to produce wines with a sense of place and the finest examples certainly have a tighter refection of their terroir.
Before I embarked on my epic journey across Canada, I was led to believe the Okanagan Valley had "arrived." I'd say it is certainly pulling into the station, but it's quite a long train. It is a relatively young and unquestionably dynamic region exploring its potential as its producers work out how best to express their terroir. No one is sitting on their laurels. There is certainly some excellent wine and I sense things will only get better.