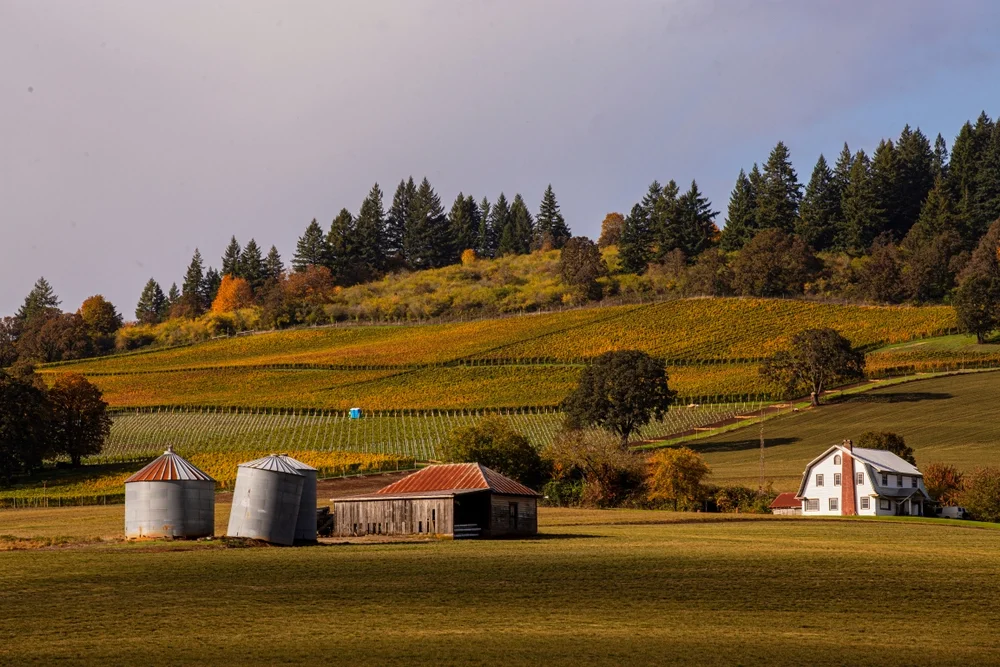 Andrew Jefford introduces a high-scoring tasting shared with Anthony Rose and David Williams in which all three panelists found much to enjoy in a range of "complex and assured wines of subtlety and finesse" from a corner of the Pacific Northwest that is clearly heading in the right direction.
For scores and detailed notes on all 44 wines included in the tasting, subscribe to The World of Fine Wine.
Oregon advances. Wine-grape production in this US West Coast state soared by 53 percent in 2021 over the small 2020 vintage, by 9 percent compared to 2019, and by 14 percent compared to 2018. More impressive still was the value of that production: up 72 percent in 2021 compared to 2020 (and up 14 percent compared to 2019). Up, up, up… Drinkers seem to be enjoying these wines.
Ask A&B Vintners. When I lived in the UK in the early 2000s, this small-scale UK wine importer was a close-focus Burgundy specialist. Then Burgundy exploded. A&B turned to Oregon to find more wine. "Customers love them," says buying director Simon Davies. "They play well to European palates. We ration almost all of our Burgundies, but customers can buy Oregon in case quantities." Davies has visited Oregon seven times in seven years, and A&B now imports 26 different Oregon producers. "I'm amazed by the sheer amount of potentially good land," he says. "There are entire hill systems undeveloped as yet. Lots of suitable soils: marine sediments with volcanic overlays. You have exchange of ideas, inward investment, new clonal diversity—and Oregon is basically a climate-change winner. Most August days are just pleasantly warm, and the great advantage Oregon has over Burgundy is that you can just pick when you want. The potential alcohol gets to 12.5% and just sits there, not going anywhere, and you have this wonderful natural acidity. The 2022s were picked close to Halloween."
Okay, it's mostly Pinot so far; some 60 percent of the 41,899 acres (16,955ha) of vineyards are planted with Pinot—and we will be tasting Oregon Pinots in a future issue of The World of Fine Wine. Significantly, though, average prices for Chardonnay fruit in 2021 were higher than the average prices for Pinot, even though it occupies only 2,724 acres (6,731ha).
The vast Willamette Valley AVA (5,360 sq miles [13,900 sq km])—an often bucolically green central valley running from the Columbia River in the north down to Eugene in the south—is where most of that Chardonnay is to be found, especially in its more intensely planted northern part. This AVA encloses another 11 nested AVA subregions, and these are the names you will increasingly see on labels: Tualatin Hills, Chehalem Mountains (which includes the sub-subregional AVAs of Laurelwood District and Ribbon Ridge), Yamhill Carlton, Dundee Hills, McMinnville, Eola-Amity Hills, Van Duzer Corridor, Mount Pisgah Polk County Oregon, and, farther south, Lower Long Tom. Simon Davies particularly admires the Eola-Amity Hills, which, he claims, is "the epicenter for Chardonnay. The cold wind comes in every afternoon from the ocean through the Van Duzer corridor and cools everything down by 4pm, whereas Dundee and the Chehalem cool only between 5 and 6pm." (The name Eola comes from the Greek mythological figure of Aeolus, the keeper of the winds.) As our tasting showed, though, Eola-Amity doesn't have a monopoly on quality; fine Chardonnay bubbles up throughout the Willamette.
Assurance, subtlety, and finesse
On my sheet, this was an exciting tasting, with no fewer than 24 wines scoring 90 points and above, led by nine lofty achievers. Three wines at both 93 and 94 points, two 95s, and a 96 all constitute "outstanding wine of great beauty and articulacy," according to the WFW rubric. These Oregon Chardonnays—complex and assured wines of subtlety and finesse—aren't Burgundy; they don't have the same vinosity and sinew, nor the same combination of nerviness and sappiness dovetailed with richness; and we have yet to track their full aging potential. They shouldn't be Burgundy, though; we want something different from Oregon. They are pure, limpid, and convincing, with autumnal orchard fruits, with fine textures, with serene natural balances, with an effortlessly carried inner amplitude. They are admirably unemphatic and sympathetic at table. Anthony Rose, too, admired their "attractive purity and concentration of aroma and of flavor," and their "good freshness, balance, and immediate drinkability, without excessive acidity or indeed any hard edges," both suggesting "winemakers with the confidence of knowing what they are trying to achieve—and, for the most part, achieving it." David Williams was similarly enthusiastic: "A run of succulent, well-made wines […] that more than hold their own in the global Chardonnay context." It's worth mentioning, perhaps, that this was a tasting that inspired rare agreement among all three tasters; there were far fewer significant score disparities on our sheets than is usual in our tastings.
Not everything was successful, of course. Winemaking mishaps were sometimes in evidence, as was evidence for a battle of the Willamette soul. Is West Coast opulence part of the Chardonnay identity here, or might early picking, manifested in a rigor that sometimes flirts with austerity, constitute the nobler path? Wines in the former style could be clumsy and obvious on occasion, while those crafted leanly sometimes suggested Sauvignon Blanc or Aligoté more than Chardonnay. All our most admired wines seemed to explore the middle ground. (Only one wine in the top nine was labeled with less than 13% ABV.)
What, finally, of the differences between all of those nested AVAs? "I wouldn't say," summarized Rose, "that subregional variation was quite as clear-cut to me as the difference in styles in Burgundy, for instance, as between the warmer Mâconnais and cooler Chablis." Agreed, but note the clear difference in latitude; even Mâcon lies at a higher latitude than Portland itself (in the far north of the Willamette), let alone Chablis, so we shouldn't expect the pulse of climate to play quite such a prominent role here. What was striking was that nearly half (five) of the tasting's top 12 wines, based on compounded scores, were indeed vinified from fruit grown in Eola-Amity vineyards, bearing out specialist Simon Davies's admiration for Chardonnay from this AVA.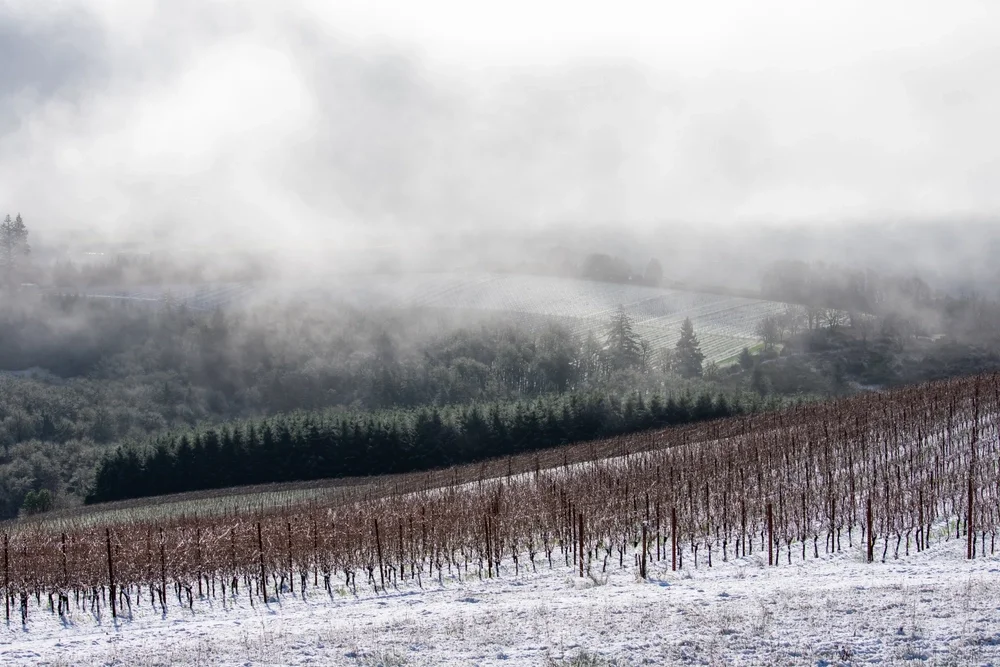 The top five: The best of Oregon Chardonnay
Domaine Drouhin Arthur Chardonnay Dundee Hills Willamette Valley 2020 (13.5% ABV) | 94
Andrew Jefford | Pale silver-bright, with gold glints. Leesy and warm, faintly honeyed; the smell of summer's end. No overt fruits but attractive as is. Fine concentration, drive, and depth here, and a very polished, seamless mouthful; beautifully crafted. It clearly needs some cellar time to find articulacy and gather expressive weight, but this classy, aquiline wine bodes extremely well for the future. Poised, fresh, and dramatic, yet with an incipient richness, too: a difficult balance to strike, carried off with assurance here. | 95
Anthony Rose | A youthful pale gold in color, this has an immediately beguiling aroma of sweet oak and peach, an impression confirmed when you taste the wine, which has plenty of ripe peach flavor and fruit purity, framed by an appealing, buttered-popcorn oak-sweetness that makes it a thoroughly enjoyable crowd-pleaser, nonetheless. | 93
David Williams | Lots of intense flavory savoriness: macadamia nuts, cream, stone fruit, and a zesty riptide of pithy citrus. Lovely intensity and focus, with clean-cut acidity; energy, long, tapering finish. | 93
Morgen Long Willamette Valley Chardonnay 2019 [Eola-Amity Hills Willamette Valley] (13% ABV) | 94
AJ | Bright, pale silver-gold in color. Sweet, fresh, graceful, and restrained: taut, lemony fruits; some creamy lees; planty, almost algae-like sappiness behind, too. A convincing and very finely crafted aromatic profile. Plunging depth of fruit here and rather sheer at this stage. On the palate, the wine is less giving than it is aromatically just now. But there is a lot here and a sense of grand refinement to come. Very Côte de Beaune-like (St-Aubin) in its purity and conviction. My score is with an eye to the future, but this certainly seems serious, convincing, pace-setting Oregon white wine. | 95
AR | A pale greeny gold, this shows an instant touch of class in its freshness and complexity of aroma. It follows through in the glass, where, with a tingle on the tongue, the flavors are full, ripe, and intense. Plenty of fruit purity and concentration are framed by a deft touch of nutty oak and balancing acidity in a way that's not showy but deeply satisfying and hugely enjoyable to drink. | 94
DW | Arresting concentration and balance. So harmonious and silky: pillow-soft but detailed, too. Finely stitched with quince and sweet pear, cream, freshly baked bread, and wonderful, fine-point acidity. A lingering finish. Pure pleasure. | 94
Domaine Serene Chardonnay Evenstad Reserve 2019 [Dundee Hills Willamette Valley] (13.5% ABV) | 94
AJ | Pale and silvery, with green-silver glints. Very gentle citrus qualified by oat-flake and cream, with some angelica and crystallized fruit behind: admirable aromas, teasing and beckoning the drinker into the glass. Outstanding aromatic work here. Very dry, intense, athletic, deep, and searching. Quite lemony and pure, with some grape and grapefruit; incisive and long. There are milky, lees-derived complexities, too, but they are subtle, understated, and supportive, as they should be. I'm sure time will bring intricacies; surely just at the beginning of its life. A lovely infant, but everything about it is impeccable, and I'm very confident about its future. A splendid example of the potential and—let's underline this—the achievement of Oregon with Chardonnay. | 96
AR | Behind the pale golden hue, there's a degree of stylish nutty oak in the aroma promising complexity. When you taste, it delivers on flavor and texture, with good intensity of fruit purity underpinned by a firm spine of acidity that softens down toward the finishing line as it combines with subtle, nutty oak and saline freshness in a seamlessly balanced, satisfying dry white. | 93
DW | Pale colored, silvery. Tight and taut and terse, but mouthwatering, too: green apple and pear and almond, but also citrus juiciness. Insistent, cool, and stony-mineral finish. Wonderful energy and lively brightness on the finish, and plenty packed into its still slender frame. Classy. | 94
00 Wines VGW Chardonnay 2018 [Mostly Eola-Amity Hills Willamette Valley] (13.4% ABV) | 93
AJ | Still very pale: silver-gold wine with silver glints. Fresh and pungent, with lots of citrusy verve and sap. Bright and engaging. Excellent wine here, with length, drive, and an incipient, expansive sweetness of fruit and expression to the fruit. Pure and pristine, yet rewarding and inviting; creamy and long. Delicious Chardonnay and very distinctively Oregon in its freshness and vivacity, its sunlit fruits, its crunchy, understated, leanly energetic style, and its fine cellar craft. | 94
AR | Pale in color with lemon and limey glints. This has an intriguing bouquet that unusually blends both the sweet and the savory in almost truffley, umami-like combination. In the mouth, the stone-fruit sweetness combines in similar fashion with an appealing savory quality underpinned by a saline dry freshness that balances it out nicely. | 92
DW | A nose of Chantilly cream and nuts and a gently mouth-filling style, with burgeoning ripeness unfurling but nicely underpinned with freshness and preserved-lemon tang on the finish. | 92
Antica Terra Aequorin Willamette Valley Chardonnay 2019 (12.9% ABV) | 93
AJ | A fuller gold than most: bright mid-gold with gold glints. Classical varietal aromas here, in richly citrusy style, with cream beneath. Pure, fresh, and affable—and some class, too. Give it some time in the glass, and those aromatic notes are amplified. Rich and full, firm and long on the palate; a clear contrast to the flock of rather skinny wines that seem to dominate the tasting. Grand breadth and depth here, with apple and green plum to the fore and little citrus. Vinous, full, forthright. The creamy, leesy notes are subdued but pay dividends in setting off the fruits. You'd want to age this wine for a while; it's almost a little too masterful at this stage. Excellent and much enjoyed. | 93
AR | Mid-gold in color, this shows the instant appeal of barrel fermentation in aromas that combine stylish, nutty oak with the butteriness of Chardonnay fruit. That buttery texture follows through when you taste, without an overwhelming whack of lactic character but, rather, plenty of intense stone-fruit and nutty flavors, in a dry white whose texture is nicely defined by convincingly zesty, limey fresh acidity. | 94
DW | Rich and full on both nose and palate: mouth-filling, deep, savory. So much richness but combined with resonance: symphonic, but played with finesse and harm