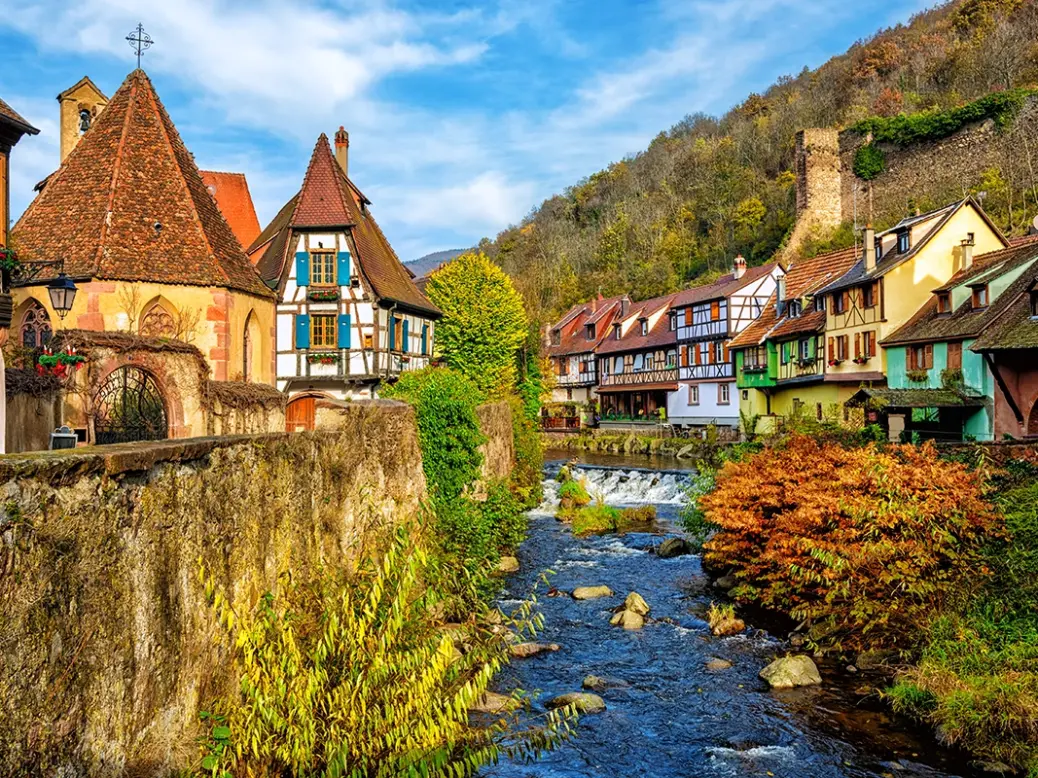 How would you sum up Alsace as a wine region?
It's a place that defines diversity—which makes it complicated to understand from an outsider's perspective. For numerous years the wines of Alsace have had a very special reputation, but they are still very difficult to sell, especially in the restaurant industry.
What is it about Alsace that makes it particularly tricky in the restaurant context?
Most restaurants only list one Riesling and one Gewurztraminer—or they don't list any at all.
Since countries or regions such as Germany and Austria in the Old World, and New Zealand, Australia, Washington, and Oregon in the New World, are using the same grapes as Alsace, we are seeing more of those varieties on our tables, but progress is slow.
A concern is that these grape varieties—Muscat, Gewurztraminer, Riesling—are simply too aromatic for current trends; even if Riesling is becoming more popular, these are not fashionable grapes. They are also perhaps too associated with the German language, which might remind some customers of Liebfraumilch or the Austria Diethylene Glycol wine scandal of 1985. One of the side effects of this point is that the Alsatian language is remarkably like the Germanic wording and this, too, may convey some uncertainty from potential buyers as a result.
Still, even within this context, modern-day Austrian and German wine is well represented in many prestigious restaurants. An issue with Alsace is that producers want to present all seven grape varieties they offer, which can lead to confusion rather than drawing customers' attention to the most important varieties, which are Riesling and Pinot Noir.
Do you think customers have trouble knowing what they're getting when they buy a bottle of Alsace?
That's the other issue that makes Alsace difficult for the general public: You can't be sure of the sweetness level of the wines when you purchase a bottle.
The region has decided to indicate the name of the sweetness style—dry, semi-dry, semi-sweet, and sweet—on the bottle. We hope it will lead to better understanding, and it will mean that restaurants will be able to list the wine by categories of sweetness.
It's not just sweetness where there needs to be better understanding. If you have a sommelier or, if not, someone else who directs the wine, are they trained enough? I think a lot of restaurants could do with more training to help expand and develop their knowledge of Alsace wine.
What do you think are Alsace's biggest strengths as a wine producer?
The big advantage is value for money, whether it's crémant, still wines from the Alsace regional appellation (with the name of the grape variety on the label), or grands crus (with the terroir name on the label). Soon there will be premiers crus, too. You are transported in emotions with such great wines at such great affordability. Especially if you compare them with Champagne, or with generic appellations or grand crus from other wine regions of France.
Alsace is also the leading organic region in France, with about 15 percent of its production—a grand total of 15,600 ha (38,550 acres)—being organic or biodynamic, while another advantage is the diversity of terroir and variations of soil type—Alsace is a mosaic of granitic, marl, limestone, volcanic, clay, schist, sandstone, loess, and alluvial soils.
The quality of the wine has never been as good as it is now, with so much diversity of style from the different white grapes, but also with many producers now making macerated or orange styles. The Pinot Noir, too, can be rosé, a light, fruity red, or a more oaky "serious" style.
I hope in the future Alsace wine will be served more often on more tables, and not just as an insider's secret that is only served to each other by members of the wine trade.
Which Alsace producers would you particularly recommend?
Classic estates: Trimbach, Hugel, Zind Humbrect, Weinbach-Faller, Ostertag, Kinetzler, Marcel Deiss, Rolly-Gassmann, Schlumberger, Emile Bockel, Jean Boxler, Kirrenbourg, Mure, Zusslin, Barmes-Bucher, Emile Beyer, Gustave Lorentz, Albert Mann, Dirler Cade, Paul Blanck.
Less known but very interesting estates: Frederic Mochel, Melanie Pfister, Gresser, Agape, Fuchs, Jean-Paul Schmitt, Marc Tempe, Schoenheitz, Kirrenbourg, Mader, Kuentz-Bas, Jean Batiste Adam, Mittnacht, Francois Schwach, Louis Sipp, Jean Sipp, Jean Sigler, Jean Boxler, Bott-Geyl, Zeyssolff, Beck Harweg, Ginglinger, Spannagel, Jean Backer, Armand Hurst, Achille, Dopff au Moulin.