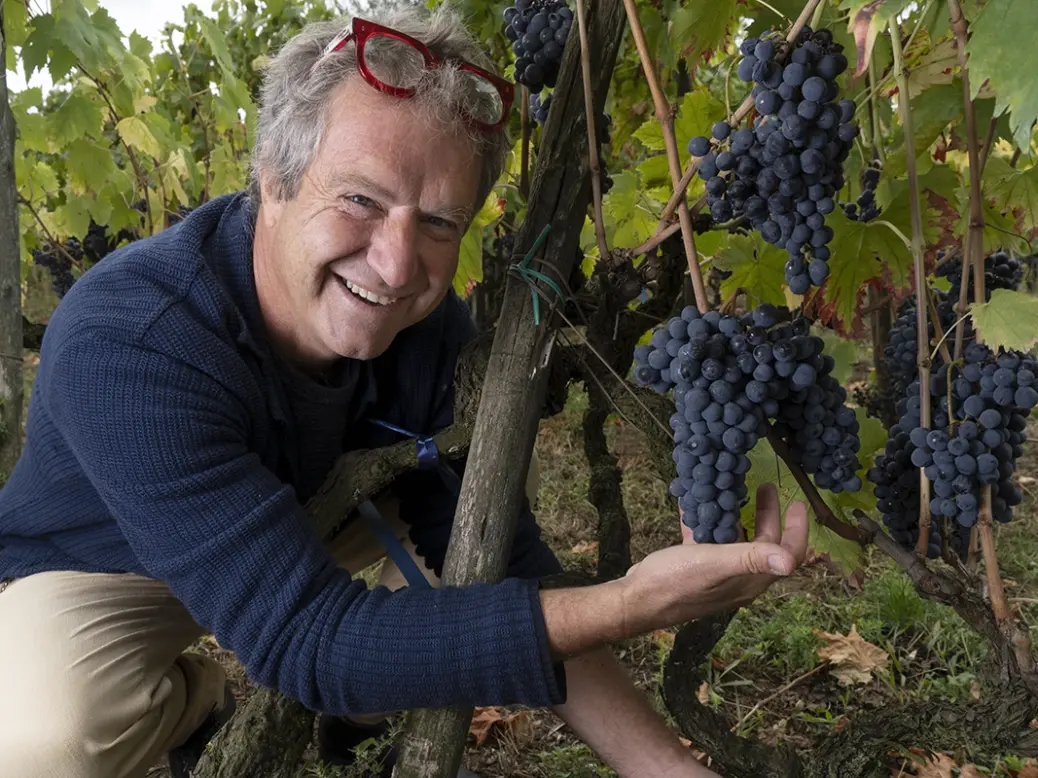 Robin Lee meets the boyishly enthusiastic Tuscan winemaker Bibi Graetz as he shows off his new "grown-up toys": the Balocchi di Colore limited-edition cuvées.
It is early spring in Fiesole. Pale pink roses cascade over crumbling masonry, and the soft fragrance wafts over the worn paving stones once trodden by EM Foster's prim heroines. This faded and genteel enclave has always attracted artists, aesthetes, and intellectuals, as well as royalty and wealthy expatriates. Sitting on the terrace of the Bibi Graetz Winery in the center of this perfect little town—miraculously unblemished by modern tourism, bustling with locals and a quaint, old-fashioned charm—it is easy to see why. 
Bibi Graetz makes it all look so easy. He arrives in faded jeans and an old gray sweater with rolled-up sleeves. He is a bit late but not ostentatiously so. He is informal, relaxed, boyish, unshowy. He walks and talks at an easy pace, but with a barely contained energy and a sense of purpose that could be intimidating. Graetz is proud of what he has achieved, and the more one learns about what he is doing and what he has accomplished, the easier it is to see why.
I had met Graetz for the first time a few months previously in London at the launch of Balocchi di Colore, his new limited-edition cuvées produced in tiny quantities (900 cases) from old vines of Sangiovese and two of the more unusual, lesser-known indigenous varieties, Canaiolo and Colorino, which once played a supporting role in the traditional, much-maligned Chianti blend but are rarely, if ever, found as standalone wines. The grapes are sourced from old vines in the best plots of Graetz's vineyards in Olmo and Vincigliata in the little-known and surprisingly remote hillsides around Fiesole, just a half-hour drive from the center of Florence. 
Balocchi in Italian means "toys," but it also means "mischief." In Collodi's Pinocchio, the place where boys get turned into donkeys is the paese dei balocchi—"the land of toys (and mischief)." I liked the Balocchi wines when I tried them, but I also found them surprising. Graetz's Balocchi di Colore, like the best toys, teach you something useful while you play with them. They are intended as an outlet for his creativity. Like old toys, the most loved toys, Graetz's Balocchi di Colore are beautifully constructed, impressive in their simplicity, thought-provoking, and all-engaging. They attract your full attention and hold it. In another respect, the Balocchi di Colore are like abandoned toys, the "childish things" that are set aside when the boy becomes a man; the Canaiolo and Colorino were planted by Graetz's father in the 1970s and were key elements in Bibi Graetz's first wines but have been abandoned, now that Graetz's style has changed to a focus on purity and simplicity. Since 2018, Graetz's top wines are 100 percent Sangiovese rather than blends.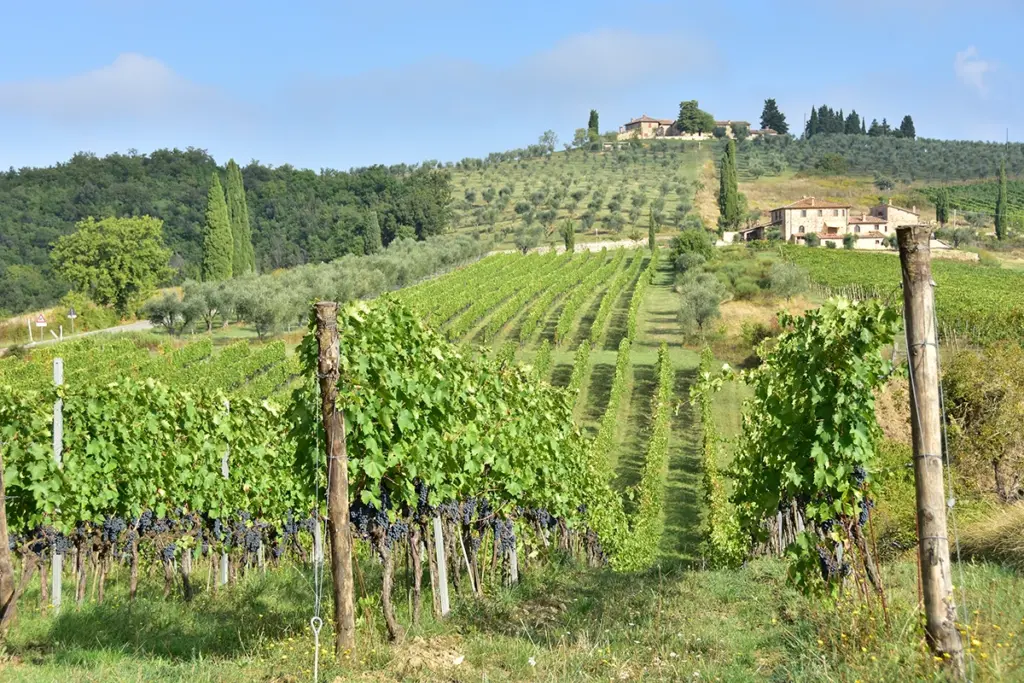 Balocchi di Colore are conceived as playful, uninhibited companions to Graetz's iconic Colore, the top wine of his still-boutique-scale production. Colore is a 100 percent Sangiovese selection from the best parcels. It is also the epitome of what is known as a Super-Tuscan—an elite, aspirational, luxury wine that is classic but modern, innovative but also reassuringly familiar, and somewhat experimental, even if the guiding principle in this case is purity of expression rather than evident oak aging and imported French grape varieties. When Graetz started out as a winemaker, he aimed for concentration, but his style has evolved, and now he looks for just the opposite: lightness and transparency. This is not only a departure from his past but also not what most people expect from an expensive and "important" Tuscan red wine. Graetz's wines are light, transparent, and airy, which might make some people think they are not getting their money's worth.
To be sure, there are some vocal critics who have expressed dismay over Graetz's ambitious pricing strategy, even though gravity-defying prices are to some extent an inherent characteristic of the Super-Tuscan genre. But while these wines are certainly not a bargain, I would argue that, for wines like this, a high price can be, paradoxically, indicative of a certain kind of idealism and is, as such, part of what defines the wine. Partly a challenge to received wisdom, partly a psychological device, the high price acts as a mechanism that decisively places this—who knows what it is?—
on a pedestal where it can be properly admired—or, conversely, condemned.
Kind of perfect—and provocative
Graetz's unconventional distribution, exclusively through the Place de Bordeaux, as well as his gorgeous, extravagantly luxurious packaging, also elevates these naughty toys from something mundane that can be kicked around, ignored, or possibly tripped over accidentally, to something that must be remarked upon. Is this wine like a precocious child's drawing in an expensive frame? Or is this the work of a great master?
If it seems too naive, overly transparent, frustratingly uncomplicated, and almost too simple, maybe that is the point. Simplicity in a positive sense is neither easy nor cheap to achieve. Could just anyone make a wine like this? I would say no; it is unique, quite different from any other wine. And not only is there nothing quite like it, it's also kind of perfect. It's certainly thought-provoking. And the other important question is, Why should a wine like this not be expensive, if this is what many people really want? In Italy especially, there are many wine consumers who seek out simple, "natural" wines that do not have the layered complexity, the concentration, the ageability, or the depth associated with expensive wines. The Balocchi di Colore wines are clean, they are not faulty, and they are made like wines were "back in the good old days." What is it that determines the price of a wine anyway? And if you think the price of these toys might just be a bit of mischief, that is what you would expect anyway in the paese dei balocchi.
Starting from this vintage, Graetz also has a new winery where the Colore series—and his other famous cuvée, the even lighter-bodied Testamatta—is now produced. The new winery is right in the center of Fiesole, inside the former Hotel Aurora, where Queen Victoria once sojourned, another part of which was formerly a groovy '70s discotheque, Bar Blu. The grapes are from Graetz's original Vincigliata vineyards and from new, splendid, higher-altitude vineyards in Olmo (at an altitude of 1,475ft [450m])—which might seem worlds away from the typical vineyard landscape of Tuscany, were it not for their stunning views of the Cattedrale di Santa Maria del Fiore, otherwise known as the Florence Duomo.
The Florentine winemaking families that have lived for centuries with these undervalued vineyards on their doorstep have never given them a second thought, for this is the "wrong" side of Florence, and traditionally not considered to be great wine terroir, which might be why Graetz has managed to snap up 90ha (222 acres) of these beautiful vineyards, some with vines more than 100 years old. This land—which he purchased during the Covid crisis, when bigger, more bureaucratic companies were in isolation mode and smarting from the painful and sudden collapse of the restaurant and tourist trade—has changed Graetz from being a winemaker with small vineyard holdings who mostly bought in grapes, to an established vigneron. After many years waiting for this moment, he is ready for the challenge. No wonder Graetz is beaming like a child on Christmas morning.
Bursting with energy and fun
A few weeks later, I visited Graetz's other project, his white-wine vineyards for Colore Bianco and Testamatta Bianco on the island of Giglio in the Tuscan archipelago. It is a short, easy ferry ride from the mainland to the charming port and then up the steep hillside to be amazed by the precipitous, breathtaking vistas of the jewel-blue horizon, hills covered in wild yellow broom, and Graetz's immaculate terraced vineyards cascading down into the glittering sea. As with his reds, Graetz is not aiming to reduce yield—he is trying to increase it, to bring added freshness to the wines. Graetz spent his childhood summers on Giglio barefoot on the donkey trails, which then still had donkeys on them, and he has captured his old memories with his spectacular Colore Bianco, one of the finest white wines from anywhere in Italy, made with the local grape variety Ansonica (which is called Inzolia in Sicily).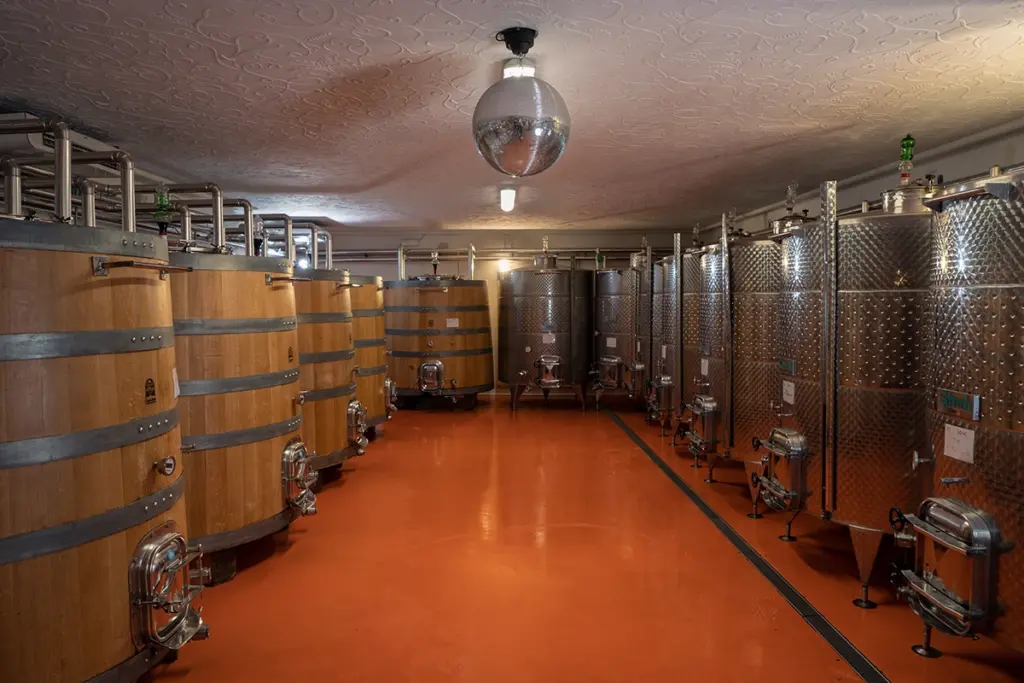 Giglio is a wine island with a long tradition. Almost all the inhabitants still make wine for their own home consumption, which is rare in Italy today, and around 30 producers make wine commercially on a small scale to sell on the local market, which is mainly Italian tourists on their summer holidays. Grown in the ancient way, gobelet, on ancient terraces, the most interesting old Ansonica vineyards are on steep, rocky, almost inaccessible hillsides. These are being painstakingly restored by Graetz, with the help of his brother Ilan, an engineer, who used to design racing sailboats until he came back to help his brother restore Giglio's ancient terraces, where slaves once produced precious golden wine to be shipped back to Rome. To see these vineyards is to glimpse a long history, and the wine is a revelation that profoundly expresses its origins. As a cultural companion to this idealistic enterprise, Graetz has also taken over Giglio's best bar in the old castle town at the top of the island, the place where the locals used to hang out when he was a kid. He has transformed it into a showroom for all his wines, including a special blend of four local varieties that he makes only for Giglio and sells at the bar for €2 a glass, along with refreshing spritzes made from Graetz's own grape juice and his own Sangiovese fizz.
Bibi Graetz has long been considered one of Tuscany's most ambitious, creative, and interesting wine producers, and his wines have always found an enthusiastic audience. Despite all his successes, however, he has always seemed somehow out of time and out of place. He seems now, though, to have come into his own. The new grown-up toys are made with a sense of purpose and command, and Graetz, who has put a lot of work into getting where he is today, is now emerging as an innovator and creative opinion-maker, showing us how things should be instead of just how they are. In so doing, Graetz makes wines that end up being terribly serious, even though they are supposed not to be. And yet, even though they might be inexplicably profound, nostalgic, and thought-provoking, what really makes these wines so compelling, so memorable, and so incredibly desirable, is that they are infused with pure joy. Although they are simply crafted according to classic, authentic principles, they are nevertheless bursting with crazy bright color and energy and fun. When you open a Bibi Graetz wine, you will want to invite over your friends and stay up all night with them. It would be the perfect holiday, like back in the old days. 
Tasting the wines of Bibi Graetz
2021 Testamatta Bianco
Only 1,000 bottles produced from Vigna Serrone on the Tuscan island of Giglio. This wine shines with pale-lemon reflections and a refreshing aroma of mint, sweet basil, cantaloupe melon, lemon and lime curd, and peach blossom. There is no maceration at all; the grapes are chilled and fermented in stainless steel, giving bright, citrus sensations that are weighted down by Ansonica's own earthiness, hints of church-candle wax, heady fig leaf, oily saline tones of pumpkin seeds, and a bitterness like fresh green almonds picked from the tree. Ansonica has a low acidity, but you would never know it from this wine, which has a phenomenal freshness and a lithe structure. This is a tremendously drinkable wine, with a great future ahead. A touch of green peppercorn gives spicy freshness to the finish, with vivid refrains of green almonds and melon rind. 2023–28. 95
2021 Colore Bianco
This Ansonica from the island of Giglio is instantly recognizable as a modern classic, albeit from 100-year-old vines on a terroir with a 2,000-year track record. Golden reflections with sunflower and warm hay aromas lead into a complex, underlying fugue of waxed floors and quinine. Colore Bianco is macerated for between five and six hours, then fermented and aged in seasoned barriques. On the palate, it is a gorgeous summer bouquet of musky marigold and creamy yellow roses and zucchini flowers, dried yarrow, propolis, yellow peaches, and white nectarines. Caramelized orange peel persists on the bone-dry palate, rounding off with a wholesome sweetness that one almost never finds in a dry white wine. An immense, full-bodied, complex, and concentrated dry white, with a graceful finish so bafflingly long that when you exhale several minutes after taking a sip you are still haunted by lingering bees' nectar and linseed. A masterpiece. It improves after hours in the decanter or days in an opened bottle and can be drunk now or will improve with cellaring 2023–31. 98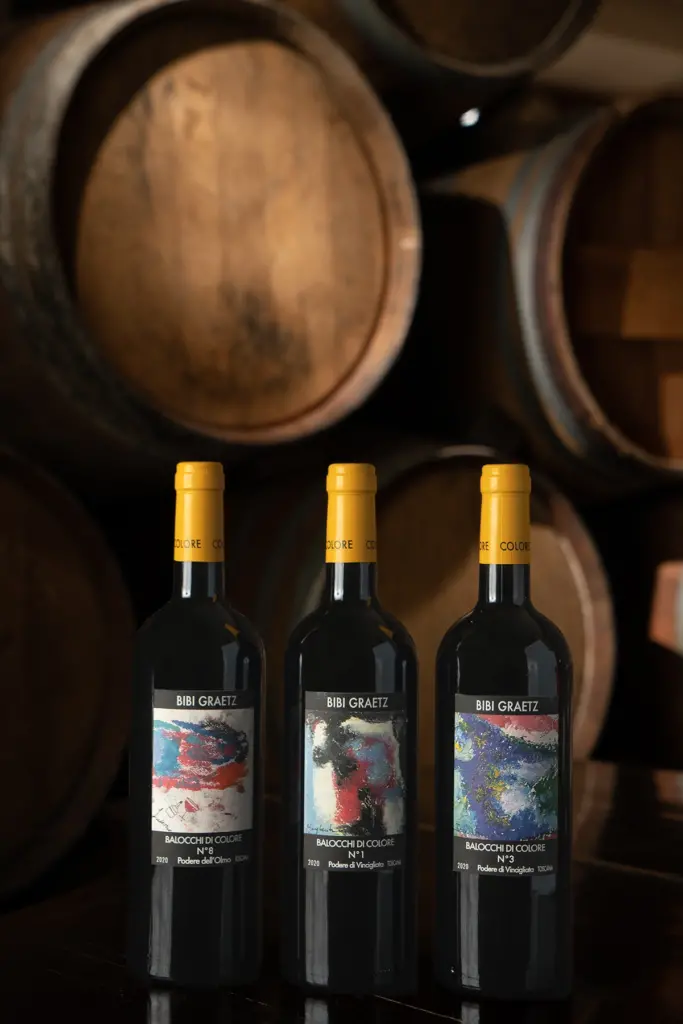 2020 Testamatta
A light garnet color ushers in aromas of griotte cherry, saffron, piquant clove, and hedgerow blackberry. The palate is linear, delivering concentration through a delicate tannic structure that is light and subtle yet robust: as awe-inspiring as a spider's web covered in dew. Aromas of candied cherry persist on the palate and are complemented by lily and sea buckthorn. This impressive but fresh-faced wine has a finish that is as long as it is bewitching and naturalistic, with humble wild sloe and the crunchy rustic sensation of blackberry seeds beckoning you back for more. 2023–30. 94+
2020 Colore
Transparent bright garnet in color, and even better defined, light, and sophisticated than its sibling Testamatta, the 2020 Colore unfolds with generous layers of cloudberry, spicy camphor, oud, and patchouli, with a rush of pomegranate freshness and the scent and consistency of firm persimmon. The tannic texture is like the fine, hard dust on a hot road. This is a splendid wine with a long future ahead, pure in its conception and executed with elegance, precision, and panache. A long, unwinding finish transports you far away, like a cypress-lined avenue leading you toward a cloudless horizon. 2023–35. 95+
2020 Balocchi di Colore No.1
Made from 50-year-old Sangiovese vines at Vincigliata, Graetz's family estate and childhood home where he first experimented with making wine, the Balocchi No.1 has a transparent, gray-tinged garnet color and aromas that are direct and primary, with cool notes of blueberry and greengage. Medium- to light-bodied, the palate gives way with a vivacious kick of acidity, backed up by curiously one-dimensional sour cherry and pomegranate. The finish is decidedly refined if not long, with earthy notes of Impruneta clay and blond tobacco. 2023–33. 91
2020 Balocchi di Colore No.3
Also sourced from 50-year-old vines at Vincigliata, this unusual and surprising Colorino wine is deep purplish ruby and inky in the glass, with hints of violet and mulberry. Surprisingly light-bodied for the dark color, the wine has light tannins with the texture of coffee grounds, then the finish offers grown-up flavors such as walnut, artichoke heart, and stout. 2023–28. 91
2020 Balocchi di Colore No.8
Made from relatively young 25- to 50-year-old vines and sourced from the Olmo vineyard at 1,475ft (450m), the Canaiolo is a showstopper and a revelation. Garnet-hued, with vivid raspberry, pomegranate, and hedgerow blackberry, this wine has a riveting and vibrant acidity, which upholds an elegant, bespoke-tailored structure. The palate yields subdued notes of sandalwood and rosehip, with a long, fragrant, and impressive finish characterized by spicy sweet cardamom and murmurs of elusive peony. 2023–33. 93