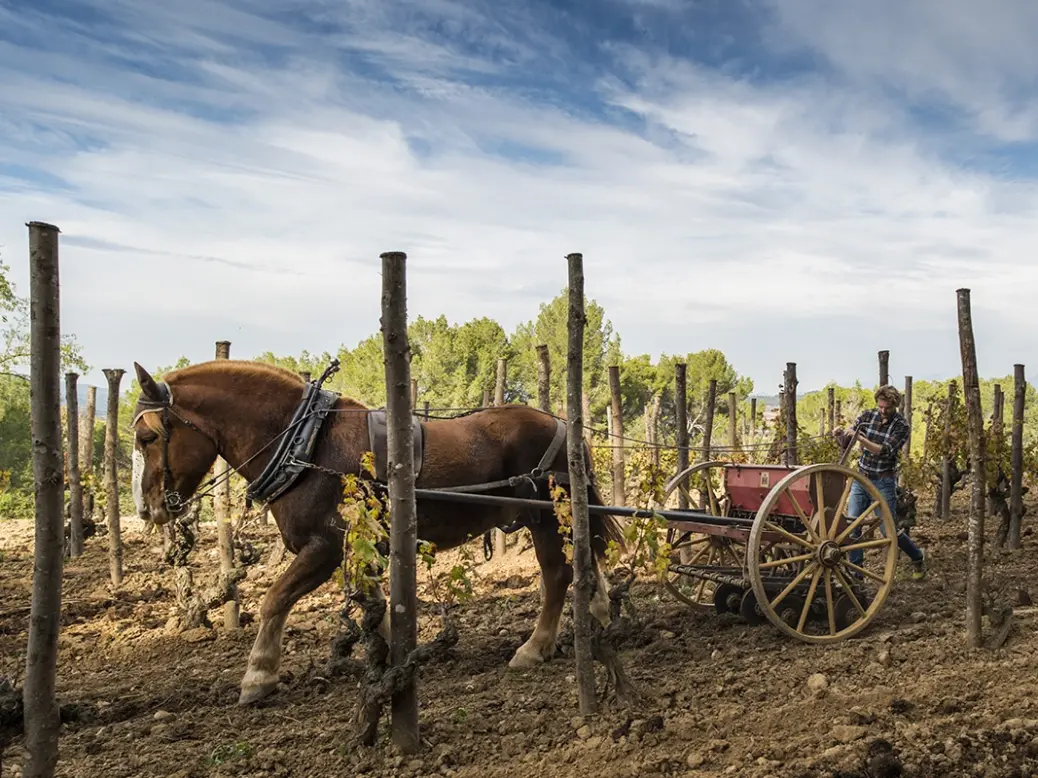 Pepe Raventós released the fifth vintage of Mas del Serral in May 2023; a tasting note for this single-estate, single-parcel sparkling wine is given below, together with those for the preceding four vintages (all tasted in Languedoc in early March 2023). First, though, here's a little background to this remarkable, consistent, and beautifully packaged wine, crafted by one of Catalonia's most unconventional and far-sighted winemakers. 
Like the Chave family in Mauves (Pepe was planning a visit to Jean-Louis Chave when we met last March), the Raventós family has 15th-century roots. Pepe's forebears arrived at Mas del Serral in the Anoia Valley in 1497. The family came to guide Codorníu, one of Spain's oldest companies, following the 1551 marriage of Anna Codorníu to Miquel Raventós. (Cervantes was just four at the time.) Pepe's great-great-great-grandfather Josep Raventós i Fatjó created the first traditional-method sparkling wine in Spain in 1872, using grapes from the estate. His son Manuel Raventós i Domènech perfected the Xarel.lo/Macabeo/Parellada blend that worked so well for the region prior to the arrival of northern interlopers like Chardonnay and Pinot Noir, as well as commissioning Catalan Josep Puig i Cadafalch to build the new Codorníu winery, now a National Monument. Pepe's own grandfather, Josep Raventós i Blanc, created and promoted the Cava DO.
In 1982, though, his grandfather parted ways with Codorníu over future vision: industrial or agricultural? It's a question of some delicacy for any major sparkling-wine region, as those who study Champagne will know. This is a wine style whose global success would not be possible without significant technical interventions and the widespread industrialization of preparation methods and storage processes. The key agricultural link, of course, comes via the raw materials in which quality resides; and Cava's success as a "value" sparkling wine meant compromises about grape sourcing and quality, with which the Raventós family never felt at ease. Raventós i Blanc was therefore created in 1985, its buildings opening their doors just a few days after Josep's death. His work was carried on by Manuel Raventós, Pepe's father. 
Pepe initially worked in social care, but from 2000 onward he trained both as an enologist (in Madrid) and as a sommelier (in Barcelona). "Enology training is important—if not, you are always scared of the technical side. But the sommelier training is very important, too; it opens the mind, and gives you a passion for tasting wines from all over the place." Aside from his restaurant work, he did winery placements with Didier Dagueneau in the Loire, Olivier Lamy in Burgundy, Nicolas and Antoine Chiquet at Gaston Chiquet in Champagne, and with the Blanck family in Alsace. In earlier times he'd got to know Bordeaux, too, since Raventós i Blanc formerly owned Château d'Aiguilhe in Côtes de Castillon before selling it to Stefan von Neipperg in 1997. From 2001, he began to take over from his father. Pepe and his wife Susana decided to move to Mas del Serral—though they spent five years living in New York while getting a new house built on the estate, in order to give their children fluent English and for breadth of perspective.
The most momentous decision came in 2012, when Pepe and his father decided to declassify their existing stocks of wines and, in November, remove Raventós i Blanc from the Cava DO altogether. "The Cava world is three big players, and it's run as a cost-oriented business," Pepe told me in 2015. "Which is okay, because that is probably what I would do if I was running those companies. The core of the region should be the smaller producers, but instead of doing things the right way, they spend all the time criticizing the big producers. It's a mess. Nobody works hard at improving viticulture. Nobody cherishes indigenous grapes. Nobody leaves the wine for 18 months on the lees. Nobody is making true Vintage wine. Nobody tries to use the minimum sulfur possible. Nobody spends a lot of money tasting wines from all over the place. Until you truly pursue quality, you won't acquire confidence, and you won't start to produce the kinds of wines that get people excited when they taste them. The times of the winemaker with a tie and a fancy car are over. There are too many great wines out there."
Pepe's idea for creating "the kinds of wines that get people excited when they taste them" was articulated through "the creation of a local, viticulturally oriented and super-exigent DO in order to frame our wines and help them be better understood worldwide": Conca del Riu Anoia. This hasn't achieved DO status—and perhaps never will, since Pepe and Conca del Riu Anoia have now joined forces with other quality groupings in the region (Classic Penedès and Corpinnat) to negotiate with the government about the creation of a new DO based on quality and viticulture standards. But Raventós i Blanc still uses the quality charter Pepe designed to show the way forward, and the Conca name. This charter stipulates hand-picked grapes from native varieties, organically and biodynamically grown in the limestone soils of the Anoia Valley, with at least 80 percent estate-grown fruit and any purchases paid for at prices never less than €1 per kg (even in 2023, Cava grapes can cost as little as €0.35 a kilo); all wines should be vintage-dated and must be aged for at least 18 months before sale. Meanwhile, Pepe worked with Olivier Tregoat of Lafite to map and understand all of Mas del Serral's 46 separate plots, in order to refine plantings and blends.
Since 2016, Pepe has purchased a second estate 2,000ft (600m) up in the Sierra de l'Home: the formerly abandoned Can Sumoi. It has 20ha (50 acres) of 50-year-old Montonega, Sumoll, and Xarel.lo vines—and 380ha (940 acres) of forest—as close to a pristine environment as Catalonia provides. This leaves Raventós i Blanc to be run purely as a sparkling-wine estate along biodynamic and minimal intervention (but not zero-sulfur) lines. A few parcels from this historical estate are now devoted to Pepe's third and most personal label, Vins Pepe Raventós: Mas del Serral and a small series of natural wines. When I met Pepe in 2015 (and, with my family, helped pick grapes for that harvest), he was busy with a series of natural-wine experiments; we foot-trod, too. "I am so interested in natural winemaking," he said then, no doubt with New York's wine scene fresh in his mind. "They give me so much pleasure, for two reasons. No-sulfur winemaking brings us back to reality—there's no makeup, it's raw, it's complex, it's rich. It stirs something in our memory that we seem to have tasted long ago. The other reason is that as a winemaker it's a great challenge to be able to produce without sulfur. You have to be very precise and work well to avoid oxidation; it's a great challenge."
So, what of Mas del Serral itself, the wine? It comes from a 1.9ha (4.7-acre), north-facing, horse-plowed vineyard, the Clos del Serral, at the center of the estate. The 79-year-old vines (all Xarel.lo apart from 3 percent of Bastard Negre, a Catalan variety not included in Wine Grapes by Harding, Robinson, and Vouillamoz) are planted in limestone and gobelet-trained; after harvest, they are hand-sorted then whole-bunch pressed and fermented in steel and concrete. Following around 11 months' tank aging, the wines are given their liqueur de tirage and bottled for the second fermentation, with around 100 months of lees aging before eventual disgorgement. 
Tasting Mas del Serral

2007 Mas del Serral
(2,735 bottles, 400 magnums; TA 6.43g/l (as tartaric); pH 2.97; RS 1.3g/l)
The inaugural Mas del Serral was made in a warm, dry year with some early and midsummer drought stress, resulting in a 15 percent reduction in average yield. Rain in early August helped unlock the ripening process, however, and the harvest took place on September 12. Mid-gold in color, with subtle aromatic composition: seaweed, violets, dry prairie grasses; a clean lanolin freshness; creamy and beguiling. On the palate, too, this is a sparkling wine of breadth and aromatic generosity. It's mellow in a way that very few Champagnes could ever be described as being, yet structured, too. Look out for finely detailed, complex, grainy-stony flavors, resonant dryness, and a saline wash to its insistent yet glowing acidity: a remarkable performance from these old Xarel.lo vines. A sparkling wine of pristine clarity, and a collectible debut vintage where stocks still exist.
2009 Mas del Serral
(849 magnums; TA 6.88 (as tartaric); pH 3.02; RS 1.5g/l)
The second vintage of Mas del Serral came after a wet early spring (with early budburst) and dry late spring and early summer. July was wet, but then there was a warm dry run to harvest, with an overall growing cycle ten days longer than usual, even though harvesting took place on September 7. The wine was eventually entirely bottled in magnums. Why? "We thought we had picked a little bit late, so we passed half of the fruit to our Manuel Raventós cuvée; that left just 1,500kg, so we decided to bottle in magnums alone." Glowing mid-gold, with a fine mousse. Soil and earth, seaweed and honeycomb, lemon and lemon zest: rounded, balanced, and complete aromas in harmonious, stealthy, soft-contoured style. On the palate, the wine is mouth-filling, concentrated, finely detailed, poised, and fresh, with ripe acidity that lasts and lingers before subsiding slowly. Complete and classical in this format.
2010 Mas del Serral
(2,047 bottles, 494 magnums; TA 6.4g/l (as tartaric); pH 3.07; RS 1.5g/l)
The third vintage of Mas del Serral came after a long, cold winter and cool, rainy spring and summer; the heat of summer finally arrived in August and then persisted through until harvest. Regarded by Pepe as an "excellent vintage, with great potential for aging." Harvesting took place on September 22. Slightly paler in color than its two older siblings, with a very different aromatic spectrum to theirs: fresh holly bush and oak leaf, with crushed white almond and green olive. Still Mediterranean, but tauter and more sprightly than the sunny, billowing uplands and wildflower meadows evoked by 2007 and 2009. On the palate, the wine is sappy, poised, and tongue-coating, more evidently acid-structured than its peers but grand, broad, and allusive behind those acid pillars. Plunge through the swell and you'll find nourishment.
2011 Mas del Serral
(2,185 bottles, 180 magnums; TA 6.2g/l (as tartaric); pH 3.05; RS 1.5g/l)
The fourth vintage of Mas del Serral began with a mild winter and a wet spring. Summer was dry and very warm, with the healthy crop undergoing a quick ripening cycle. Harvesting took place 20 days earlier than in 2010, on September 2. This wine has the most developed color of the three younger vintages: a bright gold. The aromas are less distinctively Catalan and less typical of Xarel.lo than most of its peers, but very attractive nonetheless: honey, peach, almond, mimosa. The palate is no less characterful and charming, with flavors of honeycomb and pollen, of peach juice and biscuit. Despite the contrasting style, it shows the purity and finesse that characterizes the other vintages of Mas del Serral.
2012 Mas del Serral
(2,372 bottles, 180 magnums; TA 6.2g/l (as tartaric); pH 2.99; RS 1.7g/l)
The fifth vintage of Mas del Serral began with a cold winter and a cool spring. Summer was again dry and warm, with a hot late-summer period. Drought reduced the crop of small, healthy grapes; the juice was concentrated and well balanced. Harvesting took place on September 1. (I tasted a specially disgorged bottle sample with lees aging curtailed by a month or two compared to the May 2023 release.)
Bright gold in color, with a fine seethe of bubbles. Characterful, typically Catalan, and memorably varietal aromas of dry grasses and wild flowers in fresh, expressive, focused style. Serene, harmonious, and classic. On the palate, the wine is bright, glowing, intense, driven, and vinous, with a delicious curl of acidity; flavor of malt biscuit, lemon, and zest. Classical and perfectly proportioned.