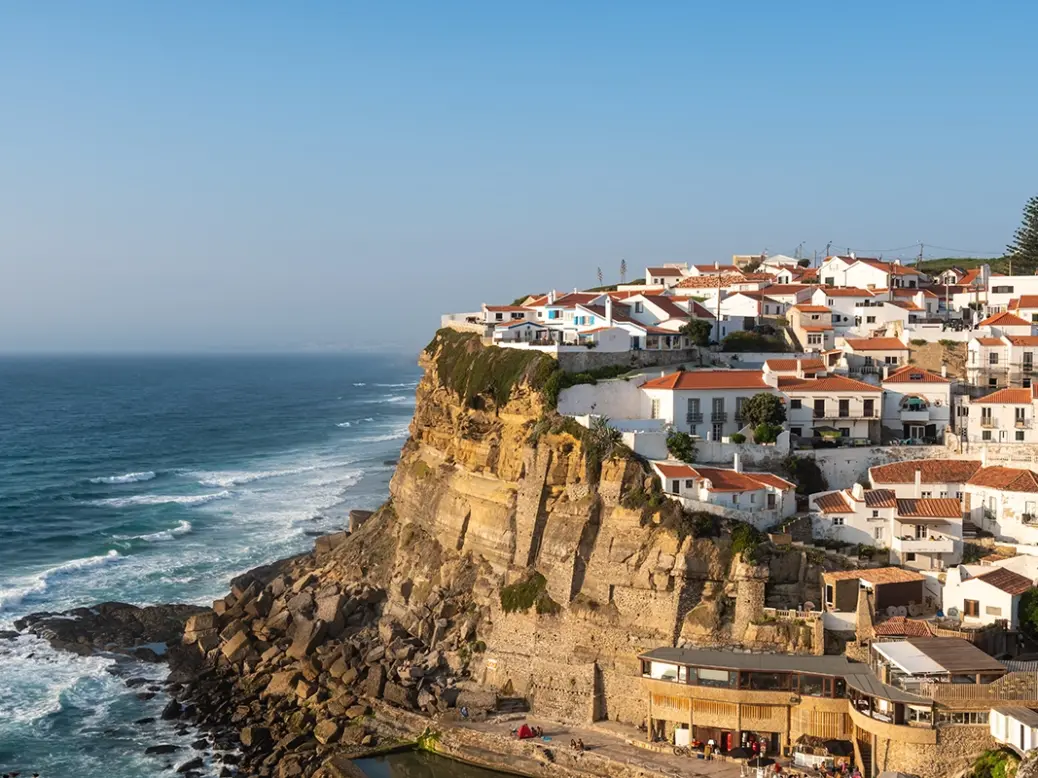 Over the past 20 years, The World of Fine Wine has published a series of in-depth pieces looking at some of the world's most exciting and distinctive terroirs in our "Genius Loci" series. This summer we are taking the opportunity to publish some of the best of the series online for the first time, with this week's contribution from WFW53 in September 2016 exploring one of Portugal's—and Europe's—most unusual winegrowing regions.
Bruce Schoenfeld takes a trip to the Atlantic coast of Portugal and meets the small band of producers working to revive the historic Colares wine region where the vines grow in sand beside boutique hotels and luxury shops.
I'm in a car with the past, present, and future of Colares, the tiny viticultural region on the coast west of Lisbon. Jose Baeta of Adega Viuva Gomes, a winery that has been functioning there since 1808, is driving. Jose's son, Diogo, is in the back with Nuno Ramilo, who recently planted the first new Colares vineyard in memory. Francisco Figueirdo, the lead enologist at the local cooperative, sits between them.
Colares is a peculiar place. Only six producers bottle wine there. Only four of those, the cooperative and three others, actually make wine. Until 1994, the cooperative was legally required to vinify everything with the appellation on the label. These days, one of the producers is a 104-year-old man who arrives at decisions by swinging a pendulum. Another is a company so small that it owns no vineyards and no facility. A third is a mysterious foundation that runs two casinos in Macau. "We are a small appellation," Jose says. "What makes it special is, we all work very well together."
On the short drive from Sintra, we pass upscale shops and beautiful homes. It is what a wine region would look like if it were set in Notting Hill, or Darien, Conn. From more than 1 million liters a year in 1950, the annual production in Colares has shrunk to about 20,000 liters. It is easy to see why. With all the houses and shopping areas and boutique hotels, property values have made viticulture almost unsustainable. "All over Portugal," says Diogo, who is 27 and has recently started working with his father, "there are people who don't believe that Colares still makes wine. They've never seen any."
The requirements to label your wine Colares are strict. The vines must be ungrafted, from pre-phylloxera plantings. They must be grown on sandy soil, not the clay soil that's a kilometer or so distant. Red Colares wines are always made from Ramisco grapes, and whites from Malvasia. I've assumed that this, too, is required, but Diogo corrects me. "Not so," he says. "You're allowed to blend the Malvasia or Ramisco with as much as 20 percent of another grape variety, provided it is among those authorized by the DOC."
"Does any winery do that?" I ask.
"No, none of them," he says. "But they can."
On our way to Nuno's vineyard, we drive past a dense forest. It turns out that the vineyard is in the forest. Nuno explains that getting permission to put vines there two years ago was not an easy task. In fact, his application to the relevant authorities was denied. "They wanted to protect the pines," he says.
That was presented to him as the final answer, but Nuno refused to accept it. "I went there and had a talk," he says. He explained that their interest in the pines was misguided. Trees had only been growing on the land for a matter of decades. Vineyards have been planted there, on and off, for nearly 500 years. It is vineyards, not pines, that should be protected. That is what he told them.
In the end, without explanation, the permit was granted. "They still say I can't do it," Nuno says. "But they gave me permission to do it."
We park and hike toward the rows of vines. Sand seeps into my shoes. I can't imagine anything of value flourishing in land so poor. "In truth," Francisco says, "this isn't what you'd call sandy soil. This is actual sand. There are no nutrients. There is no water."
The vines look like weeds at a poorly kept beach. "We had to dig and dig and dig so we could plant," Nuno says. "Basically, we took a machine and just kept digging until we hit clay. It was an expensive ordeal."
Genius Loci—Sierra de Gredos: The haunting beauty of a complicated terrain
Contradicting all the theories of viticulture
Francisco gazes distractedly at the land before him. He has no stake in the new project. In fact, the wines will actually be competing with his wines from the cooperative. But at 39, he has spent his entire professional career in his current job. His interest in the appellation is far more emotional than financial.
As he looks out at the vineyard, he is clearly moved. "For me," he says, "this is spectacular. It is a thing we have not seen in decades."
Back in the car, we pass a riding club. We pass an elegant subdivision of whitewashed homes with barrel-tiled roofs. "That used to be a vineyard," Francisco says. He points to a two-story home with a half-moon driveway on a block filled with similar two-story homes. "The statistics are indisputable. We lost more than 90 percent of the vineyard land in Colares."
Jose slows the car so I can catch a glimpse of the plantings of Fundacao Oriente, the foundation from Macau. Through a gate, I see a heavy cover of bright-green grass growing on the sand between the rows of trellised grapes. "Irrigated," Jose sniffs.
Curious to try the wines, I ask if there will be any of them at the small tasting he has curated at Viuva Gomes later in the evening. Jose shakes his head. "When I told you that we all work very well together," he says, "what I meant was, 'We all work very well together except the Oriente Foundation.'"
We park beside a modern two-story house of brick and glass. "This, too, used to be a vineyard," Francisco says. "Only a few years ago. I saw it happen." Across the street behind a rock wall is a patch of land that narrows to a point where two streets converge. Vines, thick and gnarled, lay on the ground. "It contradicts all of the theories of viticulture," Nuno says. "All the things you learn in university—this is the opposite."
During the growing season, small wooden rods are used to lift the vines several inches so the berries don't mildew from ground contact. The system is ingenious, but it isn't pretty. "They need to be low so the wind off the water doesn't affect them, and because they need the heat of the ground to ripen," Francisco says. "But they also need to be off the ground so they don't rot."
I step inside the wall toward a fat log lying in the sand. It turns out to be a vine. "Eighty years old," Jose remarks. "It is a monument." The log is blackened, covered in dead leaves. It looks like the centerpiece of a beach campfire from the previous weekend. The juxtaposition between the impressively architected home and the pile of old wood on the ground is so striking that I use my phone to take a video, panning back and forth between the house and the vines.
It strikes me that the situation is ideal for an amateur viticulturist of means. He could buy property in this resort community, build a house, and grow Colares wines in his backyard. Jose considers this such a preposterous notion that he lets out a sharp, loud laugh. "These people who buy the plots and build the houses are people who come from Lisbon to spend their holidays or weekends," he tells me, punctuating every word so I'm sure to understand. "They. Do. Not. Care. About. Wine."
We visit the cooperative, where the vast majority of the appellation's wine is produced. Called the Adega Regional de Colares, it's a magnificent warehouse that dates to the 1800s. We're about to walk inside when Nuno stops me. "When you enter here," he says, "you can see the greatness. You can see that Colares was once the greatest and most important wine region in Portugal."
He's right. The majestic hall is lined on both sides with huge fermentation barrels that extend into the distance. All of them, I'm told, date to 1931, when wine started to be made here, meaning that the appellation hasn't purchased a new fermentation vessel in more than 80 years. The barrels are clearly too dark to be the usual oak. "The wood is quite special," Jose says. "It's a mix of various Brazilian exotics, including but not limited to mahogany, cambala, macauba and vinhatico."
I walk closer to examine them. As I do, I notice that the capacity of each barrel is listed beside it and that no two are the same. 10400 liters … 19590 liters … 16870 liters … 14859 liters… 10702 liters … the numbers seem entirely random. "They constructed the barrels first," Francisco tells me, "and measured how much they hold only afterward."
If the vastness of the hall symbolizes the greatness of Colares, the paltry amount of wine actually inside the barrels symbolizes the irrelevance to which it has been reduced. "The total capacity of this room is 700,000 liters," Francisco says. "We have here at the moment 40,000 liters." That means that nearly all of the barrels before me are empty, little more than ceremonial. "At the moment, yes," he confirms. "Obviously, we hope that will change."
As we leave, I notice a display of bottles behind a glass pane. Some are standard-sized, but most are smaller, and others a little smaller than that. Francisco explains that until the 1970s, Colares wines were traditionally sold in bottles of 650ml. At that point, in order to be aligned with the rest of the world, all of the Colares producers converted to 750ml bottles. But in 1999, the decision was made to change again to 500ml. It was a way to get more bottles out into the world at a time when volume was decreasing.
And there's something even more peculiar. A 1969 bottle in the display has Colares spelled Collares, with a double-l. Jose, Francisco, and Nuno nod when I mention this. Yes, they say, Colares used to be spelled that way. Yes, today it is uniformly spelled Colares. But as to when the change occurred, nobody can agree. It was the 1930s, Jose guesses. But since the bottle I'm seeing is from 1969, I know that can't be right.
Francisco believes the change came shortly after 1969, perhaps around 1975. Or later. Or maybe, he says, there wasn't a firm date at all.
Genius Loci—Liebfraumilch: A German icon comes full circle
Past and future greatness?
Viuva Gomes is a lovely old building with 1808 inlaid into the tile above the cornice line. But in this funhouse of an appellation, little is as it seems. The building is actually considerably younger. The 1808 means that the company was founded that year, Jose explains. "Why they have it on the building, I have no idea."
Wine is made at Viuva Gomes, but not Viuva Gomes wines. Those are handled at the cooperative and merely barrel-aged here. But Jose has empty space in his building, and Casca—the smallest producer in the appellation, the one that's so small that it owns no vines—has nowhere to make its wine. So they've worked out a deal. "Cooperation," Jose says.
I see no equipment inside, just a long table with bottles and glasses arranged. And I can barely see that. It turns out that the overhead lights near the table have malfunctioned. Accordingly, the tasting will be held in semi-darkness. Diogo lights three candles, as if to emphasize the point.
My favorite wines are the two whites. The cooperative's fresh and lively Colares Branco 2012 has the salty tang of the seashore and vaguely floral aromatics. It seems to be goldish-yellow, more evolved than I'd expect from a three-year-old wine, but in the dimness I can't be sure. The Viuva Gomes, made in the same cellar out of the same grapes, is even fresher and livelier. Both would taste better with a bit of food, if only a cracker.
The reds are less accessible, at least to someone unaccustomed to drinking Colares. The 2006 Viuva Gomes, the current release, seems like a blend of very old wine and young wine. There's nice acidity and an appealing freshness, but the flavors and aromas are uniformly mature—mushrooms, leather, antique furniture. I would defy anyone handed a glass of it to correctly guess its age.
The cooperative's 2006 is less leathery and less tart. It tastes flat, with a monotone for a melody, closer to conventional red wine than the Viuva Gomes but uninteresting. In fact, the more I sip, the less I think it tastes like anything at all. "This bottle isn't showing its best," Francisco says.
Then we try the 1969 Viuva Gomes, from a stock of old bottles that the Baeta family inherited when they bought the winery. Some of these old wines, including this one, are currently in the marketplace in both Portugal and the United States. To me, the wine tastes like tannic, minty seawater. Others are enraptured. "This is Colares!" Nuno exclaims. I wonder what occasion would be the right one to drink this wine. Is it an aperitif? A wine to have with dinner? Or perhaps after dinner, like Barolo Chinato? "You drink it with fish," Nuno states flatly, but that seems wrong, mostly because it's quite fishy on its own.
"Cheese?" Francisco offers. "No, no, no," Diogo responds. "That would kill it," he insists. "I think you need something sweet. To balance it."
Jose overhears us. "This wine," he pronounces, "is for game dishes." On that, there is instant agreement. "Yes! Exactly!" Nuno says, then elaborates. "It is for partridge. Or maybe rabbit."
I'm about to tell them that a wine meant for partridge or rabbit won't be especially functional with most consumers. But then I realize that it probably doesn't matter. More than a wine to be enjoyed or even understood, Colares is appreciated best as a phenomenon. In a wine world that's in ongoing danger of homogenization, it's coveted by virtue of its strangeness and its rarity. It fits the exact template of wines that are fashionable now as the antidote to wineries that make hundreds of thousands of bottles, the 100-point scoring scale, and massive marketing campaigns. If the appellation didn't exist, some Brooklyn sommelier would probably try to invent it.
Alone among the four of them, Diogo seems to understand this. "In Portugal," he says, "wine is fashion. Until recently, a lot of people drank Portuguese wines made from French varieties. That was the fashion then. But these days, they want something different. Something that could come only from Portugal. That's why feel that Colares is the wine for now. That this is the Colares moment."
We raise our glasses and sip again. Then we go to dinner and drink something else.