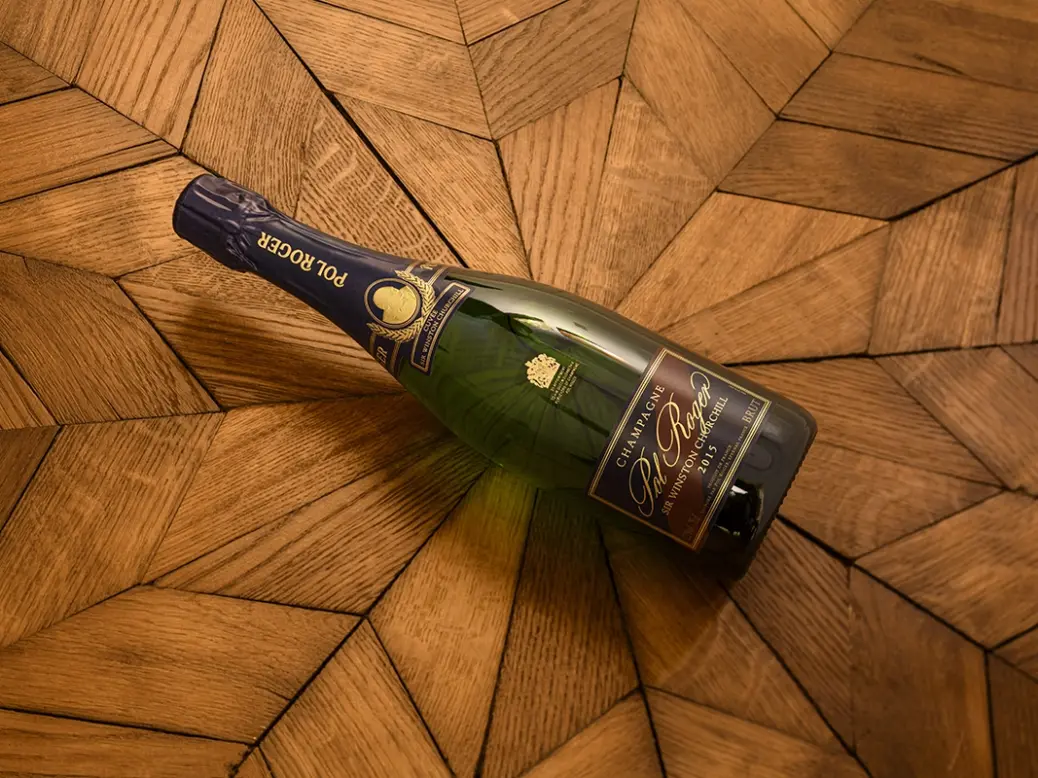 The latest vintage of Pol Roger Sir Winston Churchill is more approachable than in previous years, says Simon Field MW. But it remains a powerful, mature, and food-friendly wine of the kind its namesake would have enjoyed.
Churchill's taste for Pol Roger can be traced back to an invoice from his wine merchant, Randolph Payne & Sons, dated 1908, when he purchased a case of the 1895 vintage. His affection assumed a more corporeal if Platonic dimension after lunching with Odette de Pol Roger, a society beauty, at the British Embassy in Paris to celebrate the liberation of Paris in 1945. Also present were General de Gaulle, Anthony Eden, and naturally enough, the British ambassador, who was so struck by the camaraderie evidenced that he promptly inscribed mention of said wine in his diary. Thereafter, Pol Champagne for elevenses, an ongoing (to this day) friendship between the two houses, and a canon of oft-repeated Champagne-related bons mots from the great man. It has been calculated, by whom I know not, that Churchill consumed the equivalent of 42,000 bottles of Pol Roger in his lifetime. Not bad going. He would probably have availed himself of the imperial pint format, ideal before luncheon, but only if one's guests were abstaining. 
Anyway, somewhat late in the day—or after a respectable gap, depending on one's point of view—the celebratory Cuvée Sir Winston Churchill was launched, the celebration initially restrained by a mourning black band on the bottle. This was formalized 19 years after Churchill's death at Blenheim Palace with the launch, in magnum format only, of the 1975 Cuvée Sir Winston Churchill. 2015's SWC thus marks the 40th year of this gemstone and is its 21st release. Poorer vintages (2001, 2011, and, we are told, 2016, among others) are studiously avoided, and the wine always favors Pinot Noir. To what extent we know not, though rumors are that the "secret recipe" stretches to 80 percent—all, needless to say, sourced from grand cru sites. The aspiration is to make a wine in the model of the man: powerful, robust, reliant, and the rest of it. The Pinot is thus probably increasingly sourced from the north-facing vineyards of the Montagne de Reims—Mailly and Verzenay, for example, in favor of Aÿ, Bouzy, and Ambonnay; the musts here are a little less ripe, a little longer in their evolution, a little more subtle and ultimately perhaps more satisfying for those who, like Churchill, appreciate the long game. The Chardonnay comes from grand cru sites in the Côte des Blancs.
A prestige cuvée on song
2015 has been described as a helter-skelter vintage, its early warmth offset by mid-season rain and humidity, which some say is discernible on the back of the palate of some of the wines. Not this one, I hasten to add. It is, however, more obviously ripe and approachable than the fantastically linear 2013, the latter more chalky and restrained. Some compare the 2015 with the 1985, whereas the 2013 puts one more in mind of higher-acid vintages such as 1988 and 1996. There was no 2014. Power is the watchword here, but a guarded, diplomatic power—a characteristic that always takes time to unfurl. The fruit was brought in September 2–18, with a potential alcohol of 10.4% and total acidity of 7.1g (as H2SO4), the latter figure a little on the low side, since it can often exceed 10.
Vinfication follows the Pol Roger template; a double settling (débourbage), then a cool stainless-steel fermentation, full malolactic fermentation, and eight years on lees in the deep Pol cellars (more than 100ft [33m] below Epernay, stored at a constant 48°F [9°C]). Unusually (these days), remuage is performed by hand, and the first disgorgement took place in September 2022, with a dosage of 7g/l, a little less than sometimes, as one might expect from such a warm year.
Churchill, as mentioned, liked his Champagne to be powerful, mature, and food-friendly. The 2015, if initially a little more approachable than some of its forebears (UK Pol MD James Simpson MW memorably describes it as an "extravagant apéritif"), certainly fulfills all these descriptors. Gerard Basset MW MS was a great admirer of this style, praising a "Montrachet with bubbles." This is a distinctive and wonderfully anecdotal prestige Champagne, very much on song at the moment. Forgive me for trotting out my favorite Churchill Champagne quote (an article on SWC would be far too original without one!): "My tastes are simple. I am easily satisfied with the best." It seems so apposite. 
Pol Roger Sir Winston Churchill 2015
(Approximately 75–80% Pinot Noir, 20–25% Chardonnay; dosage 7g/l; disgorged September 2022)
Pale gold, an iridescent sheen, and an elegant mousse. A youthful nose of lemon posset, crushed almond, and sourdough, the warmth of the vintage finding voice with biscuity autolytic notes that gradually unfurl. The palate is relatively compact at the moment, with hints of poached pear, macadamia, and aniseed, the ripeness providing a firm textural foundation, the quality of the fruit ensuring length and potential. There is a hint of salinity on the finish; also something savory (sage, maybe), adding to the fascination. The Sir Winston seems a little more approachable these days (it has had eight years of tirage, rather than the ten years of yore), but there is no lack of power and nothing missing in a wine that is so eponymously privileged. Anything less good would be disrespectful. 95