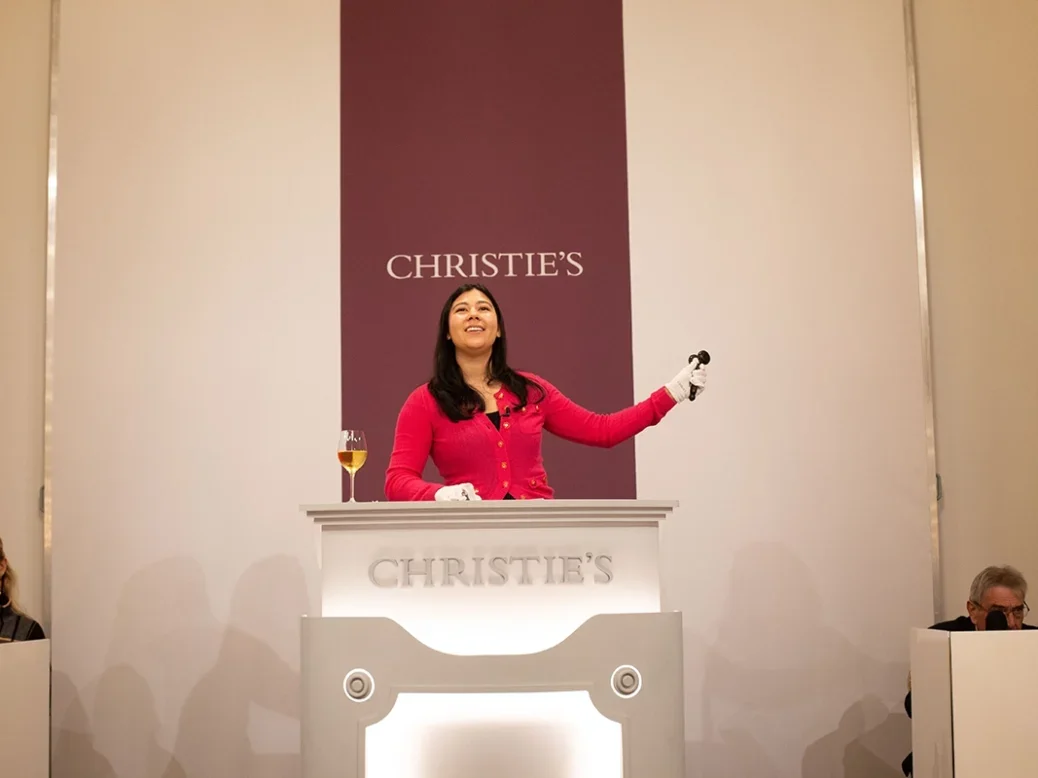 Chloe Ashton delivers the latest news from the auction and fine-wine market and views direct from the salerooms, rounds up the fourth quarter and last year, and sees some hints of sunshine on the horizon.
Clouds may finally be gathering over the fine-wine market. If they are, "they're more like light rain clouds than heavy storm clouds," says Matthew O'Connell, CEO of Bordeaux Index's LiveTrade platform. Though ongoing macroeconomic uncertainty and bruised financial markets may have distracted some investors toward the end of last year, he believes the value of fine wines will hold steady in 2023. And following three years of blue skies and sunshine—unprecedented demand growth, and wine prices galloping ever upward—perhaps stability is the best thing we could ask for.
Still, fine wine's standard industry measures for market health rose an average 5 percent between January and December 2022, while financial indices tumbled (fig. 1).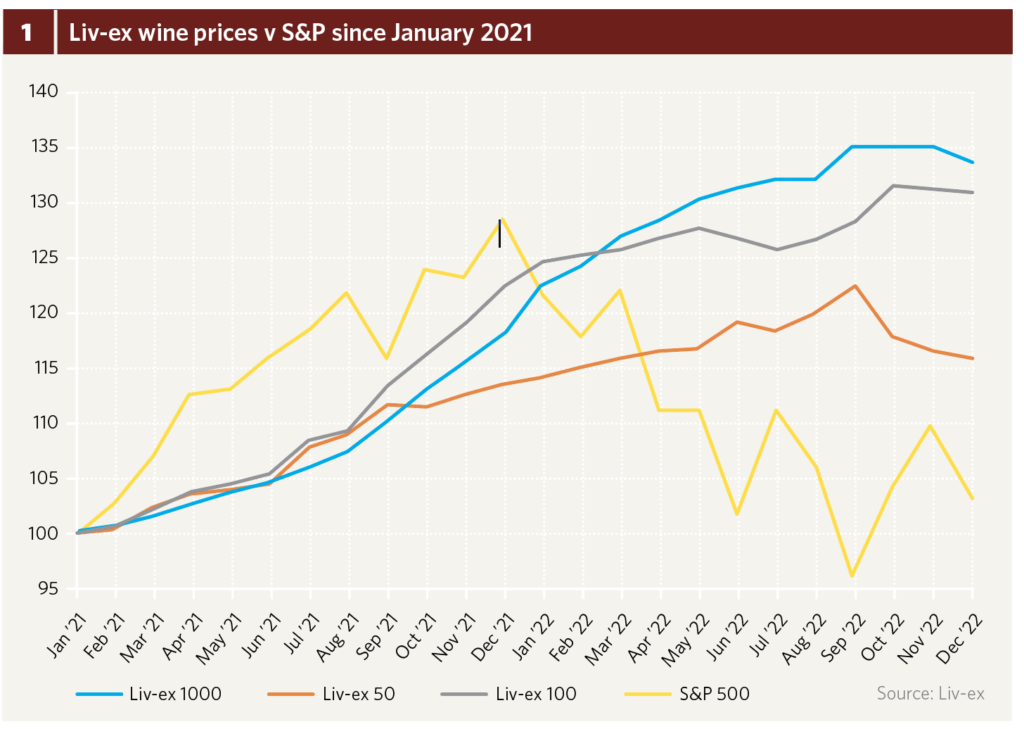 Liv-ex's Bordeaux First Growth index, the Liv-ex 50 was last year's slowest performer. Following a 13 percent climb throughout the previous year (a record performance since the last Bordeaux boom in 2016), the index maintained its upward trajectory in the first three quarters of 2022. Experiencing a minor dip in the summer, it then fell 6 percent between September and December, landing at a net annual gain of 2 percent. The Liv-ex 100 dipped earlier and more severely than its narrower cousin but regained ground quickly, stabilizing into a final 12-month increase of 5 percent (compared with 22 percent in 2021). Liv-ex's widest measure, the Liv-ex 1000, showed better peaks and more stable troughs over the two-year period. Despite flattening toward the end of 2022, it finished the year with overall growth of 9 percent (half shy of its 18 percent rise in 2021). The downward turn of all three indices as 2022 ended surely forecasts some bad weather for 2023; the real questions are where this will hit and perhaps for how long.
Bubbling up (and over?)
Regionally speaking, recent performance of Liv-ex's regional indices suggests the greatest risk could be reserved for those regions with the furthest to fall. The Champagne 50 index climbed a gargantuan 74 percent between January 2021 and November 2022, before a sharp month-on-month fall. It finished 2022 with 12 percent growth for the year (compared with 40 percent in 2021; fig. 2). The pace of the two-year price sprint from Champagne nonetheless makes Burgundy's first peak of 2016 look like a Sunday afternoon stroll, achieving the same gains in 24 months that Burgundy saw in 32. On the one hand, this could indicate that Champagne is set for a harder fall in 2023. On the other—and if we're to take Burgundy's longer-term performance as any indicator (fig. 3)—it could mean that Champagne's ascent is just beginning.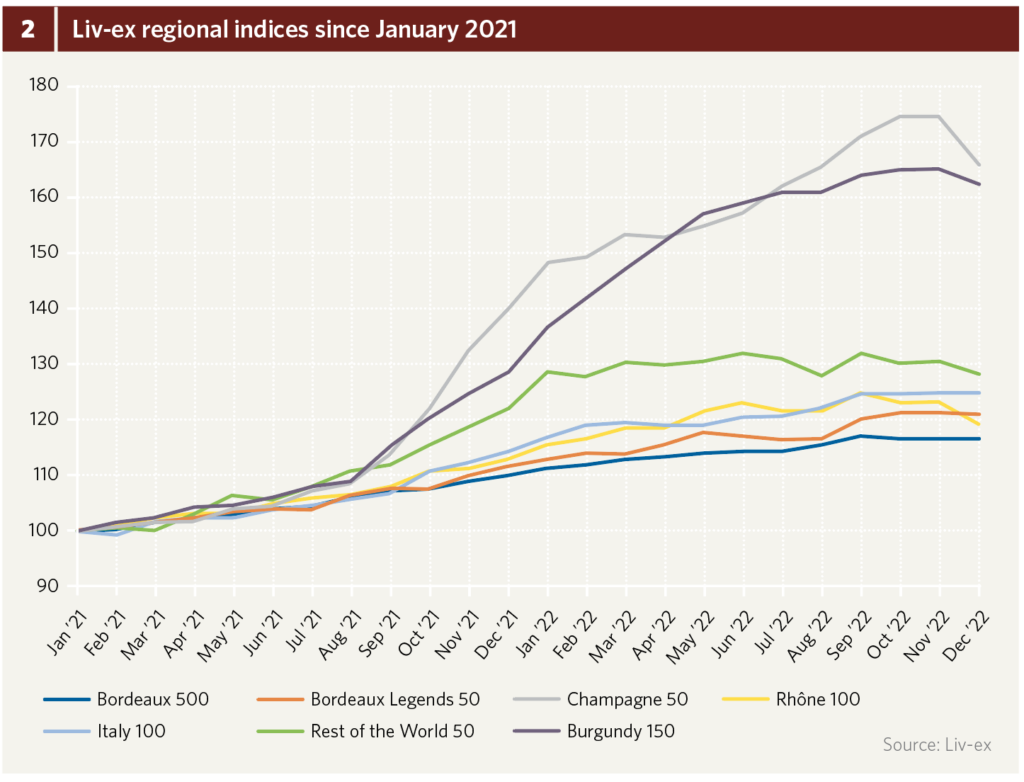 Indeed, Burgundy's so-called bubble has never burst and shows no signs of doing so. The regional index was 2022's best performer (rising 19 percent between January and December). O'Connell shares with me his instinct that Burgundy could end up on top again in 2023, based on the minute availability for the 2021 vintage, as well as ongoing demand satisfied by any and all recent back vintages collectors can snap up on the secondary market. Linden Wilkie, founder of Hong Kong-based merchant and Burgundy specialist The Fine Wine Experience agrees, and offers evidence that demand for Burgundy is crystallizing beyond the top icons. "I'd say the Burgundy craze started with people deciding they couldn't drink DRC or Rousseau anymore due to the price, and therefore moving downward," he explains. "But now, with a new generation of buyers and the influence of social media, the adventure of discovering a new producer overshadows the purchases by default of not having access to the top rung."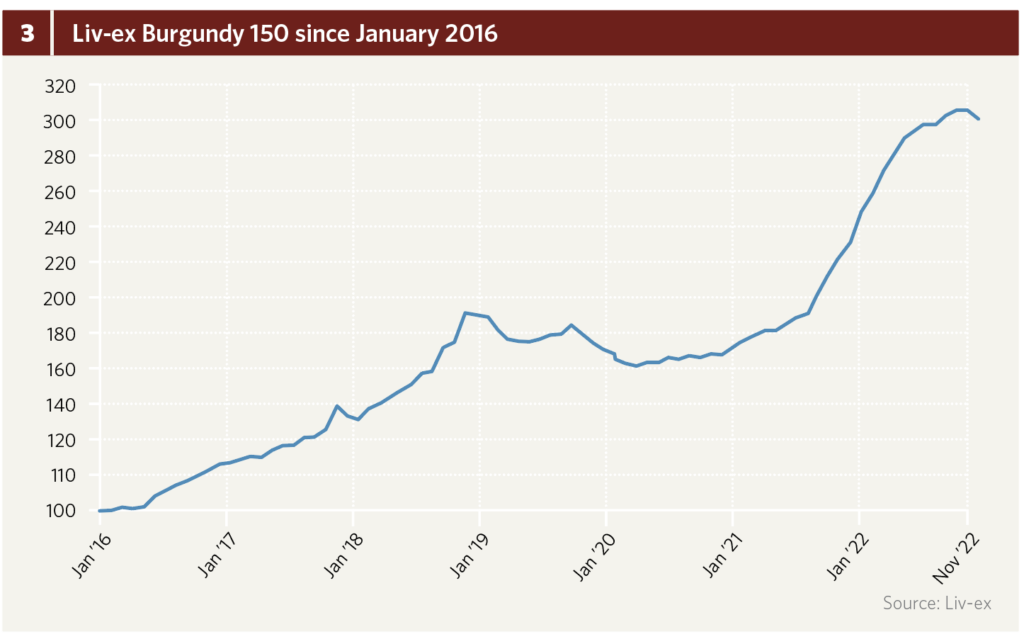 Back to basics (and Bordeaux)
The same argument is made from a drinker's angle by Giles Cooper, buying director of Chelsea Vintners. While he's also convinced that Burgundy prices will hold in 2023, he's expecting demand to pick up for Bordeaux. "Burgundy allows us to brag about what we've tasted that others haven't," he tells me. "But Bordeaux is a conversation, usually about a château we've all tasted many times, where we share which vintages we've preferred at what times—it's more inclusive." While the Liv-ex Bordeaux 500 and Bordeaux Legends 50 indices rose only 5 and 7 percent in 2022 (versus 9 and 12 percent respectively in 2021), the region remains a constant staple, and one that continues to appear exceedingly good value relative to other fine wines regions. As Cooper puts it, "Bordeaux is the absolute cornerstone of wine appreciation." With a strong vintage 2022 set for en primeur release in late spring, it's likely that much of the trade will be backing the historically reliable horse, amid a potentially volatile year.
Sun rising (in the East)
Geographically, Wilkie is cautiously optimistic about his own market. He explains, "The end of last year was very quiet for Asia, with a lot of Hong Kongers focused on traveling again." His hopes are higher for 2023, as many mainland Chinese return to Hong Kong, and the effects of China's post-Covid freedom finally kick in. O'Connell echoes this, expressing a "trade paralysis" from China in Q4 2022, but equally sharing Wilkie's confidence in Asia's return to vinous activity this year. And if this particular sun does rise in the East, it could light up the entire market, bringing "strong trade tailwinds to Bordeaux and Burgundy," he adds.
Auction update
Elsewhere in the world, the major challenge for wine markets globally this year will simply be a battle against collectors' own cautiousness. Following a frenzied few years, wherein many merchants registered consecutive annual revenue records, it's possible wine lovers may intend to calm their acquisitions in 2023. Cooper doesn't buy it, however. "I think these intensions will end up differing from reality," he tells me, as he reels off a series of specific regions he's excited about this year: "South Africa, Sonoma, so many different areas of Spain…" He clarifies: "I do think people will tell themselves to be more selective, but given how many high-quality wines are being made today, they could easily do so and still end up buying more than in previous years."
Live and online wine auctions achieved an annual revenue total of $524 million in 2022—$115 million (or 18 percent) shy of the record-breaking year-end figure for 2021 (fig. 4). Online-only sales represented $79 million of this (or 17 percent)—an all-time high in absolute and proportional terms. While 2022 began strong for the global gavel (finishing the first quarter 15 percent ahead of the comparative period in 2021), it is clear that fine wine did not escape the worldwide economic downturn unscathed. Auction results from September to December 2022 were hit particularly hard, registering a three-month total of $149 million, 47 percent down on the equivalent period in 2021.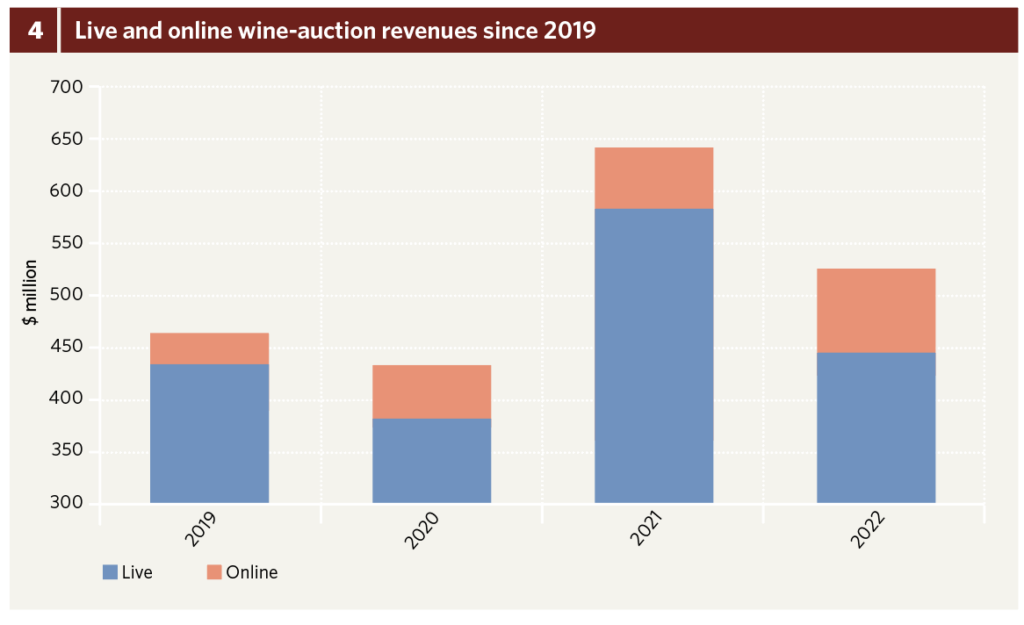 Star-spangled hammer
While all territories experienced reduced hammer results last year, Asia lost the most ground (fig. 5). Auctions in Hong Kong represent 33 percent of 2022's sale total (compared with 36 percent in 2021). Looking forward into 2023, this retraction has every reason to reverse itself as Asia's Covid restrictions are lifted and "normal" activity returns to the continent. Until then, Uncle Sam remains atop the global auction podium, generating just over half of all auction revenues last year. Within the great continent, the effect of moving so many sales to online live-streaming (organized out of Delaware or Detroit) has skewed city-level results out of New York's favor. Between 2021 and 2022, American auctions also appear to have made a move West; results from sales held in Los Angeles experienced an annual increase of 81 percent, thanks in large part to Christie's entry on Hollywood ground in 2022. Europe, in the meantime, remains as fragmented as ever (with auction sites spreading closer to the vines, in Beaune and Bordeaux), though strong figures in London return Europe's crown to the sovereign city, achieving an annual result of $39 million (up 15 percent on 2021).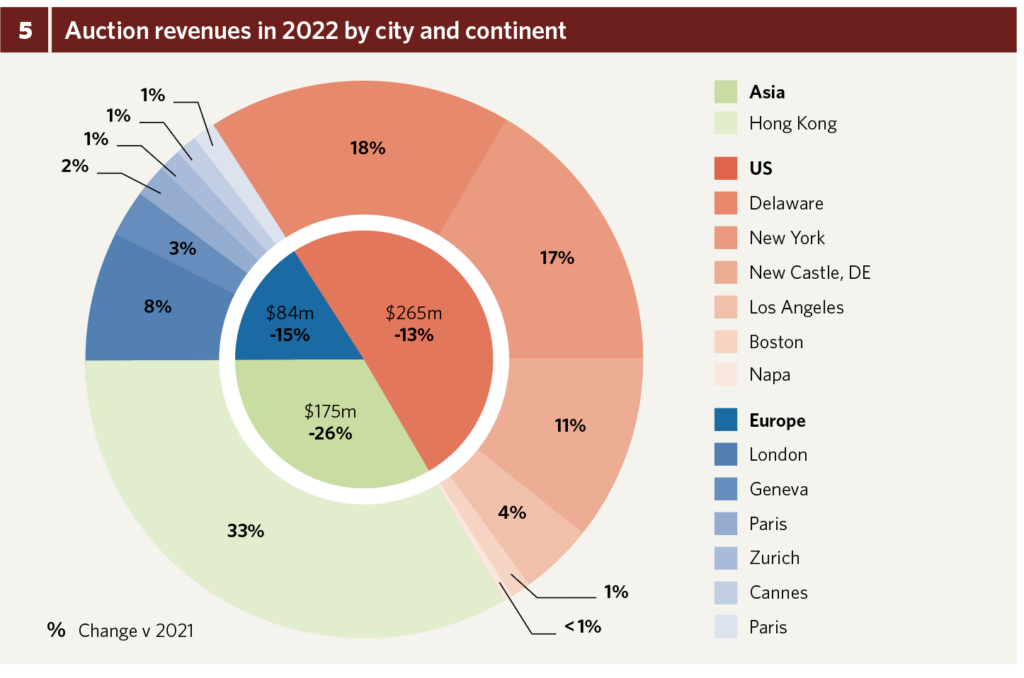 Mind the gap
Wine-auction revenue results continue to polarize in 2022, with the top five houses collectively achieving 90 percent of the year's annual figure. The global auction market is now firmly split into two tiers—the aforementioned top five all achieving annual revenues well above $50 million, and the next rung netting between $5 million and $10 million per annum (figs. 6 & 7).
Acker Merrall & Condit remains in first place, with a wine-auction sale total of $121 million in 2022—34 percent down on its record-breaking achievement the previous year. Zachys also keeps its second-place position in the global auction-house ranking, while closing the gap on its compatriot; it finished 2021 lagging 21 percent behind the American giant but reduced this to 10 percent in 2022. Boston-based house Skinner is last year's top performer for year-on-year increases. The house was acquired by Bonhams in early 2022, and while it remains a separate entity, benefits of the new ownership are clearly reflected in its 2022 sale total—more than three times that of 2021. Geneva-based auction house Baghera registers a dramatic drop in revenues for 2022 compared with 2021, though this is largely due to one exceptional sale in the previous year, which propelled Baghera's 2021 figure past the $30-million mark. Its launch in Singapore will surely reap rewards in 2023, as Asia reopens.
Christ-aline
But the great success story of 2022 must surely be Christie's. After a lull in sales during 2020 and 2021, the house was back with a vengeance in 2022, registering annual wine-sale revenues of $88 million—its best year ever. Edwin Vos, international head of Christie's, is suitably pleased with the results. "We had some real stand-out cellars in 2022." He mentions one or two spring auctions in April that, though held in Hong Kong, "received high international engagement at a time when Asia was sitting on its hands," he notes. Possibly the brightest gem of 2022 was Christie's sale of wines direct from the cellars of Domaine Ponsot. Vos explains how the process of curating such an event took between one and two years, as his team met, discussed, and tasted with Rose-Marie Ponsot many times before the auction went public. Attending the presale dinner in Geneva, it was clear to me that something special was up for grabs, and the team behind it had collated an auction sale superfecta: pristine provenance, old and rare vintages, large formats, a never-before-seen one-of-a-kind barrel, and a charitable aspect. (Rose-Marie Ponsot chose to donate the proceeds from said barrel to the charity À Chacun Son Everest.) Looking forward into 2023, Vos hints that the global house has one or two equally exciting tricks up its sleeve. "We've been lucky to start working on a private cellar with exceptional depth, containing all the Bordeaux 1855 crus classés going back decades," he reveals. He is confident that sales ticking all the boxes "that make a wine lover's heart race" will still see strong participation in 2023.
And despite the average 10 percent decline in numbers between a bumper 2021 and last year, the spirits of many auctioneers remain positive going into 2023. Expert for Besch auction house Pascal Kuzniewski tells me he was "very pleased with results in 2022," though he expects "a limited decline in 2023, with a more selective market and more room for volatility." Jay Hutchinson, marketing director at Hart Davis Hart, shares Kuzniewski's cautious optimism. He notes, "We did see some [downward] movement in 2022, but if there is anything to be taken away from the sales of last year, it is that the fine-wine market is staying historically strong. We started out 2023 with a solid performance from our January auction and expect that momentum to continue throughout the year." Indeed, if anyone can maintain high bid energy and strong hammer prices in 2023, it is likely to be Hart Davis Hart, whose 100 percent sold record remained more or less intact in 2022 while the sell-through rate of many other houses plummeted.
Top lot free fall
A study of four-quarter rolling-average sell-through rates since 2019 shows the demand peak for fine wines at auction in mid-2021, and a steep decline throughout last year (fig. 8). Mirroring the secondary market, though perhaps to more extreme ends, it appears wine's demand/supply imbalance began to correct itself in 2022. Following two years of frantic purchasing, customers were more selective in their auction acquisitions last year, as the rolling-average rate of lots sold descended to 88 percent—just above rates registered at the start of the Covid pandemic (Q1 2020). The marked drop in engagement during the fourth quarter of 2022 is likely temporary and linked to pleasure-spend fatigue in a tough year for financial markets. Some financial indices have shown early signs of recovery at the start of 2023, and while it's possible that a global recession may lengthen the muted interest from collectors, all historical signs point to another upward cycle, sooner or later.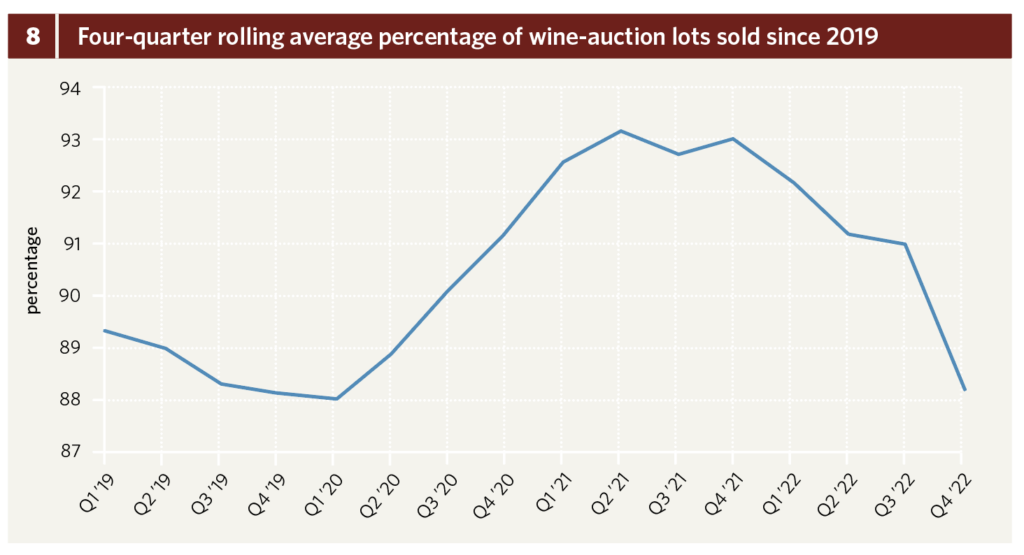 Anecdotally, the downward trend in bids also correlates to lower hammer earnings on average—auction prices toward the end of 2022 were landing somewhere between low and high estimates, whereas 12 months prior they were beating high estimates consistently. The average price of disclosed top lots in 2022 reached $68,391, which is $43,886 (39 percent) less than the same figure in 2021.
If the place is right
Certain top lots throughout 2022 provide a happy counterargument, indicating that the right wines presented in the right context can still break records despite wider macroeconomic uncertainty. The highest top lot of 2022 is an exception to ongoing trends but a regional first: Sotheby's single-collector New York auction "The Glass Cellar" earned $525,000 for a 29-vintage vertical of Harlan Estate. The next three highest hammer prices come from the same producer and plot: Henri Jayer's Vosne-Romanée Cros Parantoux achieved $493,883, $414,225, and $415,477 for lots of the 1991, 1996, and 1993 vintages respectively last year. The 1996, auctioned by Sotheby's in Hong Kong during June of last year, more than twice exceeded its auction estimate. The other two lots, auctioned by Christie's, were both from the cellar of Joseph Lau, also selling well over their respective high-estimate prices, also auctioned in Hong Kong. In fact, of top lots achieved in 2022, no other geographical location gets a look in on the 20 highest hammer prices.
Equally noticeable is the gradual decrease of Domaine de la Romanée-Conti from hammer-price top spots. While Burgundy's domination at auction remains unquestioned, the 20 highest prices achieved in 2022 include ten lots of DRC, compared with 14 the previous year (and 13 the year before that). Have prices for the number-one Burgundy baron finally peaked? It's certainly possible, given how frequently the wines have been traded over the past few years amid a vinous stimulation high, whereas the likes of Cros Parantoux crop up less often and therefore ultimately attract more attention on the rare occasions they arise. Further proof of this phenomenon comes in the form of the 162nd Hospices de Beaune auction, run by Sotheby's in November, achieving a sale total of $32 million and setting a new record for the Pièce des Présidents (€810,000).
Hunkering down
While China's return to the wine market may provide a lifejacket to the trade in 2023, my instinct is that the industry will still be rowing against the current—at least compared to the river rapids we've had the pleasure of riding in recent years. If the era of free credit and overspending is coming to an end, merchants and auction houses can expect to throw more mud at the wall and see less of it stick, as many collectors will be understandably distracted by the need to protect their wealth from a shrinking economy. On the flipside of this, any sales with ultra-rare wines and exceptional curation may stand out more than ever, gaining proportionally more traction with a selective audience.
And while there may be turbulence ahead, wine investors should take confidence in fine-wine's luxury model, molded primarily by the supply-and-demand equation. Ultimately, fine-wine prices maintain a track record of only ever going up eventually—it is simply a question of time. Even if supply increases this year, by virtue of saturated cellars seeking a spring clean, or certain buyers bowing out of the game temporarily, all the resales in the world could not satisfy the eager new entrants to the wine market. In the meantime, the wine-inclined can take comfort in sheltering from the rain with some exceptional bottles while they await the return of blue skies and sunshine.