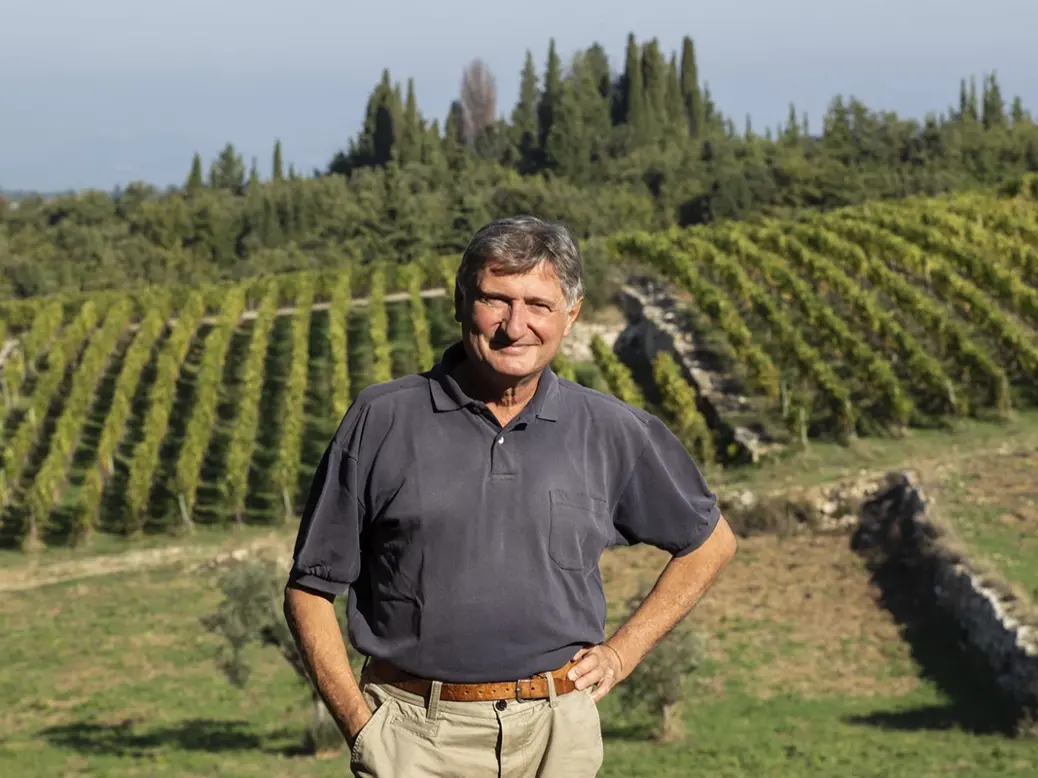 Anthony Rose joins Isole e Olena's Paolo de Marchi for a valedictory tasting of seven vintages of Cepparello, the great Chianti Classico estate's top Sangiovese cuvée.
I was standing on a Tuscan hilltop surveying the tiny medieval village of Olena on Paolo de Marchi's estate when the call came through from Paolo's UK importer, Liberty Wines' David Gleave MW. Paolo frowned. "He's not happy," said Paolo. "Two of my Chianti Classicos were corked at a wine dinner he was hosting last night." At a dinner some two decades later, hosted by Paolo de Marchi and David Gleave at the River Café in January 2023, David recalled that he had put in his first orders for the 1983 Chianti Classico and 1982 Cepparello soon after meeting Paolo.
Introducing the man who needed no introduction, Gleave said, "It's amazing how styles have changed. Today's Chianti Classico is at least as good as Cepparello of 40 years ago, with almost all the vineyards replanted and the quality of the vineyards outstanding." We were about to be treated to a presentation of seven vintages of Paolo's pure Sangiovese Super-Tuscan red, Cepparello, starting with the 2006, the second vintage under screwcap, and finishing with the newly released 2020 vintage.
Paolo's father bought the estate in 1956, though continuing to live in Turin. Two adjoining estates—Isole and Olena, just to the north, both hamlets that gave the estate its name—were purchased and combined to form one. He had clear memories at the age of seven, in 1958, when he first spent summer vacations at the estate, which was still all under sharecropping contracts, with families of peasants carrying out mixed farming, an agriculture of self-subsistence. "These memories have been important in shaping my ideas," says Paolo.
After achieving a degree in agricultural science at Turin University, Paolo started running Isole e Olena in 1976 at the age of 25. He found vineyards that had been planted quickly, with little research, after the collapse of sharecropping in the mid-1960s. The appellation was established in 1967. A large amount of white grapes and higher-yielding Sangiovese clones were planted, with no selection. "It was impossible to make any money from Chianti in those days, so the only way forward was to focus on quality," explains Paolo. "It was clear that real improvement would only come from replanting the vineyards, and we started replanting in the mid-1980s, when the estate finances could allow me to invest."
From the vines up
Isole e Olena sits halfway between Florence and Siena on the western side of Chianti Classico. At between 1,000 and 1,600ft (300–490m) in altitude, the 56ha (138.5-acre) estate's soils are a mix of primarily galestro, a schistous clay, and alberese, a hard marly limestone and occasionally some sandstone. The hills protect the vineyards from the east and south, while they are exposed to breezes from the Mediterranean in the northwest. A relatively mild climate means that Isole normally gets earlier budbreak and a late harvest. With some certified clones planted, the vines are mostly a selection of Paolo's work in the old vineyards.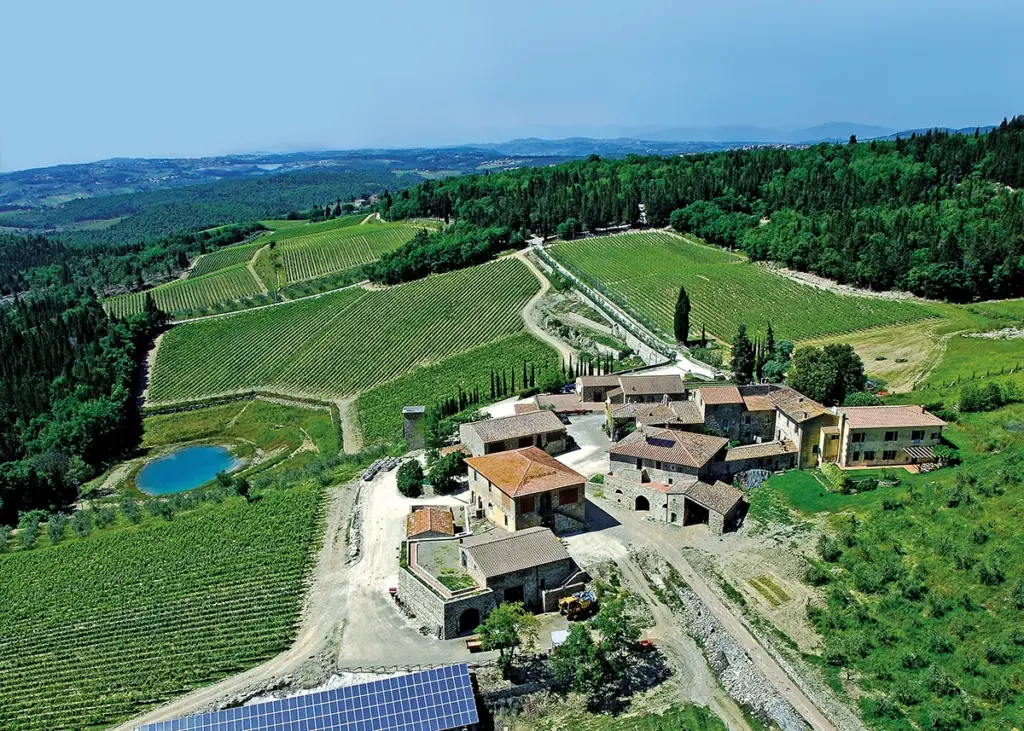 When, as a foreigner from Turin in Chianti Classico, Paolo started to think about Cepparello, he had to decide how to deal with the confused situation in the vineyards derived from a culture of mixed farming dating back to the sharecropping days of the 1960s. With an improvement in Sangiovese being the top priority, he calculated that he needed to select better planting material from the old vines, to study the different soils and to control and increase the number of vines per hectare.
"You might harvest 50 percent white if you were not careful, since the white vines tended to have higher yields," Paolo recalls. So, in the second vintage (1977), he started to harvest most of the white grapes separately, and a simple white wine was made. The red immediately shot up in quality. He tagged Sangiovese vines for several years, until he could see which vines consistently produced the best fruit. Selecting the best Sangiovese grapes at harvest was the foundation of Cepparello, first named Borro Cepparello after an old stream originating at the highest point of the vineyards. In 1980, while other producers were mostly blending Sangiovese with Bordeaux varieties, Paolo made one of the first pure Sangioveses, which he decided to bottle separately.
The appellation rules of the period didn't allow 100 percent Sangiovese, so Paolo had to market the wine under the generic Vino da Tavola designation, adding the name Cepparello. The label for Cepparello is derived from the de Marchi family history in Piemonte, designed after the old label of Lessona (a tiny historic appellation in the north of Piemonte, which almost disappeared because of phylloxera, and where at Proprietà Sperino his son Luca today produces Nebbiolo of considerable finesse). Paolo was very attached to Lessona, spending summers with his grandmother, and it was then and there that his passion for nature was conceived. "I wasn't totally convinced at first of the full potential of Sangiovese," he says, "and in selecting the cream of it for Cepparello, I was aware that I was potentially creating problems for the basic wine, so I wanted other blending varieties in the vineyards."
As a consequence, in 1984 Paolo grafted some Canaiolo to Syrah, with the aim of restoring balance in his Chianti Classico, and some Trebbiano to Chardonnay. The idea of blending it with native white varieties didn't work, so he decided to make a pure Chardonnay. In the first vintage, 1987, he made fewer than 3,000 bottles. Today it is an accomplished white, 100 percent barrel-fermented, spending one year on the lees and seeing little malolactic fermentation. The remaining local whites are used for his renowned sweet Vin Santo.
In 1982, there was a powerful hailstorm. Because it occurred before flowering, it didn't damage quality but did reduce the quantity. The appellation allowed 11.5 tons per hectare, plus an extra 20 percent table wine. 1982 was a commercial success, showing that part of the way forward was to lower yields.
Paolo could finally start replanting in 1987, restoring the terraces to avoid soil erosion, but had to wait until 2001 until he had enough varied clonal material to achieve as much complexity as possible using the entirety of his own selection. He increased the density from 3,000 to nearly 7,000 vines per hectare. "Each vine carries less fruit, but the vineyard maintains top quality. I think the ratio of square meters of leaves to kilos of grapes gives an indication of the number of roots in the ground. Where there are more roots, you get enough kilos, less water stress, more minerality, and better tannins; the problem is sugar."
The ratio in the vineyard between young leaves and old leaves is important to Paolo, because of his belief that young leaves produce more sugar and malic acidity, while older leaves produce more, and better, tannin and tartaric acid. So, by making a selection of younger and older leaves, what he's aiming for in the vineyard is a canopy that produces sufficient but not excessive sugar accumulation in the grapes, balanced by optimum ripeness and fresh acidity.
Vintage variation means that some years are colder, some warmer and more humid. But whatever the climate, changes can be dramatic. A longer maceration is carried out for Cepparello than for Chianti Classico, after which the wine is aged in small barrels of French and Slavonian oak (the first vintage was aged in chestnut casks), one third of which are new. Bottling under screwcap was first carried out for the UK in 2005, and then he followed suit for the Australian market. Does Cepparello age better under screwcap? Yes, it does, in his and David Gleave's view, even if the tannins might take longer to come around.
In recent vintages, Cepparello has weighed in at 15% ABV, which may seem a little hefty for a supposedly elegant Tuscan red, but Paolo doesn't think that the wine is hot as a result. "I think that there is a nice balance, albeit with darker fruit, but it's a challenge. The length of day and night is key, with only a few hours producing ripeness after late September. We used to harvest Sangiovese in October, but now, apart from the late 2014 and 2020, we often start in mid-September."
The dinner at the River Café was the first public presentation of Cepparello since the family had decided to sell Isole e Olena. The move came out of the blue to the wine trade, but Paolo says that after much discussion with the family, it was decided to place Isole e Olena in the hands of Christopher Descours's EPI Group "to secure a future for the estate, and other solutions could have been worse." Paolo has made the 2021 and 2022 vintages and will remain in charge for the 2023. We can but hope, given the EPI's track record in nurturing quality brands such as Biondi-Santi and Charles and Piper-Heidsieck, that Isole e Olena maintains its hard-won reputation as one of the region's greats.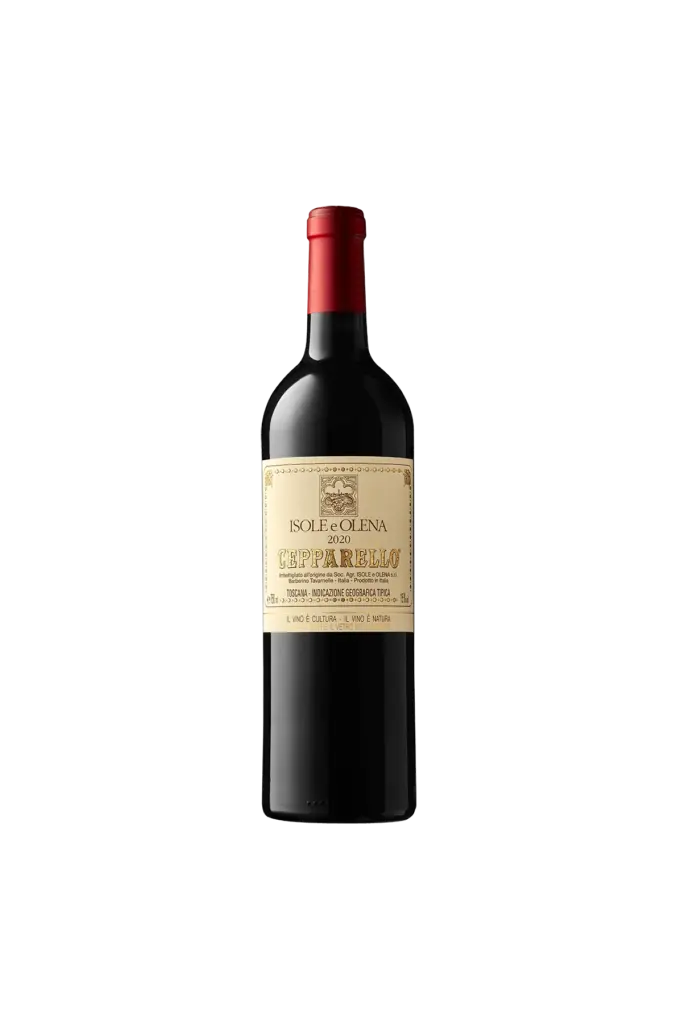 Tasting
The River Café, London; January 18, 2023
2020 Cepparello (15% ABV)
Harvested in mid-October, this is youthful in color and primary in fragrance, showing young cherry fruit, a lovely spiciness of aroma from oak, powerful fruit flavors with an evident sinewy, and yet also a glossy texture. Tannins and oak combine in muscular adolescence, underpinned by a fine spine of fresh, almost crisp acidity and a savory finish that has a good 15 years plus ahead of it. 2025–40. 95
2019 Cepparello (15% ABV)
Fragrant, spicy fraises des bois aromas, a touch of vanilla and caramel oak, too. Deep, vivid color; lovely, sweetly ripe, opulent cherry fruit. But as with Cepparello generally, the ripeness is tempered by a juicily sour, mouthwatering acidity and a lovely, dry finish in which the oak and tannins are glossy and well integrated. Showing muscular grip now, promising a great deal for the future—opulence bringing seduction in a glass. 2025–40. 96
2017 Cepparello (14% ABV)
There's still a vivid, youthful ruby hue in the glass and a delightful fragrance; fine, spicy oak. This is a wine that's fresh and cherryish, with some immediate sweetness and excellent vigor from the tannins and oak; the acidity, too, helps to bring structure, with an underpinning of seductive cherry fruit and a spicy oak element. 2023–30. 94
2016 Cepparello (15% ABV)
After a cold spring, rain, and then a wonderful August and cool, bright September, with harvest beginning October, Isole produced an intense, fresh Cepparello. It has that distinctive spicy note, along with cherry and sun-dried tomato and herb; a deliciously opulent cherry-fruit core of sweetness, with an outer layer of structure from tannin and oak. Sweetness again turns to mouthwateringly sour. Lightly grippy and dry, with excellent aging potential. 2023–35. 95
2013 Cepparello (15% ABV)
After "a strange summer, which was very dry," this Cepparello is relatively pale in color. It shows pleasantly fragrant red-berry fruit, followed by ripe and juicy cherry fruit tempered by a sweet and sourness quality and underpinned by quite firm grippy tannins. A fine spine of acidity with oak is nicely integrated into the wine, which finishes balanced and dry. 2023–30. 93
2010 Cepparello (14.5% ABV)
2010 was a cool vintage, harvested late in the second half of October. Under screwcap, this wine is medium ruby in color, lightly shading to garnet. Cherryish aromas and a savory, herbal, and sun-dried tomato element. Very fresh. A spicy oak veneer brings complexity and class to a delightful fragrance. There is fine texture and concentration of cherryish fruit, whose superfine texture and fresh, savory acidity allows the wine to taper to a satisfyingly juicy, dry finish. 2023–33. 95
Under cork, the color is similar. A lovely, fresh, and elegant aroma incorporates cherries with a veneer of stylish oak, bringing a degree of complexity. Like the screwcap version, there is a super-fine texture, with lovely sweet and sour cherries, a juicy, almost crisp acidity, and umami savoriness. But the wine is a touch more mature seemingly, with less potential longevity, the tannins being a little softer but, counterintuitively, a shade tougher. 2023–30. 94
2006 Cepparello (14% ABV)
Early season rains followed by a dry summer and low nighttime temperatures produced a traditional style of Chianti Classico. Ruby shading to garnet, with a lovely fragrance mingling cherry with sun-dried tomato in umami savory style. There is a stylish veneer of light oak and purity of texture, with juicy, initially sweet fruit, turning to sour cherry, elegantly textured, gentle tannins, and a savory, umami finish. 2023–27. 93