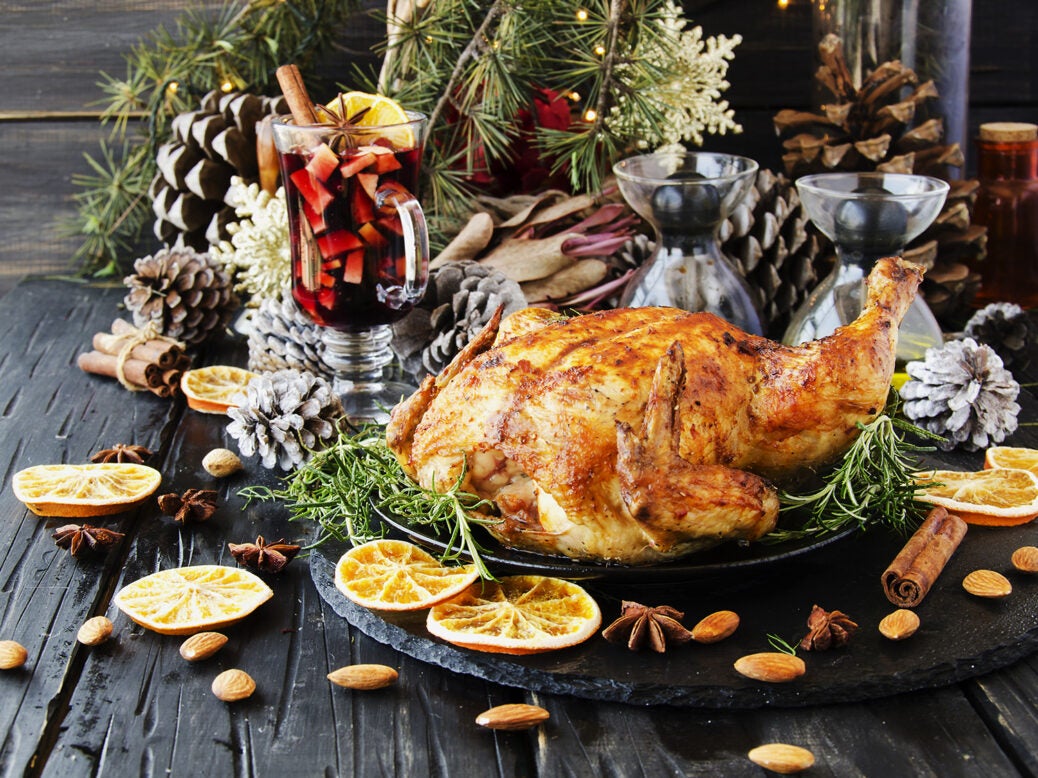 What will you be pouring for your friends and family around the table this Christmas? WFW spoke to some of the world's best palates to hear what they would pair with some of the holiday's classic meals of roast turkey and beef. The selections came in and cover a range of choices, with options from wines for the everyday drinker, to interesting pairings, and more high-end and rare labels. A running theme tended towards Australian or Californian Chardonnay, or even Australian and other New World Pinot Noir.
For pairing wines with roast turkey, Adam Pledger, owner and wine director at Park House Restaurant in Cardiff, gave us two selections, including an Australian Chardonnay – one of his favorite grape varieties. "I'd go for the 2013 La Rocca Soave by Pieropan – that would be pretty amazing. And the 2014 Stargazer Chardonnay, what more do you want?"
Diana Rollan is the wine manager and buyer at Hakkasan's three London establishments: Hanway Place, Sake no Hana, and Hakkasan Mayfair. What's unique about Hakkasan is that, due to the nature of the menu and sharing plate style of dining, the wine team ensures every wine on the list pairs with the sweet, savory, spicy, or mild dishes available. For pairing with turkey, Rollan says, "It depends on how it's cooked, but I like white meat with reds. In this case a Pinot Noir would be a great match, something fruity, fresh, and simple." She also proposes Zinfandel, in the form of a Ridge Geyserville, Sonoma County, California 2013 and Suertes del Marqués La Solana, Tenerife 2012 – "[It's] a very silky, very round wine that could work well with turkey."
"Pinot Noir is just an absolutely killer wine to go with turkey," says Clément Robert MS, head sommelier at 28°-50° London. Garnish is a big influencer when it comes to selecting your wine, and if you choose a traditional cranberry sauce then Pinot Noir is your grape. "I would go for a quite generous style of Pinot, a Kiwi Pinot from Central Otago, in a young vintage; the lively acidity would cut very nicely through the flesh of the turkey."
If you'd prefer white, a rich, heavier white wine to counteract the simple flavors of the delicate turkey meat would be suitable. Robert suggests a Californian or Australian Chardonnay, "a rich wine, a Chardonnay from the Mornington Peninsula with a little bit of bottle age would do very, very nicely." Also opting for a Californian Chardonnay is Mirko Benzo, head sommelier at Hélène Darroze, The Connaught, who highlights a Massican Chardonnay, Hyde Vineyard, Napa Valley 2014.
Head sommelier at Restaurant Gordon Ramsay in Chelsea, London, James Lloyd tosses up a few options, including Australian Chardonnay – a favorite, it seems – but also Chardonnay from Burgundy, like Domaine Cordier Pouilly-Fuissé, and lighter reds from Bierzo, Spain, such as Raúl Pérez, Ultreia de Valtuille, Bierzo. "A nice coastal Pinot Noir from the US, or Australian Pinot Noir, could be fantastic as well," says Lloyd.
If you're serving roast beef this Christmas, we have a few suggestions that can elevate your wine game at the table, or mix things up and make your pairings a little more interesting.
Pledger's travels throughout Australia lead him to choose another favored grape of his: "Obviously an Aussie Shiraz, like Patchwork 2013 Shiraz from Yalumba, Barossa Valley – something big and juicy." Alternatively, he suggests an interesting blend of Cabernet Franc / Cabernet Sauvignon / Malbec, the 2011 Unanime from La Mascota in Mendoza, Argentina.
Cheryl Wakerhauser is the owner and wine manager at Pix Patisserie in Portland, Oregon, where they specialize in Champagne, having won the World's Best Champagne and Sparkling Wine List for the past three consecutive years. It comes as little surprise that she opts for another Champagne wine. "Because of my love for Champagne, I would say a Coteaux Champenois. They're almost bodied like a Burgundian Pinot Noir." "I'm also a big fan of Chinon, such as Bretagne Chinon," she adds, "I like the ones that are less fruity and earthier."
Jim Rollston MS jokes about his traditional choices for a good beef-wine pairing, but there is nothing wrong with sticking to the classics and many top palates choose to go down this path. "Here I would be the most uncreative sommelier in the world and drink the obvious, Cabernet. For me it would be the Ridge Monte Bello 2004, which is really drinking well right now," says Rollston. Rollan is in full support, opting for Malbec. "I'm such a classicist," she says. "I think Malbec is an excellent choice with beef. There are plenty to choose from but I'd go for Bodega Noemía A Lisa, Argentina 2013."
"As long as it's got a good bit of power, good structure, good tannins, we're on the right track," says Lloyd, on his wine match with beef. A nice Tuscan wine such as Marchesi Mazzei, Castello Fonterutoli, Siepi, he suggests, would do the trick. Other beef pairings include Sangiovese, like the Stella di Campalto 2008 Brunello di Montalcino, recommends Benzo, while Yves Desmaris MS, head sommelier at Lutyens, suggests Pomerol, St-Émilion, or other classic Bordeaux, plus Barolo, Ribera del Duero, and Napa Cabernet Sauvignon.