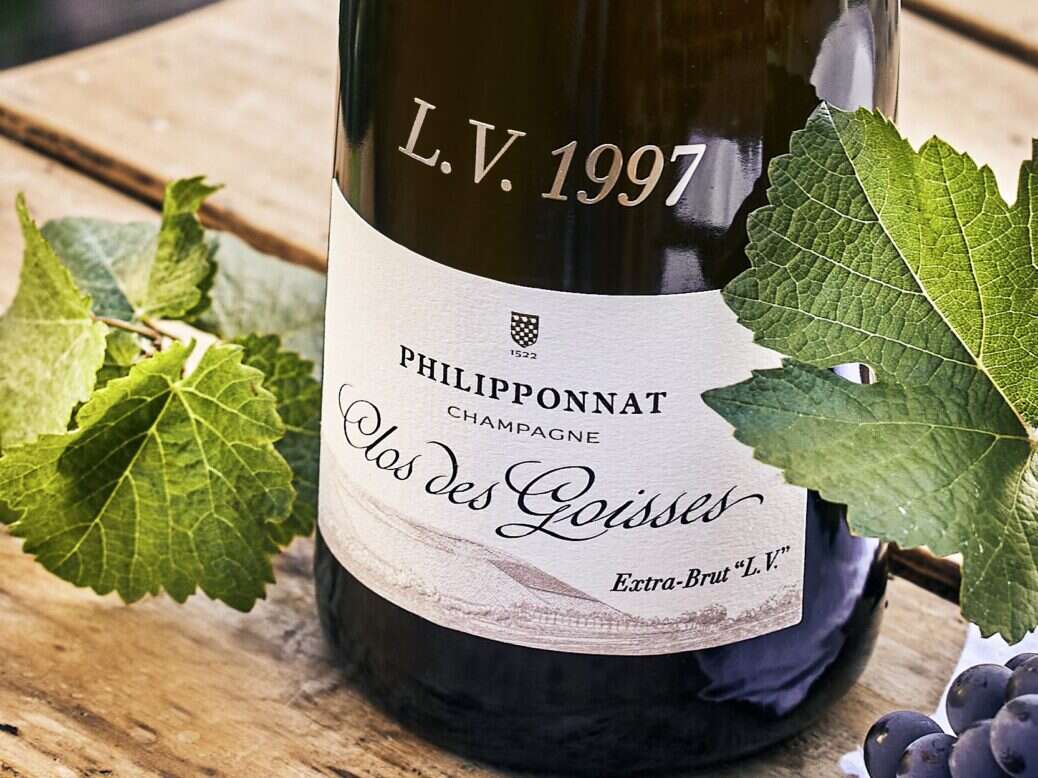 Anne Krebiehl MW enjoys the latest vintages of the full Philipponnat Clos des Goisses range of single-vineyard Champagnes.
It was a balmy October night when Charles Philipponnat was in London to introduce the latest vintages of his stupendous wines. An intimate circle of journalists was in for a whole lot of pleasure. We were to taste the latest releases of Philipponnat's prestige range: 2013 Clos des Goisses, 2012 Clos des Goisses Juste Rosé, and 1997 Clos des Goisses LV.
For those familiar with Clos des Goisses, seeing this rich and unusual wine shimmer through the vintages is a treat. This iconic vineyard, the first to be vinified as a single-vineyard Champagne as far back as 1935, is on the fully south-facing slope of the Mont de Mareuil in Mareuil-sur-Aÿ. The vines root in belemnite chalk and slope down from 430ft to 280ft (130m to 85m) at a gradient of 45% to the Canal Latéral de la Marne—unusually steep for Champagne.
The vineyard sits on the 49th degree of northern latitude, and thus, for most of its history, it stood out as a site that would ripen fruit fully due to its aspect and gradient. If the term "vinous" applies to any Champagne, then certainly to Clos des Goisses. The exceptional nature of the site speaks for the exceptional approach: "Our concept now is to vintage every year, like they do in Burgundy or a small château in Pomerol," said Charles Philipponnat.
"We think the wines deserve to be made: 2007 deserved to be made, 2011 deserved to be made, 2017 deserved to be made," he insists, recounting some of the more problematic recent years. The exceptions were 1987, when no vintage of Clos des Goisses was made, and 1994, which was made but never released.
Speaking about 2013, Philipponnat said, "It was a vintage of memory"—meaning that it was a year more like the vintages of the past 30 years in Champagne, somehow of the old guard, of the time before climate change made itself felt so strongly. He noted that it was the only October harvest of the past 20 years.
"It was a late vintage, and it was an Indian summer that allowed for that good vintage. It was a vintage we did not see coming, a beautiful and elegant vintage that has the acidity to evolve. It is a small vintage, but it has concentration, with some lightness, some crispness."
The house also made Charles Philipponnat's harvest notes from 2013 available to me. Presciently, on October 22, 2013, Charles wrote, "It is very difficult to make predictions about the wines at this stage […]. We already know that there is sufficient substance to create a grande cuvée, provided we are selective. In this sense, 2013 is not universally a great vintage. But it is perhaps an exceptional vintage for certain exceptional plots and batches of grapes." How right he was.
Tasting Phillipponnat Clos des Goisses
2013 Clos des Goisses
There were 10,723 bottles made, the assemblage is 85% Pinot Noir with the rest Chardonnay, and the wine did not go through malolactic fermentation. It was disgorged in March 2022 with a dosage of 4.5g/l and will be shipped in the new year.
A touch of smoke envelops hints of rosehip and rosehip tisane. More air brings incredible fruitiness, reminiscent of umeshu plum alongside an intense floral character and soft, airy sponge cake. The body, immediately statuesque, powerful but poised, has the same aromatic intensity that is made more apparent by the bright freshness of the year. The aftertaste has the spicy tang of maple syrup and a tingling top note of white pepper that accentuates the essential depth of fruit and an intrinsic saltiness. The foam is fine, and the autolysis is subtle but gains traction on the mid-palate and the long finish. | 98
2012 Clos des Goisses Juste Rosé
This wine is a step-change—but also a first in terms of vinification. In Champagne, rosé wines are either rosés d'assemblage, where white base wines are colored with an addition of red-vinified base wines, or rosés de saignée, where red grapes are vinified as rosé base wines that then undergo second fermentation. But Clos des Goisses Juste Rosé 2012 received its coppery hue by the addition not of a red but of a saignée wine. Before the 2012 vintage, Juste Rosé was colored with red; this was the first time a saignée juice was used to add color. "The idea is to avoid tannins," Philipponnat said, noting that the proportion of such saignée base wine was increased in subsequent vintages of the wine. "They are barely tannic, not oxidative at all. They tend to be even fresher than the whites," Philipponnat said of his saignée base wines. "We want a rosé that has red-fruit characters," he added. Just 18% of this saignée base wine—
the result of 24 hours of maceration—was needed to achieve the now-coppery tinge.
Just 2,255 bottles of this wine were made, blended from 68 percent Pinot Noir and 32 percent Chardonnay. The wine was disgorged in March 2022, with a dosage of 4.5g/l.
A lovely powdery, generous sense of fruitiness characterizes the nose, which seemingly floats in on a sea breeze. The palate, rounded with the sunshine of 2012, has a hint of white truffle, suffused with notes of plum. There is concentration but also a lightness of touch, as well as a certain playfulness to the undeniable generosity and roundness that are contained in a rather sinuous, elegant body. The result is an impressive wine of exquisite balance, with a balm-like, almost emollient nature. | 97
1997 Clos des Goisses LV

A mature wine, this was a fitting finale to the evening. The 1997 vintage was a roller coaster; an icy winter was followed by spring frosts and a troubled flowering but rescued by a summer that was punctuated by some hot days reaching 95°F (35°C). LV stands for long vieillissement, Philipponnat's designation for long-aged, late-disgorged wines. The wine, blended from 66 percent Pinot Noir and 34 percent Chardonnay, spent 25 years on lees and was disgorged in spring 2022 with an extra-brut dosage of 4.5g/l. It showed the beautiful evolution of the wines made in this vineyard—helped along, of course, by that tonic of youth that is long lees aging.
The golden wine is most fragrant, a gentle swirl revealing white truffle and fresh white field mushroom, both caught in a lovely cloud of freshly baked, springy, yeasty brioche. A sense of saltiness insinuates itself on the nose and stays right there on the palate, where the mousse has softened slightly. There is a lovely savoriness—of oyster shell, of saltiness, of the buttery, salty crust of a yeasty bun of grilled cashew nut. Lemon echoes on this mellow, rich, yet fresh wine. Lovely. | 96