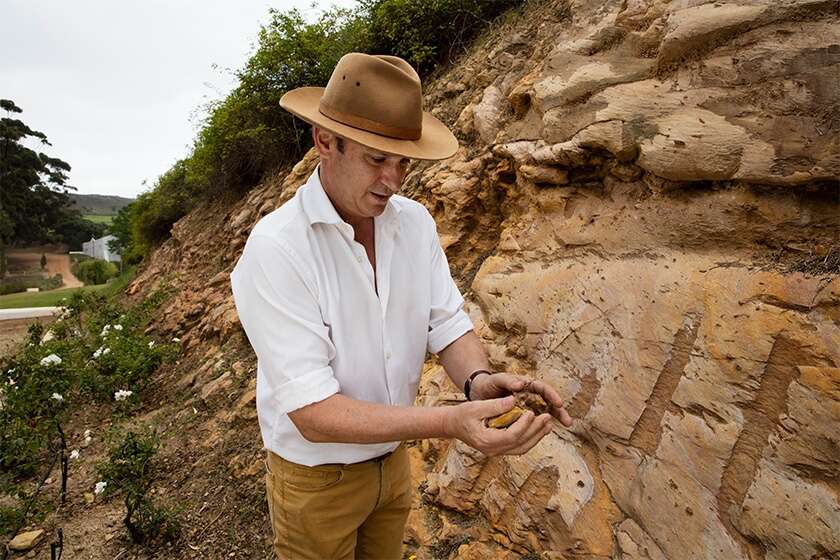 Comparisons with Burgundy are unnecessary for the wines of Hamilton Russell, says Sarah Marsh MW. These "exceptionally good" Hemel-en-Aarde Pinot Noirs are their own, South African thing.
With the end of Apartheid in 1991, a young Anthony Hamilton Russell returned to South Africa, eager to capitalize on the new business opportunities that emerged under Nelson Mandela's leadership. Aged just 29, he took over a 170ha (420-acre) farm, which lies in the far south of the Cape winelands in the area of Hemel-en-Aarde Valley, close to the sea behind the fishing village of Hermanus.
The estate, which was established by his father Tim Hamilton Russell, was planted with a wide variety of vines. It was managed as a sideline and had yet to turn a profit. Anthony decided to focus on the varieties producing the most interesting wine: Pinot Noir and Chardonnay.
He quickly identified a stony, shale-derived, and clay-rich parcel of 52ha (128 acres) in "the old sheep and wheat-planting soils." Losing no time, he ripped up the vines in the sandstone band separating this clay parcel and the coast, which he felt produced "unintellectual wines," and in 1997 the clay-based parcel was registered as a single estate: Hamilton Russell Vineyards.
Hamilton Russell Vineyards' Pinot Noir and Chardonnay are frequently praised for their Burgundian style, something Anthony Russell was eager to emphasize when presenting several older vintages of Pinot Noir in London.
I fully appreciate why Anthony likes to compare his Pinot Noir to Burgundy, and in particular to Gevrey-Chambertin and Morey-St-Denis, but I'm not quite sure how helpful it is. The essence of Burgundian wine is terroir—wine that embodies a sense of place. If his Pinot Noir from Hemel-en-Aarde Valley tastes like Burgundy, it is intrinsically un-Burgundian.
Hamilton Russell's reputation for making wine in a Burgundian style is something I recall from visiting the estate in the late 1990s. I was on the hunt for New World Pinot Noir that wasn't all about the variety.
The problem with Pinot Noir from the New World in the '90s was a brash varietal fruitiness, lack of dimension, and an overriding impression of sweetness, whereas Hamilton Russell wines showed a step toward something more restrained and structured, fresh and energetic. They had something besides fruit—the beginning of a terroir expression, perhaps?
I like the freshness and energy in their wine and the saline tang on many vintages. The prevailing wind is southeast, coming off the cold ocean. The acidity is not high, but there is a sensation of freshness.
Anthony felt that the Winkler Index could not be applied to South Africa and devised his own system to measure average temperatures. He uses it to demonstrate that the Hemel-en-Aarde Valley is cooler over the growing season than Burgundy, which has two hotter months in the middle, with cooler shoulder months, while Hemel-en-Aarde Valley has a more even temperature moderated by the influence of the sea.
Perhaps surprising, but I was more surprised when Anthony airily dismissed the significance of the cooler climate on the style of his wine: "It is not because we are cooler or among the most southerly wine estates in South Africa. No; it's the clay content of the soil."
Anthony explains the clay soils here have a high level of iron, which is responsible for the firm structure of Hamilton Russell Pinot—a character he describes as "mineral hardness. […] We work the wine very gently but generally get a more muscular style."
He draws a comparison with the soils of Pommard. This has more relevance than the Gevrey/Morey-St-Denis reference, particularly if he were to specify the south side of Pommard, but again I would say it's unnecessary. To my mind, the style is clearly defined by the site—the iron-rich clay, the cold wind, and the sunshine. The wine has a strong sense of place, and for that reason is certainly Burgundian in spirit. It is worth remarking that there is no limestone—the bedrock of Burgundy—in the soil of Hemel-en-Aarde Valley.
Experimentation and evolution
Anthony decided to mark 40 years of Hamilton Russell Vineyards with a special tasting of his Pinot Noir. And so we gathered in the illustrious setting of One Great George Street in London to taste a vertical—not the whole shebang, but seven examples. The first two, from the 1980s, were made by Tim Hamilton Russell.
These were much better than I expected, since they came from the period of 1981 to 1985 during which, Anthony admits, the fruit was picked before full phenolic ripeness and received abundant new oak. They showed both the fragility and complexity of age.
In the early days, the vineyard was planted with a Swiss clone, BK5, using cuttings from Rustenberg. Although Hamilton Russell were pioneers of Pinot Noir in South Africa, they were not the first. From 1986 to 1990, this clone displayed increasing difficulties in ripening fully and made wines that Anthony says "aged well but are lean, as opposed to textured."
We weren't shown any examples from the period between 1990 and 1995, during which some of the vineyard was replanted with Dijon selection clones, while the remaining Swiss clone perked up and the riper fruit was cloaked in new oak. Over the decades, Anthony reflects on the fact that they have both underoaked and overoaked their wine.
We were told the estate was on a steady incline through the 1990s. We tasted the 1997, but unfortunately the sample I had was corked. By 2005, the (surprising) practice of sterile filtering was abandoned, and the clonal emphasis moved to 115, resulting in richer wine. In 2014, the vineyard converted to organic farming and an ever-greater focus on biodiversity.
In 2015, Anthony began experimenting with whole-bunch fermentation—just a little—and has settled on approximately 15 percent. Higher than this resulted in appealing aromatics, but they didn't last, and there were unwanted phenolics, which he felt would not help the longevity of the wine.
The cold soak is short, and if the natural yeasts don't perform, they have their own strain, called Sauvage, cultivated from the winery. This has been packaged commercially and will finish the job. In some vintages, the yeast conversion of sugar to alcohol is better (2015 hits 14.1% ABV), while in others less so (2020 is 12.8% ABV).
Over the years, Anthony has pulled back the oak influence. Burgundian cooper François Frères supplies very lightly toasted barriques, just off blond. The barrel-aging is surprisingly short, just ten months, because Anthony finds the wine dries out if left longer.
The most recent evolution is the move to barreling down cleaner wine. Now, the just-fermented wine is settled for two or three days. Before this move, there were experiments over several years with more precise racking during barrel-aging, but it didn't achieve the desired effect.
The decision to settle the wine was made after tasting the 2020 post-malolactic fermentation. Anthony felt the aromatics had disappeared. With fewer solids in the aging, the 2021 "is fresher and has more perfume."
And Anthony Hamilton Russell is in pursuit of fruit and perfume. "Spice and structure we take for granted, and with this we stand apart from most Pinot Noir, with the exception of Burgundy, which is fruit-driven."
It is an irony that the quintessential fruit and floral characters of Pinot Noir, which are captured so readily throughout the New World, are elusive on the clay soils of Hemel-en-Aarde.
The Hemel-en-Aarde Ridge appellation was created in 2009. Anthony drove the subdivision of the WO (Wine of Origin) region into three distinct areas, also including Hemel-en-Aarde Valley and Upper Hemel-en-Aarde Valley. This must have been a significant milestone in providing a structure through which to define and identify the terroir in more detail.
We tasted the 2018 and 2021 vintages. These were a step up from the 2001 and 2009, displaying greater complexity. I enjoyed the muscular character of the 2018. Anthony admits that 2017 is generally a more respected vintage but feels that "2018 is more representative of the Hamilton Russell tannin line."
The 2021 is still very young but, for me, the best wine of the flight. The depth and texture of tannin is more sophisticated. It is a sensual wine in which sumptuousness and elegance combine well.
It seemed to me that I needed to taste more recent vintages to get a better sense of the progression, so Anthony kindly sent a further five wines, which we tasted together via Zoom and which are included in the tasting notes opposite (where it seemed fairer and more relevant to provide scores for only the most recent seven vintages).
Anthony likens the 2021, his most recent vintage, to Vosne-Romanée. I say, Forget about the Côte d'Or! Maybe the 2021 is the finest expression of Hemel-en-Aarde Ridge. If so, it should be celebrated as such for its expression of terroir.
Perhaps the true identity of Hemel-en-Aarde Ridge lies between the 2018 and the 2021, depending on the vintage; and if so—after 40 years of work—these exceedingly good wines are a much more useful reference for the expression of this appellation than somewhere in France.
Tasting Hamilton Russell
Hamilton Russell Vineyards Pinot Noir 1981
The vines used for this wine were only four years old. Anthony remarks, "The vines always had an old-vine character," which he attributes to the shallow soil. "This is responsible for the very open canopy of our vines and the low yields," which are less than 20hl/ha.
There are only five bottles left of this vintage, and two were generously used for this tasting. It was brave of Anthony to show them so publicly, but they didn't let him down.
The color is tawny and pale rimmed. The bouquet is gamey and caramel at first, developing spice, walnut, and smoky notes. It didn't instantly fade away. The fragile palate has a silky texture. Umami characters blend with sun-dried tomato and herbal piquancy. It finishes on a fresh, light, dry, and salty note.
Hamilton Russell Vineyards Pinot Noir 1983
This has a richer, sweeter bouquet. Both nose and palate feel riper. It's quite bold for an old wine, flexing a bit of muscle. The tertiary and coffee notes of a mature wine are bolstered with some fruit—a good thing, too, because the tannins are still quite apparent. It has punchy vibrancy. Its robust, fuller palate contrasts with the more ethereal 1981.
Hamilton Russell Vineyards Pinot Noir 2001
An assertive Marmite bouquet, which I like. On the palate, the savory character is draped in a sweet and spicy cloak. It's rich and quite dense. The tannins are quite thick and tacky. There is a darker, more austere note beneath the rich, full body of the mid-palate. The balance is made with tannin rather than acidity. The finish is straight, with a hard charcoal note. Maybe this is the "mineral hardness" that Anthony finds in his Pinot.
Hamilton Russell Vineyards Pinot Noir 2009
A salted caramel and miso aroma. Super-smooth glide into the palate. This has shoulders. The breadth and density are enveloped in a glossy cloak. I like the spiciness—flecked with toasted cumin and fennel seed. Towards the finish, the tannin hits a firm and slightly raw edge. The finish is quite well sustained, though the sweet/sourness is awkward.
Hamilton Russell Vineyards Pinot Noir 2014
Garden compost on the nose, with a hint of dried flowers and horse's hoof. Zesty and energetic onto the palate. I like the straight, bright, and light-bodied feel, with its clipped edges. Fine-grained tannins and a keen, salty tang to finish. It breezes across the palate and has a chilliness that appeals to me. Seems a good moment to drink it. 2022–26. | 90
Hamilton Russell Vineyards Pinot Noir 2015
Sumptuous, salted caramel aroma. So expressive. Warmly inviting, almost butterscotch, which carries into the creamy, textured mid-palate. Whereas 2014 has light austerity, this is forward, with an embracing richness of fruit and a full, luscious mouthfeel. But don't settle in too quickly. There is grunt and power here, too, and the tannins bite on the finish, where there is much more edge and an assertive and persistent kick. Should age well. 2022–30. | 91
Hamilton Russell Vineyards Pinot Noir 2016
This was another short season like 2015, with an early harvest, but as Anthony points out, there are no heatwaves with the proximity to the sea. Savory, spicy aromas of toasted cumin and ground coriander, but there is dried raspberry and dried rose petal, too. Quite dense and more of a block on the palate.
The tannins have a burr. (Anthony says they are more rustic.) It is rugged after the 2015 and a bit disjointed. On the finish, those spices combine with a tart licorice note. I hope that this wine will mellow, but I am not sure that it will age quite as gracefully as the 2014. 2022–26. | 88
Hamilton Russell Vineyards Pinot Noir 2017
Anthony comments, "The 2017 forced elegance in South Africa, on an industry not known for it." He feels that South Africa is still trying to separate from the forward fruitiness of Australian wine, with which many producers are still beguiled. He feels that the 2017 bears some resemblance to the 2008, 2011, and 2014, which are all lighter-bodied vintages and seem better with age.
More upright but alluring, with light notes of mint and thyme. Slips serenely onto the palate, straight and fluid and seamless. Threaded with glimmering freshness to a delicate but persistent finish, with fine salinity and aromatic shades of the garrigue. Beautifully balanced. What a delight. My favorite. 2022–30+. | 93
Hamilton Russell Vineyards Pinot Noir 2018
Anthony comments, "This shows the spice, tannin, and muscularity of Hamilton Russell—something that is our signature and marks us out from the rest of New World Pinot Noir." The youthful aroma shows medicinal notes, black cherry, and Marmite—definitely earthy—while the palate is punchy on the attack and firmly structured.
There is up-front fruitiness, too, which combines with meaty muscle and good depth. The assertive tannins certainly need time. Tacky tannins. Fresh, too. Savory, coffee-mocha finish. No lack of oomph. I would leave this vigorous wine for a couple of years, though it will develop for much longer. 2022–32. | 92
Hamilton Russell Vineyards Pinot Noir 2020
This is quite reduced on the nose. There is juicy red fruit on the palate, but it is a bit stifled. It is compact and has good tension. Clack of tannin. Savory miso notes and a quartz salinity.
It's just a little hard and unforgiving for now. I tried it over the following few days, during which the texture softened and it opened to become more generous, albeit with edginess. The succulence of damson fruits combines with an iodine bloody note on the finish. 2024–35. | 92–93
Hamilton Russell Vineyards Pinot Noir 2021
Such an inviting aroma: red cherry and fresh rose petal. It is pure and perfumed, and those scented notes are carried through to the palate, where juicy generosity and the exuberance of youth are clearly apparent. It is more fruit-driven and—dare I say it?—seems more New World than previous vintages.
A rather delicious meeting of Old World and New. The texture has a supple richness and depth, and the overall effect is of something altogether more svelte and sensual. 2025–35. | 93–94