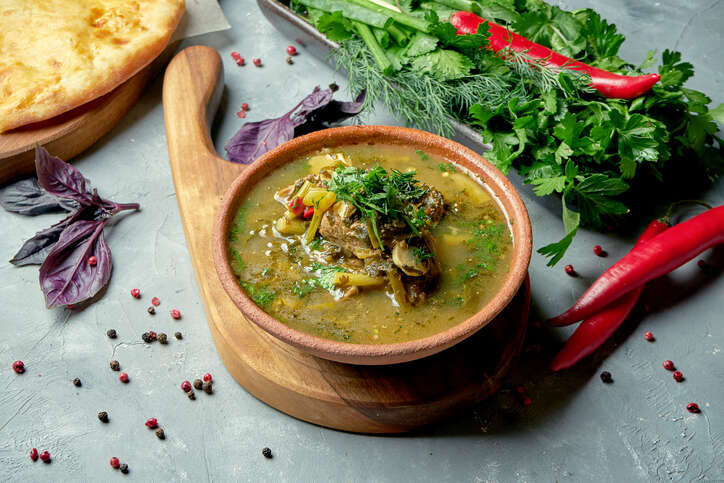 Joanna Simon explains how to prepare chakapuli, a traditional stew of lamb or veal with sour plums from Georgia, and chooses the Georgian (and Italian) wines to drink with it.
I don't think I've met anyone who has been to Georgia and not fallen in love with the country almost immediately, from Carla Capalbo, author of the award-winning Tasting Georgia, to Nathan Moss, who went to work for Pheasant's Tears winery, settled, married a Georgian, and now makes top-quality charcuterie to sell through his Saidanaa deli and café in Tbilisi. 
Quite apart from the landscape and history at every turn, the Georgian people are so hospitable and their way of life and culture so colorful, interwoven, and deeply embedded in traditions that are cherished, preserved, and reinvigorated. 
Far from giving ground to modern and imported songs, dance, farming, foods, recipes, restaurants, wines, and winemaking, contemporary outside influences are assimilated or subsumed into Georgia's rich culture—a richness born of centuries of eclectic influences, not least from its position on the Caucasus route of the Great Silk Roads.
While much is rooted in the rural way of life, Tbilisi demonstrates the Georgian people's art of integrating new with old—thriving historic areas with new, coolly eclectic, bohemian bars and restaurants. 
As for food and wine, not only are they seemingly inseparable, they can barely be isolated from traditional polyphonic song, dances and, indeed, the Orthodox religion. Fasting is rarely far away, but a celebratory feast shared with friends and family—the famous supra directed by a tamada, or toastmaster—is almost always closer by. 
I asked Nathan Moss about a couple of dishes I thought he and his wife probably had at their wedding supra (which some readers may have seen when it featured in the BBC's Great Continental Railway Journeys series). His reply was telling,
"We had 15 dishes at the first feast and 20 or so at the main wedding feast, so I can't remember for sure what was at each, but I'm fairly sure chakapuli was in the first and kharcho may have been at the second."
Two feasts and roughly 35 dishes. 
https://www.youtube.com/watch?v=m5KEw3hoT7E
Chakapuli: An iconic dish
Which brings me to chakapuli. Choosing just one dish from a country with such a strong culinary tradition is hard, but chakapuli is not so much a classic dish as an iconic one, a meat stew defined by its sour plum component and served with Georgian bread. 
It's cooked throughout the country, in almost every home, where most eating takes place, whether everyday or feasting, and also features in restaurants. While it's not rigidly seasonal, it's most common when the sour plums are green and unripe in spring, including at the Orthodox Easter feast, and early summer. 
A sour element, often in the form of pickles, is typical of a Georgian meal, as are plentiful fresh herbs, dried herbs, spices, garlic, walnuts, breads, pastries, vegetable dishes, cheeses (both cow's and sheep and often in cooked dishes), and not least meat—in soups, stews, roasts, and grills.
Chakapuli is made with lamb or veal, or sometimes oyster mushrooms, and sour green plums and/or Tkemali, a sauce made from them which is used in many Georgian dishes and is found fresh or bottled in every home. If you can't get green plums, Carla Capalbo suggests using large grapes or ripe gooseberries.
Because it's so often made at home and recipes are not written down, there are infinite variations, but tarragon is the essential herb flavouring, followed by coriander/cilantro.
Mint, dill or parsley may be used, too, while the other staple ingredients are garlic, onion, and white wine (or broth or water). Carla Capalbo also uses bitter greens, such as arugula/rocket, and some cayenne and coriander seeds. Some cooks include green peppers. 
The method is a slow-cooked stew at its simplest, traditionally with the meat not browned before being cooked in the liquid with the flavourings, although, like Carla Capalbo, I prefer to brown it and to sauté the onions and garlic first. 
I also like to use veal rather than lamb, although when it comes to the accompanying wine it doesn't make as much difference as you might expect. The green plums, tarragon and other flavourings really give the dish its aromatic depth and character. 
The pull of orange wines
I mentioned the "when in Rome…" principal only last month, as one that can be a useful steer with European food, even if there may be a better match.
In the case of chakapuli, the pull of Georgian orange wines is irresistible. The textural depth—both chewiness and grip—the light astringency and typical flavours (apricot, dried apple, orange peel, pepper, and other spices, nuts, green tea, and chamomile tea) make for a savory, satisfyingly "meaty" and refreshing whole that comes into its own, and not just with Georgian food but with various unrelated cuisines.   
Four qvevri wines I would be very happy to drink with chakapuli are Do-Re-Mi Mtsvane 2020, Saguramo Estate Tevza Goruli Mtsvane 2019 and Papari Valley 3 Qvevri Terraces Qvevri 4 Rkatsiteli 2018, all from Kakheti in the east, and Lagvinari Krakhuna 2019 from the west. 
Orange wines from other countries are equally possible, but you don't have to go orange.
Georgia's main red variety, Saperavi, is a good option when made in its more approachable style, for example Telavi Wine Cellar Marani Kondoli Vineyards Saperavi. The less common Takveri grape variety from Kartl is another. Look out the elegantly crunchy, Chianti-esque Takveri from Tchotiashvili Vineyards. 
Which takes me finally to my non-Georgian wine of choice, Chianti or other Sangiovese. The amphora-matured Mimesi, a new wine from Tenuta di Ghizzano, which I have written about in a forthcoming issue of The World of Fine Wine, is exactly the kind of wine-without-makeup that suits this transparent, authentic dish.