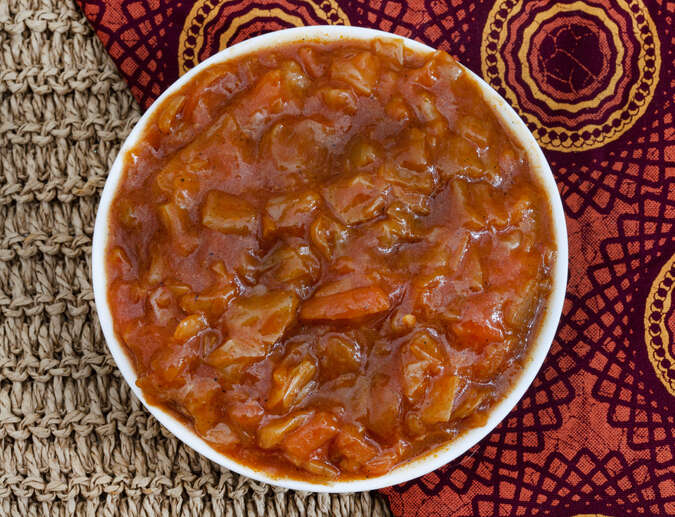 Joanna Simon finds the right wines to go with a new South African classic dish of rack of lamb with chakalaka from the restaurant at Creation Wines in the Hemel-en-Aarde Ridge appellation in Walker Bay.
In Europe's wine regions, it is generally taken that local wine and cuisine have evolved together, resulting in a harmony that makes the "when in Rome do as the Romans do" principal a useful one to keep in the background for times when you need a nudge to help in choosing a wine for a particular dish.
There are exceptions, including Champagne, where the traditional dishes were sturdy and rustic in keeping with the cold, northerly location, rather than with the elegant, refined wines. But on the whole, local wine, or similar, with local food doesn't let you down, although that's not to say that there can't be better matches.
Clearly, this doesn't apply in the same way in the so-called New World countries, even in South Africa, where wine growing dates back three and a half centuries.
The original rainbow nation has produced a corresponding rainbow cuisine reflecting the many and diverse influences that have contributed to it. The addition of spices and traditional methods from India and South East and East Asia to recipes bought from their homelands by Dutch, German, Flemish and French settlers in the 17th and 18th centuries was only the start of it.
Chakalaka: Sweet, sour, and spicy
Aside from a nationwide enthusiasm for braaied meat, the resulting traditional Cape cuisine is marked by its distinctive sweet, sour and spicy flavors in dishes such as pickled fish, Cape Malay curry, bobotie, bunny chow, samosas, sosaties, and chakalaka.
They're fascinating and sometimes challenging to match to wine, but I have chosen instead a dish from a winery restaurant, Creation Wines in the cool, maritime Hemel-en-Aarde Ridge appellation in Walker Bay, where each dish is devised by one of a nine-strong team of multicultural chefs to match a particular wine.
Creation isn't alone among producers in the Cape winelands in doing this, but Carolyn Martin, co-owner and co-founder with her Swiss-born winemaker husband Jean-Claude, is particularly focused on it and the winery has won The KLINK Wine Tourism Award for Best Food and Wine Pairing on a Wine Farm no fewer than four times.
She works on the menus with the chefs and on the pairings, "but they are the creative forces behind the dishes," she says.
Produce is seasonal and local, which makes for a better carbon footprint, but also sits with her tenet that "what grows together goes together," a canon that has an echo of the 'when in Rome…' approach.
Nostalgia meets innovation
I've taken Rack of lamb with chakalaka from the Heritage Menu, a menu that Carolyn describes as blending "nostalgic tastes and textures with an even greater dollop of innovation and imagination."
It was created to go with Creation Syrah Grenache by chef Jean Albert Steyn, who worked for the Martins for a long time and remains in touch, although he has relocated to Guateng for his wife's job.
The lamb, from Overberg, is smoked with rooibos and wild rosemary, cooked briefly on a griddle pan and rested before being served with a reduced lamb and red wine jus (which includes honey, tomato paste, and carrots), with chakalaka, macerated tomato slices, and a parsley and garlic flavored green oil.
Chakalaka is a spicy, cooked vegetable relish that has its origins in the South African mining fraternity. Chef Jean's is made from onion, peppers, carrot, cabbage, tomato, garlic, and verjuice spiced with leaf masala, cumin, coriander, cayenne, smoked paprika, and fresh minced ginger.
Although Cabernet Sauvignon and Rioja both make claims to be the match for lamb, in truth, it's a meat that, especially when roast or griddled, flatters many different red wine grape varieties and types of wine. Witness the number of winemakers in very different regions who, when asked, recommend lamb with their red wine.
I can't fault the match with the wine for which the dish was conceived, a dark, barrel-matured blend of 75% Syrah and 25% Grenache (Creation was, incidentally, the first to plant Grenache in Hemel-en-Aarde).
The smoking of the lamb and herbal notes of rooibos and rosemary suggest wines with some spicy, peppery notes. The spicy chakalaka with its verjuice acidity suggests, if it's to be red wine, one with some spice and natural acidity.
Creation's Syrah Grenache has dark, juicy fruit (ripe damsons, red currant), a whiff of herbs, savoury smoky oak, black pepper, and licorice and a hint of sumac tartness. No wonder it works.
The Grenache has a role in the wine, but the dish can also be paired with cool-climate pure Syrahs from other regions, such as Washington State and Ontario and from producers such as Craggy Range, Elephant Hill, or, specifically, Trinity Hill's Homage in New Zealand, and Montes (its Outer Limits Syrah), Matetic, and Viña Leyda in Chile.
Then there's the northern Rhône, or course, where, in view of the the chakalaka, I would opt for a good Crozes-Hermitage, of which there are many (Domaine Yann Chave to name but one), rather than a grander appellation. I would also suggest the more obscure, but delightful red Brézème (Domaines Breseyme or Lombard).
Syrah and Syrah blends are not the only possibilities. Among others are Rioja with a Graciano component (such as Contino), Chianti, especially a Rufina such as Selvapiano Bucerchiale, and the Mouvèdre-based reds of Bandol in Provence.