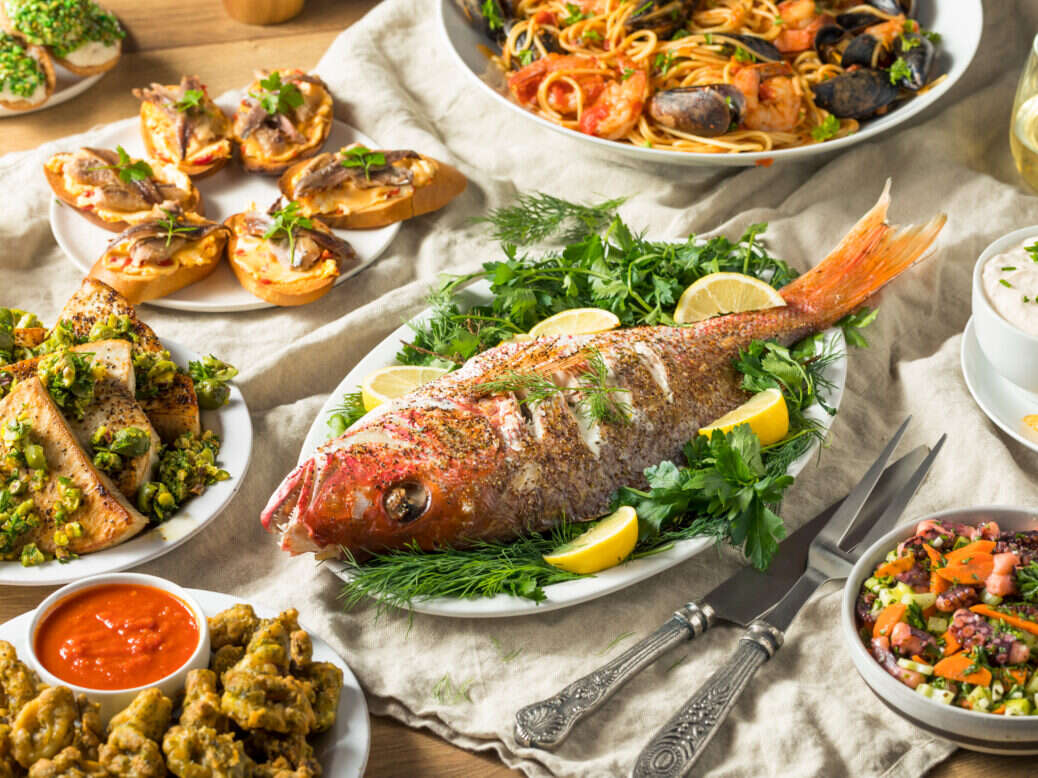 Joanna Simon is in festive mood as she finds the wines to serve on Christmas Eve with a traditional American-Italian Feast of the Seven Fishes.
As if to emphasise the point that the Feast of the Seven Fishes is more of an American-Italian Christmas Eve tradition than one of southern Italy, when I asked two Italians in Italy last month whether it was something they ate or were familiar with, I more or less drew a blank. The Piemontese thought he'd heard of it. The Roman, from closer to where it is said to originate, hadn't.
There must be Italian-heritage families in the US for whom the Feast of the Seven Fishes doesn't feature but, especially in the eastern seaboard cities, it's still a cherished tradition for many, whatever its true origin—something that there is much discussion about. Was it brought to America with the first wave of Italian migrants in the late 19th century, or did the custom grow up among them in the early 20th?
There may be an element of wishful thinking, but consensus seems to be that a loose idea of the dinner was brought from the south of Italy but the name arose in America. In Italy, the multi- course fish-based dinner is called La Vigilia di Natale (or just La Vigilia—The Vigil) or Il Cenone/La Cena/Il Pranzone della Vigilia, rather than La Festa dei Sette Pesci. "Festa" means party, festival, or celebration rather than feast.
There's inconclusive discussion about most other aspects of the dish too. Is it seven different fish or seven fish-based dishes? And what does the number represent? One suggestion is that it's the seven hills of Rome, but there's no suggestion that it's a Roman dish, so this seems unlikely. Much more widely accepted is that the number relates to the bible, although no one knows for sure whether it refers to the seven sacraments. Perhaps it's the seven virtues, the seven deadly sins, the seven gifts of the Holy Spirit, the seven days of creation, or.…
It really doesn't matter. The point is that, on this holy day of abstinence opening on to Christmas, family and friends gather together for a meatless dinner—an undeniably sumptuous one. Most of Italy beyond the south, and the rest of Roman Catholic Europe, also eats fish on the 24th, but it's often less lavish.
Another idiosyncrasy of the Feast of the Seven Fishes is that there are often any number up to 13 dishes. But at least when it's 13 we know why: they represent Christ and his 12 apostles. The origin is also clear: Calabria, where the tradition lives on in Il Cenone, as it does in Sicily and other regions of the south.
The Feast of the Seven Fishes: Infinitely variable
Just as the number of dishes can be flexible, the dishes and the fish and seafood are infinitely variable. There are no rules about what is included or in which order dishes are served, but the one fish that is almost always present is baccalà (salt cod), often cooked with tomatoes, capers and olives or made into fritters; sometimes both.
Other fish and seafood commonly featured include (in alphabetical order) anchovy, calamari, clams (or quahogs), cod, eel, lobster, mussels, octopus, sardines, scungilli (conch), sea bass, shrimp (prawns), smelts, swordfish, tuna, and whiting.
Preparations include shallow and deep fried dishes, pasta (both lightly dressed and with substantial sauces), salads and other marinated cold dishes, stuffed and baked dishes, soups, stews, such as the tomato-based seafood cioppino, and sauces such as lobster fra diavolo (lobster in a rich, spicy, garlicky tomato sauce served with pasta).
No two versions of the Feast of the Seven Fishes is ever the same, not least because families swap recipes and try new ones each year, but the dishes below give a flavor of what you might encounter:
Baccalà
Marinated anchovies
Scungilli or octopus salad
Shrimp cocktail, or grilled shrimp with chilli, cilantro (coriander) and lime
Marinated, fried, grilled or stewed eels
Fried smelts
Fried calamari
Baked clams (or with buttery breadcrumbs, red peppers and garlic, or Clams casino, complete with the bacon
Linguine with mussels or clams
Braised scungilli
Seafood cioppino
Stuffed squid
Baked cod
Cod fish balls in tomato sauce
Lobster fra diavolo
Wines for the Feast of the Seven Fishes
As far as wine is concerned, the Feast may look a pairing nightmare with delicate fish, salted fish, oily fish, meaty fish, and sweet, meaty crustacea to consider before you've even reached ingredients such as tomatoes, lemon, capers, garlic, olives, chilli, bell peppers, and cilantro (coriander) and before you've thrown in a gamut of cooking methods. Finding a single wine that's a hit with all is near impossible, but this is a dinner shared with a crowd rather than a couple, so is rarely restricted to one wine.
I would advise both white and red, but if anyone does want a single catch-all wine I recommend (with one exception below) heading for food-friendly dry whites that have acidity, structure, and some breadth and texture: wines such as Soave Classico, Chablis Premier Cru, Pfalz Riesling Trocken, Austrian Grüner Veltliner, aged Rías Baixas Albariño, weightier Rueda Verdejo, Semillon/Sauvignon blends with some oak, Vermentino and, not least, southern Italians such as Fiano di Avellino, Greco di Tufo, Etna Bianco Superiore, Grillo, Inzolia, and Lucido.
To pick out a handful of producers: Pieropan (Soave), Pazo de Señorans, especially its Collección Albariño, Sella e Mosca for its Monteoro Vermentino di Gallura, Feudi di San Gregorio (Fiano di Avellino and Greco di Tufo) and Duca di Salaparuta for its Bianca di Valguarnera Insolia (spelt with an 's').
The alternative to playing safe with a classic style or interesting southern Italian white is to go for a wild card. I have just the thing: Grosgrain Pét Nat Old Vine Lemberger 2021 from Red Mountain, Washington State. Very slightly hazy pale colour, bubbles, substantial texture, apple, custard, spice, saltiness and lemon bitterness—enough going on for it to tap into and cut across an array of contrasting tastes and textures.  
Back to the idea of both white and red—red partly because the first wave of migrants drank red (often their own production) and American-Italian families still usually have at least some red with this dinner. 
Red wines with natural sappiness, low tannin and no overt oak can go well with the pastas, stews and braises with rich sauces based on tomatoes, olives and so on and with meaty fish such as tuna. There is no shortage of these in Italy. Among the most accommodating are Sangioveses, for example Selvapiana Chianti Rufina, and Sicilian reds including Frappato, unoaked Nero d'Avola blends, Etna Rosso, and Cerasuolo di Vittoria from producers such as Valle delle Ferle and Santa Tresa.
And to finish, a couple of red from outside Italy: Greece's Xinomavro, which has a reputation for being tannic, but in the hands of Thymiopoulos Vineyards becomes silk; and from Maule, Chile, Maturana Wines' Negra, a pale, juicy, low-tannin red made from Negramoll (of Canary Islands and Madeira fame) fermented in open barrels with wild yeasts.