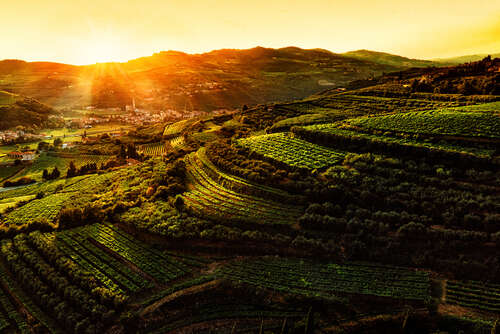 Sarah Marsh MW visits Valpolicella where she tastes fine, light, terroir-reflective red wines made from fresh grapes that are more than a match for the region's prestigious dried-grape Amarone.
In 1993 a 14-year-old boy bunked off school to catch a train from Mezzocorona to San Michele All'Agide. Alessandro Castellani returned to his anxious parents with material from the Istituto Agrario di San Michele all'Adige where, he informed them, he would study viticulture and oenology. His mother was disappointed: she wanted a better life for him as an engineer. His father Pietro produced a small quantity of wine from 3ha (7.4 acres) of vines in Valpolicella which were sold locally under the family name Castellani. But his determined young son had a bigger vision for the future.
Fast forward to 1999 when the 19-year-old Alessandro, had, after six years of study, bought his first hectare of vines on an east/southeast-facing hillside in the Marano of Valpolicella.
His hectare formed part of Ravazzol, a 7ha (17.3 acres) monopole which scales the hill from 150 to 300m (492 to 984ft). "The site is mentioned in the Austro-Hungarian land register," Alessandro told me, "and was identified by Veronelli, a journalist who mapped the area in 1980." Ravazzol was divided into parcels owned by eight farmers and Pietro Castellani set the ball rolling by purchasing 0.8ha (2 acres) in 1990. Although they were a family of modest means, Alessandro Castellini found a way to purchase the whole vineyard by 2013. Meanwhile he ensured the farmers were involved with the newly minted estate, Ca' La Bionda, and five continued to work with him until they chose to retire.
A favorite Amarone
Ca' La Bionda is among my favorite producers of Amarone. In blind and sighted tasting, their Amarones stand out for their elegant style. They have little or no residual sugar and discreet appassimento character. The fresh profile and tension is a signature of this single-vineyard terroir. The Ravazzol hillside has a significant presence of limestone and a cool exposure. It loses the sun behind the hill between 5pm and 6pm allowing the vineyard to cool down and retain nice acidity.
Ca' La Bionda also makes a single vineyard Valpolicella called CasalVegri from a defined parcel on the lower part of the Ravazzol hillside. This lies just below the monopole and is the balance of Pietro Castellani's original 3ha.. Here the vines are younger and trellised on guyot. The soil is thinner than the main slope used for the Amarone and with just 45cm of rocky top soil the youngish vines are well rooted into the limestone.
This CasalVegri vineyard was the primary reason for my visit and a mini-vertical of Valpolicella from this parcel awaited me. But first we visited the vineyard where, grazing among the vines, were a local breed of sheep keeping the weeds in check while fertilizing the soil. This is part of Ca' La Bionda's biodiversity project. Nicola, Alessandro's younger brother, is responsible for the vineyards which have been certified organic since 2016.
The brothers are passionate advocates of terroir—something which resonates with me. "Amarone is a very important wine," says Alessandro Castellini, "but the wrong horse to back. Valpolicella is the right wine for us. The drying process is a drug. People forget the vineyard. The power we have is under our feet."
If you read my report on 2017 Amarone Prima, you'll be aware that I feel the future of Valpolicella region lies in optimizing its terroir and this is most easily achieved through the lighter, translucent, and dry Valpolicella DOC (Denominazione di Origine Controllata) which are made of fresh grapes.
Just consider Amarone DOCG for a moment. The drying process, together with long aging in oak and some residual sugar, often mask the expression of the terroir. Moreover it's traditional to blend parcels from different sides of the same valley, or across several, to achieve sufficient quantity, ripeness, balance, and estate style.
Hence Amarone is principally a style- and production-driven wine. That's not to say it's impossible to express terroir through Amarone—as Ca' La Biondi's Ravazzol single-vineyard Amarone attests—but it will be the more transparent Valpolicella wines from defined sites (and single vineyards where merited) which will put this region on the map for terroir-driven wines. And with this cemented in public consciousness, single-vineyard wines of Amarone, which combine style with terroir, will undoubtedly benefit.
Making Valpolicella a priority
Sadly the majority of producers present Valpolicella DOC as their entry-level wine, essentially a cash-flow by-product of the more important Amarone DOCG (Denominazione di origine controllata e garantita), made from a second pass through an Amarone vineyard. The bunches of grapes used for Amarone must be in perfect condition to be successfully dried, so the remainder are harvested for Valpolicella or Valpolicella Superiore. The latter has a higher minimum alcohol specification (11% ABV versus 12%) and is often used to make the ripasso style, which has gained traction as a cheaper version of Amarone and is more lucrative than Valpolicella Superiore.
It's not hard to appreciate that Valpolicella is too often produced from the least interesting grapes, although quality conscious estates will sell off their lowest-grade fruit or wine, both for cash flow and to increase quality. Of course this adds to the volume of distinctly average Valpolicella sloshing around the market which does nothing to increase the rather lowly reputation of this DOC. This raises the question of permitted yields which are clearly too generous.
On a recent visit to the region to taste the 2018 vintage of Amarone, I sampled a range of Valpolicella and Valpolicella Superiore from well-known estates making decent Amarone. Sadly I felt many are underperforming with Valpolicella. Until the collective mindset changes to place more importance on Valpolicella DOC, the full potential of this wine will remain untapped.
I'm on a mission to encourage that potential, so I arranged to visit three small family estates who take their Valpolicella DOC very seriously. And to show it is possible for larger producers to make quality Valpolicella with a distinct sense of place, I slipped in a fourth.
Fresh, bright, and salty
So to return to Ca' La Bionda, there are two Valpolicella wines. The Valpolicella Classico is a blend from across the estate including younger vines from Ravazzol, a second pass through the older vines used for Amarone, and a new parcel (Fasanara) on the same side of the valley, which Castellani astutely purchased when land prices plummeted during Covid. This wine is fresh, bright, and salty and reflects the cooler expression of the west side of the Murano valley. Murano is one of the five valleys in the Classico region, which as a group are nearest to Lake Garda's mitigating effect on climate.
Within the Classico region, the softer, rounder, and ripely fruity wines come from Sant'Ambrogio and San Pietro in Cariano. Nearest the lake and possibly the sunniest of the valleys, most of the vineyards in Sant'Ambrogio are planted on lower-lying vineyards just north of Verona. In San Pietro in Cariano, the vines are also cultivated on lower-lying terrain in a mixture of alluvial and clay.
Wine from the valleys of the Fumane, Marano, and Negrar valleys are generally bright and energetic, benefiting from the fresh wind coming down from the mountains and this character is most pronounced on the cooler east facing slopes. Limestone is a significant influence in the snappy, crunchy tannins, while those on clay soils are predictably more structured. Unlike the other valleys of the Classico region, Marano has some volcanic soil, particularly in the northern reaches.
Ca' La Bionda's CasalVegri vineyard is dedicated to making Valpolicella DOC. We tasted through several vintages from 2010, Alessandro's first vintage, which is ageing gracefully. "You don't need appassimento to make a wine with the quality to age." Quite right. I particularly like the chalky and floral 2019, which seems to capture the character of this site.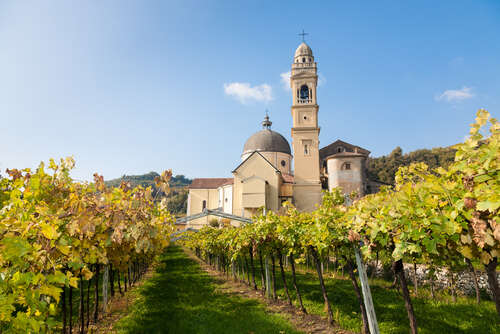 It's clear to see an evolution in the quality, refinement, intensity, and finish in more recent vintages. Not only are the youngish vines maturing, but the winemaking has become more restrained. The 2020, 2019, and even the warm 2017 are floral, finely textured, and salty.
Castellani de-stems most of the bunches, although in 2019 he used 30 per cent whole bunch and a cold soak slows down and lengthened the cuvaison. These are fermented in stainless steel at a maximum of 25°C, quite cool for red wine. His modified approach includes fewer pump overs; malolactic in stainless steel and a cleaner settling, especially for the Corvina variety. The wine is matured in larger older oak foudres of 3,000-10,000 litres and is racked three times. "Covina is very sensitive to Brett, so I clean the oak with ozone now."
Castellani also produces a single-varietal, single-vineyard wine from 70-year-old Corvina vines in Ravazzol. Here the topsoil is deeper than in CasalVegri. The clay mixed with volcanic rocks produces a more powerful wine than CasalVegri. Corvina is Castellani's favourite grape. "It is the most noble of our varieties, like a Pinot Noir."
As Valpolicella DOC cannot be made of a single varietal, this is labelled IGT (Indicazione Geografica Tipica).
Corvina Veronese IGT is only made when the summer is temperate and autumn sufficiently dry to allow a long hang time. In 2016 the grapes reached 14% alcohol naturally. "With this wine I want to show what fresh grapes can give you. You do not need appassimento to make a wine with body," remarks Castellani.
It seems that many producers depend on partially drying grapes for a more concentrated style of Valpolicella. It's unnecessary, for Valpol doesn't have to be full bodied. In specific seasons the Ravazzol vineyard produces this style, but equally the light-bodied profile of wine from CasalVegri is a delight and together they illustrate the diversity of terroir on this slope.
Ca' La Bionda is a founding member of the Federazione Italiana Vignaioli Indipendenti, a group of like-minded vignerons who manage everything from growing their own grapes to marketing their wine. However it is possible for a much larger concern, even without owning vines, to produce a delicious Valpolicella DOC. I visited Albino Armani further up the Marano Valley.
The discreet charm of Armani
The charming Armani family produce wine in the foothills of the Dolomite and Lessini mountains from five wineries across the Veneto, Trentino-Alto Adige, and Friuli Venezia Giulia. They have an annual production of two million bottles (120,000 from Valpolicella) affording them the opportunity to invest in less commercial and more heart-and-soul ventures, including the biodynamic Casal Belfi project and a nursery to preserve multiple strains of indigenous grape varieties. The realization of their extensive work on clonal selection can be enjoyed in their Fonja Tonda and Nera dei Baisi wines.
They don't actually own that many small parcels of vines, 25ha (62 acres) in total, which surround the winery in the Marano Valley, but they harvest the fruit themselves and for the past 30 years have worked closely with the growers.
I was keen to take a look at the sloping hillside vineyard which is situated between 400 to 500m on volcanic bedrock. Albino Armani tells me the top soil is 3 to 4m deep, but has evidence to show the vines reach the volcanic rock.
Albino Armani's Valpolicella Superiore DOC is made from a second pass through the vines used for Amarone, but from fresh grapes which naturally reach 13% or so. There is no drying. The blend is predominately Corvina and the de-stemmed bunches receive a cool soak and light remontage before ageing in neutral 30hl foudres for a year. There is nothing to mask the terroir.
The 2020 is floral and bursting with cranberry aromas. The vibrant palate has a light touch of tannin. It's juicy and fruity; bright and singing. The ripeness of the fruit, and 13.5% alcohol, reflect the warmth of this site during the day (high on the slope and well exposed in a natural amphitheatre) while the energy and fresh acidity speak of the cold air from the mountains which provokes a drop in temperature at night. The diurnal is 12 to 13°C, which is more significant than further down the valley. The volcanic soil can be seen in the purity of fruit. This Valpolicella is named after Egle Armani. It captures the mountain terroir and reflects her elegance.
Albino and Egle Armani with their son Federico are not resting on their laurels, but constantly pushing forward. I enjoyed tasting their wines from other regions. They clearly respect, but are not bound by tradition. Their Valpolicella Superiore DOC is part of a wider portfolio of dry table wines, each with a place and merit of their own. I can't help but feel this is significant in elevating the expectations and quality of this wine. It's not simply a prelude to Amarone.
On the valley floor
And now from a higher altitude site, we move to the valley floor. I am a big fan of Secondo Marco. I was already smitten with Speri's wine, so was not surprised that Marco is a scion of the Speri family.
Speri aspired to make an elegant Amarone and clearly he succeeded as his stylish wines caught my eye in tastings in 2019 when I began taking a serious interest in Valpolicella. So it was with some surprise that I arrived at his estate. The vineyard is planted on the floor of the Fumane Valley. I expected an east-facing slope. The Fumane valley is a little longer than Marano, delving further north into the mountains, but is slightly closer to the moderating influence of Lake Garda. It was warm standing in the February sunshine and this vineyard must get pretty hot in the summer despite a slight breeze coming down from the mountain. The alluvial soil, a loose wash down from the mountains, must be quite fertile and was described as "particularly rich in mineral salts and very varied in its layers." I was intrigued to know how Marco Speri makes such fresh and trim wine from this vineyard.
A significant factor would appear to be the trellising system.
Together with his father Benedetto Speri, Marco developed a Y-shaped pergola, which differs from the traditional Veronese pergola in which the vines meet to create a continuous canopy. The Y-shape creates a space between the rows allowing light and airflow into the vineyard. The canopy gives sufficient light for skin ripening, while shading the grapes from the heat of the day and preserving acidity. The grapes are protected from direct sunlight which can burn them and the airflow helps to prevent disease. The reduced canopy will not generate as much sugar as a full hat, which could be too heady. It seems simple, but is actually rather impressive.
It's clear that quality conscious growers with vineyards on the plain are moving away from guyot training back to traditional pergola. However Marco Speri's system is a step beyond—an ingenious adaptation to optimize the expression of his terroir.
After some time admiring his viticultural ingenuity, Marco Speri asked if I would take a moment before the tasting, to sample the individual varieties from barrel in the cellar; an offer I was in no mind to refuse. Barrel samples are usually a blend, so this was a valuable opportunity to hone in on the character of Corvina, Corvinone, and Rondinella grown in the same vineyard and made in the same way. (The fresh grapes are fermented with light remontage before maturing for nine months in concrete and six months in 50Hl Slovenian oak.)
Valpolicalla wine legislation stipulates Corvina and/or Corvinone represent 45-95% of a blend and Rondinella 5-30%. I tasted samples from different vintages. Corvina showed red fruit and floral notes, few tannins, a light texture, and mineral length. Corvinone is assertively herbal with some similarity to Cabernet Franc; peppery but spicier. The minty freshness on the nose is more upright than Corvina and the palate shows oregano and thyme, characters which are intensified by the drying process. Corvinone is bolder than Corvina and it finishes well, but is less refined. It's a bit like tasting Pinot Noir or Gamay versus Cabernet Franc.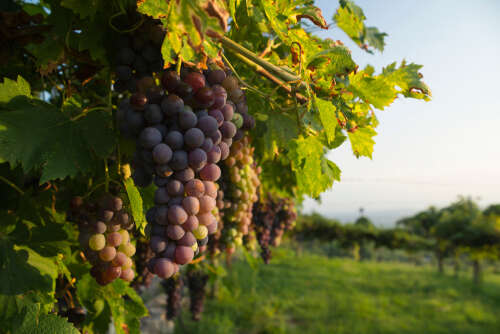 Rondinella has abundant fruit up front, but lacks length. Speri is quite unusual in keeping varieties separate during ageing for Valpolicella and Amarone. Quite a juggling act in his cellar.
Once I had sampled Corvinone, it was clear to see how it influences the blend of Marco Secondo Valpolicella 2019 in its forthright herbal character with more discreet floral and cherry notes from Corvina and Rondinella. I like the silky texture and sense Corvina contributes the elegant finish.
Biodiversity in the Squaranto Valley
Now we move eastwards from the Classico region of Valpolicella to the Squaranto Valley. There are fewer than ten growers in this relatively short and wide valley, and only half those make wine. Marco Signorini is the winemaker at Villa San Carlo. He grabbed my attention with a tasting of single-vineyard wines in Verona last summer and I was keen to visit and learn more.
The Villa San Carlo was purchased by Gianni Pavesi in 1958 as a place to bring up his six children, but over time he came to realize its potential for making wine. The estate covers 70ha (173 acres), but only 20ha (49 acres) are planted and 7ha (17 acres) vinified. Pavesi decided to confine his planting to the land which was already cultivated for wheat and cherries, to preserve the natural environment and biodiversity of the woodland setting on the outskirts of Montorio village, an important center for cotton and wool mills in the 19th century.
There are 40 vineyard parcels, some separated by just a track, which range in altitude from 120 to 350m (394 to 1,148ft) scattered across a gentle south southwest-facing slope. The lower parcels are open and exposed, but the majority nestle in woodland which gives each a slightly different microclimate. The soil is calcareous marl. It's a red scale limestone, known as scaglia and the presence of iron was clearly visible in the red top soil when we walked in the higher parcels, although Cristina Pavesi, who manages the estate with her sister Antonia, tells me you can find it across the hillside and always has dense regular layering. "It gives concentration and minerality to the grapes and to the wines," she says.
The estate vineyard and winery will be certified organic this year. "The goal is to reach the real expression of our terroir so everything is done to achieve this," remarks Cristina Pavesi. In 2019 the family were fortunate in finding Marco Signorini a young, talented, and experimental winemaker who is fully focused on terroir. 2009 was the first vintage of Villa San Marco and Signorini has made the wines since 2019.
Villa San Carol is quite a warm site and the southerly aspect allows the grapes to ripen without issue. Perhaps there can be too much sun in more exposed parcels and pergola is used to shade the berries. However, despite the high sugar, the pH across the range of wines is low.
Each parcel of vines dedicated to the production of a specific wine, from that used for a rosé to those for Amarone. Some wines are made from a blend of parcels and others an expression of a single site.
The Valpolicella Cantina comes from three parcels located close together among the trees towards the top of the slope where the top soil is about 60-100cm deep and the vines 15 years old. The blend contains 50 percent Corvina which is whole-bunch as Signorino is looking for a herbal aroma from the stems. He likes to work reductively and cold. It seemed everyone I visited ferments at a low temperature, much lower than for Pinot Noir in Burgundy for example. "We want to make every wine like a white wine, and I am working to reduce oxygen in all the wines," says Signorini who ferments this blend at just 18-21°C and 22-23°C for the single-vineyard Campo Blanco.
I tasted 2020 and 2021 Valpolicella Cantina, a cuvée briefly aged on less in stainless steel. These higher parcels deliver 12-12.5% alcohol and a very low pH of 3.1-3.3. The wines are fresh and flirty; light-bodied and crunchy with aromas of sweet redcurrant cordial and thyme flower.
Further down the slope at 120m (394ft) the parcel called Campo Blanco is the most calcareous at the estate. In common with the wine from higher parcels, the pH is low (3.24-3.33), but the ripeness is greater, hitting the 13-13.5% mark and the fruit is darker. This speaks of the open position and sunshine reflected by the white soil, although the pergola system helps shade the fruit from burning and preserves the acidity of this fresh cuvée. The light austerity of tannin, I think, is the effect of the limestone. In many respects it clearly shows its terroir. However this is shared with the distinctive character of Corvinone which makes up 70 percent of the blend. After my tastings at Secondo Marco it was easy to spot. I like Corvinone, but wonder if the more discreet Corvina has greater translucency to the terroir. (Although I concede I may be prejudiced by a Burgundian perspective.)
I noticed that Villa San Carlo define their location as Montorio Hills. Maybe with sufficient evidence to present a case, this could become an official sub-region of Valpolicella DOC.
A terroir hierarchy for Valpolicella
I would love to see the region move towards a classification hierarchy based on terroir. At present Valpolicella's DOC system is defined by style and production technique, measured in alcohol and residual sugar, all of which reflects a time when it was a challenge to ripen grapes. With warmer summers it's cooler regions which can deliver fresh, crispj, dry reds with light tannin and moderate alcohol which are bang on trend with contemporary drinking. Valpolicella has an opportunity to capture a new and younger audience and move their wines up market by focusing on quality and terroir.
Surely there should be a sub region for all of the 13 valleys with a clear message of what this should express in terms of wine, which is really only feasible by further delimiting the area within each valley to reflect the different aspects, soils, and altitudes where the vines are grown.
At present there are just two sub regions of Valpolicella, Classico and Valpantena DOC, but it's encouraging to see more producers declaring a valley of origin somewhere on the label and also that recent interest in terroir has spawned more single-vineyard Amarone. But to be truly credible this should be supported by legislation based on appropriate research with a pyramid system of quality and place combined. Regional, village (or sub-regions), and cru is a concept the world understands.
However this will not happen until there is a collective and radical change in perspective among Valpolicella producers and the Consorzio away from Amarone as their flagship wine, to one in which Valpolicella DOC, as more expressive of terroir, merits an equal measure of their attention.
Tasting Valpolicella
2019 is an elegant fresh vintage, while 2020 is more challenging, but there are a couple of good examples below. 2021 is an excellent year, well balanced with good concentration and freshness.
Ca' La Bionda Valpolicella Classico DOC 2021
70% Corvina, 20% Corvinone, 10% Rondinella and Molinara. 12.5% Vol. Lively red currant aroma with a delicate, crunchy and floral palate showing a hint of morello cherry. It pirouettes. Pure and light with a slightly salty finish. So refreshing.
Ca' La Bionda Valpolicella Classico Superiore CasalVegri DOC 2020
70% Corvina, 20% Corvinone, 10% Rondinella and Molinara. 13% Vol. Lightly herbal aroma with a hint of white flower. A silky and aromatic wine with morello cherry fruit in the middle. Slim and fluid, it ripples across the palate, which is gently enfolded in cherry blossom aroma. It has an ethereal wafting feel and finishes on slightly salty bitterness.
Ca' La Bionda, Corvina Veronese IGT 2016
100% Corvina. 14% Vol. Immediately apparent richness and concentration. Spicy with dark chocolate, a hint of mint and fresh tobacco leaf. Medium-to-full body with concentration and lithe muscularity. Vigorous, fresh, and lightly bitter to finish. So much personality and impressive depth. "The tobacco is the aroma of this vineyard," comments Alessandro Castellani.
Albino Armani, Valpolicella Classico Superiore Egle 2020
13.5% Vol. An expressive aroma with floral lift and fresh cranberry notes. It springs with light-footed energy onto the palate which is fresh and vibrant. A light and fine texture. This wine has a bright and lucid feel.
Secondo Marco, Valpolicella Classico 2019
50% Corvina, 40% Corvinone, 5% each Rondinella and Molinara. At 13% Vol. Marco Speri could label it Superiore, but choses not to. Bayleaf and floral notes combine in the aroma of this elegant Valpolicella which has a soft, talcy, smooth texture, and cherry and fresh oregano notes. Straight, neatly edged, and pure with a light saline finish.
Villa San Carlo Valpolicella La Cantina 2021
50% Corvina, 45% Corvinone, 5% Rondinella. 12.5% Vol.
A rather floral first impression with a light minty lift combining with ripe redcurrant as it evolves. Sweet red fruit on the attack which is cut with fresh citrus acidity. It is light bodied with a bright, fresh, and zesty energy. The texture is lightly crunchy and it finishes on a peppery note.
Villa San Carlo Valpolicella Superiore Campo Bianco 2019
In 70% Corvinonne, 25% Corvina and 5% Rondinella. 13.6% abv. Twelve months in larger French oak barrels, this is kept for two years in bottle before release. I preferred the 2019 and 2021 vintages to 2020. Deep and dark red cherry aroma with a hint of cocoa powder. Certainly more intensity here combined with good tension, well cut edges, and slight austerity. The texture has snap. The finish is crisp and salty.
Amarone Prima 2018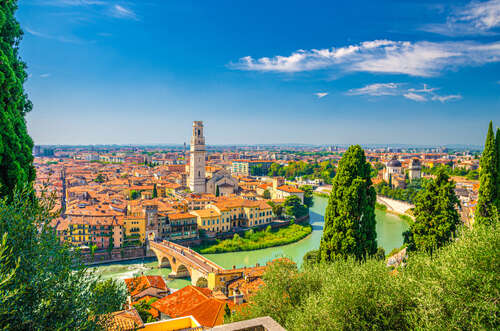 The Veronese know how to enjoy themselves and this year it was the 2018 vintage of Amarone being celebrated. It was billed as Amarone Opera Prima. Last June we were treated to Aida in the Roman amphitheater to accompany the 2017 vintage, but it was early February so who were they kidding? At least it was cooler in the Palazzo della Gran Guardi in Verona where I tasted dutifully through the 67 samples of 2018 put up by members of the Consorzio. There were few really high octane and overly sweet wines, evidence that many producers have pulled back from this style, although too many were overly oaky.
In 2018 the spring was fair and the fruit set good giving a decent crop. There was sufficient rain without the storms of 2020. Alessandro Castellini commented on the high skin to juice ratio. Not a perfect season, but not bad at all.
It was not tiring to taste all the samples, or even the tastings that followed at the producer booths, for 2018 is a very pleasant vintage. It has better balance and is fresher and more appealing than the hotter 2017. It shows some of the freshness of 2016, without the level of fruitiness and concentration of that top-notch vintage.