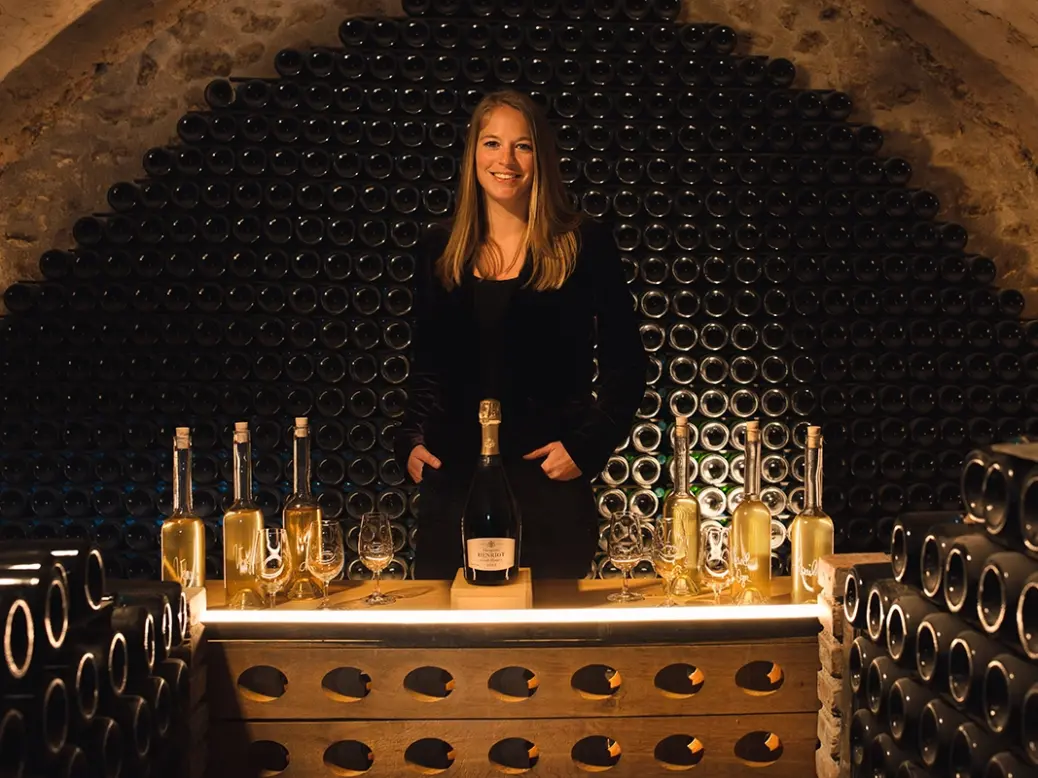 It is rare that a wine launch and masterclass are presented with such spirit, but it was certainly the case one day in March in London's Mandarin Oriental Hotel Hyde Park, when Alice Tétienne, cellar master and wine director of Champagne Henriot, was in London to present the house's prestige cuvée Hemera from the 2008 vintage.
The entire presentation was themed around the blending principles of the house and its founder Apolline Henriot. While it is both fashionable and timely to highlight the role of women in Champagne—with Nicole-Barbe Clicquot Ponsardin, Louise Pommery, and Lily Bollinger convenient tokens (without wishing to diminish any of their determination or pioneering spirit)—to help gloss over the fact that until very recently this, too, was very much a man's world, Tétienne made a convincing case for Apolline and her ideas, which inform the house to this day. To set the tone, Tétienne shared an aphorism that is central to Henriot, which she said she loved and took to heart from the moment she learned it: "Wine is written in the vine."
To demonstrate that her statement went far beyond marketing speak, Tétienne told us that she was born and bred in Champagne, that her first passion was viticulture, and that she only later realized that everything came full circle with winemaking. "When you just taste grapes, you see part of the element; when you taste the wine, you see the element, you see vibration." She also—quite wisely—noted that she was presenting the wines of her predecessors, having joined the house only three years ago. "In Champagne, it always takes time, so we always present the creations of our predecessors before we see our own wines."
Apolline Henriot, née Godinot, was a wine grower before she founded her house in 1808. She was a great-niece of Abbé Jean Godinot (1661–1749), a winemaker, philanthropist, and author of the important treatise on Champagne technique, Manière de Cultiver la Vigne et Déjoue le Vin en Champagne et ce qu'on Peut Imiter dans les Autres Provinces pour Perfectionner les Vins, published in Avignon in 1719 (François Bonal, Le Livre d'Or du Champagne, Editions du Grand-Pont, 1984).
"So, she had a sensibility and technical appreciation," Tétienne explained. "She married Nicolas Henriot, from a family in the business of wine [in 1794]. Their wedding gave birth to a lot of ideas. Unfortunately, her husband died. One year later, she decided to found a house. She had a lot of courage and a desire to shine a light on her land." This land was in three grands crus on the north of the Montagne de Reims—Verzy, Verzenay, and Mailly-Champagne: Pinot Noir country.
"It was important for her to represent the whole vineyard she had," explained Tétienne, so she created a Champagne that was a blend of these crus. It was 72 years later that another marriage, this time of Paul Henriot to Marie Marguet, changed the fortunes of the house. This union brought Marguet's vineyards in the Côte des Blancs into the portfolio, in three grands crus—Avize, Le Mesnil-sur-Oger, and Chouilly: Chardonnay country. These six crus are the basis of the prestige cuvée—and have been for a long time, ever since its creation in the late 19th century, when this wine was called Premier Cuvée, Cuvée Baccarat, or Cuvée des Enchanteleurs. "It is the same cuvée, but it changed names," Tétienne said.
There is good reason, too, for the name Hemera (admittedly far easier to order, remember, and pronounce than the mouthful that is Cuvée des Enchanteleurs). In Greek mythology, Hemera is the goddess of day and light, the daughter of darkness and night, depicted in a painting at Les Aulnois, a historic country house in Pierry acquired by the Henriot family in 2014. "Apolline wanted to shine a light on her soil with Champagne," Tétienne said. "The notion of light is in our DNA at Henriot. In this cuvée, we shine a light on the historical crus of the house." Each iteration of Hemera is made of equal proportions of wines from these six founding crus. "In the past, it was not an exact science in terms of proportions of the blend," Tétienne said, "but today that is the case. We are more precise and have the same proportion of crus, to be able to compare exactly the same blend through different years."
The six faces of Hemera
In order to put Hemera 2008 into context, it was presented alongside Hemera 2005 and 2006. Tétienne believes that, despite equal portions, there is always an aromatic leader among these "six strong characters in the blend," changing from year to year and giving the chief character to each vintage of Hemera. She characterized Mailly-Champagne as giving a lot of expression; Verzenay, as lending lace-like finesse; Verzy, as giving lots of character and solidity, "like the foundation of a building"; Avize, as supplying laser-like tension; Chouilly, generosity and exoticism; while Mesnil-sur-Oger gives "a certain brightness and luminosity."
She noted that 2005 and 2006 had both been "challenging" years. In 2005, "we had everything in the same year"—warmth, drought, humidity, frost, high and low temperatures. While this led everyone to expect wines "with much contrast," Tétienne said, in the end the wines were "homogenous, which gave this blend something very round, very coherent, very reconciled." For Tétienne, the leading voice of the six crus here is Mailly, because it is so "rich and opulent." By contrast, 2006 was "another complicated year, very solar." There was also a lot of humidity, which, according to Tétienne, "helped to keep freshness, so there is richness. You feel more detail in the mouth; the structure is more precise, with incredible freshness." She thinks the aromatic leader for 2006 was Chouilly.
"2008 is one of the most classic years in Champagne over the past decade," Tétienne said, "with perfect conditions for flowering, perfect for maturing grapes, perfect harvest. It permitted us to obtain very classical wines—classical but not boring, with just the perfect balance, with a lot of character, distinction, and humility. Compared with 2005 and 2006, 2008 has a lot of charisma, but with a lot of humility." For Tétienne, the leading characters in 2008 are Mesnil-sur-Oger and Verzenay. All the wines are vinified in stainless steel and undergo full malolactic fermentation. It will be exciting to taste Alice Tétienne's own creations once they are released. If the wines are anything like her, we have a lot to look forward to.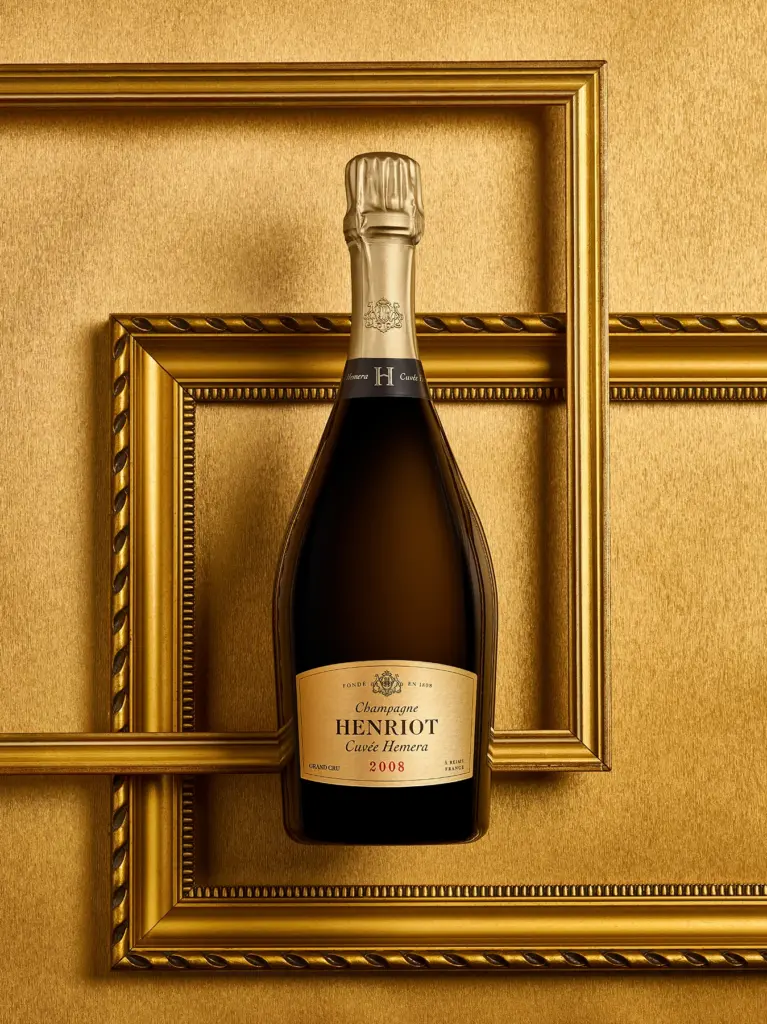 Tasting
Champagne Henriot Hemera 2005
(50% Chardonnay, 50% Pinot Noir; dosage 5g/l; 12% ABV)
Melted butter, shortcrust pastry, and candied lemon are the chief impressions on the nose. More air gives the mellow richness of ripe Golden Delicious flesh. The palate is generous, with spicy notions of maple syrup. With more temperature, the richer notions get ever richer, the body becomes mellower, the autolysis becomes creamier. Everything about this spells generosity and richness. | 95
Champagne Henriot Hemera 2006
(50% Chardonnay, 50% Pinot Noir; dosage 8g/l; 12.5% ABV)
Wet chalk and cold butter blended with lemon zest lead on the nose, with hints of candied lemon peel popping up. The body is rounded but with a lot of contour. Chalky depth aligns with subtle notes of autolysis to lend an elegant mid-palate, with a fine mousse and a pleasant seam of pithy bitterness, finishing in salty shortcrust length, rich but not fat. Mouthwatering length. | 94
Champagne Henriot Hemera 2008
(50% Chardonnay, 50% Pinot Noir; dosage 5g/l; 12.5% ABV)
An immediate and aromatic notion of tart, pink plum blends with immense creaminess on the nose, while highlights of crunchy green and red apples and lemons emerge. The palate comes in with brightness but also unusual lightness and gentleness. This dances on tiptoe yet leaves a lasting impression. Very fine, very delicate, yet absolutely firm, precise, and lasting. The rich autolysis of 12 years of lees aging appears as lemon-scented, buttery Viennoiserie, always with hints of lemon zest and white pepper. | 96