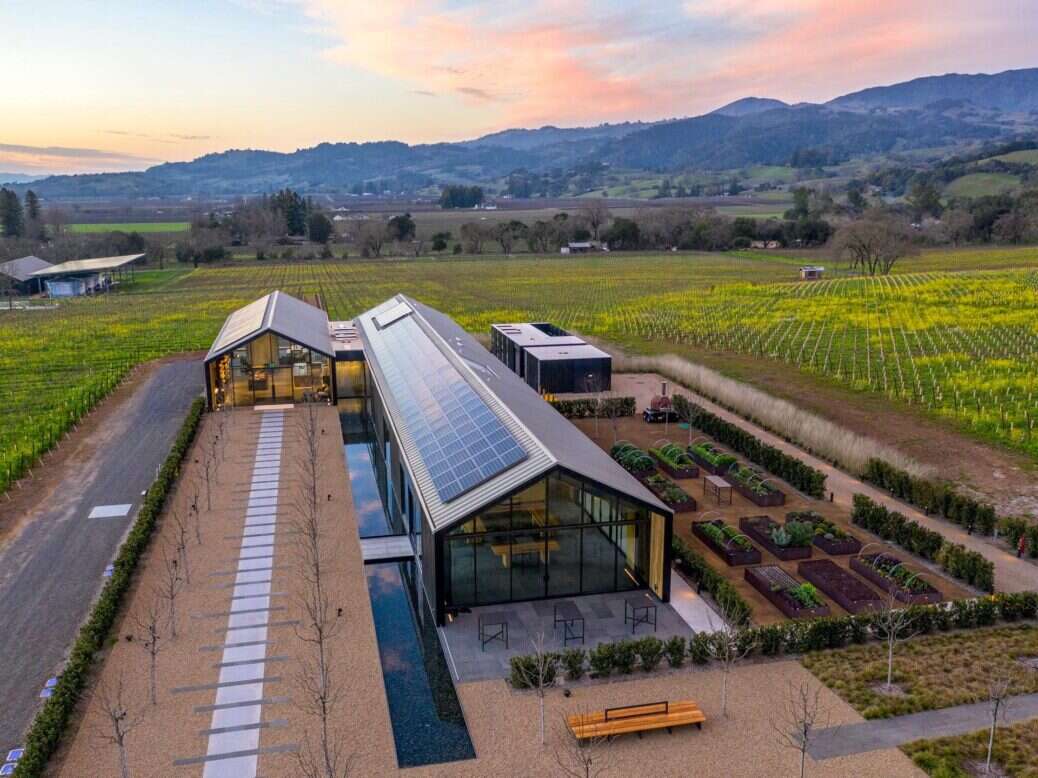 Pork belly bánh mì: a twist on sliders with slaw by Dominic Orsini, the winery chef at Napa and Alexander Valley producer Silver Oak Cellars, provides the inspiration for Joanna Simon's latest exploration of wine country cuisine. 
I could have picked a dish that shows off the finer, higher, more serious—call it what you will—side of California wine-country cuisine, or at least something just a little less casual and commonplace than sliders with slaw.
Perhaps I should have done, but, omnipresent or not, this particular recipe, pork belly bánh mì sliders with carrot-daikon slaw, exemplifies aspects of wine-country eating that so impressed me on my first visit to the Napa and Sonoma valleys decades ago: The respect for, and quality of, local produce and other ingredients; the collective use of so many countries' cuisines; and the companionable informality of dining at almost every level—and so often outdoors.
Slider and slaw, in infinite variations and eaten as readily in restaurants as in homes, seems emblematically Californian.
Why a Vietnamese-style version? Because it has a distinctive accent; because, rather obviously, I like it; and because, when it comes to pairing it with wine, there's more to it than meets the eye.
I was also intrigued that of the two suggested pairing wines (varietals) by the chef, I found one quite difficult to get right. But more of that in a moment.
Silver Oak sliders with slaw
The recipe is from Silver Oak Cellars, where Dominic Orsini, winery chef since 2008, focuses on creating seasonal dishes "to enhance the enjoyment of wine" using produce that comes mostly from the winery's vineyards, cellars, and garden.
What he can't use fresh, he dries, cans, or otherwise preserves. Among other things, he uses vine cuttings to smoke meats, cover crops to make pesto, grape lees to make vincotto, Cabernet to make pâte de fruit and barrel staves to fire the wood-burning oven.
He grows heritage corn for polenta, grinds his own flour and uses a bread and pizza dough starter created from 20-year old Cabernet vines on the property.
He describes the pork belly bánh mì sliders with slaw dish as a "fun appetizer" and uses mini baguettes (24 to serve six), but it can be made with lengths of standard baguette as a lunchtime main course or simple supper.
The slaw—carrot, daikon, and jalapeño chilli pickled in rice vinegar—provides "crunchy zing" to contrast with the unctuous, umami pork and the mayonnaise.
The pork belly, a piece with a high proportion of meat marinated in mirin, soy sauce, brown sugar and minced garlic, also provides crunchy texture through its "incredibly crispy skin".
Thin slices of English cucumber and fresh cilantro leaves provide a final flourish of crunch and freshness.
A white wine to pair with pork belly bánh mì
Taken together, umami meat, skin and fat, pickled vegetables and jalapeño, the oil and dairy richness of mayo, and the citrus-parsley tang of cilantro (unless you're someone for whom it tastes soapy), across a spectrum of textures, provide plenty to consider when it comes to wine.
You can, as ever, take a completely laidback approach and have whatever you fancy in the moment— occasion is all—but this is a rewarding dish to pair with wine.
Starting with Dominic Orsini's pairings, Sauvignon Blanc and Pinot Noir, the one I struggle with is Sauvignon, although I haven't tried Silver Oak's Twomey with the dish.
Sauvignons that were, for me, punchy enough for the slaw seemed too linear and incisive or stridently herbaceous with the pork, but Dominic says specifically that the pickled slaw "matches the refreshing acidity of our Twomey Sauvignon Blanc."
It's not that I think a white that cuts through the pork is out of the question, but I find that young Chardonnay, Chenin Blanc (especially South African), or Viognier—all with lively acidity and preferably wild ferment with an element of oak—are more at ease with the rich, deep flavours of the marinated roast belly and the mayo.
And if the acidity is there, the wines won't be unbalanced by the pickled vegetables. Yalumba's The Virgilius Viognier 2018 will be a star for several years, while Trefethen Family Vineyards makes the case for Chardonnay in its 2018.
From Pinot to Tavel, what red wine to choose with the bánh mì?
Among reds, Pinot Noir can work well, provided the fruit is plush and well-defined, oak enriches it but isn't overt, and acidity gives length and freshness.
Dominic explains his thinking: "Pork and Pinot Noir have a natural affinity… and the soy-mirin marinade enhances this pairing to highlight the earthy elements in the wine."
California, New Zealand (including Central Otago, Marlborough, Nelson, and Canterbury regions), and Oregon Pinots are all worth mining.
Favorites of mine for the dish would include Domaine de la Côte's DDLC Estate 2020 (Santa Rita Hills) and Dog Point Pinot Noir (Marlborough).
Another red variety that can work is Carmenère from Chile, but it has to be one such as Vina TerraNoble CA2 2018 that emphasises freshness and fruit expression, rather than overripe or green, herbal flavours, or oak.
Old-vine Cinsault from Chile or South Africa and Beaujolais Crus from solar vintages are other options.
Then there's rosé, specifically Tavel, full-bodied, Grenache-based, skin-contact rosé that's made for the table. I found it deftly bridged pork belly and slider.
Two Tavels I would put forward are Domaine de la Mordorée La Dame Rousse and Domaine Maby La Forcadière.