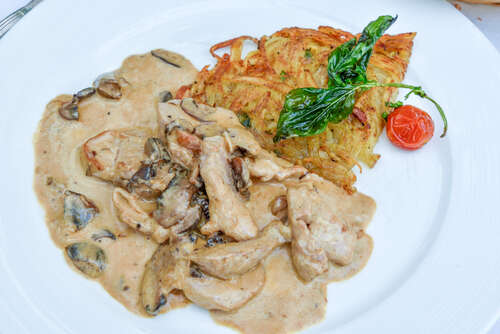 Joanna Simon explores the history and preparation of Ris de veau aux morilles, and picks out the fine wines to match with this modern classic dish from Champagne.
I remember the surprise when I first opened Anne Willan's La France Gastronomique, an exploration of French cuisine through ten regions (first published in 1991). Perigord and Gascony were both there, as were the likes of Burgundy, Alsace, and Provence, but not Bordeaux.
Knowing something of the rich food resources and culinary heritage of Perigord and Gascony, I could see, once I thought about it, the justification for their presence at the expense of Bordeaux, famed above all for its wines.
But Champagne, where was Champagne?
Of all French wine regions, the one where the traditional cuisine and the local wines seem to be at cross purposes is Champagne. Wines that are the epitome of luxury, finesse, and sophistication emerge from a countryside of earthy ingredients and substantial, cold-weather dishes—cabbage, potatoes and root vegetables, chunky pâtés and andouillettes (sausages made from pork chitterlings), hearty game dishes and chunky salads, soups and stews like potée champenoise.
Game and its cookery can be very refined, of course, as it is in Champagne's Michelin-starred temples of gastronomy, the Marne Valley boasts delicate white asparagus and, from round and about, there are some excellent cheeses (Brie de Meaux, Langres, Chaource). But, traditionally, what was placed on the table in the region was simple, solid, and more likely to be in a kitchen than a dining room. It wasn't Ris de veau aux morilles (sweetbreads with morel mushrooms).
Much as I love the wine and the place, I have to concede that the omission in La France Gastronomique was reasonable. Champagne's global renown has always rested on its sparkling wines. Gastronomic was not a word attached to the traditional food, which was little mentioned, let alone celebrated, even in France.
If it is now, it's because the wines – and the Champagne houses themselves – have attracted leading chefs to the region, raising standards and inspiring creativity. The houses have been exceptionally diligent (not that it can have been hard) in pairing Champagne with food and working with and encouraging chefs to do the same.
Ris de veau aux morilles: A new Champagne canon
Where does Ris de veau aux morilles fit into the new canon? I ate it first at Les Crayères in Reims at the end of the 1980s (when it had three Michelin stars under chef Gérard Boyer) and in a way it straddles the traditional/contemporary divide.
It was one of the early sophisticated dishes but was soon regarded as a modern classic, an elegant dish involving a few luxurious, complementary ingredients in a simple preparation: sweetbreads in a morel, cream, and Champagne sauce (simple but for the slightly time-consuming preparation of sweetbreads: soaking, blanching, poaching, carefully removing any gristly bits and, depending on the recipe/chef, the fine membrane).
Other ingredients commonly are butter (for sautéing), shallots and stock, and sometimes Cognac (or marc de Champagne), parsley, garlic, and flour for dusting. At Les Crayères it was served with thinly sliced summer truffle, which only added to its allure.
With it we drank Taittinger Comtes de Champagne. It worked because it had the vintage complexity, depth and richness to partner the morels and truffle but didn't overpower the sweetbreads (and because it's always a superb Champagne).
What to drink with Ris de veau aux morilles
A youthful non-vintage blanc de blancs wouldn't harmonize in the same way, but a Champagne such as Laurent-Perrier Grand Siècle (slightly more Chardonnay than Pinot Noir) would work, as would Charles Heidsieck Millésimé and, at an admirably accessible price, Alfred Gratien Brut, especially with some extra bottle-age.
Rosé Champagne can also be a fine match; not a pink with fruity exuberance but a vintage or non-vintage with the complexity of reserve wines or bottle-age (such as Krug or Charles Heidsieck, preferably the latter's vintage rosé).
Champagne is by no means the only way with Ris de veau aux morilles. Conveniently, veal and morels can swing it both ways, red or white. Either way, it's a dish that rewards mature, fine wine.
It could be white Burgundy or Pessac-Léognan; fragrant, silky red Burgundies such as Chambolle-Musigny or Volnay, or a Pinot Noir such as Domaine Drouhin Dundee Hills.
Red Bordeaux, Right or Left Bank, can be just as successful, for example, Margaux or Pomerol, including Espérance de Trotanoy 2016, Trotanoy's second wine, made from two deep-gravel parcels of younger vines at the heart of the estate and sold as Bordeaux.
It's also a dish for which elegant, haunting Barolo seems designed. I would settle for Pio Cesare Ornato or Mosconi 2017 any time.