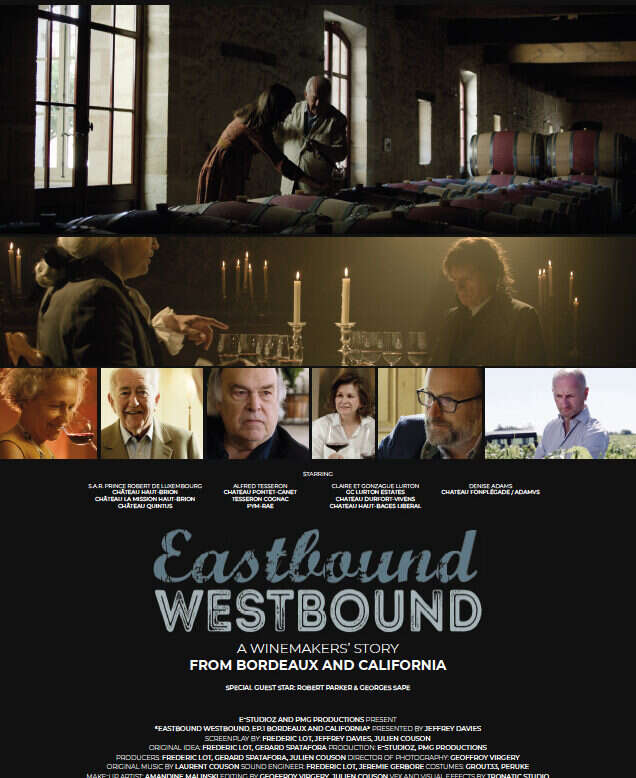 The documentary film Eastbound Westbound is a paean to a close Franco-American relationship as mediated through wine. The person around whom the concept is structured is Thomas Jefferson, among other posts the second US Minister to France after the American Revolution and a known connoisseur of European—and particularly French—wines.
While minister, he spent much of 1787 touring vineyards in Burgundy, the Rhône Valley, Italy, Provence and the Languedoc, and Bordeaux; then during 1788, he visited the Rhine Valley, Alsace, and Champagne. Indeed, his notes were one of the sources used in determining the classes of Bordeaux wines in 1855. In short, he was a devotee of French culture and French wines. Jefferson's inauguration as president was the first time that French wine was served in the White House.
One of the châteaux that Jefferson visited was Haut-Brion, whose wines he enjoyed, and it is here that this film begins, with a meeting between Prince Robert of Luxembourg—the owner of Haut-Brion in Pessac-Léognan, the oldest wine producer in Bordeaux—and Jeffrey Davies, the presenter and co-writer of Eastbound Westbound. Davies is a Californian and a wine merchant who has lived in Bordeaux for more than 30 years. He is known for his wide and deep knowledge of Bordeaux wines and winemakers. Prince Robert wants Davies to find out who mentored Jefferson about wine, so off Davies goes on his travels. It rapidly becomes clear, however, that Jefferson is an excuse for a focus on four Bordeaux winemakers who are also California winemakers.
The outlier is Haut-Brion, which only traveled as far as St-Émilion. Here they produce wine as Château Quintus, a St-Émilion grand cru classé. In their case, ambitious expansion was the motivation. Davies decides to visit other wineries, all of which emerged in the 18th century and which Jefferson wrote about in his travel diaries. The first owner he talks to is Claire Villars-Lurton of Haut-Bages Libéral in Pauillac, who inherited the estate from her mother in 2007. When Claire took over, she discovered that they were using chemical sprays, with all that that implied for farming methods, and decided to convert to organic and then biodynamic viticulture. She and her husband Gonsague Lurton, owner of Durfort-Vivens, which is also biodynamic, decided that they wanted to make wine together. After looking widely, they acquired a property now called Acaibo Trinité Estate in Sonoma Valley, which is farmed biodynamically, and make a premium red wine. 
The next estate is also in Pauillac, Pontet-Canet, whose wines Jefferson really liked, and where Davies spoke to owner Alfred Tesseron and his daughter Justine. He later talked with his son Noé, who concentrates on the California estate and on their Cognac business. They converted to biodynamic farming in 2004 and began using horses in the vineyard in 2008. They wanted to expand elsewhere and bought the estate now called Pym-Rae Tesseron on Mount Veeder in the Napa Valley. They have brought their Bordeaux methods to Napa and have converted the estate to organic and biodynamic viticulture. They also make a premium red wine.
Leaving Paulliac, Davies goes to Château Fonplégade in St-Émilion. Unlike the others, the travel goes in the opposite direction. Denise Adams tells Davies that she and her husband, both Americans farming in California, wanted to use their experience to turn Fonplégade into a biodynamic estate. After four years, while keeping this estate, they went back to California and bought another, this one called Adamus, on Howell Mountain. They wanted a mountain wine; it is now also organic and biodynamic. This is a constant theme and the second criterion when choosing the producers to visit.
The answer to Prince Robert's question is that Jefferson's mentor was Benjamin Franklin, the American representative in France since 1776 and the owner of a cellar of 1,100 bottles. Eastbound Westbound goes into period costume when describing 18th-century events and also briefly into hand-moved drawings. Jefferson was a Virginia gentleman, while Franklin moved in circles in upper-class Paris. Yet when meeting for the wine-mentoring dinner, their hair looks as though they have rolled in a haystack. Eastbound Westbound is interesting, enjoyable, and well worth watching, but it is occasionally a bit strange. 
Eastbound Westbound:
A Winemakers' Story—From Bordeaux and California
Presented by E-Studi'Oz and PMG Productions
Directed by Julien Couson, written by Frédéric Lot, Jeffrey Davies, and Julien Couson
Available on Apple TV