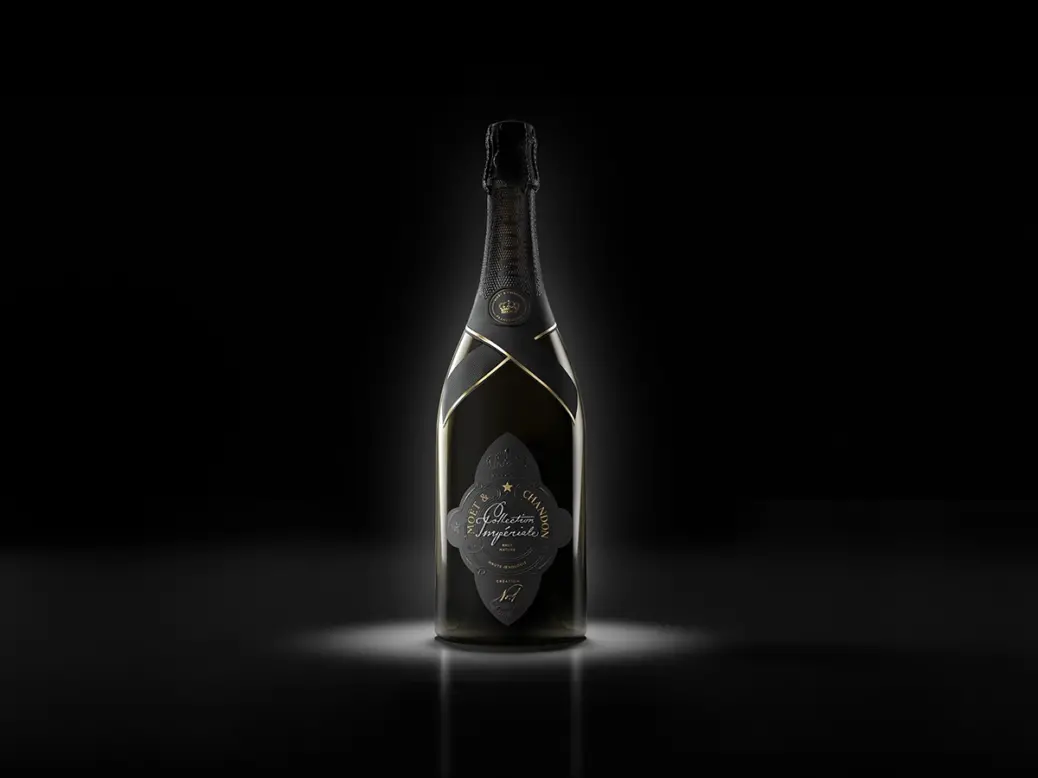 Can Moët & Chandon Collection Impériale No.1 succeed where the house's previous attempts at creating a deluxe cuvée have failed, asks Simon Field MW.
The most prestigious job in Champagne is not without its challenges. Benoît Gouez has been in post since 2005, longer than many of his peers in an increasingly ambassadorial job, with transfers between Houses more and more frequent, à la Championship football manager. His key role, of course, is to ensure the consistency and quality of the Moët Brut Impérial, a Sisyphean task, given its ever-upward trajectory in terms of volume (30 million bottles some say, perhaps more). The management of the sourcing logistics is itself incredibly complex—all the more so since the majority of the fruit has to be bought in, despite the house's extensive vineyard holdings. The artisan takes a reluctant bow to the industrial. But the show must go on.
But what of the impulsive and the creative? How about something original? "This new wine is personal," says Benoît; a risk some may say, far from Cartesian, an opportunity for legacy planning, a grand projet, a vanity project even… Call it what you will. All the more risky, in that its precursor, the MCIII cuvée, released in 2015 but thereafter discontinued, was viewed by many as something of a failure, relatively speaking. The creation of a deluxe cuvée at Moët & Chandon has in any event always been somewhat nuanced, given that many, incorrectly as it turns out, feel that they already have one in Dom Pérignon. This is not the case; DP has long been made, managed, and marketed separately, similarly autonomous in the same way as other Moët & Chandon Champagnes, including Krug and Ruinart. The extraordinary success of Dom Pérignon only serves to sharpen the hunger and to intensify the challenge for M Gouez.
Moët & Chandon Collection Impériale: A 280th birthday present
The result is the Collection Impériale Création No.1, made ostensibly to celebrate the creation of Moët in 1743 (its 280th birthday present, therefore), with new releases planned every couple of years or so up to the 300th anniversary itself. We are informed (as we never are at Dom Pérignon) that 75,000 bottles (and no magnums) have been released—minuscule for the House—and that the wine is made up of approximately 40% each of Pinot Noir and Chardonnay, and 20%of Pinot Meunier, thereby underlining a significant difference to Dom Pérignon, which does not include any Meunier. The proportions are approximate because nearly three fifths of the final blend is made from six different reserve wines.
Conceptually, the wine does not stray all that far from the MCIII, in that three (the III bit) methods of élevage are employed; namely wood, bottle, and stainless steel. In this case, however, the wine has had appreciably less wood influence (the 50hl foudreshave aged a little) and benefits from a more classical base year (the long, late 2013 season versus the stiflingly hot 2003). In this instance, the base year makes up a very precise 42.5% of the blend, as do five of the six reserve wines (approximately equal proportions of 2012, 2010, 2008, 2006, and 2000), with the remaining 15% coming from a sixth reserve, the 2004, this time aged under crown cap in bottle. Benoît has access to the largest source of reserve wine in Champagne and assures us that the wine was only born after extensive experimentation and tasting; this we do not find hard to believe; only a chef de caves at the height of his powers can assess how such a complex blend might taste on release, nine years down the line (it was actually disgorged in March 2022, so has had appreciable post-disgorgement aging, too) and, of course, thereafter. This is no mere neophyte; on the contrary it is evolved yet youthful, lively and yet undeniably gastronomically adroit. "This is my signature," says Benoît, not without a degree of genuine humility. It is also a wine without dosage, a significant departure for the House. The purity engendered has allowed Benoît to understand (for the first time, he says) the concept of "minerality" in Champagne. "Finally, I get it," he admits, with an almost disarming modesty, adding, "we all need to evolve in life, as does Champagne."
The project clearly means a great deal to the man. There is no tilt to a single grape variety, or even a single village, let alone a single plot—all three currently very modish in Champagne. No, this creation has been crafted in the winery above all and is thus, in a sense, going against the flow of creativity currently evidenced across the appellation.
This being Moët &Chandon, however, there is no shortage of hyperbole. Savoir faire has been transformed into "savoir vin" and the slightly tatty fashion metaphors (if Brut Impérial is prêt-à-porter then this is haute couture, we are told) reach their apotheosis in the summation of the project as "Haute Oenologie." The aesthetic of the bottle and label is impressive, if somewhat somber, and a sculptor (the American Daniel Arsham) has been called upon to commemorate and (quite literally) illuminate the release with a huge chalky frieze, a lapidary bas relief that depicts the story of the wine's gestation, somewhat in the manner of a stained-glass window. The packaging may be dark and serious, but its catwalk is bathed in bright angelic lights.
A personal project
Ultimately, however, and maybe despite all the fanfare, this is a personal project. The wine is powerful, textured, allusive, and deeply satisfying. I have been lucky enough to taste it twice, and was impressed by its subtle development over the interim (three months). On the first occasion, at Château Saran, it was tasted solus and then next to the rest of the range, including the Grand Vintage, its closet sibling stylistically. More recently, in Paris, it was tasted both on its own and also with a meal prepared by the three-star chef Yannick Alleno. Most fascinating was the pouring both from bottle and, a little later, from carafe, in a different glass. The comparison was instructive; the famous Moët interplay between reductive and oxidative elements (thrown into sharp focus by the fact that 42% of the wine had been aged in wood for a year) was underlined by an addition layer of nuance; the toasty vivacity ceding to a richer, more layered structure, resolute of purpose and vinous without sacrificing the essential exuberance that should mark out all Champagne. More than capable of matching the turbot and chanterelle, then the Ledoyen chicken and white truffle, in any event. 
A significant milestone in the Moët story, then. The Impérial nomenclature has been maintained with this wine, and it is appropriate, therefore, that we are tasting it in the Bourrienne, a Hotel Particulier in Paris's tenth arrondissement, which dates from the Directoire, when Napoléon Bonaparte's Private Secretary hosted salons for his employer and, as it turned out, also for a certain Josephine Beauharnais. A house of pleasure. The backdrop is adorned by Arsham's 10ft (3m) relief and a string quartet who play Debussy, Ravel, and Brahms. Classy and classic are the subliminals here. Or what about ostentatious and overblown? Take your pick. I will go with the former epithets; the glossy backdrop, and not for want of trying, cannot distract or detract from the quality of what is in the glass. Moët & Chandon Collection Impériale is indeed a very personal project; small in scale behind the grandeur of its launch and quietly radical in its genesis; a real coup for Benoît Gouez, therefore, and one that, finally and triumphantly, reveals the full extent of his vision.
TASTING
Moët & Chandon Collection Impériale No.1
(No dosage; disgorged March 2022)
A deep bright gold color described by Benoît as "a canary diamond." The classic M&C reduction takes precedence but then is rejoined by toasty notes, hints of plum, beeswax, and madeleine, or brioche for those of a less Proustian disposition. How to capture the signature of the House but also the depth of the reserve wines, most of them aged in wood? How indeed. The key is that the oak influence informs the texture above all, yet "allows" the aromatics and primary flavors to take center stage. Thus Mirabelle plum, spring flowers, and crushed almond; thus honeysuckle and the faintest hint of smoke. On the palate, there is weight, real gravitas, and a chalky interplay between a raft of apparently contradictory elements… verbena and orchard fruit, then dried fig and hints (only hints, mind) of vanillin and gingerbread. The layered (nearly tannic!) vinous elements are more pronounced from carafe, but both glasses maintain their vigor, athletic vigor certainly, and most important, their freshness and exuberance. Haute couture, haute oenologie… call it what you will; but one thing is for sure—this is a very high-quality and beautifully crafted wine, and one that will continue to evolve gracefully. 96