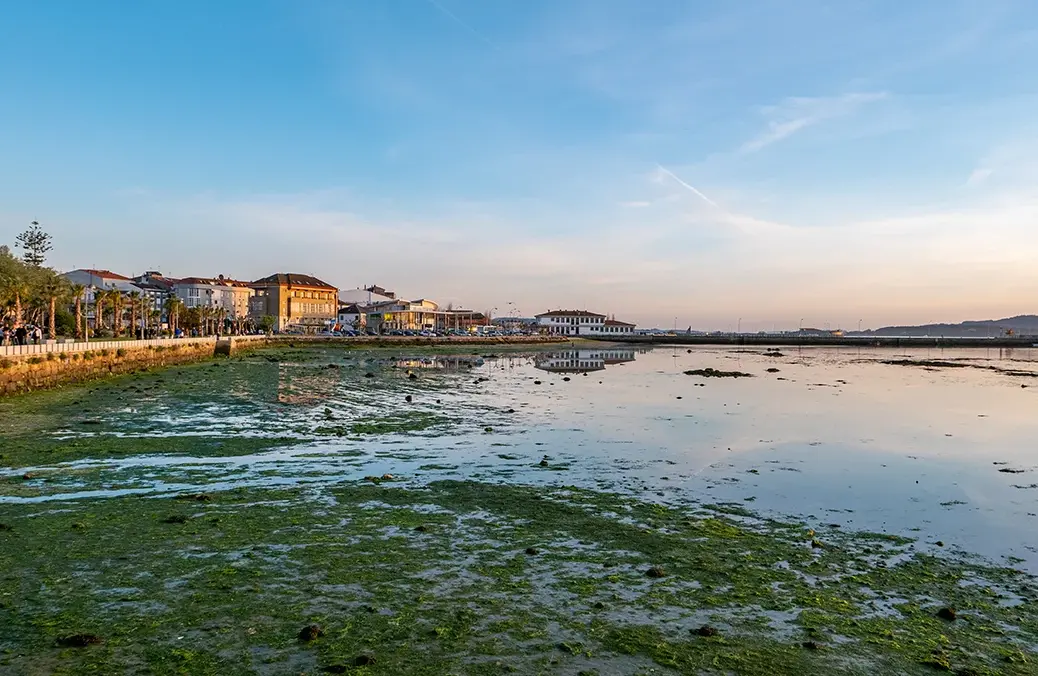 My first visit to O Rosal and Condado do Tea was in 2019 on my first camino to Santiago. We started in Oporto and walked across the Spanish border into Rías Baixas where the subregions adjoin. It was here, drinking a glass of Albariño in Tui, that my interest in Rías Baixas was piqued. My son was just 13 and had walked faster than I expected so we decided to extend the journey by taking the spiritual variant, which as luck would have it led us around the Salnés Valley to the estuary, where legend has it the body of Saint James was taken in a stone boat to Padron and thence to a site for burial—where the cathedral of Santiago was subsequently built. On this leg of our camino, I enjoyed my evening glass of Rías Baixas looking out to sea. I was intrigued by the salty tang of these wines. It was clear that I would have to return to learn about the terroir.
Rías Baixas: A vinous pilgrimage to green Spain
I was fortunate to make that trip in June. This included visits to several producers in the Val do Salnés, one in O Rosal and two—Bodegas Fillaboa and Viña Nora—in Condado do Tea. There were sufficient visits to give me a fairly good impression of Rías Baixas from Val do Salnés and on my return I was sent 15 samples from across three regions to compare and contrast. I hoped to determine whether, together with my notes from the wines I tasted in situ, it was possible to distinguish a distinctive subregional identity. 
I was interested in the level of acidity, the shape, body, and richness together with the expression of minerality and fruit. I asked for samples from 2020 aged in stainless, or neutral large older oak. Two samples showed dominant new oak, another was from 2022, one was a blend, which whittled down this small sampling. So just to be clear, the following tasting observations, from the trip and tasting at home, are an impression and not a comprehensive analysis.
Val do Salnés/Salnés Valley
Val do Salnés is the coolest area. This subregion, which faces the Atlantic, is hemmed to the north and south by a ría, so is effectively surrounded by water on three sides. It is the epicenter of Rías Baixas. The wines are super fresh, and the fruit character veers towards floral and citrus characters with touches of asparagus, kelp, mint, and white pepper in classic cooler vintages; spicier in warmer years. The mineral sensation is cool. It can be a glinting, quartz character or delicately saline. Some have a smoky, marine oyster-shell minerality. Lees aging makes the wines smoother and silkier. The minerality becomes more pronounced and polished with bottle age.
Over tapas one evening at the enoteca Ribeira de Fefiñáns in Cambados (worth a visit for the clams and their broad range of Rías Baixas), two wines crystallized my impression of Val do Salnés terroir. Forjas de Salnés Leirana 2022 has a pure, chiseled, and vibrant profile with steely minerality, smoothed by lees ageing in foudres. With a long and punchy finish, Zárate Balado 2021 comes from 60-year-old vines in two small south-facing plots surrounded by a granite wall. It is aged on lees for nine months in stainless steel. It has savory grip, some muscle, tension, and oyster shell minerality. This is Rías Baixas with the structure and presence to age for a decade.
But the style of wine varies within the Salnés profile. At the entry level Casto Martin Rías Baixas 2020 is high-energy, high-acidity, citrusy wine. This is a large cuvée of 40,000 bottles made with fruit bought in from many growers. It's more straightforward than the wines above of course, but it is also fruit-driven, rather than savory and mineral. While Lagar de Pintos 2020, made by sisters Marta and Carmen from a blend of estate parcels, has a somewhat more restrained mineral feel. In contrast Pazo Señorans Albariño, from the hot 2022 vintage, has tangerine and bitter citrus peel, a richly textured and spicy profile which I didn't place in Val do Salnés when I tasted the 2022 vintage at home.
In that tasting were two wines that stood apart—Zárate El Palomar Albariño and Eulogio Pomares Pedraneira. Both are made in small volumes by Eulogio Pomares whose grandfather Ernesto Zárate established the family bodega. Since 2000 Pomares has been responsible for the Zárate wines while making some intriguing cuvées from the family's many small parcels of land. Of course, it's not fair to compare wines produced a larger volume to these small single-vineyard wines, so I will come back to them later.
O Rosal
There are more sunshine hours in O Rosal than the Val do Salnés, but it is not as hot and dry as Condado do Tea. I've tasted wine from only four producers so it's pushing it to comment on the style. This has included some 100 percent Albariño wines (Terras Gauda make a nice one), but here Albariño is often blended with other varieties usually Loureiro and Treixadura and maybe Caiño Blanco which will contribute their own characters. But I gathered a general impression of ripe citrus fruit, and herbal lemon balm, with a slightly richer texture than Val do Salnés wine— creamy lemon curd. Maybe they are a smidgen fuller than Salnés, but they are ocean breezy none-the-less. They are lightly spicy, but not exotic. Mineral, but not sharply salty. But this is just a glimpse. Adegas Valmiñor Davila 2020, which includes some Loureiro and Treixadura and comes from a vineyard which has sandy and alluvial soils, combines ripe citrus character with lemon balm, white flowers and mint. The creamy texture is nicely balanced with acidity and it's softly salty to finish. 
Condado do Tea
This is further inland stretching from about 25 to 50km (16 to 32 miles) from the Atlantic Ocean. The vineyards lie on warm slopes overlooking the tributaries of the Minho River including the River Tea. It's the warmest sub-region with the hottest days and cool nights. "It's more continental in this respect than the other regions in Rías Baixas," says Alexia Luca de Tena winemaker at Viña Nora, one of the most inland of the producers here. "We have a higher diurnal in Condado do Tea. The days can reach 35°C (95°F) and the nights will decrease to 17–18°C (63–64°F). In 2022 it was too hot. The vines shut down so we had to irrigate." 
On the western side of the region, Bodegas Fillaboa is closer to the ocean. Winemaker Isabel Salgado describes how the Minho River draws in some cooler air from the Atlantic. As we walked in Fillaboa's Monte Alto vineyard, Salgado tells me the soil here is more alluvial than the Salnés Valley, although there is granite. This is echoed by Alexia Luca de Tena. "There is decomposed granite in Condado do Tea, but because the vineyards are planted along the branches of the Minho—on the former terraces of the river— it is predominately a gravely, alluvial soil." 
"We get high ripeness here. Grapes with high concentration of sugar and acidity," adds Alexia Luca de Tena. "Powerful and rich with volume and glycerol. We get high phenolic ripeness making the wines explosively fruity and floral."
This was evident from tasting Condado do Tea wines in Spain and at home. They are spicy, rich, full, and have breadth. The acidity is high but cloaked in richer viscosity. They are succulent and softly salty. The fruit can feel quite tropical, often fresh fruit—Viña Nora's unoaked estate wine is an attractive example and Señorio de Rubios, a winery which concentrates on indigenous red varieties, turns out a cheery number packed with tropical fruit. However, there can be earthier notes of dried mango and pineapple from Condado do Tea when the wine has been aged for longer.
Fillaboa's wines have a whiff of curry plant, and I was impressed with the wine I tasted on my visit there. Selección Finca Monte Alto Albariño 2020 scored highly. It's bold and concentrated, but elegant. The acidity is enveloped in textural richness. I tasted this wine again at home and after a few days in the fridge, the richness recedes and the minerality comes forward.
Compare and contrast
Val do Salnés produces the most chiseled, brisk, and straight wines among the wines I have tried. It's here that you can find Rías Baixas at its most savory and salty. However, the stone fruit characters which can be greener and peppery in colder vintages, move towards the more tropical flavors of Condado do Tea in hot years. The O Rosal style seems more fruity, citrusy ,and possibly slightly fuller and rounder than Salnés and slimmer than Condado do Tea. O Rosal wines are also salty, but softer salt than Salnés. I didn't taste any wine from O Rosal or Condado do Tea with the oyster-shell, quartz character that Val do Salnés can show. 
The acidity is high across all three regions. It was perhaps less noticeable in the mid-palate in the wines from Condado do Tea, but it comes through on the finish. Condado do Tea has the broadest most succulent, exotic, and spicy wines. They are not notably salty, but a sense of minerality appears as the wines mature or are left for a day or two. The finish tends to be aromatically exotic, but in recent hot vintages all the subregions can show rich and exotic fruit. 
A sense of minerality drives the style of wines from the Salnés Valley. There is more alluvial soil in O Rosal and Condado do Tea which, together with the warmer meso climate, may account for their fuller feel, but an impression of minerality underscores the palate and can be tasted on the finish of any good quality Rías Baixas.
Terroir-specific
The subregional differences are certainly not super dramatic. Maybe because warm vintages tend to hide the terroir under the rich fruit and texture, but also because of the variety of styles within each subregion. There were some very spicy wines from the Val do Salnés, while others were super savory and saline. Does this call for subregions to be divided further as some would like?
It's difficult to argue a case for demarcating village or commune denominations, not least because it is typical for bodegas to draw in fruit from numerous growers and parcels across their subregion, which of course should make estate wines a proper representation of the subregional terroir.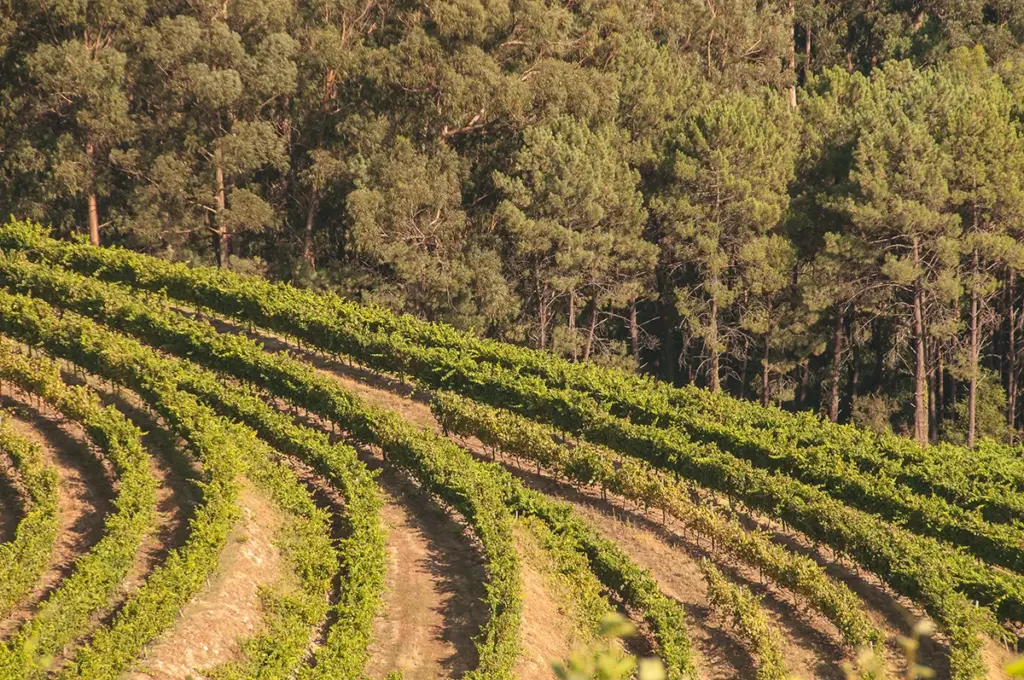 Pazo Señorans works with 98 growers. As such the estate has been monitoring over 400 parcels for the past 25 years. Vicky Mareque explains the fruit from these parcels is not consistent. It can be better or worse in different vintages, so she feels that blending is the best way to maintain consistency. I suppose this makes sense if you consider that most of these sites were not selected to make the best wine but were simply parcels of land on which families—for whom fishing was the main source of income—planted a few vines.
However, there may be an argument for demarcating the coastal and inland area of the Val do Salnés based on a different meso-climate. There is a theory that the salty fog, which rises from the sea, is pushed inland and settles over the vines on the gentle slopes away from the coast. Certainly, I saw the mist hovering over the island vineyards in the morning while out taking my morning jog in the fishing town of Cambados where I was staying. Some say the wines from further inland are saltier.
Rodrigo Méndez, winemaker at Forjas de Salnés, also produces wine under his own label Bodegas y Viñedos Rodrigo Méndez. I tasted his Rías Baixas Cíes 2022. This comes from vineyards in Val do Salnés which are inland where it is foggier in the morning than on the coast. The wine is rather refined and pure with a sliver of salty minerality. Delicate and precise for the hot 2022 vintage. The differences between coastal and inland wines are something for further investigation.
Single Vineyards
Single vineyard wines are always of interest to me. Most bodegas will have a specific site from which they feel the fruit merits a separate bottling. At the one-star Michelin restaurant Yayo Daporta in Cambados—which has an elegant and imaginative tasing menu—I tasted Albamar Finca O Pereiro 2017. Xurxo Alba Padín took the reins of the small family estate in 2006 and has shot to stardom producing small-volume, high-quality, terroir-driven wines.
O Pereiro is a small vineyard created by Xurxo Alba's father in 2004. The 2017 is a cooler more classic vintage, but the wine is slightly sumptuous all the same, with crystallized ginger and dried pear. It has a fullish broad palate. Rather than the more typically sharp Salnés salinity, it has a creamy white miso finish and is rather delicious. This vineyard is close to the coast and planted on clay soil. You recall the clay seam mentioned earlier. Maybe this accounts for the atypical profile.
But it's not only haute couture producers who make single-vineyard wines, larger scale producer such as Mar des Frades are also in on the act. Together with its two sister companies, Mar des Frades produces an annual crop of 300,000kg and also buys from 80 growers while waiting for newly planted vineyards in Ulla in 2017 to come on stream. It's an interesting 12ha (30 acres) vineyard beside the original winery within which a 2ha (5 acres) parcel produces superior grapes. The vines are trained on an unusual one-sided pergola which is open on the sea-facing side to catch the breeze. Having drilled for samples, it was discovered the granite soil was different in the middle of the slope. This parcel, which is made separately, is called Finca Valinas. The wine has three years on lees and is more intense than other wines I tried here. Asparagus and green apple combine with nutty lees notes and I liked the hard salt, quartz-like finish.
At Pazo Señorans, Selección de Añada comes from a 4ha (10 acres) vineyard called Los Bancales. The vineyard slopes to the north—a good thing says Vicky Mareque, since the storms come from the south. the soil is porous with a very thin top layer, and they are continually replacing the 80-year-old vines which die of water stress. (Irrigation is permitted in Rías Baixas, but those with older vineyards seldom seem to use it even in the dry vintages.) Selección de Añada produces an intense and serious wine which demands to be aged. The 2013 is chiseled and energetic with a bitter lemon edge, a note of quinine, and plenty of drive on the finish.
At Viña Nora in Condado do Tea, it was a 30-year-old vineyard belonging to Encarnación Rodríguez, a contracted grower, that caught the attention of Alexia Luca de Tena in 2018 soon after she became winemaker. It's trained on pergola trentina. "There is more density and it is protected from the afternoon sun, so the grapes mature slowly. This vineyard is on decomposed granite and the grapes are very concentrated." The first vintage was 2019 and labelled Nora da Neve. I've already mentioned the 2020, which certainly has plenty of concentration, but could benefit from less oak. 
Some of the most lauded producers are busy exploring micro terroir. At Forjas del Salnés, Rodrigo Méndez makes Finca Genoveva. The grapes come from the granite soils of a very old vineyard, somewhere 100 and 200 years old, belonging to an elderly woman. Many old vineyards, which are small and difficult to work, are in danger of dying with the last family member prepared to tend them. I tasted the 2016 vintage at Yayo Daporta. It had a toasty, salty, miso palate that combined richness and tension. I liked the firm quartzy finish, but it seemed overly evolved for 2016, something which I assume was a character only of that particular bottle.
This is the moment to describe the two single-vineyard wines made by Eulogio Pomares which I mentioned under the Salnés section. Pedraneira, Val do Salnés Albarino 2020 is delicately scented with orange blossom, while the palate is swift and pure, salty and crisp. It has a breezy ocean feel and a long precise finish. I tasted the wine over a few days, and it became more intensely saline as it evolved.
Zárate's El Palomar vineyard is the family's oldest parcel of vines and among the oldest in Rías Baixas. The 150-year-old roots pass through the decomposed granite into the rock. Palomar is a small parcel—no more than an acre. It's the only Zárate wine made in foudres, large old ones, where it goes through its malolactic—unusual for for Rías Baixas—and ages on lees. The 2020 has a lightly nutty aroma with a hint of apricot. The attack is quite rich and the mid-palate is intense and silky—a lick of gloss. There is spice, cumin, and white pepper. It sweeps into an elegant, extended, and supple-saline finish. It really is too delicious. I was captivated by Pomares's wines.
There are 22,832 vineyard parcels scatted throughout Rías Baixas, the vast majority of which have never been vinified separately except perhaps for home consumption. So one can imagine and hope that some great vineyards— planted in excellent sites by convenience rather than design—have yet to be discovered. An exciting prospect. Single vineyards will entice me back for another visit.
A distinctive and special terroir
All things considered the producers of Rías Baixas were right to focus on Albariño to grab the attention of the international market. Albariño is a strong card to play, but it's the terroir—a fusion of the Atlantic climate and granite soil together with the indigenous varieties and cultural heritage—which is the real star. And it will be terroir-driven wines from special parcels that secure a place for Rías Baixas in the world of fine wine.
At present there seem to be so many alluring wines coming out of Spain—especially from high altitudes in hot regions where old bush-vine Garnacha eloquently express the terroir—but for me there is nowhere quite as entrancing as Galicia and Albariño. Green Spain is a world apart from the hot interior and cool Galicia makes wine to beguile.
And if you get the opportunity to walk the Camino de Santiago, grab it. I confess my caminos were not spiritual journeys, but they have been enriching experiences all the same. After a satisfying day of walking, it's enough find a bed in a pilgrim hostel, a good conversation, tasty food, and a decent glass of wine. Nor can I claim to have made a voyage of self-discovery, but I have enjoyed the sense of freedom of several fabulous long walks and along the way have discovered that Rías Baixas is not only an attractive Albariño, but wine which expresses a distinctive and special terroir.