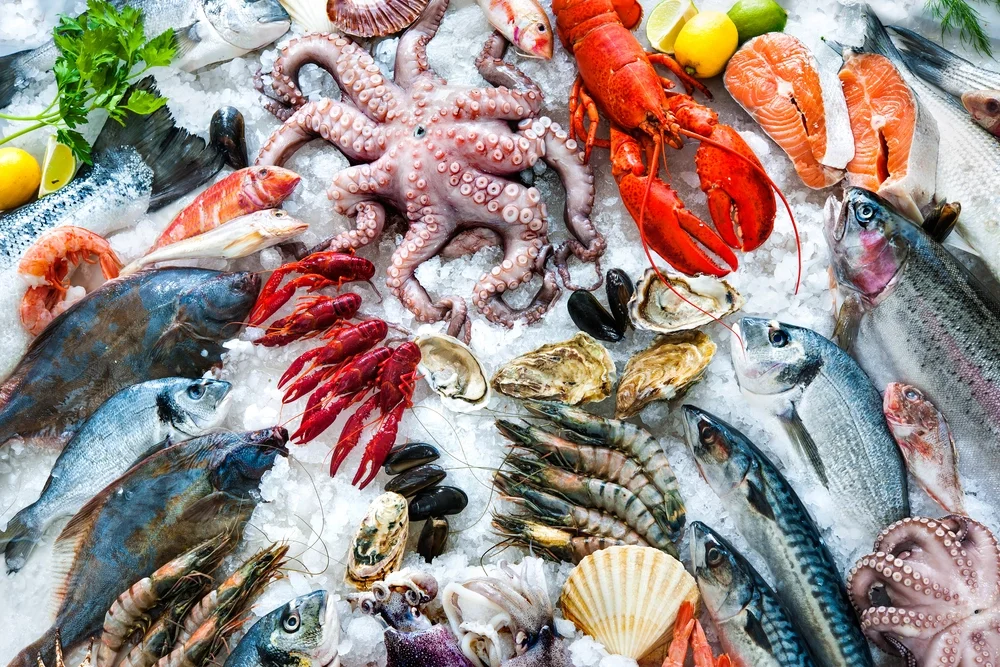 Joanna Simon speaks to winners of The World's Best Wine Lists to discover the best wines to pair with fish, before adding some delicious ideas of her own.
Pairing wines with fish is easy, surely? Inevitably, there are some fish, or kinds of fish, that need more care—oily fish, for example—but compared with, say, cheese, isn't choosing the best wines to pair with fish relatively undemanding?
It would be, perhaps, if we were talking only about fish and seafood served solo or prepared in the plainest of ways, but once we've ventured beyond oysters au naturel and pan-fried Dover sole with a few steamed potatoes and a smidgen of parsley, the chief protein is far from being the only consideration.
The idea that fish is fish and the wine pairings are obvious probably stems from both the idea that fish and seafood are delicately flavored compared to red meat or many cheeses and from the old British adage that white wines go with fish and white meat and red wines go with red meat (and heaven help anyone who suggested deviating). Many fish are, indeed, delicate, but others are powerful in flavor and meaty in texture; some, especially crustacea and molluscs, have a sweet taste; some are salty; some are distinctively oily. And that's before we get to preparation, cooking methods, and accompaniments on the plate.
The best wines for fish
Where, then, do you start when choosing the best wines to have with fish? I know the approach I take, but I wondered if leading sommeliers and food and beverage directors had alternative or opposing strategies and, in the first instance, whether their processes were the same as other foods and dishes. Turning to winners in the World's Best Wine Lists 2022 revealed that there is no universal school-of-sommelier approach.
Master Sommelier George Miliotes of Wine Bar George in Lake Buena Vista, Florida, winner of Best By-the-Glass Wine List (with Coravin®), says he approaches fish and seafood in the same way that he approaches all dishes.
In contrast, Carlin Karr, Wine Director of Frasca Food and Wine in Boulder, Colorado, winner of Best Medium-Sized Wine List in the World, thinks fish and seafood pairing is "more nuanced and deserving of inspection than pairing with other proteins. When it is great, it can be revelatory, but the wrong pairing can be so unpleasant it can truly ruin the full experience."
For George Milliotes, "The main driving force is the exact type of fish or seafood." Then he looks at how it's cooked and then finally at any sauces.
Carlin Karr, considers the type of fish and the preparation. Is it raw or is it cooked? If cooked, she looks at precisely how—grilled, steamed, butter-poached, oil-poached, seared, skin-on or skin-off, and so on. Other key considerations are the other flavor components of the dish—whether the fish/seafood is cooked in a sauce or in a bouillabaisse, for example, and whether there's an acid element to the dish. This is very much what I also do.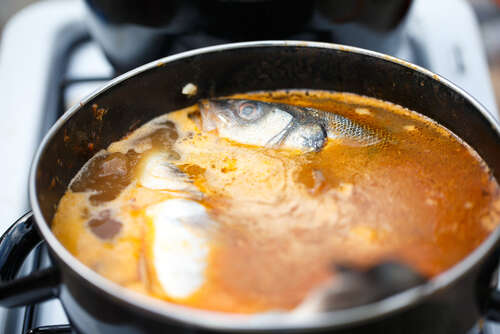 There are two kinds of wine that Carlin Karr almost always avoids: wines aged in new oak and tannic wines. Both, she finds, exaggerate "the 'fishy' quality of most fish." I'm with her on tannin, which for me often results in the wine tasting metallic—something also noted by Niels Sluiman, food and beverage director of Jonah's Restaurant & Boutique Hotel, Sydney, the Best Long Wine List – Regional Winner Australasia. And I'm with her on wines in which the flavor of new oak features loudly, but I'm not averse to oak being used primarily to create texture in wines like Chardonnay being paired with, for example, lobster (grilled and buttery/lobster mayo/in fish pie).
Niels Sluiman emphasizes the importance of the balance of flavors between food and wine and always trying to link them. It sounds obvious, but it's surprising how easy it is to get hung up on one element at the expense of the bigger picture.
He also stresses the role of acidity: "Finding the perfect harmony is based on great acidity management." Pairing, for him, depends mainly on the type of fish and the dressing. He gives two illustrations: "A John Dory fillet seasoned with apple braised lettuce and black garlic would work extremely well with textural Grüner Veltliner. On the other hand, a poached monkfish dressed with beurre noisette and roasted artichokes could work with a racy Chablis Premier Cru."
Tension and acidity come up again when he considers the best wines with salmon, because of the fish's natural high fat content. His first pick would be a Blanc de Blancs Champagne (ideally Billecart-Salmon).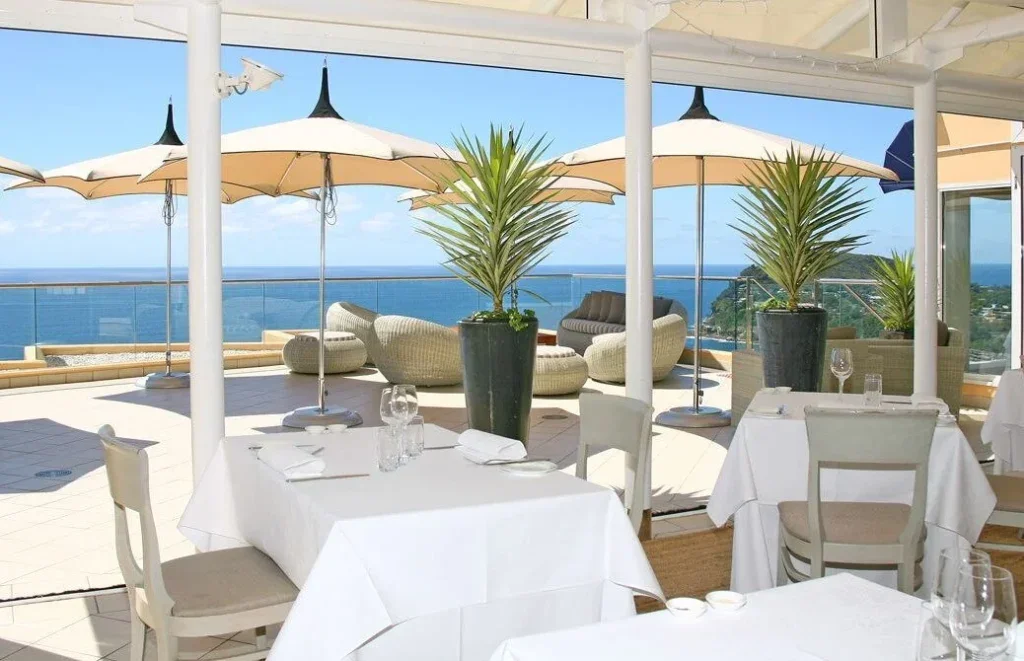 Carlin Karr goes in a different direction with salmon. She favors dry but weighty Alsace Pinot Gris, Southern French whites, including Mas Julien or Trevallon Blanc, or light reds such as Pinot Noir (from, for instance, Domaine Mugneret Gibourg or The Eyrie Vineyards), Beaujolais Cru, Pineau d'Aunis (Pascal Janvier's Cuvée du Rosier), or, for grilled salmon, Trousseau from Domaine du Pelican.
George Milliotes is on the same Oregon Pinot Noir page, choosing The Eyrie Vineyards Outcrop, but also suggests classic Napa Valley Chardonnay—Far Niente for its "rich body but clean finish"—including with "flavorful and fatty" Alaskan salmon in summer.
Progressing to the best wine to have with halibut, with its delicate, slightly sweet flavour but meaty texture, produces diverse recommendations, perhaps because, as George Miliotes says, there's a "plethora of crisp, dry whites that can complement" this fish. What the choices have in common is that they're essentially unoaked.
George Miliotes leans towards Chablis, such as Louis Michel Premier Cru Forêts, or a top quality Albariño like La Caña. Niels Sluiman advocates "precise and elegant dry Riesling [ … ] Either a Wittmann Morstein GG from Rheinhessen, or Crawford River Museum Release 2015 from Henty, Victoria. Carlin Karr likes Sicily's Etna Carricante, for its "minerality reminiscent of great Chablis but with a more yellow-fruited sunny quality". She proposes two Etna Bianco Superiore: Benanti's Pietramarina and I Vigneri's Aurora.
When it comes to the best wine for seafood, opinion is again divided, refreshingly so in my view. Carlin Carr recommends Chablis for seafood in general, commenting that it might be a bit mundane but works so well with a wide variety of seafood, not least because there's a range of quality levels and styles from different producers to accommodate different dishes. Louis Michel's name comes up again, as do the likes of Laurent Tribut, Raveneau, Pattes Loup, and De Moor. More specifically, for coastal cuisine and mixed seafood, she proposes Malvasia Istriana.
Depending on cooking methods and accompaniments, Niels Sluiman gives two options for seafood, one Italian and one Australian: Picollo Ernesto Gavi—"beautiful, crunchy, citrusy with a slight floral note"; and Gentle Folk Piccadilly Chardonnay—"delicate, seasoned Chardonnay with refined minerality and subtle nutty hints".
For George Miliotes: "It really is hard to go wrong with Sauvignon Blanc with any type of seafood/crustacean. The bright acidity [ … ] always complements the taste of the ocean […]." Having said that, he sometimes looks for "interesting, coastal whites like Albariño, dry Muscat from Malaga (Botani), Assyrtiko from Santorini (Sigalas) or Trebbiano's from Italy made specifically to go with seafood (Emidio Pepe). And with lobster, he goes for classic white Burgundy (Dujac, Pierre Morey, Etienne Sauzet, Vincent Girardin).
What about the best wine to pair with oysters? Here, consensus reigns. There are just two: unoaked Chablis or domaine-produced Blancs de Blancs Champagne from Pierre Péters, Robert Moncuit or Larmandier-Bernier for Carlin Karr; Champagne or Chablis, especially Collet Père et Fils Chablis with Sydney rock oysters for Niels Sluiman's – his end-of-Sunday-shift treat; grower Champagnes, among them Pierre Péters, Chartogne-Taillet, Vilmart, and Marc Hébrart, for George Miliotes.
I am not going to rock the oyster boat, but could also mention English sparkling wines (Exton Park RB45 Blanc de Blancs to name one), Muscadet, Picpoul de Pinet, and Manzanilla.
Red wine with fish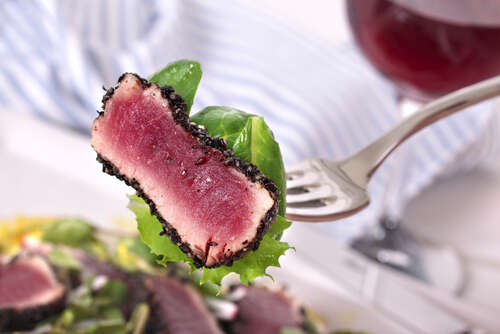 There were no votes for red wines with seafood, except from Carlin Karr, who highlighted the "salty brightness" that Mascalese in Etna Rosso can bring to the tomato-based seafood and fish stew cioppino. There is, though, backing for reds with fish, particularly with salmon, swordfish, and tuna.
The red choices are varied in grape variety and origin, but they share salient characteristics: low tannin, light to medium body, and, in the main, fresh acidity. Encouragingly, we see these more and more.
Alongside Etna Nerello Mascalese, Carlin Karr cites Liguria's Rossese, lighter, Old-World Pinot Noir, and Sierra de Gredos Garnacha, adding that preparing or pairing meatier fish with root vegetable purées, grilled/sautéd mushrooms, and beef stock make red wines all the more appropriate. Two other methods I use are wrapping and roasting fish such as cod, monkfish or halibut in prosciutto and/or poaching it in red wine.
George Miliotes' favorite pairings include swordfish with Beaujolais Cru (Nicole Chanrion's Côte de Brouilly), tuna with Merlot (Pride Montain's Napa/Sonoma blend or any from Chateau Ste. Michelle, Washington State) and salmon with Pinot Noir (Eyrie Oregon, as before, or Amisfield from Central Otago).
While Niels Sluiman is less convinced by red wines with fish in general, he says there are exceptions when the red wine has "refined and delicate tannins" and light to medium body, citing homemade ravioli filled with smoked eel "matched perfectly" with a Ceretto Barbera 2016.
What is the best wine-fish pairing?
Niels Sluiman's most memorable is Raveneau Chablis Grand Cru Blanchots 2009 with a signature dish cooked by 3 Michelin star chef Jean-Michel Lorain: skate wing slow-cooked in coconut emulsion, kumbawa, and lemongrass.
For George Miliotes, two are transcendent: Chilean sea bass and Grosses Gewäches Riesling, preferably Selbach Oster, for "the interplay of fat and acid"; and lavraki (European sea bass) with Malagousia—Greek on Greek.
Carlin Karr also has two. The first is Malvasia Istriana, preferably from Edi Kane or Vignai da Duline, for spaghetti con ricci di mare (sea urchin). Explaining it, she says Malvasia's aromatic intensity is just enough to stand up to the dish, while the clean, fresh, saline quality keeps bringing you back for another bite and sip. (It's also her top pairing with uni—sea urchin roe. Her second is fried anchovies or little fried mackerel with great Manzanilla or Fino, such as Valdespino Fino Inocente. It's "all about salt on salt […] utterly satisfying". I couldn't agree more.
The best wines to pair with cheese