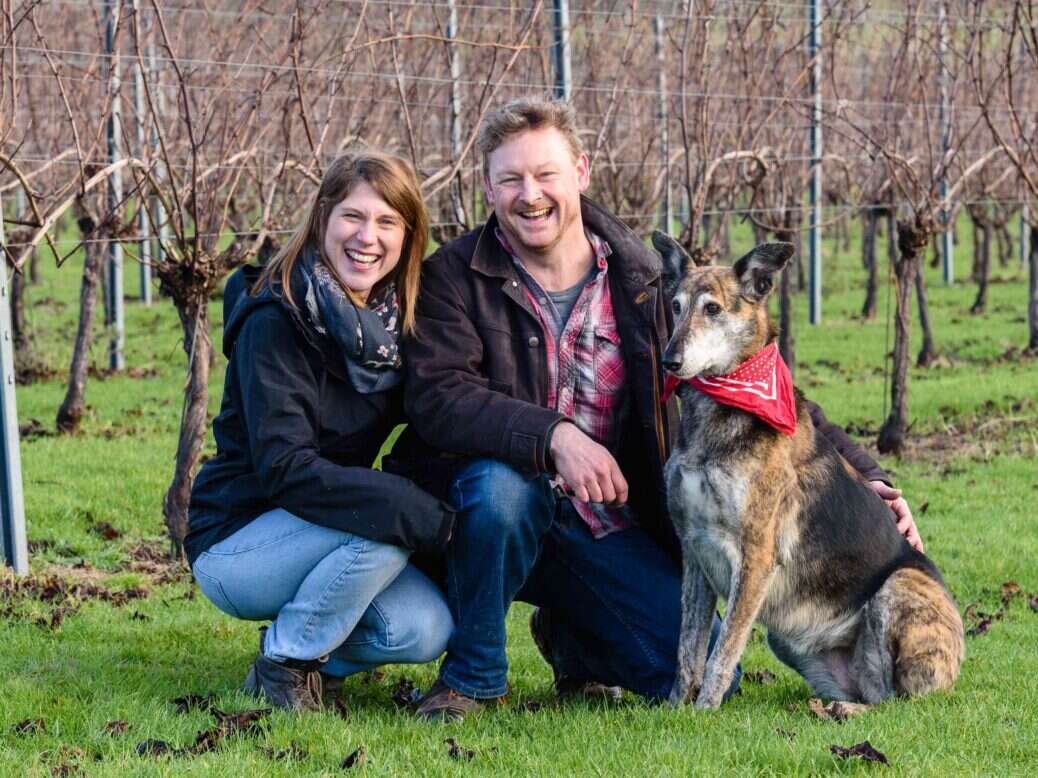 Margaret Rand meets one of the most influential and prolific winemakers on the English wine scene: Dermot Sugrue, the talented Irishman behind Wiston Estate and his own label, Sugrue.
The name, since you're undoubtedly wondering, comes from the Dingle Peninsula in Ireland, and it used to be O'Sugrue (O'Siochrué in Irish). And as a tangent (because Sugrue is good at tangents, so we might as well get into the spirit of things), if you fancy driving down a road with the sea on one side and an assortment of Neolithic graveyards, Bronze Age tombs, and early medieval beehive huts on the other, the Dingle Peninsula is for you. People have always lived there and, for various reasons over the years, people have left.
This particular Sugrue left Ireland in 1992. He comes from near Limerick (we'll talk more about his family later) and had intended to study journalism at City University in London, but he couldn't afford to go to London and instead went to East Anglia to read media studies and French.
In order to make enough money, he worked in an abattoir for 14 months. But he'd never been to France and couldn't speak enough French, and he discovered that the media-studies part of the course seemed to be based entirely on the BBC, "and I'd never watched the BBC in my life."
But there was another course, on environmental sciences, to which he decided to switch, "despite never having studied sciences before." At school, he says, there was one single teacher who taught physics, chemistry, and biology: He was "the most boring ever, and removed all sense of fascination." Sugrue was thus a science-free zone.
Not surprisingly, the first answer to his request to change his course was no. So, Sugrue went to see the dean. He said, "I spent 14 months cutting up meat to get here, and the course is not what I want." The dean picked up the telephone, and Sugrue changed to environmental sciences.
There are some people whom it is simply pointless to oppose. If they want something, they will persist—with charm, with dogged determination, with simple refusal to hear the word "no"—until they get it.
Sugrue, I suspect, is one of these people. You can never quite see how it works, only that it does. Which is not to say that things fall into their lap; they don't. But they get them just the same. And quite often the people who said "no" to them in the first place are the very people who find themselves moving heaven and earth to help.
All Sugrue says is that he's "naturally extremely optimistic. I will always bite off more than I can reasonably chew, and I'll get through it eventually. I'm like Tara with a big bone." Tara is a lurcher, a greyhound cross.
Emma Rice, winemaker at Hattingley Valley and a friend of Sugrue's since they studied together at Plumpton College, describes him as "quite a challenging character. He expects a lot from people, and from himself. He's focused to the exclusion of almost everything." There's a healthy rivalry between them. "Last year I won all the trophies," says Rice; "this year Dermot won them."
From Langoa to Nyetimber and beyond
We are still, however, not much nearer wine, so let's backtrack a bit. Sugrue had been making beer since he was 15. The local archdeacon, Brian Snow, noticed his interest in brewing "and gave me a bottle of elderberry 'Port' that he'd made himself. I was fascinated. He told me all about country wines and gave me a copy of Hugh Johnson's Wine. It was the start of my journey. I could almost recite entire paragraphs by heart."
It was a journey of tangents. After his degree, Sugrue worked as a financial adviser. "It was the age of Richard Branson revolutionizing the finance industry—call-center stuff. I was good at it, I could talk to people, establish a rapport and sell things."
In 2001 he went to Bordeaux for the first time, and he worked a vintage in Pomerol, at L'Eglise-Clinet. And having made contact via a friend of his father Roland, an equestrian judge, he had lunch with Anthony Barton and his daughter Lilian.
It was "a transformational lunch. I remember clearly, we had Château Carbonnieux blanc to start, then Langoa '83 and Léoville '85—Anthony's favorite vintage at the time."
Anthony invited Sugrue back for the vintage the following year. "My goal all the time was to go to Roseworthy," but instead he left his job and went to Plumpton, and in due course he saw a job advertisement for an assistant winemaker at Nyetimber. "There was no way I was not going to get that job.
"I phoned them up and suggested that I come round. I arrived an hour late, because I was just back from the Bordeaux harvest. I told them about that, and Peter Morgan, who was the winemaker at Nyetimber at that time, had been at Léoville Barton, so we formed a rapport. I got the job."
To begin with, he worked part time while finishing his course at Plumpton, then Morgan left to be the winemaker at Plumpton, and in 2004 Sugrue, having been encouraged by the staff to apply, became head winemaker at Nyetimber. "I was shocked," he says.
He worked alongside Jean-Manuel Jacquinot of Champagne Jacquinot, who had advised Stuart and Sandy Moss when they founded Nyetimber in the late 1980s, and who continued as consultant under the subsequent ownership; Sugrue also worked the 2006 vintage at Jacquinot.
"He taught me to make sparkling wine," says Sugrue simply. "He's still a mentor. He's a tough taskmaster, very formal, deliberate, specific. He was a good school to learn under."
Sugrue had expected to be at Nyetimber for decades; instead, he left three and a half years later, shortly after current owner Eric Hereema bought it, to start Wiston with the Gorings. Leaving was a big decision, he says, and he won't talk about his time at Nyetimber, saying only that on the day he left, he went to his vineyard at Storrington, sat down, and cried.
Because yes, by this time he had his own vineyard. There's a religious order called the Norbertines, or White Canons, aka the Order of Canons Regular of Prémontré, and they owned St Joseph's Hall, a beautiful flint-walled Arts and Crafts house on a hill near the village of Storrington in Sussex, near their priory. It's not far from Wiston, or Nyetimber.
The Norbertines had approached Sugrue because they were thinking of planting a vineyard, and they wanted to know if it was a good idea. He looked, said yes, it was a good idea, and that he would help them and make the wine for them. It was planted in 2006.
A few years later, when they sold the priory, they offered the vineyard to him, but he didn't have the money; they offered it to Harry Goring of Wiston, but he said he had enough already. (Vineyards, that is, not money.) So it went to the buyers of the house, a German businessman called Gerd and his wife Marie-Helene. They were happy for Sugrue to rent the vineyard—4 acres (1.6ha) now, though just 1.5 acres (0.6ha) to begin with—and that was where he took his hopes and fears the day he left Nyetimber.
He'd met the Gorings when they had visited Nyetimber to investigate planting their own vineyard; their first thought had been to take their grapes to Nyetimber for vinification. All these things happened in the same year: he worked the vintage at Jacquinot, planted vines at Storrington Priory, and left Nyetimber. Wiston was planted in 2006 as well, and so was the Mount Harry vineyard near Lewes, although that didn't enter Sugrue's life immediately. Let's stick with Wiston for the moment.
It seems to be a happy meeting of minds. They accept him, he says, and "I understand them. I get them. They're hardworking people, and they deserve all the success they have… They gave me a huge amount of freedom and trusted me to make Pip Goring's dreams come true. She arrived here in 1972 [from South Africa] and had asked to plant a vineyard. It happened 35 years later. They gave me a tremendous amount of respect, and a long leash. They said, 'Dermot requires a long leash.'"
At another point he says, "I'm not a respecter of rules. I don't fit into corporate culture very well." Rice, for example, sits on committees: "I like to get involved," she says. "Dermot keeps himself separate."
Sparkling wines as fine as they come
He has responsibility for a lot of wines, however. He made wine for about ten clients in 2021, and he reckons he's worked for about 30 vineyards over the past 12 or 13 years. These days he turns down about five a year, and any he does take on are long-term clients. Current wines made at the winery at Wiston include Jenkyn Place, Digby, Black Dog Hill, and of course Sugrue.
Sugrue used to be called Sugrue Pierre. What changed? "The name 'Pierre' was deleted after a widely celebrated divorce," says Sugrue. "Everybody thought my name was Pierre Sugrue, and it sounded like the name of a grower Champagne"—which he found rather entertaining.
"I've gained a lot of experience, and I've been able to hone my style." Which is? "It's what sophisticated drinkers want to drink today: something with acidity, minerality, fruit, freshness, that can age."
His wines, if I can elaborate, are tense, salty, and savory—and then, when you look at them from a different angle, delicate and floral, too. They're complex, pure, detailed, and with endless depth. Sparkling wine doesn't get much finer than this anywhere, not just in England.
Pinpointing how his own wines differ from Wiston's is tricky. The terroir is different, of course, just as the terroir of both Sugrue's vineyards differs. Wiston is more austere, to my palate, and it needs plenty of bottle age, but when it has it, it's beautiful—again, that magical, refined acidity you get from chalk.
Both are expressive and revealing, like a pebbly beach as a wave draws back: There's that same sense of ease and tension, of texture, of control, and of wildness. And interestingly, the fall 2021 release from Wiston, the Blanc de Blancs NV in magnum, is a step away from extreme austerity, and it's more approachable without being any less precise.
The winemaking is pretty much the same for all the wines he makes: "Very simple, no bells or whistles. The techniques are the same; the differences are in the fruit. I use old oak in a gentle way, and steel; I do the malo when it's needed, but I tend not to do it. Then it's about pressing gently and respecting when to cut the juice. Then letting it mature in the cellar for as long as possible—four years minimum, and if it can age for longer, that's fantastic for the wine. Dosage decisions are done blind."
Later he says, "What I value in the wines I make for Wiston, Sugrue, and others is that steely, racy, precise, reductive style of winemaking."
He and Rice agree that while her approach is scientific, his is more intuitive. But, like all winemakers, he has to deal with what happens in October, "when you get 15 tons of Pinot Noir instead of two tons, and 15 tons of Chardonnay instead of 30 tons."
The Storrington vineyard is up on a plateau, with a clay cap over the chalk and fairly high pH. The clay cracks when it's dry and tends to waterlog in rain; it needed improving with horse manure. There are now three parcels; Sugrue had assumed they would all be the same as the original parcel, but in fact they all have different pHs.
It's planted 60:40 Chardonnay:Pinot Noir, with about 50 Meunier vines, it gets full sun from morning until late evening, and it's protected by trees and a graveyard where a lot of Irish are buried; it's a beautiful, peaceful spot.
Sugrue's style is based not just on Champagne but specifically on Côte des Blancs Chardonnay: Chardonnay on chalkis what he loves most of all. "If I could work with just one variety and soil type," he says, that combination would keep him happy for decades.
Would it? "I think so. I'll dabble in still every now and again—still Pinot Noir red, still white for the restaurant, but there are no limits to the quality we can make in sparkling. It will all end badly with climate change, but we're in an amazing patch with sparkling wine now."
The restaurant? Wiston will open one*, along with a visitor center, and it will be pitched at the same level as Wiston's wine, which of course is high. And Sugrue himself has plans to open an oyster bar at a famous local pub, the Fountain Inn at Ashurst; this also gives him the chance to have a cellar door for his own wines, which he couldn't otherwise have.
Those wines famously include The Trouble with Dreams. Why would you call a wine that? It's the title of a song by US band Eels, and it was relevant because 2008 was set to be the first vintage from the Storrington vineyard—then birds came along and ate the grapes. All of them.
The next year, though, was luckier. The 2010 and 2011 vintages won accolades, and Sugrue began to realize that his little vineyard had grand cru potential.
But 2012 was a dreadful year: "I didn't pick anything and spent £25,000 on normal expenses." That was when he decided that it was twist or stick, and it was when Mount Harry appeared.
Mount Harry comprised 6 acres (2.5ha) and been planted by Tim and Alice Renton, who were getting old and wanted someone to rent it from them. Did he know of anyone, they asked? Yes, he said: me. "It's pure chalk, something wonderful. Storrington has more roundness, structure, and weight, while Mount Harry is steely, linear, and pure."
He also bought some fruit from Jenkyn Place in the small 2015, '16, and '17 vintages, "in order to have wines to sell; I know every inch [of Jenkyn Place]."
Dosage is 6g/l in The Trouble with Dreams 2015 and 9g/l in Cuvée Boz 2015. Blanc de Blancs Cuvée Boz is named for his "ardent and accomplished" brother, Barry Ben Sugrue, who took his own life after the financial crash.
A multivintage, Dr Brendan O'Regan, is deep and rich, powerful, more opulent than the others, and a tribute to his granduncle, who established the world's first duty-free shop at Shannon airport. "Bang On Regardless, they called him," says Sugrue. "He would plow through things until he achieved something, then drop it and move on to something else. I have a bit of that. It's not a bad thing, but it can leave a bit of a napalm trail sometimes."
If he hadn't gone into wine, he would have liked to be a journalist—that early ambition to study journalism in London. "I'm not that interested in things I'm not possessed about. I like to write and don't do it enough"—and it's in his family. One grandfather, a chief inspector of Irish schools, wrote a dictionary; others wrote poetry and short stories. And his whole Irish heritage is taking on new meaning now that he can introduce Ana to it.
Ana is Ana Đogić. She is now part of Sugrue South Downs, and they got engaged two weeks before I visited. She is Croatian, and perhaps not entirely by coincidence, Istrian whites are among the wines he lists when I ask what other wines he would like to make, if he could make anything. Douro varieties, too: "I'm not a fan of Port, but the reds and whites are remarkable." And Austria: 'I'm slightly jealous I didn't know Ana [when she was working] in Austria. I've fallen in love with Austrian wines."
But the here and now has plenty to offer. "Nothing is more exciting than the phases of the year: budburst, cold stabilization, the moment of bottling—there's no more exciting way to kick off the summer, with a bunch of enthusiastic youngsters. At Wiston in 2018, I was the only one who had ever done a harvest at Wiston before. All the others were brand new. In 2020, the entire management team was new."
English wine is attracting new entrants—but they are not, Sugrue stresses, early adopters, even if they think they are. "Early adopters have been in this game for a few years. People are sitting round having conversations about getting in early now, but it's like a stock-market bull rally, the [current] rate of planting. It's a bit of a gold rush. There'll be a shakedown."
At the time of writing, St Joseph's Hall was for sale, along with its vineyards. Dermot says he was worried, but now he is not. "I shall manage the vineyards and make wine from them nevertheless. I am planning to spread (quite literally) shitloads of farmyard manure on them this spring and prune them regardless… All that matters is I get grapes from this wonderful 4 acres [1.6ha] and make hay while the sun shines."
The sun as it was in 2020, however, not 2021. There are limits to optimism.
*Since this article was first published in Issue 75 of the print edition of The World of Fine Wine in March, 2022, Wiston Estate has opened Chalk Restaurant.
Click here to subscribe to The World of Fine Wine.