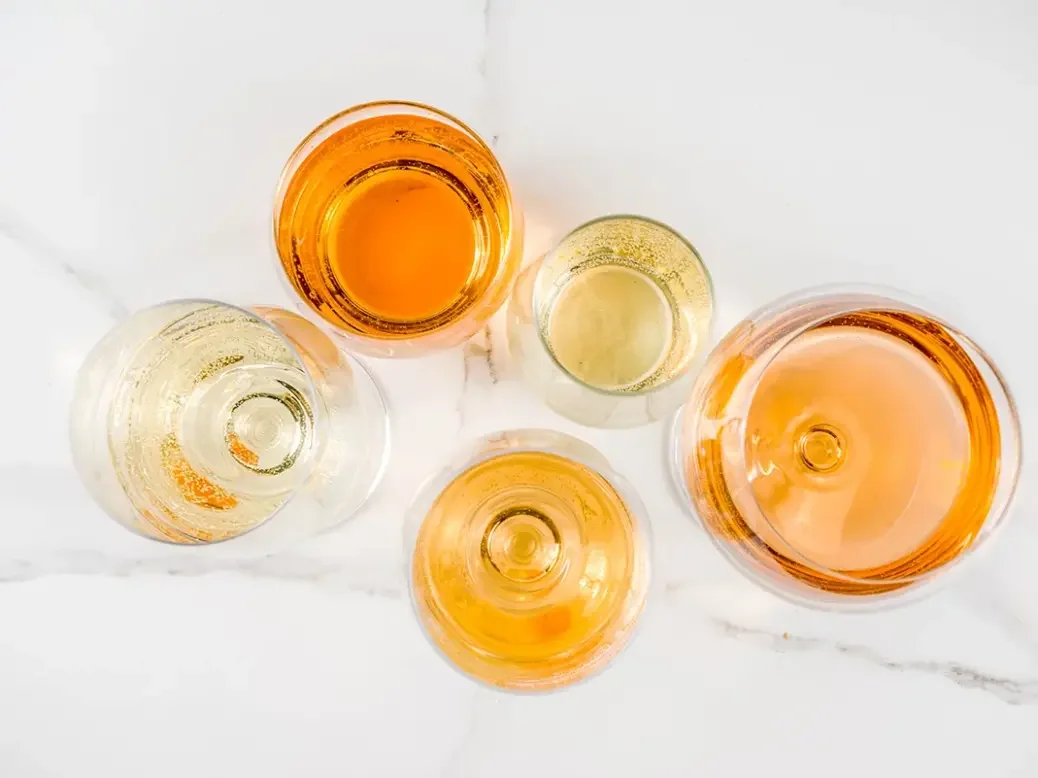 David Williams is joined by Anne Krebiehl MW and Francis Percival for a stimulating tasting of the fashionable but still divisive category known variously as amber, orange, or skin-contact white wine, featuring wines of multiple hues and origins made from macerated white grapes.
For scores and detailed notes on all 31 wines included in the tasting, subscribe to The World of Fine Wine.
In his justly acclaimed 2018 book, Amber Revolution, Simon J Woolf describes the moment, in 2011, when he first tasted an example of the style of wine that would go on to become his abiding obsession. In Woolf's telling, his encounter with this "luminous amber liquid, seemingly tinged with an electric pink afterglow" in a cellar in Trieste had a road-to-Damascus quality: He was an instant convert to the various-hued genre of wines made from the extended maceration of white grapes that, at that point, was still very much in the realms of the recherché. 
In the 12 years since Woolf had his transformative moment, many more wine lovers—this writer included—have undergone a similar conversion experience. This development is difficult to trace statistically, since skin-contact, orange or amber wines are all listed as white wines for official administrative purposes and don't show up in export or sales data. Still, the anecdotal evidence all points toward an appreciative rapidly growing, audience. Many more producers are making macerated wines in many more parts of the world (even if, in many cases, their efforts extend to no more than a single, small-production wine per vintage); dedicated orange or skin-contact wine sections are now a common feature of serious wine lists and specialist merchants' shelves, with many more sommeliers prizing them for their food-pairing versatility. In the UK at least, this countercultural style has been opportunistically appropriated by The Man, with a handful of mass-produced orange wines now being sold, to the profound distaste of many of the style's original supporters, by those bastions of industrial wine, the supermarkets.
Resisting contact
Macerated white wine has arrived somewhere near the mainstream, then, though not without a struggle and not without retaining, maybe even adding to, the crowd of skeptics, critics, and pedants that has traipsed around miserably in its wake, questioning its legitimacy, ever since Gravner, Radikon, et al embarked on the courageous process of rediscovering the ancient art of maceration in the culturally fluid zone where Italy segues into Slovenia, 30-something years ago. 
The continued resistance to skin-contact white wine in some quarters is largely explained, I think, by the style's connections to the natural-wine movement. While these wines need not be made with a strictly dogmatic natural approach (plenty of the leading practitioners have always been comfortable with adding SO2, for example), much of it is produced and sold by winemakers and merchants operating within that milieu. Clearly, many critics have been unable to separate skin-contact wines from the culture that incubated them, viewing the effects of extended maceration as if they were a kind of side-effect of what they see as a sloppy, risky, laissez-faire approach—a white wine spoiled, rather than an orange wine gained, as one retailer once put it to me. 
Another very common objection, voiced most recently to me by Yiannis Paraskevopoulos—the thoughtful and highly influential winemaker, professor of enology, and co-owner of Gaia Estate in Santorini—is that extended skin contact in white wines has a leveling effect: a polite way of saying that all orange wines taste the same. "You lose the terroir and you lose the flavor of the grape," Paraskevopoulos told me, a statement that was all the more provocative given that it was made in the context of a tasting of his own estate's (very good, and very "Santorini," I thought) Clay Orange Assyrtiko.
Such generic objections are easy enough to dismiss. As I said to Paraskevopoulos, there is a curious double standard at play in his critique: If the use of a few days' maceration on the skins inhibits terroir and varietal expression in white wines, why is the same not true with red wines? What dread, deadening property do white grape skins possess that red grape skins don't?
I've yet to come across a convincing answer to this question or any satisfying explanation for why skin-contact white wines are, by definition, incapable of being wines of place—an absence that only adds to my sense that this and other objections to the genre have more to do with the discomfiting shock of the ancient experienced by some tasters than any properties inherent in the wines themselves.
As with the wider natural-wine movement, the reemergence of skin-contact wines calls to mind the bumpy, apparently logic-defying transitions or "paradigm shifts" between incommensurate world views that the philosopher of science Thomas Kuhn thought constituted scientific progress. Judged according to the precepts and values of the hyper-technical paradigm that became dominant in the wine world of the latter part of the 20th century (and that still linger in much of it today), of course, skin-contact wines seem wrong-headed at best, faulty at worst. Viewed within the context of a contemporary wine scene informed by 30 years of challenges, experiments, and provocations by natural and skin-contact-curious winemakers, however—in other words, on their own terms, in their own context—they begin to make a great deal of sense. 
Tasting skin contact
Even for those of us who have taken the leap of faith required to engage with them, the very newness of the category (in its modern form) has its challenges, for producer and taster alike. For the taster, it's a matter of adapting and widening our aesthetic frame of reference and learning how to move beyond an initial infatuation with maceration in and of itself (a preoccupation with the "generic orange wine flavors" observed by Francis Percival in some of the less successful wines on show here) toward a more discerning appreciation of the many nuances that come with greater experience of these wines. For the producer, it's maybe more about understanding that enjoyable skin-contact wines, rather like rosé wines, cannot be made successfully with grapes that have been grown with another style in mind, or with a method borrowed wholesale from another region or variety. As Alicante winemaker Pepe Mendoza told me recently, the kind of 60-day maceration that might work for thin-skinned Rkatsiteli in Georgia, for example, will produce something very bitter and extracted from the thicker-skinned Muscat of southern Spain. 
This is still a moment of intense experimentation, with producers working out how best to apply the technique, for how long, to which grapes picked at which point. And, as with any experimental moment, that will inevitably lead to a more pronounced variability of both style and quality than is found in more established, settled genres .
Both types of variability were at play in our tasting, with our 31 candidates running the gamut from full-on amber to wines that would surely not have been identified as skin-contact in a different context. The dizzying stylistic (and geographic) range was matched by a wide range of scores and by some intriguingly and amusingly extreme variations between tasters on certain wines. Perhaps inevitably, much of our attention was focused on texture, with the lower-scoring wines often suffering from issues with tannin management, with the pleasing grip and refreshingly contrasting bitterness of the better wines tipping over into the uncomfortable sensation of overstewed tea in less successful efforts.
All of us, however, found some outstanding wines and a great many more that were, according to the WFW point system, "very good," with our favorites neatly, if differently, arranged along the current skin-contact stylistic continuum. The best are thrilling, gastronomic, individualistic wines, utterly original in flavor and texture. And while they are made from very different varieties and maceration regimens, in very different places, together they show, as Anne Krebiehl MW puts it so nicely, "how much creative and expressive scope there is, and how much of what is otherwise often discarded holds both flavor and grip."
The Top 5: The best skin-contact whites
Gravner Ribolla Venezia Giulia Italy 2014 (14% ABV) | 93
AK | Glowing orange in the glass is followed by a lightly honeyed nose. The palate is bone-dry and slender but has a meaty, flesh-like vibe to it. The tannins kick in beautifully, almost Cabernet-like, with structure and framework. Concentration and freshness follow. Where is the steak? This really does come across as a red wine, just with a brighter, more citric fruit. Unusual but certainly most appetizing and balanced. | 90
FP | Deep copper color. Epic in its scale. Ripe and mouth-filling, with significant complexity. The tannins here are silky and fully integrated. The nose is polished and clean, with touches of dried fruit and freshly baked bread. The taut structure really demands a little more time in bottle, but this is full of possibility. | 96
DW | Deep dark amber color; clear and bright. Real symphonic complexity and incredible power and intensity. Aged tones, Tawny Port-like combination of dried fruit and nut and fig and chocolate, and even a touch of cigar box and cedar; some black cherry and real cherry-ish acidity; black olive and an olive-oil-like texture. This is where you begin to see orange wine as a genre unto itself and one with an awesome array of possibilities. | 94
Bozidar Zorjan Dolium Muskat Ottonel Štajerska Podravje Slovenia (13.5% ABV) |93
AK | Golden, slightly hazy orange in the glass. The nose speaks of subtle honey and dried orange peel. The palate immediately strikes with a bone-dry, slightly astringent but pleasant aspect, which brings a delicious and subtle bitterness to the fore. This is for the table whenever an assertive yet subtle note is required. The bitter orange-peel finish is wonderful and lasting. | 92
FP | Light copper color. Lovely aromatic lift. Floral and very pretty, with a pleasing bitter-almond finish. Apricots on the nose. Quite a sensual wine, with a rich viscosity that is balanced by silky tannins. | 93
DW | Invitingly aromatic nose of honeysuckle and muscat floral tones. Juicy, wonderfully succulent, and balanced palate, which feels harmonious and true, with a burst of fresh Muscat grape combining with blood-orange tang and bitterness and beautifully supple tannins. Fresh on the finish and just begging for food. | 93
La Garagista Vinu Jancu Vermont United States 2018 (12.5% ABV) |92
AK | A darker and ever so slightly cloudy amber in the glass. The nose has funky elements of farmyard but also of lifted orange peel. Beautifully pithy notions of orange peel and pith define the palate both texturally and aromatically, while preserving some kind of meaty funk that I find appetizing. The finish is bone-dry, visceral, and long—very appealing indeed. | 91
FP | Hazy and amber in color. Really lovely aromatic definition; there is passion fruit, mango, and pineapple, but also a streak of floral honey. The maceration has given good weight to the wine, though it is the acid that provides the driving force of the character. Forceful and persistent, but with plenty of easy charm. | 92
DW | Slightly cloudy orange-amber. Fruity nose, orange and raspberry; a touch of sweetness in the tropical fruit, which complements the bitter-lemon notes and subtle tannic grip, and there is some just-contained, febrile acidity à la icewine. It's an unlikely mix on paper, but it's balanced enough to make it work in the glass. | 92
Same River Twice Vin de France Rhône France 2022 (12.5% ABV) | 92
AK | Golden richness in the glass segues to an almost golden-apricot and peach glow on the nose. Hints of fresh Navel orange and juicy satsuma flesh make this even more enticing. The palate retains this attractive, citric juiciness and enfolds it in a fine web of tannin that adds a lovely dimension to the light, bone-dry body of the wine, ending in a slight almond-skin bitterness. The finish is a lasting note of fine lemon and bitter pith, absolutely mouthwatering and totally versatile. Delicious and so balanced. | 92
FP | Rich deep gold. Sophisticated. This is a very different take on maceration: green raisins and orchard fruit give an autumnal character; there is even a touch of cinnamon. Green apple acidity coheres well with the whole, while the tannic structure takes a back seat. An amiable wine with plenty of charm. | 93
DW | Rich amber-gold color, just leaning into "orange." Attractive, typically orchard-fruited traditional white Rhône nose; the palate is sumptuously peach-apricotty, the atmosphere drowsy and late-summer garden fragrant, the extended maceration apparent only in the very subtle streak of bitterness that lends contrast to the finish and in the very modest sprinkling of tannin. Fruit-filled finish. | 92
Testalonga El Bandito Swartland South Africa 2022 (13% ABV) |92
AK | Bold and burnished gold in the glass, continues with notions of sun-warmed straw-bales and slight meatiness on the nose. The palate is bright, also inflected with that same meatiness, but focusing on lemon brightness and citrus pith instead. The lemony verve here is luminous and takes over, to the advantage of the entire wine, backed by very fine phenolics. | 92
FP | Dark straw color. Nose of saffron and quince. A macerated white, rather than an "orange" wine, but very harmonious in its whole. This is fresh and lively, the acidity providing the grippy sense of astringency, rather than any tannin. Good persistence on the long, honeyed finish. | 92
DW | Clear, bright yellow-gold. Clean, gently honeyed, ripe apple, very racy and true, with some burgeoning creaminess; the merest hint of tannic bite and nothing in the least bit funky. This is a very incisive and tangy white wine with substance. | 92