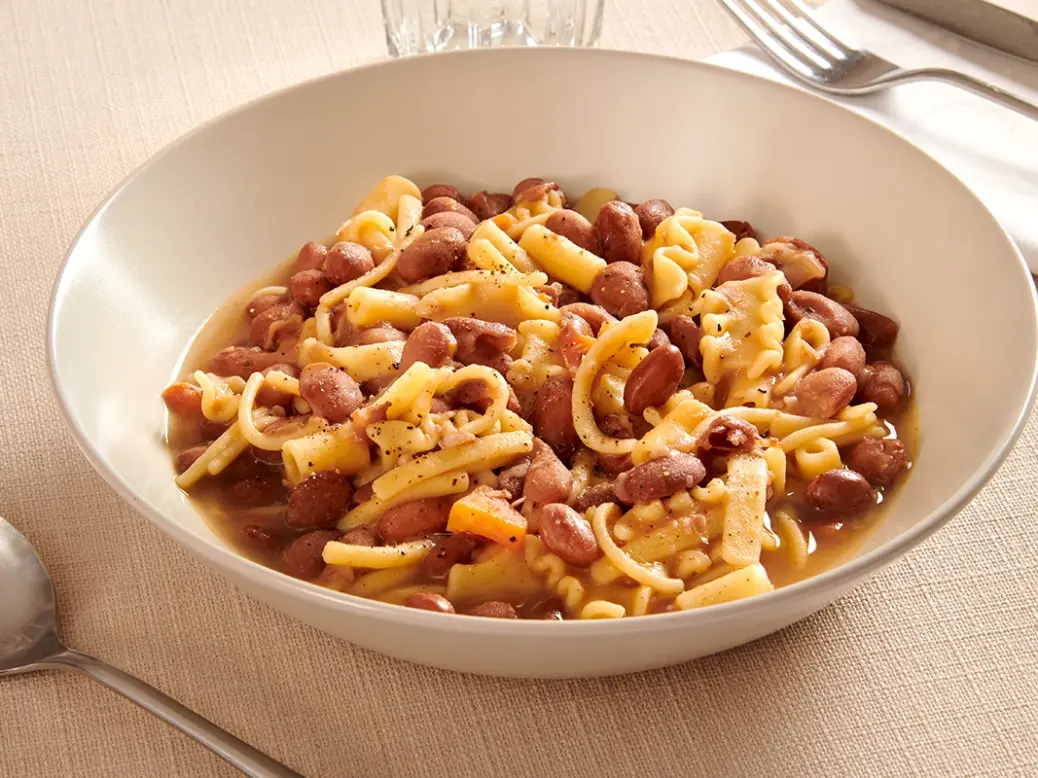 Joanna Simon offers some trenchant views on the preparation of the Italian bean and pasta soup pasta e fagioli and the best wines to serve with it.
Once I started researching pasta e fagioli, which I thought I knew well, I discovered I was under a misapprehension. I thought that this rustic, chunky Italian pasta and bean soup was Roman in origin. It may be, but there are other claims, including for the Veneto and Tuscany, and there's a strong case for saying that it originated further south in Naples, in the province of Campania.
There it's called pasta e fasule (or pasta fasul or fazool in New York Italian dialect), and it has long been popular, although, as a peasant dish, it was not written down until relatively recently. The first documented Neapolitan bean soup is a recipe in the iconic 19th-century cookbook, La Cucina Teorico-Pratica by Ippolito Cavalcanti (1837).
Wherever pasta e fagioli comes from, beans have been a staple of Italian cooking for thousands of years, although they wouldn't have been borlotti until after the discovery of the Americas.
One thing I'm sure I'm not wrong about is that it's a very easy recipe of few ingredients but one that can easily be spoiled in the usual way: seeking to improve it by adding other ingredients. Pasta e fagioli is definitely a case of less is more. In my view.
And now that I've expressed a view, I think I should let you have the rest of mine on the subject. I'm not saying that this is the one authentic—there are regional variations and internecine variations within families—but it's what I do and naturally I think it has an aura of complete authenticity.
Starting with the beans: they have to be borlotti. So that's no to cannellini beans. Borlotti have a deeper, richer, earthier flavor, with a hint of the nutty sweetness of chestnuts. Fresh or dried are infinitely preferable to canned, but I have been known to resort to cans (no one is perfect).
For the soffritto (sautéed vegetables) prepared while the beans are cooking, I use onion, celery, and olive oil. Some people also include carrot.
Tomato: I favor a good passata, but some cooks prefer canned plum tomatoes crushed roughly in the pan. Others use fresh tomatoes—and perhaps I would if had the abundance and quality available in southern Italy. Others choose tomato purée. Your choice.
As I have already suggested, pasta e fagioli should not be a kitchen sink of a dish weighed down with a list of ingredients of which Ottolenghi would be proud. So that's no to additional vegetables such as cavolo nero and chard, no to a herb-garden's worth of herbs, and no to prosciutto or pancetta, although I concede that the latter occur in regional variations. And it's a big no (or "No, no, no," as one notable British prime minister might have put it) to Parmesan. For herbs, I use a couple of bay leaves, but you could add a sprig of rosemary or thyme or some parsley stalks.
As for the cooking liquid, I use the water in which the beans, fresh or dried, were cooked, but you could opt for stock/broth (either vegetable or meat). Indeed, it may be a good idea if using canned beans. What isn't a good idea is wine: it's a waste of wine and may add unwanted acidity. Adding the liquid bit by bit as if making risotto is also entirely unnecessary, but it's worth having some boiling water ready at the end in case it needs thinning.
The pasta, added once the beans are cooked, should be short and tubular, such as ditalini, cavatappi or tubetti, or maltagliati (small, flat, irregular square or rhomboid shapes), or mixed shapes (pasta mista).
Although you should be ready to thin it if necessary, pasta e fagioli should be a thick soup-cum-stew—the consistency achieved by taking a cup of beans and a little of the liquid once they're cooked, puréeing them (I use a stick blender), then returning the purée to the pan immediately before adding the pasta. I'm sure I don't need to say that you should remove the pan from the heat while the pasta is still properly al dente.
I serve it drizzled with single-estate extra-virgin Tuscan or Sicilian olive oil, which isn't strictly authentic but is delicious.
Pasta e fagioli: Simple, rustic matches?
Can such a simple, rustic soup require anything but its equivalent in wine terms? In answer, I would ask: how often have I been served chunky, peasant-style cabbage soups at leading Tuscan estates with the estate's wines, sometimes entry-level Toscana or a Rosso di Montalcino, rather than the flagship Chianti, Brunello, or Super-Tuscan, but not always.
The question was rhetorical, but the answer is: enough to feel vindicated in doing the same if I feel like it. If I had a good supply of Tignanello (two vintages of which I was tasting last week at London's new Cantinetta Antinori), I would be happy to pair one bottle with pasta e fagioli, followed perhaps by lamb. The point is that the simplicity of the pasta e fagioli ensures that the wine is the star.
But far more often I choose a simpler, young Italian and am not confined by Sangiovese-based Tuscans. To give a few examples: Avignonesi Rosso di Montepulciano, Ciacci Piccolomini d'Aragona Toscana (2020), Ceretto Bernadina Nebbiolo d'Alba (the 2020 is particularly food-friendly), Brigaldara Casa Vecie Valpolicella Superiore (here, too, the 2020). Barbera, when it's not an ambitious, oaky style, can be another good call; likewise, Aglianico, if it's not overly tannic.
Biondi-Santi Riserva 2016: The more things change …
Beyond Italy, I look for youngish reds with a savory rather than a predominantly sweet-fruit accent, characteristics that may derive from soils, grape varieties, age of vines, altitude, biodynamics, and any number of other variables. We see more and more of these: wines such as Mencía from Bierzo's schist soils; Marcillac from a pocket of iron-rich soil in southwest France and other wines from the southwest's distinctive local grape varieties, including good, entry-level Cahors; red blends from Swartland's schists and granites; and Lebanese red blends.
It doesn't have to be red wine, but whites tend to get lost. I would urge orange wines or Sercial Madeira instead. Chewy, grippy Georgian orange wines work, but so do the gentlest orange styles, among them Calmel & Joseph Amstramgram Pomone 2022, a Roussanne, Marsanne, Terret Gris blend of quiet textural charm. A Madeira that shines with pasta e fagioli is Henriques & Henriques 10 Year Old Sercial, with its walnut and sultana warmth braced by the defining salty, smoky, orange-peel tang. It's also a fine match for smoked salmon, but that's another story.