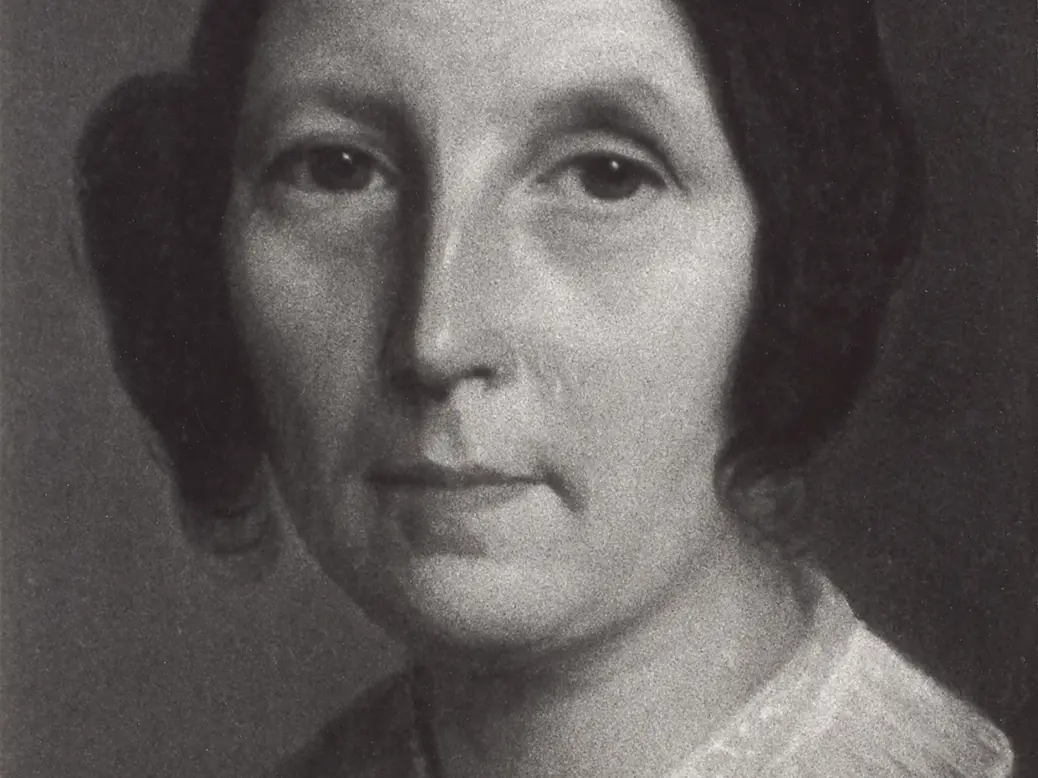 Anne Krebiehl MW joined a select group of Champagne-loving women for a spectacular tasting celebrating the dedicatee of Billecart-Salmon Cuvée Elisabeth Rosé.
Elisabeth Salmon's portrait, which in honor of the day had replaced that of her husband Nicolas François Billecart in the dining room, is striking because it is so honest. Painted to depict not only likeness but character, it shows a middle-aged woman, unsmiling, but with open, honest, and knowing eyes. Her hair is parted in the middle and pulled back, her plain white lace collar is unostentatious on the black dress that does not reveal any décolletage. Her demeanor is that of a kind but modest woman who knows who she is. Her gaze suggests that she had not always had it easy and that she knew a fool when she saw one.
Writing about women in Champagne is a well-worn trope. There they are, widowed but determined, resourceful, savvy, and plucky. Their stories, collectively, have become a kind of lore that not only smooths over but reinforces the patriarchal structures in which they moved. These women's lives were the exceptions that proved the rule. I am not writing this in order to demean or diminish—on the contrary, merely to look at things as they really were. Because once you look a little closer, you find countless women whose influences were fundamental and instrumental, acting with equal determination but mostly unsung.
Elisabeth Salmon was one of them. Born in 1797, she married Nicolas François Billecart in 1818. Both their families were local to Mareuil-sur-Aÿ, her seven-time-great-grandson Mathieu Roland-Billecart says. "For all we know, it was a marriage of love, which was unusual at the time." They decided to create a Champagne house at a time when second fermentation still could not be fully controlled and sturdy glass bottles were not always guaranteed, Roland-Billecart explains, adding that making Champagne was a rich person's game. While the Billecart-Salmons were not poor and owned vineyards in Mareuil-sur-Aÿ and Chouilly, they were not rich, either. Yet the young couple went ahead, because Elisabeth's brother Louis Salmon was a winemaker. He acted as chef de cave—it is his signature that can be found in all the blending books. Nicolas François Billecart was the businessman, and in order to sell the Champagne, he traveled a lot. It was left to Elisabeth to run not only the house and household, raising two children, but the business as well. This, I think, is what we can read in her face.
It was in 1988 that Billecart-Salmon honored Elisabeth Salmon by naming their Vintage rosé after her. The house already had a name for rosé, because production of pink Champagne as rosé d'assemblage started in the 1960s, when it was still a niche interest for most houses. But Roland-Billecart notes that the house had made a rosé de macération, so-called oeil-de-perdrix, since at least 1840.
Privileged insights
On the occasion of World Women's Day, March 8, 2023, a small group of Champagne-loving women were welcomed to the house in Mareuil-sur-Aÿ to celebrate Elisabeth Salmon. This is why her portrait had replaced that of her husband for the night, a beautiful gesture for what unfolded—a deep dive into the house's rosé tradition, ending with a spectacular vertical of Billecart-Salmon's pink prestige cuvée, Elisabeth Salmon Rosé, all under her open gaze from the portrait.
Mathieu Roland-Billecart was as outspoken and open as ever—a charming and articulate host for an international bunch of equally outspoken women, all of us devotees of fine Champagne. We were allowed a taste of the current assemblage that will turn into Billecart-Salmon Brut Rosé NV—the lot we tasted is likely to be disgorged in around three years' time.
Straight afterwards, we got to taste the finished product, in our case from a lot with the 181097 code on its back label, revealing on myorigin.billecart.fr that it is based 61% on its youngest vintage, 2018, with 39% of reserve wines going back to 2014. The assemblage is 32% Pinot Noir, 43% Chardonnay, and 25% Meunier, the base wines all fermented and aged in stainless steel, undergoing partial malolactic fermentation. This wonderfully informative data label also tells us that it was disgorged in the first trimester of 2022, with a dosage of 6.85g/l.
As dinner unfolded, prepared by chef Benjamin Gilles and paired with four vintages of Cuvée Elisabeth Salmon, we were also treated to the wine that lends color to this exceptional pink Champagne—a red wine from the Valofroy parcel in Mareuil-sur-Aÿ. Valofroy sits just above Clos des Goisses and is fully south-facing. Its 80-year-old Pinot Noir vines—the oldest vines of the house—deliver a yield of around 3,000kg/ha and the destemmed fruit is vinified into red wine that is used to color the Elisabeth Salmon cuvée. It is made from free-run juice only, cold-fermented with as little skin contact as possible. As soon as enough color is extracted, the wine is pressed gently and finishes fermenting as juice only. This was a one-off taste of a wine that is never commercialized.
Tasting
Billecart-Salmon, Mareuil-sur-Äy; March 8, 2023
Billecart-Salmon Brut Rosé Base Assemblage 2022
Tasted before tirage, the nose still carries estery fruitiness as well as reduction on the nose—a direct result of the cold fermentation and reductive handling at the estate. It is on the palate that the qualities we love about the house's calling-card Brut Rosé NV become apparent: mouthwatering freshness, gentle fruit, focus, and bright vivacity. | NS
Billecart-Salmon Brut Rosé NV
(Code 181097)
The nose opens with gentle hints of sunny peach and plum. The fine mousse accentuates the gentle autolysis with a pleasant edge of saltiness. The elegant palate is citrus-focused and sleek. | 92
2019 Billecart-Salmon Rouge Valofroy
The nose veers between cloudy whiffs of reduction, trailing farmyard and smoke one moment, then back to floral overtones and again to tart red fruit. The palate is unlike most Pinot Noirs I have tasted: totally taut in body, immensely juicy and mouthwatering, alive with pure, wild-raspberry intensity but without tannin and a deep vermilion in color. | NS
2009 Billecart-Salmon Elisabeth Salmon Rosé
Based on 55% Pinot Noir from Mareuil-sur-Aÿ and Aÿ and 45% of Chardonnay from Chouilly, Avize, Cramant, and Mesnil, with less than 10% of red wine from the south-facing Valofroy plot in Mareuil-sur-Aÿ. All the base wines were fermented in stainless steel and the wine was disgorged in July 2021 after more than ten years on lees, with a dosage of 7g/l. The nose is immediately generous and aromatic, with a creamy backdrop framing notes of peach and dried redcurrant. More air and temperature bring notions of peach compote and blossom honey. The palate is just as generous, with an exquisitely fine mousse, edged with noble bitterness that expresses the sunny ripeness of the grapes on a concentrated, full-flavored body. The salty, enticing finish has traces of licorice. | 96
2008 Billecart-Salmon Elisabeth Salmon Rosé
Based on 55% Pinot Noir and 45% Chardonnay, with 9% of red wine, disgorged after more than 12 years on lees, with a dosage of 7g/l. Exquisite creaminess immediately informs the nose, suggesting clouds of whipped cream alongside Genoese sponge and ripe strawberries. After this emollient first impression, pure, tart, red fruit appears, streaking red currant with more aromatic notions of blood orange. The palate is equally creamy and exquisitely fine, with a central, electric vein of acidity. This has luminous purity and supreme elegance. Very subtle hints of truffle appear on the finish, alongside more blood orange. Supreme. Considerably more open than upon its release in spring 2021. | 97
2002 Billecart-Salmon Elisabeth Salmon Rosé
With 60% Pinot Noir and 40% Chardonnay, the 2002 owes its pink color, now on the verge of orange, to 8.7% red wine. It spent almost ten years on lees and was disgorged in September 2013, with a dosage of 6.7g/l. While the color shows evolution, the nose is so fresh. An initial creaminess is followed by an amalgamation of rosehip tisane, chalk, slightly peppery rye bread, and grilled hazelnut. More air even brings hints of nougat and glints of orange peel. This shimmers and beguiles with wonderful aromatics that even suggest petrichor. Symphonic. The palate is creamy, still with a very lively and sprightly mousse that highlights intense saltiness. The result is immense elegance, great dimension, and beautiful depth that seems to taper to pure chalk and grilled hazelnut on the long finish. Wow. | 98
1996 Billecart-Salmon Elisabeth Salmon Rosé
Made from 58% Pinot Noir and 42% Chardonnay, colored with 8% red wine, this was on lees for just under nine years and was disgorged in April 2006, with a dosage of 10g/l. The color in the glass is orange and the nose is redolent of fresh girolle mushrooms, followed by an intense savoriness that references vanilla, dried cep mushroom, and caramel. The palate continues these savory aromatics, delivering an immense hit of umami that combines with the still jolting and urgent acidity of 1996. The mousse is still fresh, and all that acidity delivers a totally mouthwatering, mind-blowing saltiness that has visceral depth. Distinctly mature but still totally rocking it. | 97