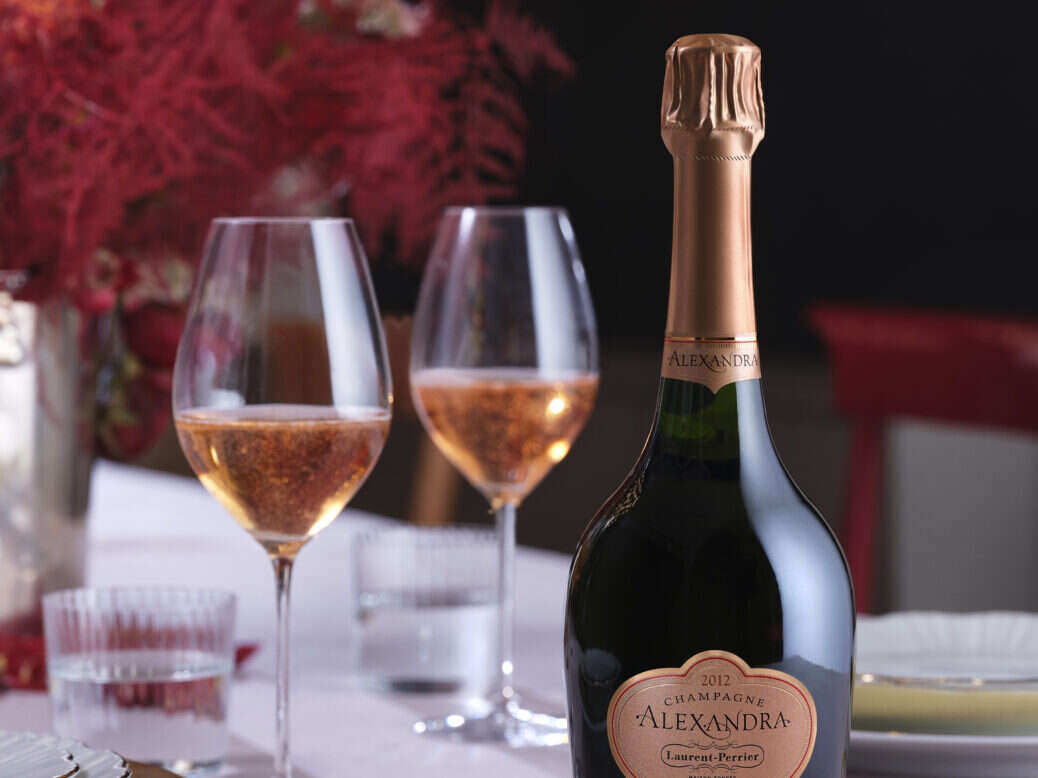 Essi Avellan MW tastes a rare trio of vintages of the "legendary" Laurent-Perrier Alexandra Rosé, released some 40 years after the prestige cuvée Champagne was first conceived.
It takes a special year in Champagne to craft Alexandra Rosé, as Montagne de Reims Pinot Noir and Côte des Blancs Chardonnay grapes need to ripen at the same time. When the stars are aligned and that happens, Laurent-Perrier chef de cave Michel Fauconnet thanks Mother Nature and makes sure to craft enough, because one never knows when such a vintage will come again.
Champagne aficionados have been able to follow 2004 Alexandra Rosé's numerous disgorgements and graceful maturation during the seven years it has been the current vintage on the market. The 2004 was only the seventh vintage of this legendary prestige cuvée rosé envisioned by Bernard de Nonancourt in 1982. But now, Alexandra Rosé is ready for a new release, and it will be not one but three vintages, with small amounts of 2006 and 2007 released alongside the main launch, the Alexandra Rosé 2012.
Laurent-Perrier Alexandra Rosé: Message in a bottle
Let's rewind 35 years to the wedding of Bernard de Nonancourt's eldest daughter Alexandra, where the cuvée first saw daylight. "As the bride, I was served the Champagne first and saw the surprise bottle: Cuvée Alexandra Rosé 1982," recalls Alexandra Pereyre de Nonancourt. No one knew such a wine had been secretly made. "I felt instantly moved yet expected a speech from my father, which never came. Instead, a friend made a speech. It was then that I realized that my father wanted to transmit a secret message to me in the form of his final creation at Laurent-Perrier, a testimony of all his passion. He wanted me to come and work for the company," Alexandra says. It was in the same year that she did, later followed by her younger sister Stéphanie.
Innovation after innovation
Bernard de Nonancourt was truly a man of vision, driven by an enormous passion for Champagne. During his era at the helm of Laurent-Perrier, he grew the production from 80,000 bottles, to 8 million. In the process, he also established a wealth of extraordinary and revolutionary cuvées. From the 1959-launched multi-vintage prestige cuvée Grand Siècle, to the 1981-released bone-dry Ultra Brut, his creations were ahead of their time—as had been Cuvée Rosé in 1968, produced in an era when rosé was neither popular nor in high regard.
It was from the foundations of Cuvée Rosé that Alexandra Rosé was born. During the early 19th century, red-wine production withered in Champagne, but Laurent-Perrier maintained its tradition. Using its red-wine expertise, Bernard de Nonancourt created Cuvée Rosé by using the challenging saignée, or maceration, method. "Rosé always had a special place in our family, which probably had something to do with us having a holiday house in Antibes in the South of France, where rosé prevails," Alexandra reflects.
A masterful rosé Champagne
The charmingly fruity, pure Pinot Noir style made Cuvée Rosé into one of Champagne's most iconic Non-Vintage rosés that somewhat relaunched the category. But a prestige cuvée like Alexandra is built to age, thus Bernard de Nonancourt considered inclusion of Chardonnay necessary for its vivacity, freshness, and longevity.
"The simultaneous ripening of the two varieties is the prerequisite for making the wine. Pinot Noir for the maceration rosés is grown in selected plots on the Montagne de Reims, where yields are kept low," Michel Fauconnet explains, sharing some of the winemaking recipe. "The blend varies, but typical origins include Ambonnay, Bouzy, Tours-sur-Marne, Verzenay, and Mailly. The destemmed bunches are left to macerate, and approximately one fifth of Chardonnay is added to it, typically coming from Le Mesnil-sur-Oger, Avize, and Cramant."
The maceration is a meticulous business. "It may take anything between 48 and 72 hours at 15°C [59°F], depending on the characteristics of the fruit. We practice remontage three times a day and taste the juice after each one. Fruit flavors are much more important than the color. I am after fresh fruits: strawberries and cherries. For attaining this, the grapes should not be picked too late; nor do we want too much maceration," explains Fauconnet, revealing some of the secrets of making the wine. Eventually, wines from different macerations are blended for the final cuvée, which enjoys extended lees aging in bottles.
Alongside the main launch from the viticulturally challenging but qualitatively excellent harvest year 2012, certain markets will see small amounts of 2006 and 2007 Alexandra Rosé in bottles and magnums. Even if the 2012 is the real thing in all its complexity and colossal aging capacity, every Alexandra Rosé fan should also look out for a bottle of the 2006 for its immediate richness, and of the 2007 for its gastronomic power.
Tasting Laurent-Perrier Alexandra Rosé
Laurent-Perrier Alexandra Rosé 2004
The color has deepened and received copper tones. Elegantly berried, a pronounced nose with beautiful Pinot scents of raspberry and sous-bois alongside baked apricots and orange blossom. The primary fruit is giving way to age-complexed savory tones of leather, Christmas cake, almonds, and cigar box. If the nose shows a fair amount of evolution, the palate remains fresh, even a little tight. The wine is gaining vinous gravitas and comes across beautifully silky. | 95
Laurent-Perrier Alexandra Rosé 2006
Evolved color of copper-hued depths. The exuberant nose shows richness and evolution, with exotic spices and sous-bois complementing the ripe peach, fig, and apricot-marmalade fruit. The profoundly gastronomic style continues on the savory palate of supple roundness. It comes with a gentle phenolic bite of a warm year. Plush and fleshy, but loaded with enough acidity to keep the whole thing fresh and appetizing. This vintage has aged rather quickly, thus only mid-term potential is foreseeable. | 92
Laurent-Perrier Alexandra Rosé 2007
There is depth to the salmon color, with onion-skin hues. The overall impression of sweet aromatic power comes with delicious, fragrant apricot and ripe red-cherry fruit. There is also some herbaceous and undergrowth evolution, bringing complexity. The palate is rich and structured, with a fine phenolic bite enhancing both freshness and firmness. A rather sturdy and powerful wine, already showing some evolution. | 94
Laurent-Perrier Alexandra Rosé 2012
From a year of small volume and big concentration, the color is deep but rather youthful for the time being. In 2012, the color and flavors extracted quickly, and 48 hours' maceration was enough. A super-stylish and expressive nose, with licorice and juniper wood giving spicy tones to the sweetly fruity, bitter-cherry and strawberry-candy nose. On the palate, there is an explosion of flavors, with wild, even animally tones supporting the intense fruitiness. It is still holding back so much with its tight, fine tannin structure, energizing tension, and sleek acid line. This is a keeper, with ages ahead of it. | 95