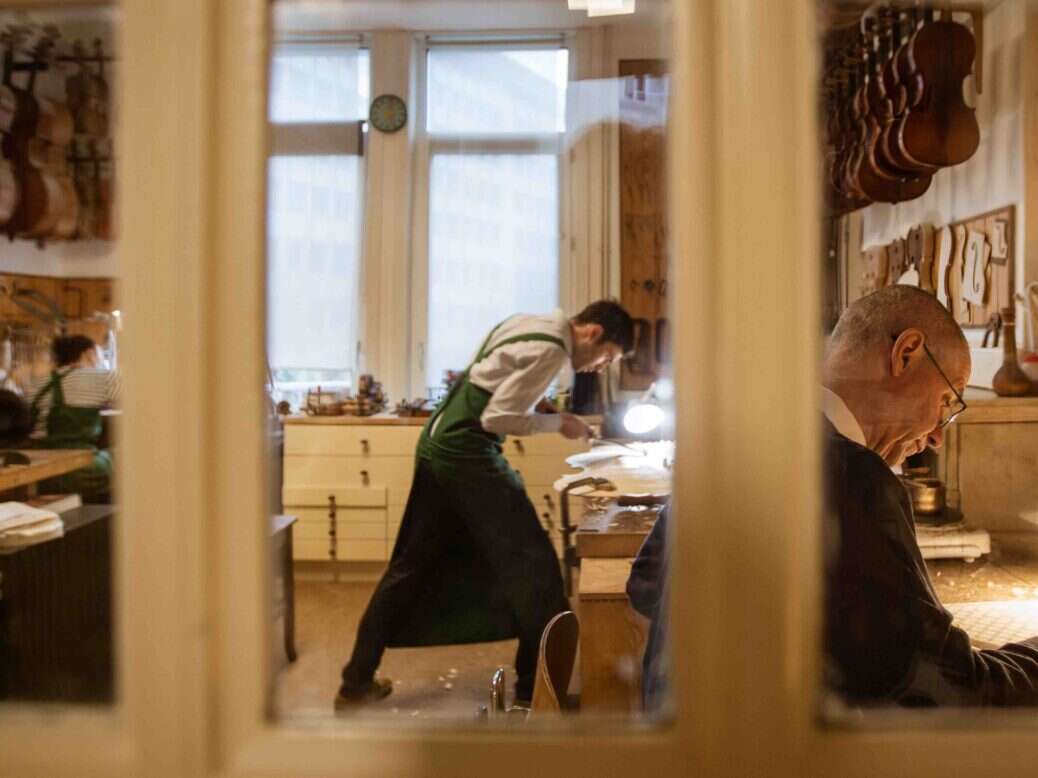 Margaret Rand reports from a very special lunch organized by Primum Familiae Vini, the association of leading fine-wine families, to celebrate the presentation of the group's inaugural Family is Sustainability Prize to Maison Bernard of Brussels, Europe's oldest luthier workshop.
What do you do if you're hosting a lunch of Primum Familiae Vini members and their wines? You make some crockery specially for the event. Obviously.
You also make some large pottery spirals into which the napkins are threaded, and you put a serpentine-curved table up in your studio/gallery, on which you build a meandering river of moss and candles and laurel branches in more pottery holders.
Oh, and you're a potter and artist. Sorry—should have mentioned that.
Primum Familiae Vini: Lunch experts
It looked wonderful: The Primum Familiae Vini know how to do lunch. And so does Sophie Cauvin, the artist in question, who hosted us at her Brussels studio, which looks out on to a lawn with a perfectly domed beech tree, its November leaves raked into a perfect copper-colored circle.
Cauvin works with clay and earths collected around the world; the room where we're sitting is lined down one wall with trays of different colored earths—gray, brown, gray-brown, cream, speckled—around 300 of them at a rough count.
The plates we eat off are rough-cast, heavy, beautiful, and certainly not able to go in a dishwasher. What will she do with them afterwards? She shrugs. "Keep them. Or sell them."
We are on that thrilling line where art and craft meet: some of the world's most beautiful objects are on this indefinable line. Including those made by Maison Bernard, the winner of the first Family is Sustainability Prize—an award initiated by PFV "to encourage exemplary businesses around the world," to quote from Paul Symington's speech.
Maison Bernard is Europe's oldest luthier workshop. It has been making violins, violas, and cellos since 1868, and at the time of the lunch was repairing a Stradivarius.
Exquisite craftsmanship
Symington praised its "exquisite craftsmanship, exactly what we fight to sustain in our own family enterprises." There were "20 to 25" entries, said Hubert de Billy of Pol Roger, and the prize was €100,000—and some wine, I asked? Billy grinned. "We can supply."
"We had the choice of awarding a big enterprise or a small one," he went on. "We chose a smaller one because it would make more difference."
Maison Bernard is run now by violinmaker Jan Strick and bowmaker Pierre Guillaume, and Strick explained how he came to be there.
"I found a violin at the house of my grandmother, and I began to play, and I began to want to make violins. I was 14. We lived in Limbourg, a very simple region, and there were no violinmakers there.
"One day I was with my father, and we passed a shop with violins. We went in, and there was a strange man, M. Bernard, who was like an English landlord, very fancy.
"I explained my obsession to be a violinmaker. But he had an apprentice already. A few months later I got a letter saying I could start with him; the apprentice had left.
"M. Bernard made very eccentric demands of his pupils. You had to wear a suit and a tie, have your hair cut, and live properly. Or you would not even begin."
Strick stayed, married, and for 32 years now has worked at Maison Bernard. "I never thought there would be a prize for family businesses," he added.
"There are thousands of us, little people, who work hard, and now there is this prize to put us in the spotlight. And my son joined us six years ago."
His son Matthijs has been sent to train all over the world, and some of the prize money will go to perfecting his training.
"He has to go back probably to Chicago, where I would like him to work in the house of a violinmaker, also to Boston, where they do exceptionally good restoration of instruments. The future of my business is in Matthijs."
Appropriately, a string quartet played for us before and during lunch. Strick had made the cello and one of the violas. Matthijs had made the other viola, and the violin.
The wines, the wines!
Who else was there? Nearly all the Primum Familiae Vini members. Prince Robert of Luxembourg (Haut-Brion etc) couldn't make it, but his wine was there. And gosh, the wines. And the food. Shall I go on, or will it just annoy you?
We started with Carpaccio of langoustine du Guilvinec, dashi cream, caviar, served on 12-inch plates that resembled stretched oyster shells, with Drouhin's Beaune Clos des Mouches Blanc 2018 and Hugel's Riesling Schoelhammer 2007, the latter all honey and incense, the former smoky and detailed.
At each course the relevant winemakers got up to introduce their wines—with the exception of Billy, whose splendid 2013 in magnum had been served before lunch. "I'm a good Frenchman," he said; "I'm going on strike."
Then: Crispy [sic] milk-fed Corrèze veal, smoked jerusalem artichoke, black truffle jus, with Tignanello 2018, leather, spice and garrigue; Sassicaia 2011 in magnum, savory and extraordinarily elegant, and Torres' Mas La Plana 2007 in magnum, silky, savory herbs, and tobacco.
The plates were black, heavy, with the texture of cold porridge, and a beautiful glaze. I fell to talking with the Belgian agent for Antinori, and no doubt other wines.
"Belgium is a divided market for wine," he said. The Flemish-speaking north drinks white and doesn't mind paying high prices, whereas the French-speaking south wants cheap red. And the vineyards of the future? "Belgium and England."
The plates for the next course—Roasted Anjou pigeon, miso butternut, pepper juice—were again black, heavy, and reminded you that they were hand-made in that mine had a tendency to direct the jus toward my lap with the insistence of a volcanic lava flow.
What would you do with them afterwards, I asked Billy. "Clay-pigeon shooting?" he replied.
But the wines, the wines! Haut-Brion 2000, Mouton-Rothschild 2006, Hommage à Jacques Perrin 2009, and Vega Sicilia Único 2011.
The Haut-Brion was wonderfully perfumed, all exotic leather, very tense and fine; the Mouton was the epitome of great Pauillac, with classic tobacco notes, so elegant.
Jacques Perrin was rich and silky, very perfumed, very concentrated. Unico was dense violets.
"Pablo [Alvarez, of Vega Sicilia], what do you drink when you're not drinking Único?" I asked. "Pol Roger!" he said. He's the Champagne's biggest customer in Spain, apparently.
And then dessert: Candied poire doyenne, bergamot, and white chocolate, served on enormous creamy-beige plates like elegantly crumpled napkins, with Scharzhofberger Riesling Beerenauslese 2005 from Egon Müller-Scharzhof, alluring, tense, and energetic, and Graham's 1963, incredibly aromatic and silky, with orange-peel notes.
Paul Symington—as always, he said—was thus the last to talk about his wine. "It was the greatest year yet of the century," he said. "My father said that until then there hadn't been enough money to send me to school in England, but the 1963s paid for it. I'd have preferred to stay in Portugal."
I have not, of course, said which of the wines went better with their respective dishes… and the answer is that I didn't know. They were all wonderful with the food in different ways.
And to be honest, if I'd tasted and retasted and retasted the way they deserved, I doubt my note-taking would have survived to the end.