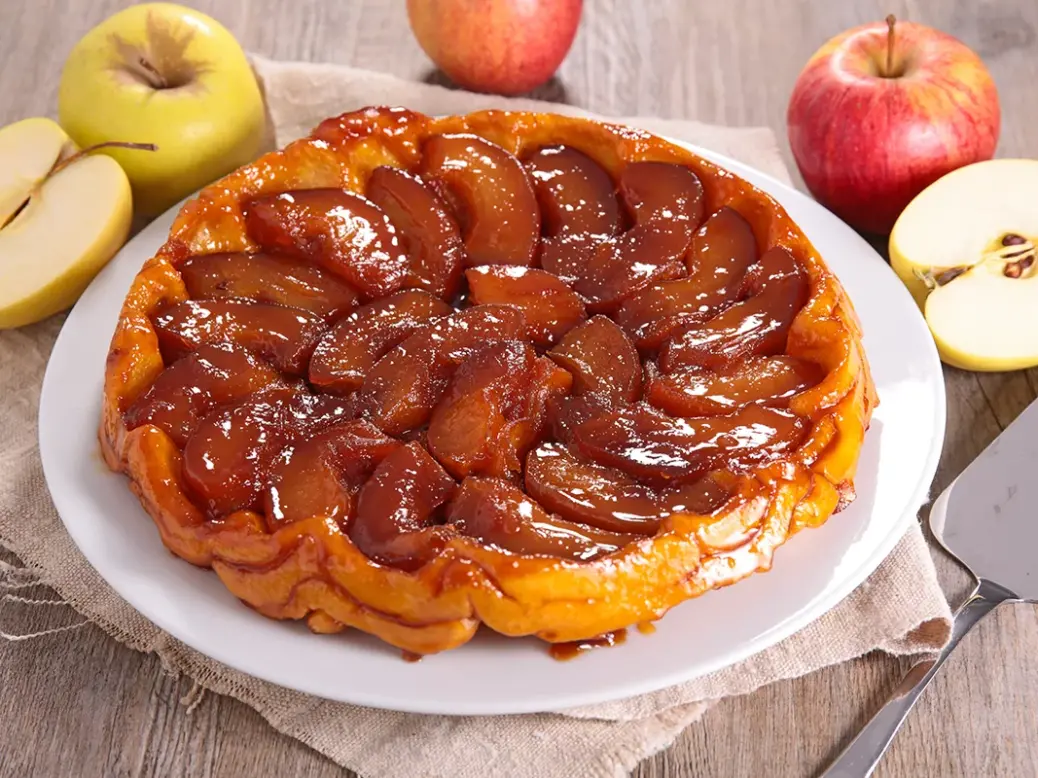 Add a subplot of unrequited love or some element of skullduggery—perhaps both—and the creation of tarte tatin could make the story for an opera. It's silly enough, or rather they are: there is more than one version.
It's not all fable, so perhaps we should start with what appears to be true. From the late 19th century until they retired in 1906, two sisters, Stéphanie and Caroline, ran Hôtel Tatin, a hotel-restaurant in Lamotte-Beuvron, a town on the banks of the Beuvron river in the heart of the Sologne region (Loir-et-Cher department) just over 100 miles (160km) south of Paris. It still exists, renamed La Maison Tatin (and with added spa), just across from the railway station.
Now we get to the legends. On one particularly busy day (in the hunting season, one version has it), the elder sister Stéphanie, who did most of the cooking, was making an apple tart (pastry underneath, apples on top). She put the apple pieces to sauté in butter and sugar, but left them too long and they over-caramelized. Not knowing what else to do, she placed the pastry on the apples and put the whole thing in the oven. When it was cooked, she took the pan out, flipped the contents over and out, apple side up, and served it to the guests.
A variation on the theme is that Stéphanie simply forgot the pastry and put the apples, butter and sugar in the tin straight into the oven without it. When she realized, it was too late to do anything other than place the pastry on top. Either way, the caramelized apple tart was apparently a success with diners and became a fixture at the hotel. By 1903, it had gained some local renown, although not as tarte tatin but tarte solognote.
While the stories of its invention aren't intrinsically implausible, upside-down fruit tarts were not new. In his Pâtissier Royal Parisien of 1842, Carême refers to glazed gâteaux renversés topped with apple or other fruit. And tarte solognote, a tarte renversée, was already a speciality of the region, hence the name used by the sisters.
Wider recognition for the sisters' tart came first in 1926 (well after their deaths in 1911 and 1917) when, in La France Gastronomique, the celebrated epicurean writer Curnonsky, the "Prince of Gastronomy," cited "the famous apple or pear tart from the demoiselles Tatin of La Motte-Beuvron". The Tatin name was first bestowed in the 1930s in Paris, when Maxim's put la tarte des Demoiselles Tatin on its menu. It lit a touch paper.
One tale of pure fiction is that a youthful Louis Vaudable, whose family bought Maxim's in 1932, took one bite of the tart in the Hôtel Tatin, when it was still run by the sisters, and decided he had to have the recipe. It wasn't freely given, so he obtained it by subterfuge, either by sending a cook-cum-spy to the hotel or by getting himself employed in the kitchen garden, and then he put it on the menu at Maxim's. Or so the story goes. As Vaudable was born in 1902 and the sisters retired in 1906, the figures clearly don't stack up.
Far from elaborate
Without belittling Stéphanie's skills, it's hard to see how a dish that is so far from being elaborate had many culinary secrets to winkle out. You have to take care not to overcook the apples or burn the caramel and you need to be confident, not hesitant, about turning out the tart, but otherwise it's a dish of few ingredients and simple method, which is no doubt why its popularity has spread far and wide. Another reason is that it's delicious and yet another is that it's infinitely adaptable to other fruits that keep their shape when cooked and to savory versions using, for example, tomatoes, shallots, or beetroot. But I am confining myself here to the classic apple tarte tatin.
The original apples used were Reine des Reinettes (King of the Pippins) and one of the Calville varieties. Today, it's your choice, but personally I would avoid a blander apple such as Golden Delicious in favour of a variety with good flavour, including a good balance of sweetness and acidity, such as Braeburn or Pink Lady (both recommended by chefs on greatbritishchefs.com), Cox's Orange Pippin, Granny Smith, or Adam's Pearmain.
Most contemporary recipes use puff pastry, but shortcrust or flaky pastry are alternatives (I use readymade all-butter puff) and most recipes recommend caster sugar for the caramel. Brown or muscovado sugars give a more treacly-tasting result, which needs to be taken into account when considering wines. Talking of which…
The best wines to pair with tarte tatin
Tarte tatin isn't just another apple pie. In addition to the sweet-sharp apple and buttery pastry, you have the all-important caramel. For me, two types of botrytized sweet wine trump almost all others: Riesling and Chenin Blanc. Both have an affinity with apple and retain their acidity, and in botrytized form they're rich enough for the caramel (made with white or golden sugar).
German Beerenauslesen and TBA can both work beautifully, but Rieslings don't need to be confined to Germany. Alsace SGN (Sélections de Grains Nobles) are increasingly elusive but worth seeking out. Easier to find are fine botrytis Rieslings in South Africa and New Zealand, among them Paul Cluver Noble Late Harvest from Elgin in the Western Cape and Framingham Noble Riesling from Marlborough.
When it comes to botrytized Chenin Blanc, I am in the Loire, in Coteaux du Layon and, as a counsel of perfection, in Quarts de Chaume or Bonnezeaux; failing that, in an appellation such as Coteaux du Layon Saint-Aubin with a wine such as Domaine des Forges, or Coteaux du Layon-Chaume.
Sauternes is another candidate. The more caramelly the tart and the more buttery the pastry, the riper the vintage and the more mature it can be: I'm thinking of wines such as Châteaux Suduiraut and Guiraud. With a tart in which the apple asserts itself more, I would choose a younger vintage and ideally a Barsac, such as Châteaux Climens, Doisy-Daëne, or Coutet.
Another possibility would be one or other of the southwestern pair of Jurançon and Pacherenc du Vic-Bilh—not botrytis wines but sweet wines owing much to Petit Manseng that are intensely aromatic, fruity, and sweet. I would settle for wines from the likes of Charles Hours, Clos Lapeyre, or Château Bouscassé, but you can find other well-reviewed wines in WFW80.