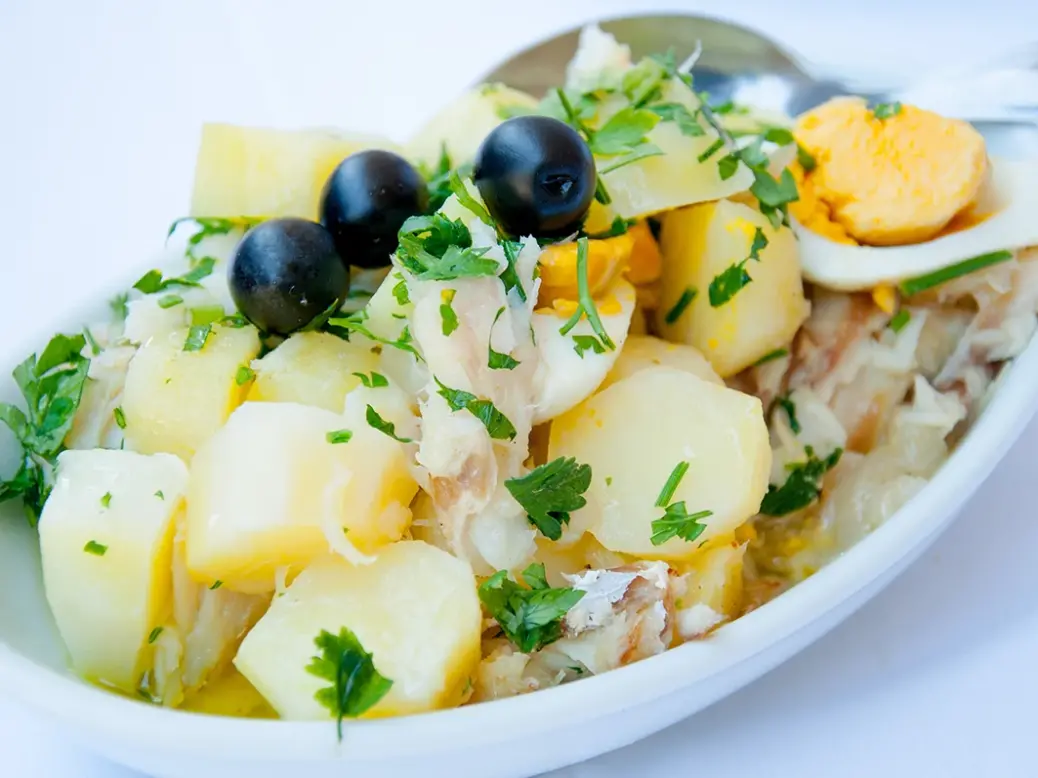 Portugal's rice consumption, the highest in Europe by some way, came as something of a surprise to me when I was researching arroz de pato. Not so its consumption of cod. No-one who has visited Portugal, or just taken a cursory look at its cuisine, would be very surprised to hear that it's the world's leading consumer of cod.
That said, for a country of 10.2 million people to account for 20 percent of all cod eaten is quite something, even for a nation of fish eaters (Portugal ranks third in the world's per capita league table of fish consumption). Cod is eaten on religious feast and fast days, at many celebrations, and on ordinary days too. Bacalhau à Gomes de Sá is one of the most popular dishes.
What makes Portugal's enthusiasm bordering on obsession surprising is that the country has never had cod in its own waters. It has many other smaller fish, but not gadus morhua, which needs the deep, cold waters of the North Atlantic and which the Portuguese discovered in Terra Nova, present-day Canada, in the Age of Exploration, from 1497 on.
In subsequent centuries, when the English dominated fishing in the North Atlantic, the Portuguese exchanged salt for cod. Then in the 19th century, they started fishing their own cod again, and during the dictatorship of the middle years of the 20th century, to reduce imports and to guarantee the country's food supply, cod fishing became a protected industry. During the so-called Cod Campaign from 1934 to 1967 (including during World War II), consumption increased enormously across all strata of society and throughout the country and what had been known as the "meat of the poor " became the fiel amigo (the faithful friend).
Portuguese cod fishing finally came to an end in 1974 (the year the dictatorship ended) and, today, the cod consumed is imported, 70 percent of it from Norway and much of the rest from Iceland.
Salt cod only
Another idiosyncrasy is that bacalhau—meaning cod—refers to salt cod only. Fresh, unsalted cod, is always described as bacalhau fresco and accounts for less than 10% of the total. Not only that but it has only really emerged as a presence of any kind this century, and more in restaurants than homes.
Whether you go along with the idea that Portugal has 1,001 ways to prepare bacalhau, or a recipe for everyday of the year, or more than 100 different bacalhau dishes, the fish we're talking about is the intense, salty kind that has to be soaked before cooking in several changes of water for 18 to 48 hours (there are nearly as many views on how long and how many times the water is refreshed as there recipes).
Most dishes use olive oil and garlic generously, many include onions and potatoes, and eggs feature frequently. In bacalhau à Gomes de Sá, layers of potatoes, salt cod, onions, and garlic with olive oil are baked in the oven in a casserole (Dutch oven) and garnished with sliced or quartered hard-boiled eggs, black olives, and parsley.
It has its origins in late 18th-century Porto. José Luís Gomes de Sá was the scion of a rich cod-trading family that fell on hard times. He took a job in Restaurante Lisbonense in Porto and there created the dish based on the ingredients of bolinhos de bacalhau, cod croquettes. 
What is the best wine to pair with Bacalhau?
It's a dish you might expect to be paired with white wine, but red wines as well as white have always been paired with fish in Portugal, and traditionally red is drunk with bacalhau. Much of the Portuguese catch used to come into northern Portuguese ports, where the local red Vinho Verde was dark in colour but light in body and high in acidity. Elsewhere in the country, the local reds—fuller in body—were embraced.
Is red wine the best match? I like to drink red with bacalhau à Gomes de Sá, but is it better than white? No, it isn't that simple. There are good white wine pairings, too. And there's also orange wine, which, when it has the texture and astringency of gentle (rather than powerful) tannins and acidity, has a lot to recommend it.
The kind of reds I look for are those in which the fruit, red or darker berries, is not too exuberant and is matched by a herbal, savoury quality and a little spice, where oak is an undertow, and tannins even more so. Acidity is an advantage, but doesn't have to be distinctly high. Ideally, alcohol shouldn't be high, but I certainly wouldn't rule out a wine just because it was 14.5%.
Portuguese blends that work well include those featuring Aragonez (aka Tempranillo) and Trincadeira (often from the Alentejo), and Trincadeira and Touriga Nacional (Douro and Dão), but it's not worth getting hung up on grape varieties in Portugal, especially when the best wines are often multi-grape or field blends. Two reds I would particularly recommend for the dish are Niepoort Conciso Tinto, Dão, and Niepoort Vertente, Douro.
Beyond Portugal, reds worth considering include modern Naoussa Xinomavro, with well-handled, polished tannins, reds from Provence and, provided they're not oak-heavy, Rioja Crianza and Bierzo Mencía.
When it comes to whites, you're looking for much the same qualities as for reds: from Portugal, that means wines such as Alvarinho Vinho Verde from Anselmo Mendes, Dão Encruzado, such as Quinta dos Carvalhais, or, from the Douro, Niepoort Redoma Branco. From other countries, I suggest Godello (Portugal's Gouveio) from Spain, oaked, but not oaky, Semillon and, as so often, when it comes to food matching, Premier Cru Chablis, preferably one that has seen a little oak.