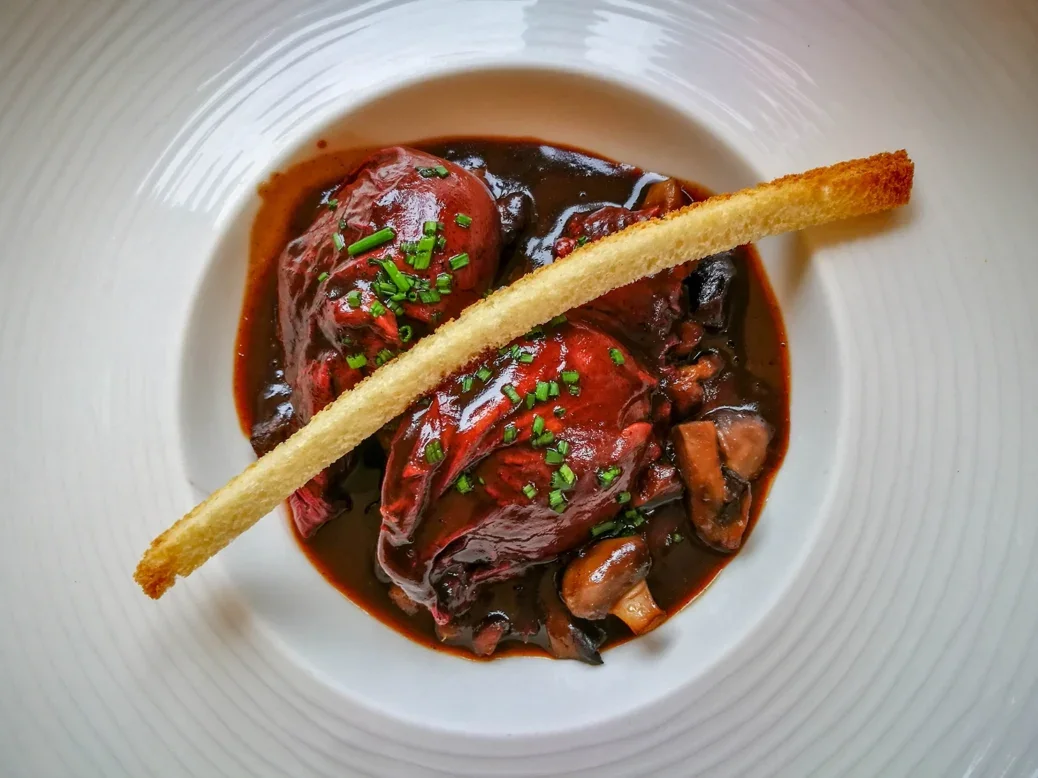 The classic Burgundian egg dish, oeufs en meurette, is a wine for drinking with the local Pinot Noir and Gamay, says Joanna Simon.
For a dish that is so well-known, so classically French, and appears to be so quintessentially of its region, surprisingly little is known about the origins of Burgundy's oeufs en meurette, eggs poached in sauce meurette, the reduced red-Burgundy sauce with lardons and onions that also forms the base of the region's two most famous dishes, boeuf bourguignon and coq au vin (and there's a link to the former which we'll come to in a moment). A dish similar to oeufs en meurette, oeufs Zinoff, is mentioned apparently by a writer named Fulbert-Dumonteil in L'Art du bien manger, published in Paris in 1906, but that seems to be about it.
The reason is probably the common one. Oeufs en meurette was a simple peasant dish, not the sort that was much recorded until later in the 20th century when no recipe was beyond notice. It is commonly cited today as a dish originally prepared in the evening on a day when boeuf bourguignon was served at lunch, the eggs being poached in the sauce left over from the beef. It seems logical, but I don't know that there's any documentation to support it.
Peasant it may have been, but chefs of the stature of Paul Bocuse, Bernard Loiseau, and Alain Ducasse have all created their own well-publicized versions and it has been the signature dish of Château du Clos de Vougeot since 1953, featuring at every reception and wedding. When there are 600 guests, that means serving 1,200 immaculately poached eggs in no more than five minutes. Rather them than me.
Clos de Vougeot is also the venue for the Championnat du Monde l'Oeuf en Meurette, a competition inaugurated in 2019 in partnership with the Lions Club Paris France Gastronomie after the dish was voted fifth best of all time by the American monthly Food & Wine. The championship's website proudly announces that Joy-Astrid Blanchard-Poinsot of Chez Camille in Arnay-le-Duc is not only the first female winner and the first from the Côte d'Or, but the first Burgundian.
Oeufs variations
Oeufs en meurette may be simple (assuming that poaching eggs doesn't send you into a spin), but variations in ingredients and preparation produce surprisingly different looking and tasting results.
In what is assumed to be the original method, the eggs are poached in the sauce and emerge darkly coloured by the wine, but chefs (such as Alain Ducasse and the late Bernard Loiseau) often keep the eggs pristine white by poaching them in water before placing them on garlic croutons in the individual plates and pouring the sauce on the top.
Even what to most people are the four key ingredients aren't set in stone. Paul Bocuse, who usually referred to his dish as oeufs pochés à la beaujolaise, made the sauce with Beaujolais (his local wine), onions sautéd in butter, garlic, beurre manié (butter and flour paste), parsley, and seasoning but no lardons. Not all cooks/chefs sauté the onions first; some use some stock as well as red wine; some include mushrooms and other herbs; some thicken the sauce by reduction without using beurre manié.
Other ingredients encountered include a little dark chocolate and sugar—used by chef Olivier Walch at Clos de Vougeot, no less—or redcurrant jelly or even a splash of Port, again to sweeten what can be a sharp sauce, depending on the wine used, how much it's reduced, and whether or not the onions are sweated in butter first or simply cooked in the wine as it's being reduced. Sometimes, conversely, a little vinegar is added to sharpen the sauce and sometimes a splash of brandy for depth. (For the record, I use some stock, sauté the onions, use a little beurre manié, often find a smidgen of redcurrant jelly improves it, and I usually include mushrooms, not least because it helps with the wine pairing.)
For anyone who is wary of runny egg yolk with fine wine, especially red, the sauce cuts the problem, but the variations in intensity of flavor, sweetness, and sharpness of individual renditions make it hard to be precise about accompanying wine.
Drinking wines and cooking wines
The easy way out is to say that the wine in your glass should be the same as the one as in the pot, but if the wine has been reduced to a concentrated puddle it will almost certainly overpower what is in the glass. Going for the same wine all assumes that you are keen enough on your cooking wine. It's one thing to use a drinkable wine (which you must); it's another to want to drink it.
If using Burgundy in the sauce, I use a more basic Bourgogne than I really want to drink, although I don't drink grand Burgundy with oeufs en meurette—less grand than is sometimes served at Clos de Vougeot. Here, at the 2021 Championnat du Monde dinner, it was paired with a Nuits-Saint-Georges Premier Cru Les Poulettes 2017. I would be very happy to have Nicolas Perrault Maranges Premier Cru Le Clos de Rois 2020 instead, or, on a simpler level, Louis Latour Hautes Côtes de Beaune 2020. Outside Burgundy, I would be looking for Pinot Noirs that were Burgundian in style, such as South Africa's Hamilton Russell Vineyards, rather than more expressly varietal.
My first experience of oeufs en meurette in Burgundy certainly involved a less elevated wine to drink, a Bourgogne Passe-Tout-Grain blend of Gamay and Pinot Noir that the producers I was with were adamant was the wine to accompany the dish. Apart from enjoying the experience, I can't remember more. Nor can I remember when a Passe-Tout-Grain last came my way, but I do think there's something to be said for Gamay.
I sometimes use Beaujolais-Villages as the cooking wine (an old-vine straight Beaujolais could stand in for it). To drink, I choose a cru, a meatier, more savory one such as Chénas, Morgon, or Moulin-à-Vent, over a more perfumed Fleurie or Chiroubles. I've shared my enthusiasm for the wines of Château du Moulin-à-Vent and for Thibault Liger-Belair's Moulin-à-Vent Vieilles Vignes before, so let me recommend three others: Domaine Paul Janin & Fils Héritage du Tremblay, Domaine du Granit Tradition, and Domaine Merlin La Rochelle, from one of the recent good trio of 2020, 2019, and 2018 or something older.