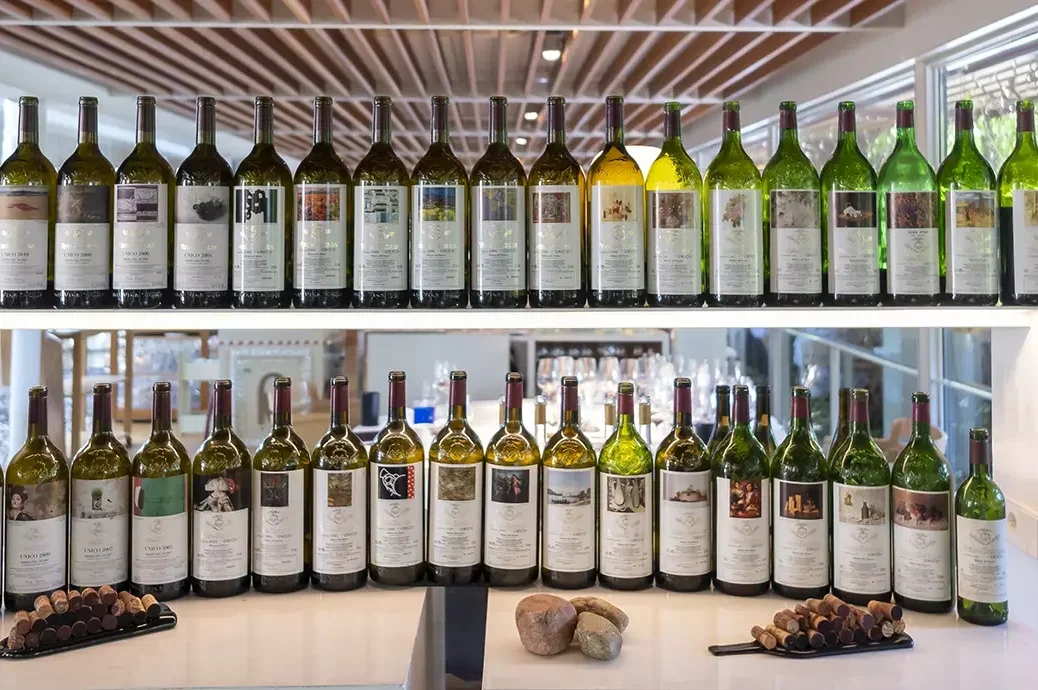 Simon Field MW reports from an unprecedented vertical tasting of Vega-Sicilia Único marking the 40th anniversary of the Álvarez family's ownership of the Ribera del Duero estate featuring "some of the most extraordinary mature red wines in the world."
The best one has yet to be made," says Vega-Sicilia's usually taciturn owner Pablo Álvarez. The statement is challenged quite dramatically one balmy day in Girona, when 30 journalists and critics from across the world gather to celebrate the 40th anniversary of the Álvarez family's ownership of this legendary label. Originally founded in 1860, Vega-Sicilia was purchased by its fifth owner, David Álvarez, in April 1982, and it has been curated by members of his extended clan ever since, with Pablo, originally a Bilbao-based lawyer, closely involved from the outset (1983, to be exact). The Álvarez family made their fortune in the distinctly non-vinous activities of domestic and commercial cleaning and security.
The latter is evident to anyone who attempts to visit the property, with or without an appointment. Vega is located on Ribera del Duero's Golden Mile, close to the Castilian city of Valladolid. There are no amusement arcades in sight. We lucky few, we happy few, however, are in Catalonia today—Girona, to be precise, stranded in a restaurant twice named best in the world. We are to be force-fed Edenic delights while dutifully tasting some of the best Spanish wines ever made. All from magnum, needless to say.
Álvarez may not say very much (his demeanour has something of Marlon Brando in On the Waterfront, albeit a little older now), but he has long been evangelical in his promotion of Spanish wines in general, and Vega-Sicilia in particular. For a strong, silent type, he is quite aphoristically adept. "In the 1980s, Vega was the one-eyed man in the land of the blind, undervalued and not understood throughout the world."
Pablo throws down an interesting gauntlet when he maintains that if the wines of Spain had had their due in terms of historical recognition, then Tempranillo (aka Tinto Fino in Ribera del Duero) would have challenged, and probably surpassed, Cabernet Sauvignon as the most influential red grape variety in the world. An interesting topic, and one that lingers in the mind as we taste the 40 magnums. It is fascinating to consider that the earlier vintages are essentially field blends; note the inclusion of Merlot and Malbec, and also, more surprising, the white grape Albillo. It is also interesting to chart the proportion of Cabernet Sauvignon over the years—generally on a downward curve. Tempranillo is king in these parts.
Clear vision has been restored to the one-eyed man, and Vega now exports 70 percent of its wine to more than 150 countries. In Spain alone, there are thousands on the waiting list. The transformation has been achieved by attention to detail at all levels. Herbicides were banned early on, and now the vineyard (only 200ha of 1,000ha [500 of 2,500 acres] owned are planted), nestled within olive trees, enjoys a very particular micro-environment. The vineyards have been precisely mapped out over the last few years, with special focus on clonal selection, acknowledging the physiological makeup of the original plantings made by Eloy Lecanda. In the winery, located behind St Cecilia's modest 19th-century chapel, the modus operandi is famously complex. There have been very few winemakers since 1982, each having assumed a status within Spain to put many a Champenois chef de cave to shame. Their names are worth repeating: Mariano García, Javier Ausàs, and, since 2015, Gonzalo Iturriaga. Gonzalo is among us on the day, but it's too early for him to mark his own homework!
The winemaking… ah yes, the winemaking. There have been subtle changes over the years, but the rule of thumb has been to release after a minimum of ten years, and the process has always involved multiple vessels over extended periods. Each year is different, and Pablo confirms that there is no "winemaking recipe," but the example of 2004, a relatively recent vintage, serves as a useful template: 15 months in 20,000-liter vats, 25 months in new barrels, 17 months in used barrels, and a further 26 months in large oak vats; then further bottle age before release in 2014. Yeasts, naturally enough, are natural, and malolactic fermentation takes place in wood. There has, it will come as no surprise, been an in-situ cooper for three generations. Most of the oak is still sourced from Ohio and Kentucky, thereafter treated and seasoned in the very specific and sometimes unforgiving microclimate of Castilla y León. To give an idea of typical volumes, in 2004 there were 87,516 bottles made, along with 2,227 magnums, 156 double magnums, and five Impériales. One may well have to wait a few decades more for the Impériales to come round.
The rise and rise of Vega-Sicilia
Vega-Sicilia was planted in 1864 near the town of Valbuena in the Duero Valley by Don Eloy Lecanda Chaves, who arrived from Bordeaux with grape vines, savoir faire, and plenty of ideas, many of which have come, quite literally, to fruition. The patriarch and guiding angel of many (often architecturally flamboyant) bodegas in the region, Vega is located between the slopes and the alluvial plain, its complex soils dominated by fine colluvial deposits and small fragments of limestone, with quartz gravel deeper in the sand and angular limestone boulders on the surface.
Pablo confirms that the soil here is among the most diverse in Spain, and while the backdrop is aesthetically somewhat uninspiring, one should not forget the influence of the altitude of these gentle slopes (700m–900m [2,300ft–2,950ft]) and of the diurnal variation that helps to preserve the color and structure of the wines. The grapes are harvested and, especially latterly, vinified by plot, with yields hovering around 25hl/ha in a normal year… should such a thing exist! Pablo confirms that there are 19 different soil types and 62 specific plots; the influence of the Duero River is fundamental, he adds. Only 40ha (100 acres) of the 210ha (520 acres) are traditionally called upon to service Único and its multivintage cousin, Reserva Especial. The best of the rest will go into the more approachable Valbuena. As an aside, we should remember that Único was not made in 2001, 1997, 1993, 1992, 1988, 1984, 1978, or 1977… So, it's all the more worthwhile hunting down Valbuena in these years.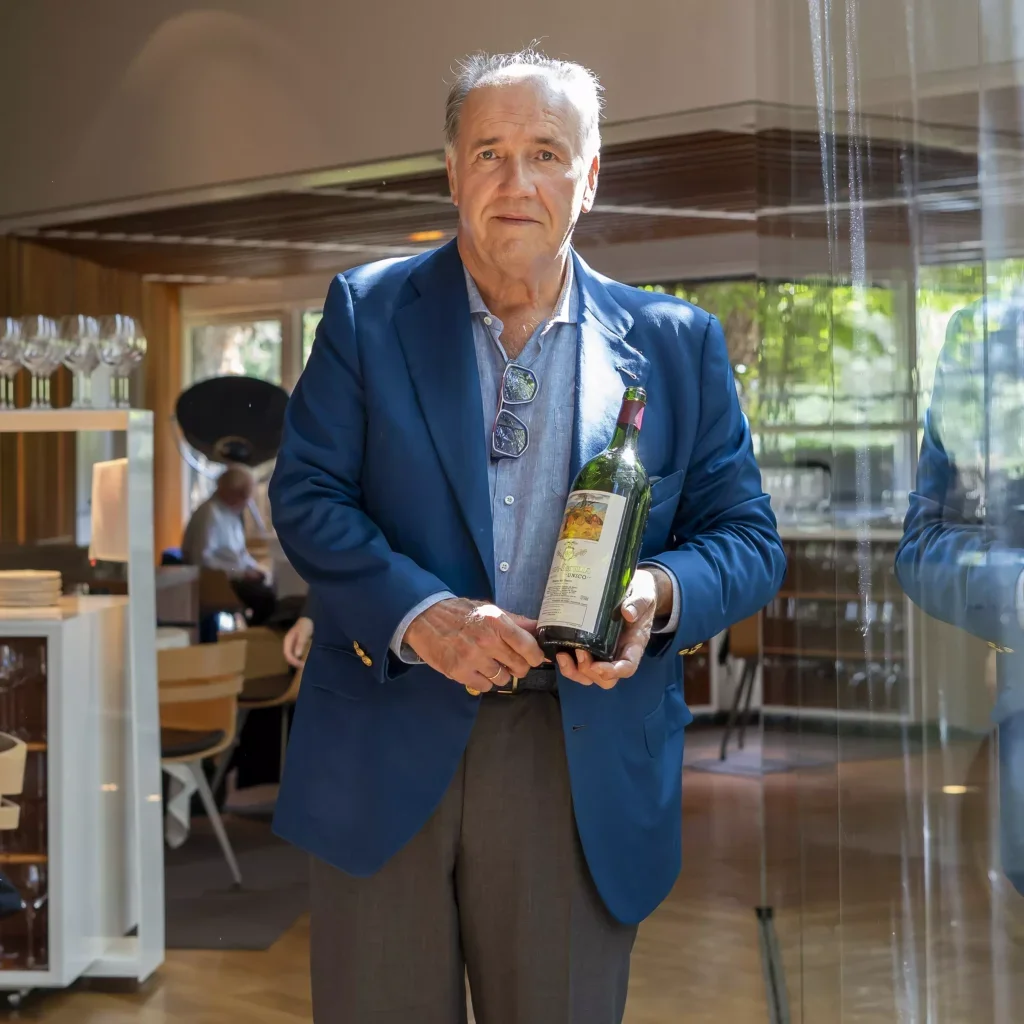 Today Vega-Sicilia is part of a corporate empire, more properly referred to as Tempos Vega Sicilia, with six wineries and more than 600ha (1,500 acres) of premium vines. Nearby Alión was added in 1991, Oremus in Hungary in 1993, then Pintia in Toro (2001), and Macán in Rioja, a joint venture with Bordeaux's Benjamin de Rothschild. The latest member of the family (apropos, Vega is a key member of the prestigious Primum Familiae Vini group) is Deiva in Rías Baixas, located in Condado de Tea in the upper section of the Miño River.
This, Oremus apart, is Vega's first major outing with white grapes. Pablo cites the Cistercian heritage of the Galician vineyard and is a great admirer of the Albariño variety; he reveals that two wines will come on stream from next year. All part of the rise and rise of Vega-Sicilia. Sales have risen from €1.2 million in 1982, to €60 million in 2021; production, from 200,000 bottles to 1.2 million; and the quality of the product? Well, that's what we are here to find out. At no point of this impressive trajectory has quality been compromised or sacrificed.
And so we are all gathered in Spain's most famous restaurant, El Celler de Can Roca, all rather excited by the day that is about to unfold. (The previous evening, we had been treated to a feast at Roca's sister, the bucolic—but spherical—Mas Marroch.) After the tasting itself, what is billed as a "light dinner" turns out to be another banquet. Fig-leaf soup, pickled Giron pepper, puréed mussels, frigate tuna, whole prawns, langoustines with a sage brush, fish suquet (stew), Ramats de Foc lamb, and then wood pigeon, all before cheese and a selection of puddings. A light dinner, indeed!
Beyond the heavenly food, we are served some extraordinary non-Vega wines: Salon 2012, Pol Roger Cuvée Sir Winston Churchill 2013, Bonneau du Martray 2017, Léoville-Las-Cases 2016, and a stupendous flight of 2015 grand cru red Burgundy, Richebourg from Domaine de la Romanée-Conti and Echézeaux from Comte Liger-Belair in their midst. Alex Hunt MW, buying director from UK importer Berkmann Wine Cellars, comments, "Showing such wines demonstrates both the curiosity and confidence that inform everything that Vega-Sicilia does." Well put.
Conclusions and comparisons
Back to Vega-Sicilia and the tasting itself. We had even years in the morning, and odd ones in the afternoon, the latter punctuated by one or two more outstanding dishes, for fear that we may have been going hungry. Many felt that the odd years were more successful, although of my top seven wines, only three were odd (1981, '91, and '79). The others were 2010, 1970, 2004, and 1962. The fact that my three 98-pointers (virtually unheard of from this parsimonious taster) stretched from 1970 to 2010 (1981 making up the trio) demonstrates Único's consistency of quality and an ability to appeal at different stages of its development. The former observation is borne out by the fact that all but nine of the 40 wines tasted scored 93 or higher. Impressive indeed.
What conclusions can one reach, if one takes it as read that Vega-Sicilia is exceptional in virtually every respect? Well, herein lies a problem: An anthropological study of Ribera del Duero may make significant overestimations based on tasting these wines alone. It is beyond the scope of this article to speculate as to why this may be the case, so let us restrict observations to the topic of aging, but within a broader framework.
Here I cannot help but recall a magisterial Rioja tasting hosted in 2011 by Neil Beckett and featuring venerable vintages all the way back to 1945 (and, for the whites, beyond). Spanish connoisseurs Jesús Barquín and Luis Gutiérrez (who now writes about Spain for The Wine Advocate) had garnered an extraordinary selection. We were all seduced, the pale colors invariably belying wines of extraordinary poetic resonance and structural coherence. Is it fair and instructive to compare these old Riojas with Ribera del Duero's venerable Únicos? Is it like comparing a Velázquez with a Goya or, even more stark, a Murillo with a Zurbarán?
Well, maybe, and generalizations are just that, somewhat perfunctory; but here goes… The Vegas were deeper in color, probably relatively more tannic, and with more lasting mid-palate integrity; while the best Riojas were maybe more elegant, a touch more volatile, in a good sense, and a little more accessible in the best examples. Ethereal versus powerful, poetry versus prose, whimsical versus cerebral… we have heard the argument before. Is Vega versus Rioja just a variant on Bordeaux against Burgundy? It's always fun to speculate… and the conclusion ultimately is that there should be no conclusions. What is certain, however, is that if one wishes to sample some of the most extraordinary mature red wines in the world, one should make a point of prioritizing Único from Bodegas Vega-Sicilia.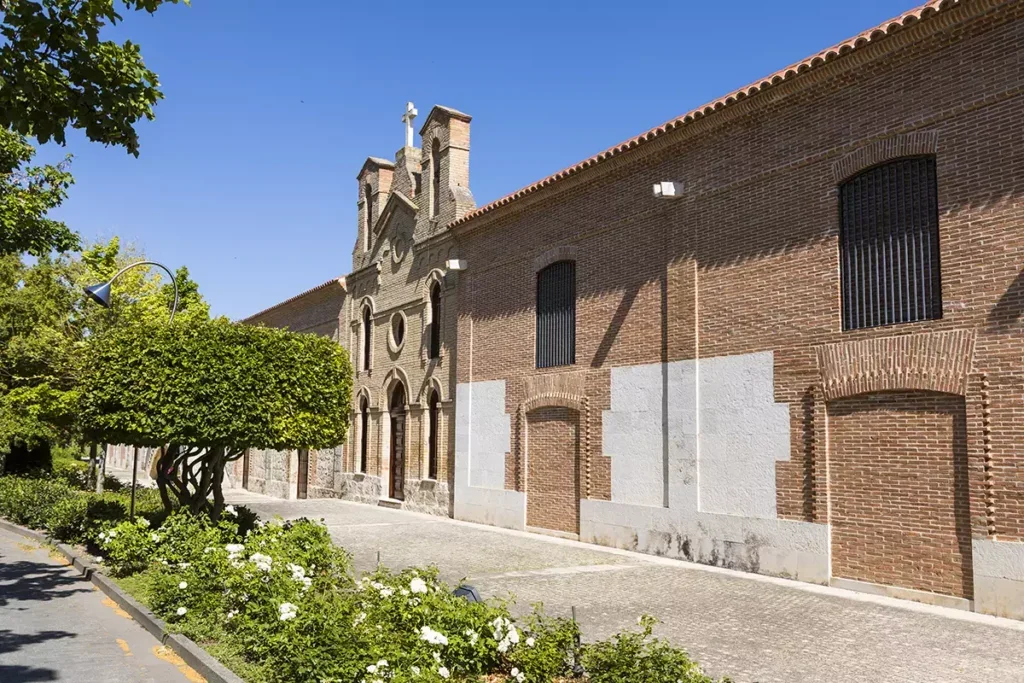 Tasting Vega-Sicilia Único
In the Morning: Even-year vintages of Vega-Siciia Único
2014 (94% Tinto Fino, 6% Cabernet Sauvignon; 14% ABV)
A bright ruby color; a modest nose of raspberry and pencil shavings; warm mulberry fruit, fine, silky tannins, meaty grip; a touch of charcoal. Pavonine finish, almost Burgundian. New winemaker Gonzalo Iturriaga stamps his identity. A most agreeable debut; the wine starts its journey as we start ours. We are going to get on very well together. | 93–95
2012 (95% Tinto Fino, 5% Cabernet Sauvignon; 14.5% ABV)
The growing season was marked by a lack of spring frosts, an exceptionally dry summer, and a little rain in September. The wine is a deep episcopal purple, with aromas of violets, raspberry, iris, and smoke; a forward style, approachable, a touch foursquare in the middle. Needs time to express itself. | 92–94
2010 (94% Tinto Fino, 6% Cabernet Sauvignon; 14.5% ABV)
Dense at the core; onyx, with just a touch of fade at the rim. Herbal, uncompromising, powerful, nuanced. The tannins are more strident than in the two younger wines in the morning flight. The more traditional voice of Único, maybe? This is a robust wine, long and with assertive acidity, ensuring a dense complexity and an evocative, powerful finish. Hugely impressive weight of fruit. A blockbuster style, with the faintest hint of syrup on the back—the folly of youth, yet underwriting development. | 96–98
2008 (97% Tinto Fino, 3% Cabernet Sauvignon; 14.5% ABV)
Described as an "Atlantic" vintage (a phrase that sometimes exudes a whiff of euphemism), 2008 was a late season, and the harvest, which started on October 10, was touch and go, frost risk a danger. For all that, this is a muscular Único, firm on the nose, with hints of smoke and balsam evidenced. The palate is matted, linear, less concentrated than some, and a little pinched at the end; poised. A "lesser" Único, if one may presume… | 91–92
2006 (96% Tinto Fino, 4% Cabernet Sauvignon; 14% ABV)
Showers towards the end of an otherwise warm season disrupted the harvest a little after an early September start. An attractive, meaty nose; savory, hints of woodsmoke and plum duff, iris and eucalypt; thereafter, the damson fruit is open and gregarious. This opens up magnificently, with a crescendo of flavor; gently, teasingly lifted, too. A very complete, harmonious wine, its potential recognized by the fact that it was aged for two years longer than some and bottled in June 2012. In a couple of years, my score may well appear lacking in generosity. | 93–94
2004 (87% Tinto Fino, 13% Cabernet Sauvignon; 14% ABV)
The 2004 is marked by a marginally higher proportion of Cabernet Sauvignon than usual, its architecture suitably robust as a result. The wine is still deep ruby red, with the merest hints of terra-cotta; the nose, however, is surprisingly playful, recalling fruit preserves—blueberry and raspberry, in particular. Only on the palate does the power unfurl, with a beguiling tannic grip holding sway; a linear profile, elegant on the finish, finely tapered and long. Undergoing a fascinating metamorphosis from the primary to the secondary at the moment, and well worth revisiting. | 95–97
2002 (95% Tinto Fino, 5% Cabernet Sauvignon; 14% ABV)
Not the easiest of years, with frost and drought conspiring to complicate—although, admittedly, not at the same time! Brick red, a hint of russet, evolution in play, but only modestly. The palate is informed by notes of slate, tobacco, and peat, fruit in the shadows. The tannins are drying a little, but the persistent acidity holds up the edifice neatly, and there is an evocative, tapered finish. With time, distinct black-tea notes emerge. A touch of dilution, maybe. | 90–92
2000 (93% Tinto Fino, 7% Cabernet Sauvignon; 14% ABV)
In 2000 a significant green harvest meant low yields, which in turn lend a real intensity and gravitas to the wine. A strong, youthful color, bright ruby, then a lovely nose of ripe fruit—plums and cherry, in particular—careless of the years. The palate rejoins savory elements, gum cistus, violet, and a touch of peat. A rich, voluptuous mouthfeel, almost syrupy, figs for sure, and a broad, generous finish. Iodine and black tea, fir, and an indubitably complex fruit spectrum—red, blue, and black—with spice on the back. Intensely satisfying, rich, warming—the essential Único. | 95
1998 (92% Tinto Fino, 8% Cabernet Sauvignon; 13.5% ABV)
Cherry red, a little burned-brick fade at the rim, on the cusp of evolution. A powerful nose of wild strawberry, cherry, and figs; behind that, iodine and incense… fascinating. The palate is broad, very fruit-forward, fresh, with hints of balsam and chocolate, therefore very Ribera del Duero. The complexity and nuance ensure that it is also very Único. A generous personality, forthcoming and long, intense on the finish. | 95
1996 (90% Tinto Fino, 10% Cabernet Sauvignon; 13.5% ABV)
Brick red, a little fade; broad at its core, however. An intense, muscular nose, uncompromising; spruce, figs, and white pepper—a spicy garland. The palate is weighty, long, and tightly wound, balsamic and menthol complexity enshrouding the fruit. Granular tannins, a cathedral-like build; very impressive. I hope that there is not a move away from this traditional, darkly serious style of Único. Think of your favorite Ribera painting in the Prado. | 95
1994 (85% Tinto Fino, 15% Cabernet Sauvignon; 13.5% ABV)
Lovely color, still intense at the core, nearly three decades later. In 1994 there was a relatively early harvest, which started on September 28. Distinct nose of fennel, spice-infused cherry, figs, and summer flowers; thereafter, a reassuring pronounced acidity lends focus, the floral intrigue tempering the exoticism, courtesy of a fundamental and very appealing ripeness. The Cabernet voice is heard: a subtle rejoinder. There is a distinctive, eloquent afterglow here, and a dexterity on the finish that underwrites significant complexity and epicurean potential. | 96
1990 (80% Tinto Fino, 20% Cabernet Sauvignon; 13.5% ABV)
Orange hints: a Turner sunset, yet only a little watery at the rim. An evolved, slightly gamey nose, perhaps "in the sere and yellow." The palate is maturing but firm, the tannins evolving as a savory block rather than a silky cavalcade, slightly surprisingly. This is a rich and ripe wine, intense and bristling with potential, still on the incline of perfection. The pilgrimage has already been a long one, but certainly worth the effort. A very fine finish; the essence of Spain. | 93
1986 (75% Tinto Fino, 25% Cabernet Sauvignon; 13.5% ABV)
Perfect conditions through the entire season, a latish harvest (starting October 8), and a very significant slug of Cabernet Sauvignon. The wine is brick red: a terra-cotta warrior, a touch watery at the rim. A nose of mint, herbs, and ripe red and black fruits, hints of black tea and cocoa. The palate is just a little disjointed, maybe a touch flinty… minty, for sure, edgy, and atypical; I suspect those on the other side of the room, who seemed to love it dearly, had the marginally better magnum. Even so, very good indeed. | 94+
1982 (65% Tinto Fino, 20% Cabernet Sauvignon, 15% Malbec/Merlot; 13.5% ABV)
Blond tobacco, a hint of gunflint, floral, warm stones, sloes and blueberry, and a hit of charcuterie. The wine quickly acclimatizes with aeration, although hints of petrichor remain, and the palate is maybe a touch dusty at first blush. Beyond the blushes, all is harmonious and complex, which seems appropriate, given the encépagement. Earthy and long. | 92
1980 (60% Tinto Fino, 20% Cabernet Sauvignon, 10% Merlot, 10% Malbec/Albillo; 13.5% ABV)
White grapes in Único? Ah, the joys of field-blending and never, in the older vines, being sure of the makeup! The good old days. Quite a late harvest after a challenging season. Flowers, peat, woodsmoke, jambon cru… A robust, forthright wine, foursquare even, and temperamentally both lean and linear, its acidity a little intense, on the right side of volatility. A regal weight beneath it all, with vestigial red fruit and amazing length. | 93
1976 (60% Tinto Fino, 25% Cabernet Sauvignon, 13% Merlot, 2% Malbec/Albillo; 13.5% ABV)
A distinctive nose: chocolate, iodine, cacao, and brandy snaps. A residual sweetness and incredible longevity, its tannins velvety and lingering, plush yet austere at the same time, a web of beguiling contradiction. The child of a very warm year, yet nothing challenged or drying or austere in any way. Superb! | 96
1974 (70% Tinto Fino, 30% Cabernet Sauvignon/Merlot; 13.5% ABV)
Born of a late harvest, which started on October 10. The color holding well, opalescent and teasing; the nose follows suit, with peat, iodine, and flowers, then raspberry and quince to remind us of an impressive fruit quota. The palate is age-defying, rich, resplendent; dark chocolate, plum, and hints of vanillin; savory, too and complete, acidity and tannins mutually deferential. It is just a touch metallic on the finish, maybe; otherwise, spellbinding… | 94
1972 (60% Tinto Fino, 25% Cabernet Sauvignon, 15% Merlot/Malbec/Albillo; 13.5% ABV)
After an irregular and unusual summer, things calmed down for the harvest in 1972. Our first magnum is a little manure-like, with hints of TCA. The second magnum is rather syrupy, with a touch of caramel, woodsmoke, dried fruit, hints of ash, and a firm if slightly abrupt finish. Past its prime, one may surmise. | 89?
1970 (70% Tinto Fino, 20% Cabernet Sauvignon, 10% Merlot/Malbec; 13% ABV)
A dense color, ruby still, with hardly any obvious evolution. An amazing power persists through the ensemble, a robust yet charming edifice; built in a warm year yet not lacking for elegance and nuance. The Sagrada Familia… its work never finished! Smoke and coffee notes, then mint, myrtle, and raspberry compote goad an amazing persistence, with a wonderful sweet/savory interplay on the finish. An outstanding wine of great pedigree. | 98
1968(70% Tinto Fino, 20% Cabernet Sauvignon, 10% Merlot/Malbec/Albillo
13.5% ABV)
The first magnum is corked, but Vega manages to track down a bottle from a Catalan collector about 60 miles (100km) away… Impressive. The second essai is far more successful and captures the essence of what was a hot year in Castilla y León, but there is very little to go round! A forward and attractive sweetness, with a little volatility; the lower, bass notes are harder to discern… Lots of presence, albeit a little lacking in vigor. | 91
1962 (70% Tinto Fino, 20% Cabernet Sauvignon; 10% Merlot; 13.5% ABV)
A surprisingly rich color, hints of terra-cotta, but holding its own. The nose is expressive: hay, incense, jambon, and flowers… a nostalgic, almost bucolic, grandeur. The palate is both refined and delicate, but it has incredible length and resolute acidity. Sixty years have not dulled the essential message, which is life-affirming. | 97
1960 (70% Tinto Fino, 20% Cabernet Sauvignon, 10% Merlot/Malbec/Albillo;
13.5% ABV)
An evolved brick color. A nose of meadows at harvest time; flowers and peat. The palate is a little stretched, a tad clunky, showing its age… which is allowed, but the acidity is well balanced, and we all enjoy the long, elegant finish. In short, the wine is showing well; it is long and powerful, its soft kiss of sweetness, almost unexpected, undeniably restorative. | 94
In the Afternoon: Odd-year vintages of Vega-Siciia Único
2013 (97% Tinto Fino, 3% Cabernet Sauvignon; 14% ABV)
A deep near opaque color, then an intense perfume: spice, eucalyptus, and cherry oak. A tight, oaky, powerful beast, bristling with latent power, the impressive acidity and firm tannins properly conjugated. A complicated vintage, well handled. Bottled in 2019, not yet released. | 92–94
2011 (95% Tinto Fino, 5% Cabernet Sauvignon; 14% ABV)
From a warm, generous year, and the wine repays the compliment. Very complete and rounded, yet balletic in its elegance and thrilling in its composure. A little abrupt currently, the pangs of very early adolescence. One to watch. | 93–95
2009 (94% Tinto Fino, 6% Cabernet Sauvignon; 14% ABV)
A robust Único, as one might expect from a warm and generous vintage. Tar, roses, black fruit, and savory notes on the palate, with a nice operatic sweetness on the back (and, to be fair, the front, too). Composed and complete, dry pepper and spice on the finish. My note then reads "a touch overfamiliar," which is perplexing. I think I meant that the wine is forward and sensuous—or maybe I don't… | 94–96
2007 (95% Tinto Fino, 5% Cabernet Sauvignon; 14% ABV)
A rounder, richer, slightly oxidative style, but with firm acidity and an elegant fruit character. Sloes and blueberry to the fore. Not the easiest of years, with frost making an unwelcome appearance on September 24. Cigar box, wild strawberries, and a touch of balsam; maybe a little tight on the finish still. | 92–94
2005 (94% Tinto Fino, 6% Cabernet Sauvignon; 14% ABV)
A hot year and an early harvest, starting on September 21. This needed more bottle age so was released a little later than usual. A broad, expansive, quite indulgent style, notably tannic and with high acidity. All in all, a very serious, "classic" style, its tannins very precise and firm; regal if austere. A refreshing, powerful finish. Some in the room found it a little de trop, such is its liminal intensity. Let's be patient. | 94–96
2003 (92% Tinto Fino, 8% Cabernet Sauvignon; 14% ABV)
A warm summer, as with the rest of Europe, but at Vega it was actually cooler than normal at harvest time. Slightly unsettling. The wine, accordingly, is both heady and slightly diffuse; balsamic and peppery, with hints of white tobacco and iodine, a pleasing purity of dark fruit deftly woven in. | 93–95
1999 (90% Tinto Fino, 10% Cabernet Sauvignon; 14% ABV)
1999 had a particularly hot summer, but the harvest was delayed by rain. The fruit is dark and plush, maybe a little reticent at first. With time, it is hard not to be seduced by the rich, supple, silky texture and very impressive supporting acidity, careless of the summer heat. There is nice poise and definition on the finish here, as the secondary phase starts to take hold. Discreet, long, and elegant. The counterpoint of sweet and crisp inclinations will find a pleasing compromise over the short to medium term, of that I am sure. | 94
1995 (85% Tinto Fino, 15% Cabernet Sauvignon; 14% ABV)
Full, deep color, narrow magenta rim, then a nose of plum, soy, and black cherry, with hints of menthol and iris in support. The tannins still bristle with an austere rigor. Puritan virtues, persistent and expressive, but I wonder if the fruit is up to the challenge. I expected a little more from the attack. Hard to say at the moment; the next two or three years will make things clearer. | 95+
1991 (85% Tinto Fino, 15% Cabernet Sauvignon; 14% ABV)
Despite a rainy season and an early harvest, the 1991 is now showing very nicely indeed. There is a depth of color, with hints of mahogany, and an attractive late-season floral aromatic. Black pepper and balsamic notes ride in tandem with the dark fruit. The wine is big-boned, generous, and energetic, made in a full-on and forgiving style, with impressive acidity and length. | 97
1989 (80% Tinto Fino, 20% Cabernet Sauvignon; 13.5% ABV)
1989 saw an early but dry harvest after a rainy growing season. The wine is of modest cherry-brick hue and has an attractive nose of plum, dried fruit, dark chocolate, and cacao, with an impressive juxtaposition of herb, incense, and dried fruit at its core. A generous and forthcoming example, with a choral, almost Burgundian lift to the finish. There is a spicy twist at the end that is very appealing, too. Just slowing down a little. | 95
1987 (80% Tinto Fino, 15% Cabernet Sauvignon, 5% Merlot/Malbec; 14% ABV)
This was a rainy, slightly problematic year. The wine is a little flat and a touch oxidized, tiring at the end. Miss Havisham is reflective. | 88
1985 (70% Tinto Fino, 20% Cabernet Sauvignon, 10% Merlot/Malbec; 13.5% ABV)
A rainy season, dry at the harvest. The wine is slightly Bretty, its acidity lending tension, its profile fundamentally leathery and leafy. This is well into an intriguing tertiary phase after, in all probability, many years at the top. | 94
1983 (65% Tinto Fino, 25% Cabernet Sauvignon, 10% Merlot/Malbec; 13% ABV)
Despite cold weather through the season, the 1983 is still holding court with great vigor. There is a lovely cross-textural harmony, the vestigial fruit far from fatigued and the savory undercurrents energetic and powerful. An exciting, sweet fruit persistence dominates, and the finish fascinates, spirited in both senses, yet with an almost chalky grip. Intriguing. | 95
1981 (65% Tinto Fino, 20% Cabernet Sauvignon, 15% Merlot/Malbec; 13.5% ABV)
1981 enjoyed a hot summer, but a late harvest was brought in under troubled skies. The wine has a deep core of color, dark fruit, and a lovely, spicy finish. Structurally, it is broad and big-boned but very elegant at the same time—quite a feat after all these years. Very appealing, very Único. Very bravo! | 98
1979 (60% Tinto Fino, 20% Cabernet Sauvignon, 20% Merlot/Malbec/Albillo; 13.5% ABV)
A dusty brick color. Evolved gamey notes, with gunpowder, forest floor, and autumnal leaves to the fore. There is a nice tannic integration, the tannins resolved but far from dissolute, and there's even an (unusual but not unwelcome) hint of salinity on the finish. An archetype of Único. | 97
1975 (70% Tinto Fino, 15% Cabernet Sauvignon, 10% Merlot, 5% Malbec/Albillo; 13.5% ABV)
April frosts and a latish harvest (started in the second week of October) bookend the season that was 1975. Nearly half a century later, the wine is still powerful, muscular even, the tannins a touch drying but the fruit profile strong and eloquent. | 95+
1973 (60% Tinto Fino, 25% Cabernet Sauvignon, 15% Merlot/Malbec/Albillo; 13.5% ABV)
A "normal" harvest after an irregular summer. The wine is mature, balanced, Giacometti-fragile, and just a little "lean and slippered"—but they fit well (the slippers, that is). So, an Único more in its sixth age than its seventh. | 94
1965 (75% Tinto Fino, 20% Cabernet Sauvignon, 5% Merlot/Albillo)
The structure is shaking a little here, with the high acidity starting to take over. But one cannot fail to respect such poised fragility and to admire the ancient of days. | 93