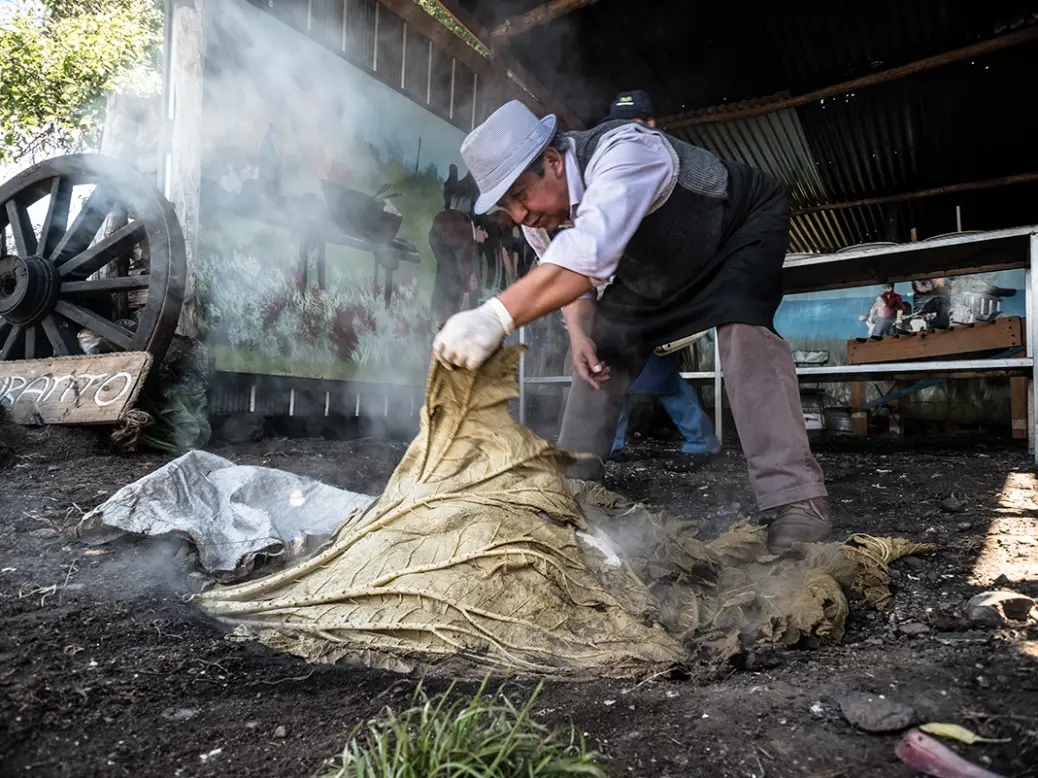 If you know your Mapudungun, you will know that the word curanto is a combination of cura, "stone", and antu, "sun" or "heat", suggesting stones heated by the sun. In a traditional Curanto en hoyo ("in a hole") the stones are heated by wood fire in a hole dug in the ground (usually around half a meter deep).
Once the stones are hot enough, several types of seafood, meat, sausage, potatoes, and potato preparations are layered one by one on the stones in the pit. Large nalca leaves (also known as Chilean wild rhubarb) are used to cover the ingredients and then, finally, a layer of turf, grass side down. Sealed like this, it is left to cook for several hours in the heat and steam produced.
Curanto is not a dish to prepare in small quantities and is usually cooked in a festive atmosphere with family and friends, sometimes with music and storytelling around a campfire. Today it's popular across southern Chile, but its origins are on Chilhoé Island. And it originated a very long time ago.
According to Chiloé: The Ethnobiology of an Island Culture, edited by Anton Daughters and Ana Pitchon (2018), "Archeological excavations on Chilhoé have uncovered evidence of curantos dating back to the first occupants of South America. One site … shows stones in a pit with shellfish remains dating to 11,500 B.P. [before present, where present is set as AD 1950]… [Another] shows a carefully arranged curanto pit dating to 5000 and 6100 BP, while a third dates to 1830 BP… Spanish explorers observed Chonos cooking shellfish in this manner in the 1600s and 1700s… By the 1800s, the simple practice of cooking shellfish in a rock-lined pit had transformed into a festive gathering, an occasion for strengthening social ties through shared food and shared labour." And so it continues, if the YouTube videos are to be believed, which in this case I think they can be.
At some point in its long history, curanto en hoyo and its modern-day variant, curanto en olla or pulmay cooked in an earthenware pot, evolved from being just a seafood dish. But seafood remains at its heart. The types can vary, as can the meats, but three are considered essential in Chile: almejas (clams), cholgas (a type of ribbed mussel), and picorocos (giant barnacles). Overseas many of us have to be flexible.
The meat elements are usually chicken, smoked pork rib, and sausage, although in Patagonia mutton or lamb is often used. In addition to potatoes, there are two potato preparations in an authentic curanto: chapalele (potato bread) and milcao (potato pancakes made with cooked mashed potato and raw grated potato).
In curanto en olla, garlic (whole bulbs halved horizontally), onion, green or red bell pepper, merken (smoked chilli spice blend), cilantro (coriander leaf), and some white wine are often included and large cabbage leaves frequently replace the nalca leaves. I have also seen fig leaves suggested, which I haven't tried, but I'm tempted, knowing how delicious fish and meat wrapped and cooked in fig leaves can be.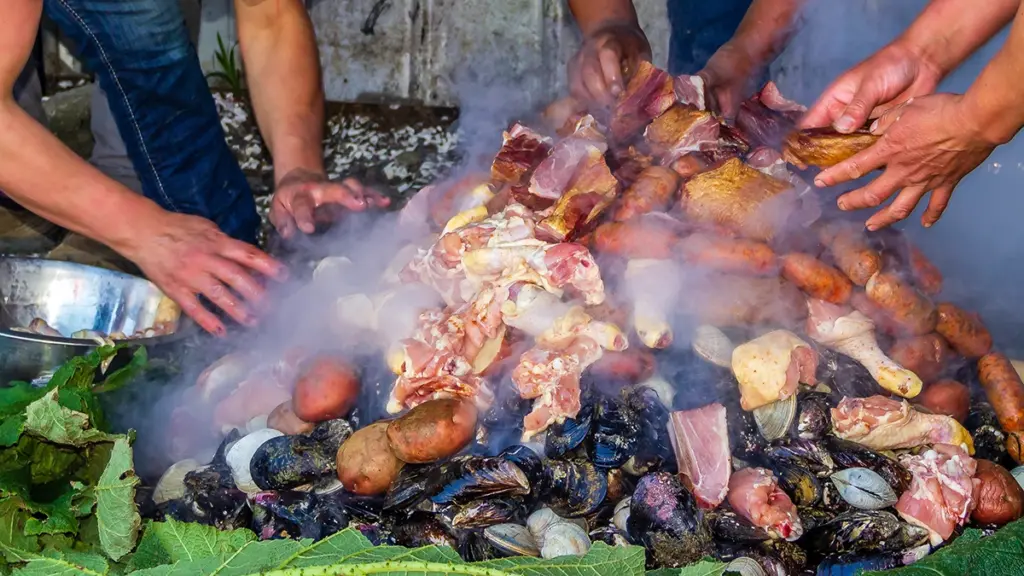 The best wines to pair with curanto
It takes me on to wines to drink with curanto. If using fig leaves and a little more bell pepper than I would otherwise, I would be tempted to try a Chilean Carmenère (one that isn't too oaky, ripe, or herbal), but Carmenère wouldn't be my go-to wine. 
There is, though, a case for red wine with this dish of sealed-in, contrasting flavors and textures ranging from sweet, salty molluscs to the umami richness of smoked pork. I favor reds that are low in tannin, light on oak, and that mix mineral, lightly spicy flavors with fragrant, sappy red fruit.
One of Spain's now so fashionable old-vine mountain Garnachas wouldn't overwhelm the seafood and would both complement and cut through the smoked pork and sausage. Or, instead of a Spanish Garnacha, a rare Argentine one: Estancia Los Cardones Tigerstone Garnacha 2021 from soaring 1,700m vineyards, Salta's only Garnacha. Or a South African one: Van Niekerk Vintners Rebellie Grenache 2020 from Bot River. (Both were naturally fermented and aged in used oak, nine and ten months respectively.)
Back to the northern hemisphere and Iberia for a Mencía such as Raúl Pérez Ultreia Saint Jacques Bierzo 2020, which is a Mencía-based old-vine field blend, or over the border for Carvalho Martins Pacto Palhete 2022, a fragrant, light red that comes from schistous, granitic soils high up in Mêda, Douro Superior and is intended to be drunk cold. 
Other red wines to consider, in a far from comprehensive list, include Itata País and Cinsault (especially Pedro Parra yFamilia), Sancerre Rouge, old-vine Beaujolais, Etna Rosso, and Apostolos Thymiopoulos' young-vine, high-altitude Naoussa Xinomavro.
There is also a strong case for drinking white or rosé—wines that have structure, breadth and texture, and clear but well-integrated acidity. Top Soave, Grüner Veltliner, and Chablis Premier Cru can carry it off, as can other refined Chardonnays. To mention just one from each hemisphere: Pike & Joyce Sirocco Chardonnay 2021 from Adelaide Hills and Domaine Laurent Cognard Pouilly-Vinzelles Les Quarts 2019. 
My final two suggestions are a new, skin-contact Trebbiano from a surprising source, Castello di Brolio Sanbarnaba 2020 (more about this fascinating departure in a forthcoming issue of The World of Fine Wine), and a textural, food-friendly, coastal Provence rosé, Château Galoupet 2022, which comes from an area known as La Provence Cristalline and is partly barrel aged, including some bâtonnage.