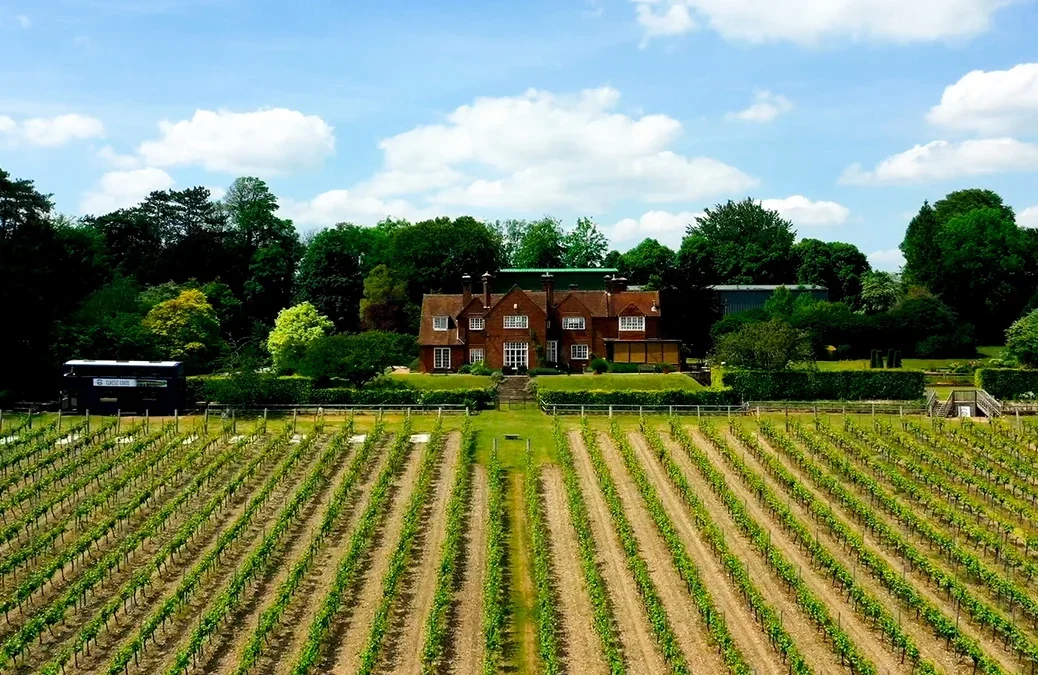 Margaret Rand travels to Hampshire to meet Ian Kellett, the former yoghurt-factory manager and investment banker who has turned Hambledon Vineyard, England's oldest commercial vineyard, into a standout sparkling-wine producer.
"All of this is leading me to think quite bold thoughts," says Ian Kellett of Hambledon Vineyard. All of this is data; Kellett was an investment banker, so data is his thing. He also read biochemistry at university, so the science of winemaking is also his thing, as is poring over geological maps and cross-referencing them with weather. "I can't think why everybody doesn't do that," he says. And he adds later, "Nobody else is doing all this: all chalk, this close to the coast, all estate, and this level of expertise." (He's referring to consultant winemaker Hervé Jestin: "Why would you not go to the best for advice?" he says.) "Weather maps and geological maps are all public: Why are [people] not using them?"
What all this data tells him is that his part of Hampshire, in the south of England, is something like 1.8°F (1°C) cooler in July and August than Champagne, if you look at the period from 1980 to 2010. That means 60 growing degree-days fewer. But in September, it's about 2.7°F (1.5°C) warmer at Hambledon than in Champagne, so about 20 of those degree days are clawed back. "Sugar in Champagne [at picking] is up between 15 and 20 percent over 30 years," he says. Now it's acidity that is the focus in Champagne; and it's the focus at Hambledon, too. They pick on acid, not on sugar. "Doing the malo is a buffer for them [in Champagne], but total acidity is falling. We're better with the malo. We do full malo on everything. Hervé says that in the 1980s they were picking at 8.5–9.5% potential alcohol, and that's sort of where we are here. We aim for north of 9%, and 10% is perfect."
But that's enough data for the moment. Where is "here," and why?
Chalky, coastal, venerable
Hambledon is, of course, England's oldest commercial vineyard; it was established in 1952 by Major-General Sir Guy Salisbury-Jones. (The village was also the birthplace of cricket, a bit before that. It's where the third stump was put in the wicket, I'm told.) But the estate changed hands, and by the mid-1990s the vineyard had shrunk to 4 acres (1.6ha). Kellett bought it in 1999, took himself off to Plumpton for an enology course, and in 2005 planted 10 acres (4ha) of Chardonnay, Pinot Noir, and Meunier in 27 different combinations of clone and rootstock to see what worked best. "What terrifies everyone in a winemaking class is the chemistry," he says, "but it was fairly headline level." He'd also learned about wine, mostly Bordeaux, in the City of London, via a lot of tasting, and he reads a lot of wine-science books. In 2010 and 2011, he set up a company in order to raise money from other shareholders—and here we are.
A new winery and visitor center is being cut into the chalk hillside. (It was going to be fairly simple; now it's going to be very beautiful, with solid oak pillars and beams, which cost six times the MDF substitute that was first planned.) A restaurant is taking shape, too. (That was also going to be quite simple; now there is going to be a kitchen brigade of six or eight.) And Kellett wants to have the best eno-tourism facility in England and to make the best wine in England. Those bold thoughts also include the idea that if England has the same chalk and a cooler climate, one day it should be able to make better wine than Champagne. (Some of us would say that sometimes it already is.)
He also points out that there's a great deal of chalk under the Atlantic, "and who knows what the future might bring?" But there might be a few more geological shifts before that point.
Chalk, then. Hambledon's chalk is Newhaven Chalk formation; the French categories are different from the English ones, but Newhaven chalk was formed at the intersection of the Santonian and Campanian ages of the Upper Cretaceous. French Senonian chalk includes all three.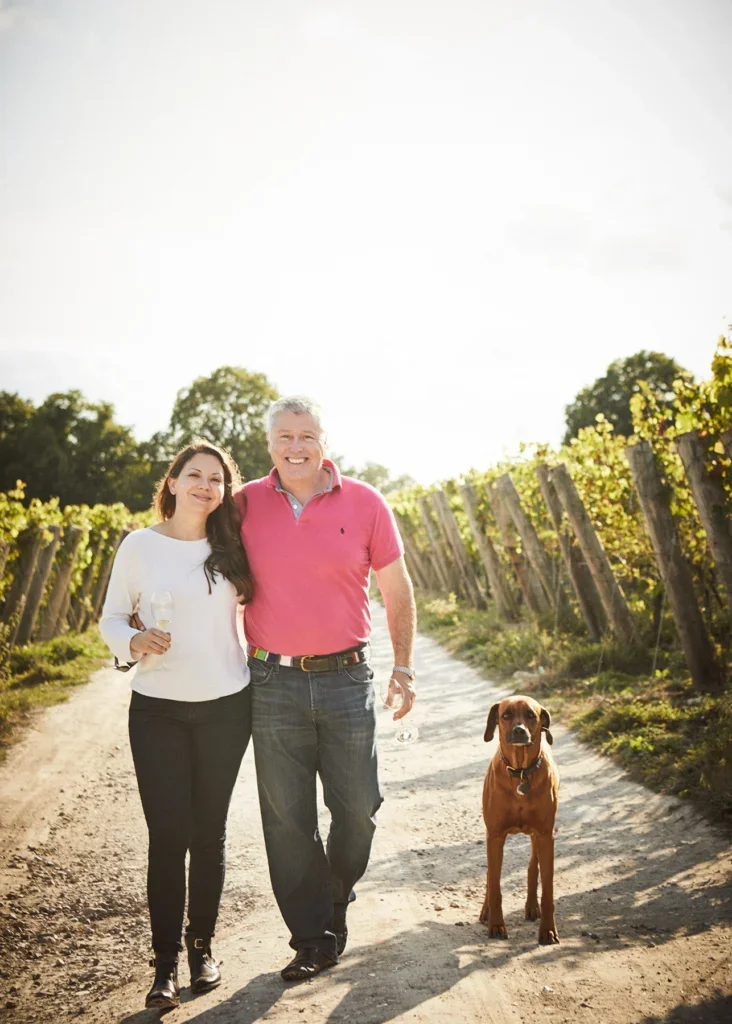 But it's not just the chalk that is the point, says Kellett. "You want chalk close to the coast, because it gets cooler farther inland… The Isle of Wight takes all the rain from here and protects us from rain. But the architecture is the purity of the chalk; for great sparkling wine in 50 years' time, you want chalk on chalk." Hambledon is about 5 miles (8km) from the sea, and Kellett's ideal exposure is east turning south. "In early morning in the summer, the sun is bright; in early evening, it's a yellow light, and the wavelength is longer and the frequency declining, so you get less light energy in the evening. Fewer photons of light energy means less photosynthesis in the evening.
"We're trying to increase our growing degree-days and ripening potential […]. If you want to do that, you plant toward the east, not the west […]. The other benefit of being east-facing is that we have our back to the prevailing southwest winds, so it's a double benefit in temperature terms."
There are temperature sensors all over the vineyard. The difference in temperature between the bottom of the hill and the top—about 1,250ft (380m)—can be 2.7–3.6°F (1.5–2°C) on a hot day, and on an early spring morning it can be 7.2–8.1°F (4–4.5°C).
For exactly the same reason—temperature—he is against cover crops in English vineyards. "The drive to cover crops is from warmer climates. Cover crops cool down a vineyard. If you stand on a beach on a hot day, your feet are hot." You then head for grass to walk on, because it's cooler. "It can make a difference of between 1% and 1.5% [potential alcohol] if you have no cover crops."
The vineyards, from the initial 10 acres (4ha) of trials, has expanded to 200 acres (80ha). "It will get to 500 acres [200ha] or so over the next decade, then I'll draw stumps for my lifetime." The results of the trials over five years, with 30 different chemical analyses on the juice, informed the expansion, with about half the vine/rootstock combinations being used. Then, with Jestin on board, "I sat down with a spreadsheet doing the City thing and asking, What is the right size for this? Big, was the answer. Because they hadn't done that in the past, they had had insufficient scale and had closed down. Before, they'd always lost money, and they were always at the behest of the winery owner to keep going. Fifty years they'd been trying. It needed to be a whole different approach. Put simply, it's working with the climate, not against it."
Rathfinny: In the Drivers' seat
Deep knowledge, long-term investment
And if you're on the South Downs, one of the most beautiful places on earth, it makes sense to work with that, too, and get visitors in. Hence the new winery and visitor center; hence the new restaurant. "We'd always intended to feed people," says Kellett, "but with plates of charcuterie and cheese, and with no chef. Keep it easy. But it's a very different place now."
The chef, Nick Edgar, was executive chef at Le Manoir aux Quat'Saisons, the two-Michelin-star restaurant in Oxfordshire created by celebrated chef Raymond Blanc OBE, and he cooks like a dream. When I visited Hambledon, as well as cooking like a dream, he happened to mention several times to Kellett that his old boss had been on the telephone trying to get him back, which brought to mind the Saki line, "The cook was a good cook, as cooks go; and as cooks go, [he] went." But let's hope not.
The food will be light, using the produce of a kitchen garden, less complex than the Manoir cooking, and serving, Kellett hopes, a lot of people. He's expecting tens of thousands of visitors each year. "We're coming from the point of view of never wanting a chef to having to embrace it all. We could have contracted it out, but the whole point is selling the wine."
Total investment so far? Kellett adds it up in his head. "If you include buying the place, it's probably just over £20 million; between 20 million and 25 million. A lot more than I thought it would be." He had to refinance in a hurry a little while ago, after an investor pulled out, which was a bit hairy. His earlier divorce sounds as if it was expensive, too. There have been times, one might infer, when money has been short.
He was, as I've mentioned, in investment banking. "I left because—here are so many levels of answers. I'd worked in the food industry first and qualified as an accountant; I'd been general manager of a yogurt factory. I was 28 or 29 when I went into the City. I studied food and drink companies. It was a big thing then—raw material companies and what they cost, and from there to the selling price. So, I was really into gross margins, all the details that public companies never tell you. What most City analysts do is take a press release, look at the sales growth, talk to the CEO, and build a spreadsheet. But because I'd been in food and drink companies, it was easy to get to know things they didn't know. They'd never been near a food company. We were very much for the long term.
"Then hedge funds arrived. They think in weeks, whereas Nestlé, for example, thinks in decades. The more grip they had on the City, the less important I was. I might be right, but it would take eight years to see. The chattering classes ended up deciding the share price."
With his skills no longer so important, he decided to go back to making something, "instead of talking about other people making things. And a company I had designed, and a product I'd designed, is more gratifying than talking about Unilever's share price."
Nevertheless, "in any period less than a decade, or a few decades, it's much less financially rewarding doing this. I was getting seven figures, and this has cost me a fortune. But the value I'm creating for the family here is multiples greater."
Maintaining control is inevitably difficult once investors are involved. In 2010, he had about 40. Then he bought some out in 2018 and reckons there are about 20 now. Raising capital for the visitor center and the like has upped the number a bit. "We own our stake through a family trust, with a view to creating intergenerationality."
His children are 28, 25, and 20 from his first marriage; the second brood are infants. "My youngest daughter has a niece four months older than her."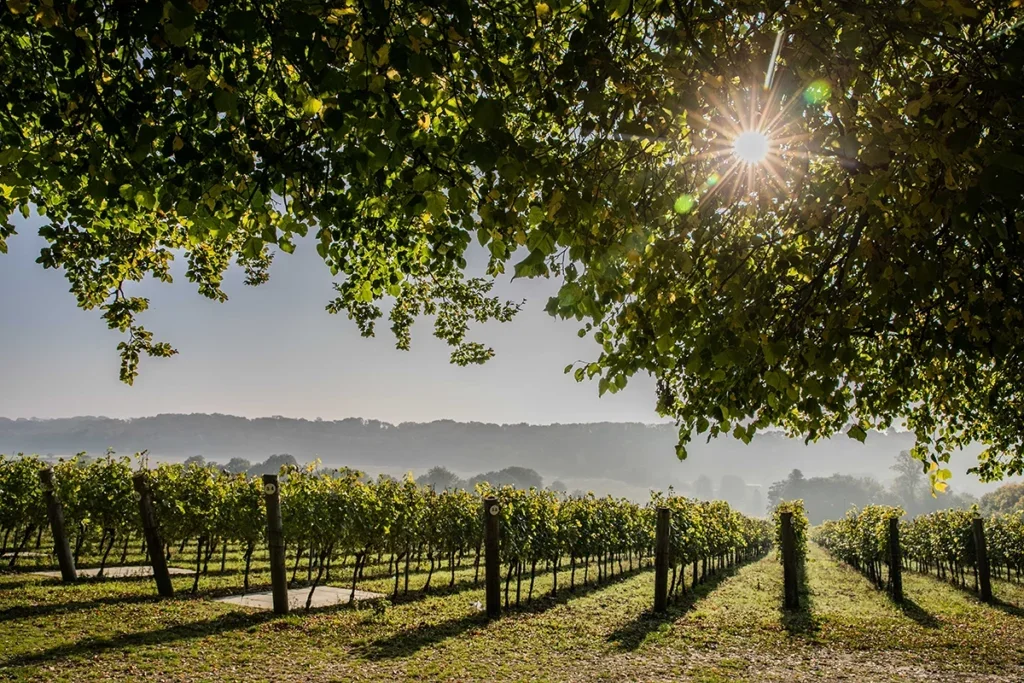 Beauty, rarity, reliability
Let's talk about the wines. One of Kellett's focuses (he has many, as you might have noticed) is how wine is treated in the winery. He won't use pumps except a very gentle peristaltic pump to get the wines to the blending tanks, because pumping means torsion, and torsion breaks the polymer chains and affects mouthfeel. Electricity has an affect on wine's chemical structure, too, so he's greatly reduced the impact of electricity on the juice. And he bought massively expensive Coquard PAI presses after going to Champagne to taste the juice from different ones. "The clarity of the vins clairs is the limiting factor in precision. If you have extraneous matter in the juice, the wine will be much less energetic. So, we press as gently as man knows how." And the settling system—by gravity to chilled tank, over 24 hours—"is the most advanced settling system the world knows. That's a bold statement to make, and I'm not at the point of shouting about it, because I don't want to be braggish."
Jestin is in charge of the winemaking. "He's humble, generous, fine. He's like a Franciscan or a Benedictine monk. Anyhow…"
Anyhow, indeed. There is a Première Cuvée and a Classic Cuvée. "We were the first of the top brands to get into Non-Vintage. We never did Vintage. We took the first two years and didn't bottle them, putting them all into reserves. It was painful financially, but Vintage Champagne is better not because of the aging but because you get a great year every three years or so." The spectacular 2018 will, however, be released as a Vintage—their first ever. "Blanc des blancs grown on chalk: a pièce de résistance." It will be released in magnums and Jéroboams.
The aim is to give Classic Cuvée three years on the lees after six months in tank, and they might get that up to four years' lees. The big expansion of the vineyard came in 2018, so with more wine coming on-stream, they might "stretch the cellar a bit." It's tense, finely focused through every layer of depth, very pure and taut, with a whisper of bitterness on the finish. It has 4.5g/l of dosage; the dosage trials have been thorough, with three versions of liqueur de dosage, and dosages of zero to 12g/l, so 36 samples of each. Classic Cuvée used to have 8g/l, but there's no drive to go lower. "We're trying not to let cellar palate lead us too far."
Première Cuvée, however, is just 1.8g/l. "I never thought I'd make a wine at that. People often like more. Should we go higher for Classic Cuvée? Blind tastings of English sparklings can suggest that more generosity is a good thing." Première Cuvée, with five or six years on the lees, is more vinous, tense, and toasty; crunchy, savory, salty; utterly pure and precise. It's a beauty.
There is also a Classic Cuvée Rosé, deep and compelling. "My wife and I never drink any pink wine except this—or [Bollinger] Grande Année for the birth of our first daughter. There are only so many alcoholic units you can consume, and it's a waste to drink still pink when you can drink red or white. Pink sparkling is less vibrant, less tense, less of everything, so we made a drier, crisper style." It's the only wine they make that he'd like to release earlier, he says: "I like it at 22 months." A saignée Zéro Dosage Rosé, intended to be made in the best years only, should also have been launched by the time you read this.
It's also the product of the team, just as much as of the place. "I want to create an entity," says Kellett. "There has to be a continual journey of the same team over decades. We all work together, we take the same days off […]. I'm trying to create a winery team over time that is consistent, reliable." Jestin is the only consultant, and Kellett did all the vineyard himself, choosing the plots and the rootstocks. He built the winery in conjunction with Jestin, in six weeks before the 2011 harvest, the first two vintages having been made elsewhere, and Kellett didn't want to launch from that. "Hervé came on day one, picked up a broom and started sweeping." There is also Felix Gabillet, winemaker, and Tobias Tullberg, operational winemaker, who was at La Gaffelière in Bordeaux and wanted to work in Champagne; he knew Jestin, and Jestin sent him to Kellett for a harvest. "He can work closely with Hervé here. Hervé teaches us what he knows." They do all the blending in French. "We all speak French, and we can get more out of Hervé if he thinks in his mother tongue.
"Assemblage is a year's education in a week. Hervé has a process he goes through, and I've thought about it a lot in case he gets hit by a truck." There'll be about 200 wines at the vins clairs tasting, "and he picks the ones for the first blend. From there, I understand the process. But how do you pick the first wines? I listen and watch."
Tullberg points out that making the cut at the press at the right moment is the crucial thing, and Jestin can explain why; but, says Kellett, "learning how to do that first pre-blend would take another ten years to learn." Though he reckons that "if the truck should hit, the saignée Zéro Dosage would be the easiest to make. He has a recipe of how much Chardonnay to red."
Yet to come, truck or no truck, is that 2018 Blanc des Blancs: "It will be the pinnacle. We'll make it every five or seven years." There'll be a Blanc de Meunier, and a Blanc des Blancs Non-Vintage Classic Cuvée, too, perhaps in 2023 and 2024 respectively. "We're filling out the range. The difference between Pinot Noir and Meunier is that some wines are concert pianists and a bit febrile, and some wines are rugby players."
In Champagne, Meunier tends to get the lower slopes and the deeper soils, not necessarily on the best chalk. "Here," says Kellett, "in a cooler climate, with 6 inches [15cm] of topsoil, we've put some Meunier in some of the best exposures. If you took Meunier and put it in the best terroir, what then?" But, he says, "I'm not going to be distracted from the pursuit of Chardonnay and blanc des blancs. And we'll do Vintage in great years only. We won't be pressured into doing it all the time, or every three years, like Champagne."
Eight chefs, a £25-million investment, and a young family—pressure? What pressure?