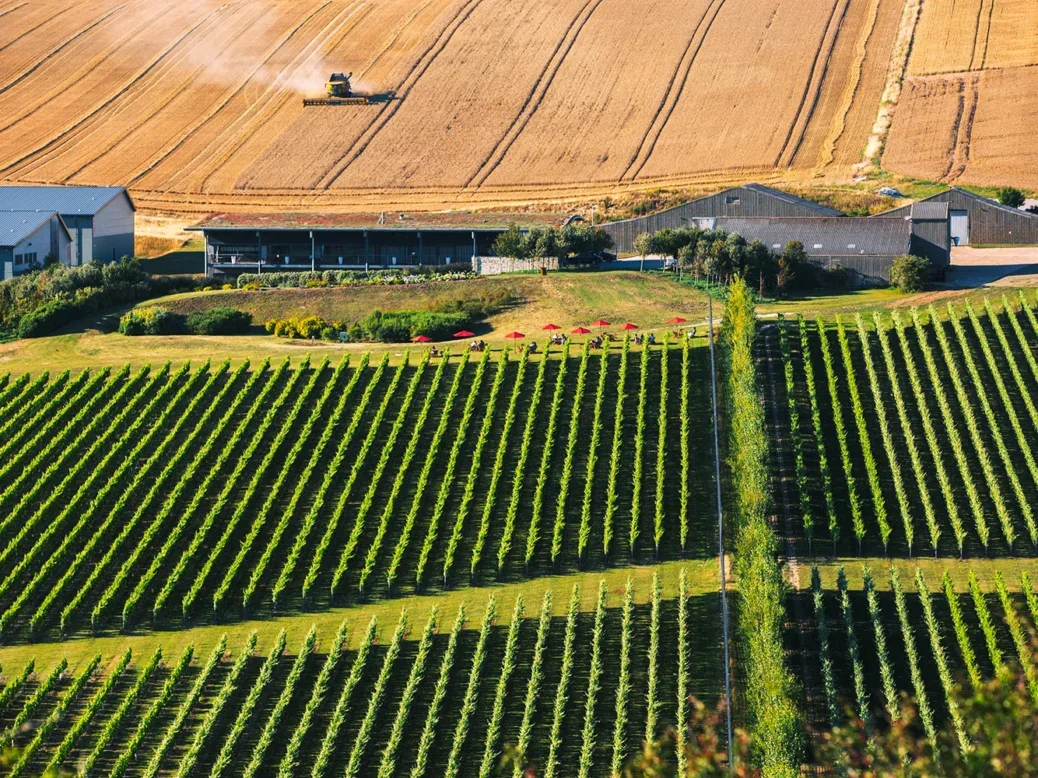 Mark and Sarah Driver left careers in the City of London to plant Rathfinny, one of the UK's largest vineyards on the South Downs in East Sussex. Just ten years on, the couple are already responsible for some of England's finest sparkling wine. Margaret Rand reports.
Mark Driver won't say how much he and his wife Sarah have invested in Rathfinny—all he says is that it's "a lot. And it's twice what I thought we would."
The amount of investment has always been part of the story, for onlookers. Back in 2012, he was quoted as saying he'd spent £10 million, and by now one could probably—what?—double it? Long before the wine was released, the estate was attracting attention for being, well, high-rolling. It was one of the first massive investments from scratch in English wine that we'd seen, it got a huge amount of publicity before ever releasing a wine, and a lot of people were a bit goggle-eyed. There were stories that the site was too windy, that it wasn't going to work, that they'd spent far too much money—and sometimes those stories did seem to be laced with a touch of the green-eyed. The first release was delayed for a year, which gave both the stories and the Drivers a bit more space. But when the wines appeared, the narrative changed. They were very good indeed. It might not have been the easiest of rides, but when is it ever? These were wines made with a sureness of touch. Rathfinny quickly took a place at the top of English wine.
And no, it's not done on a shoestring. Rathfinny is 250ha (600 acres), with 93ha (230 acres) planted now, with windbreaks, and windbreaks to protect the windbreak trees as they grow, plus other crops, grazing, and woodland. There is a very smart grass-roofed winery with three hydraulic Coquard presses—two of 8 tons and one of 4 tons—which give very good pressing fractions, says Mark; plenty of space for expansion; and a lot of engineering: The pillars holding it up are rather larger than they need be. It was built with the needs of 2030 in mind.
"It's the first winery I've worked in where everything flows properly," says winemaker Miguel Symington. There is a tourism operation with ten rooms, a restaurant that focuses on seasonal and local ingredients and a picnic offering, and there are 60,000 visitors a year. Mark is involved in Sussex Modern, which is designed to promote wine and cultural tourism across the county. Mark points out that currently "only 4 percent of people who land at Gatwick Airport go south. The rest go north to London." The idea is to lure them southward to the fleshpots of Sussex rather than the fleshpots of London. And Rathfinny is, I should add, an idyllic spot on the South Downs, from which you can see the sea at Cuckmere Haven, and where skylarks fill the air and there are hares in the vineyards.
Rathfinny: Healthily independent
It is all self-funded. Driver was a hedge-fund manager at Horseman Capital Management before he bought Rathfinny; before that he was a stockbroker, but still. No banks, no partners? No, he says. "It was a very successful business." And Sarah, before you ask, was also in the City, as a property solicitor. She read law at Bristol University and joined Herbert Smith, working first in London and then Hong Kong. Back in Britain, with part-time working almost impossible at top law firms, she worked as a law lecturer with the Open University and then as a commercial mediator, and she taught at the local adult education college while bringing up their four children.
Mark had always loved wine. You could say it is one of the duties of a hedge-fund manager to love wine, because the wine trade certainly needs those City boys. But those four children took over the Drivers' lives for a bit. Then, when the firm's senior partner John Horseman retired, Mark decided to leave the City, too. That was in 2009. He didn't want to retire so thought about buying land as an investment. But you have to do something with land, and for a bit he considered the salad business; it wasn't a question of Leave City, Make Wine. But when he was helping his daughter Millie research university courses, he saw that Plumpton College taught winemaking; he signed up for a two-year course and started looking for vineyard land.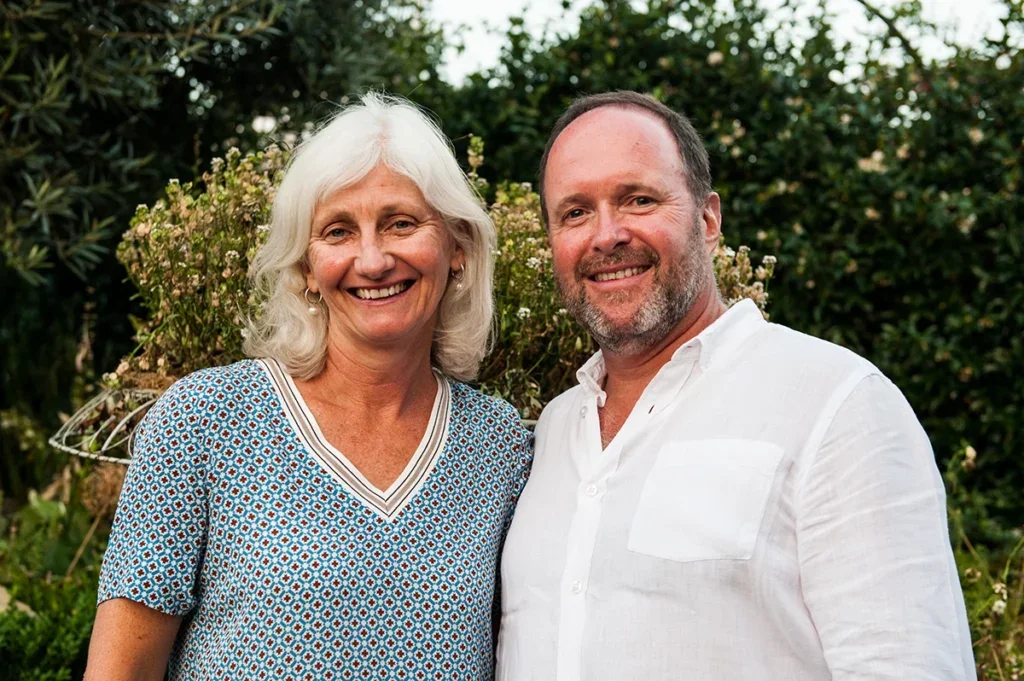 With hindsight, he can trace the wine narrative back a bit further—to a trip to New Zealand in the early 1990s, when he fell in love with the idea of opening a vineyard; and more recently, to an evening when he opened six bottles of Champagne and six bottles of English sparkling wine for ten friends, served them blind and scored them. The English wines beat the Champagnes hands down that evening. "They were fruitier; with less complexity, maybe, but a different style."
The search for land threw up a possible site in Hampshire, but it was frost-prone, and there was no space for buildings, and planning permission was going to be a problem. "I talked to the local planners, and they more or less laughed. I wanted to make the wine on-site, and there was no way they were going to allow that."
Then in 2010, Rathfinny came up. It already had two big grain barns and a grain drier, and it's easier to add to existing buildings than to start from nothing when dealing with planners. The estate also had various flint-walled barns and buildings, which formed the basis of the tourism side; the tourism idea took off while they were building the winery in 2013, having taken root on a trip to South Africa, when they realized that wine was about experiences. Not that even building the winery was straightforward. "I spoke to the planners, who said no." But the South Downs National Park was created in 2010, and the people there saw things differently. "They called in the planning application and said, Why do you need this? They were very supportive and understood that the National Park has to be living and breathing. So, they said yes."
The land is just 3 miles (5km) from the sea, on chalk, with sandy clay-loam topsoil that at the top of the slopes is about 12in (30cm) deep, though about 1 yard (1m) deep lower down. It is a windy spot—the wind pours over the hill that separates the vines from the sea and whips along the valley, drying out the fruit so that disease is not a problem—except in the very difficult summer of 2021, when downy mildew hit. Frost is not a problem either. Windbreaks were part of the original plan, but Mark says that the man who planted them said they wouldn't need that many, and then some more had to be added later. Windbreak trees—field maple, birch, poplar, Italian alder, hawthorn—take as long to mature as vines do, so in the meantime man-made windbreaks have to be alongside. "The idea of windbreaks is to slow the wind, not stop it," says Mark. "If you stop it, you get a vortex; you want to slow the wind by about half." A windbreak protects a distance ten times its height, so a 20ft (6m) windbreak will protect 200ft (60m) of vineyard.
To begin with, 150 acres (60ha) of vines went in, 50 acres (20ha) a year for three years. "Then we had a pause," says Mark. They were talking to Hatch Mansfield about distribution at that time and met Claude-Emmanuel Taittinger—Hatch Mansfield is the UK agent for Taittinger. "He said to go slowly, and it was good advice," says Mark. "The vineyard team was exhausted, too, after all that trellising and planting."
So, they took a three-year break before putting in more vines. Some were replanted; there was some Riesling, which wasn't working, some Pinot Blanc which was "a bit disappointing, a bit plain. It was difficult to add much to it. We'd thought of Pinot Blanc and Pinot Gris as part of the blend, but they dominated very quickly. There was some Auxerrois, and we changed that, too." Now it's seven different clones of Chardonnay, 12 of Pinot Noir, and three of Meunier. Four of the Pinot Noir clones are from Geisenheim, with open bunches, which give a different character, often with more acidity, from the French clones, which are a mixture of Burgundy and Champagne. The Burgundy clones tend to go into the Blanc de Noirs and Blanc de Blancs; the Champagne clones have bigger grapes and bigger yields, perhaps not surprisingly.
The Drivers took advice, of course. The list of people who have advised them or still do includes Duncan McNeil, several nurseries in Germany, Hans Schleifer who was at Denbies, David Cowderoy for winery plans, along with Gerard de Villiers in South Africa. (De Villiers has also been involved in new wineries for Nyetimber and Gusbourne in England.) But "a lot of consultants talk nonsense," says Mark.
"You have to do your own work in the end. There was one nursery in France; I knew they were talking nonsense, but they were adamant, all because they didn't have the rootstock I wanted but they had another one. There have been a lot of different learning experiences. There was a nurseryman in Germany who was very good, honest, and knew his stuff. And we worked with Cameron Roucher [the vineyard manager] on planting; he'd worked in a nursery in Australia and was well versed. I have a background as an analyst; it's how I started off. You go back to the data and question everything that people say and check it all, and you realize that people are economical with the truth on occasion."
Chardonnay tends to be planted higher up the slope, though some is lower down with the Pinot Noir as well; Meunier likes the more exposed areas, more east-facing—most of the vineyard is south-facing. There's enough clay for the Pinot Noir to do well; Mark likes Pinot Noir in sparkling wine anyway, and it gets ripe here. Symington (yes, he's one of those Symingtons) says, "We could even pick the Pinot a bit earlier on some blocks. Even in 2021, one of the outstanding blocks was Pinot Noir."
Cultivation is a mixture of organic and standard—they use some herbicide under the vines and are trying under-vine cultivation and under-vine planting. Sowing plants between alternate rows attracts more insects; "the vineyard crews hate it—they get bitten to blazes," says Mark. But erosion can be a problem when it rains, so they need something to hold the soil. He points out that "systemic chemicals can be more targeted now and can be better than applying a lot of copper," not to mention the soil compaction that can come from repeated tractor trips. There are 50 solar panels that supply about half the power they currently use, and they're applying for planning permission for enough to provide all the power they use at the moment, and 80 percent of what they will use in the long term. Rathfinny has just signed up to B Corp Sustainability, which measures a company's "entire social and environmental impact," according to its website.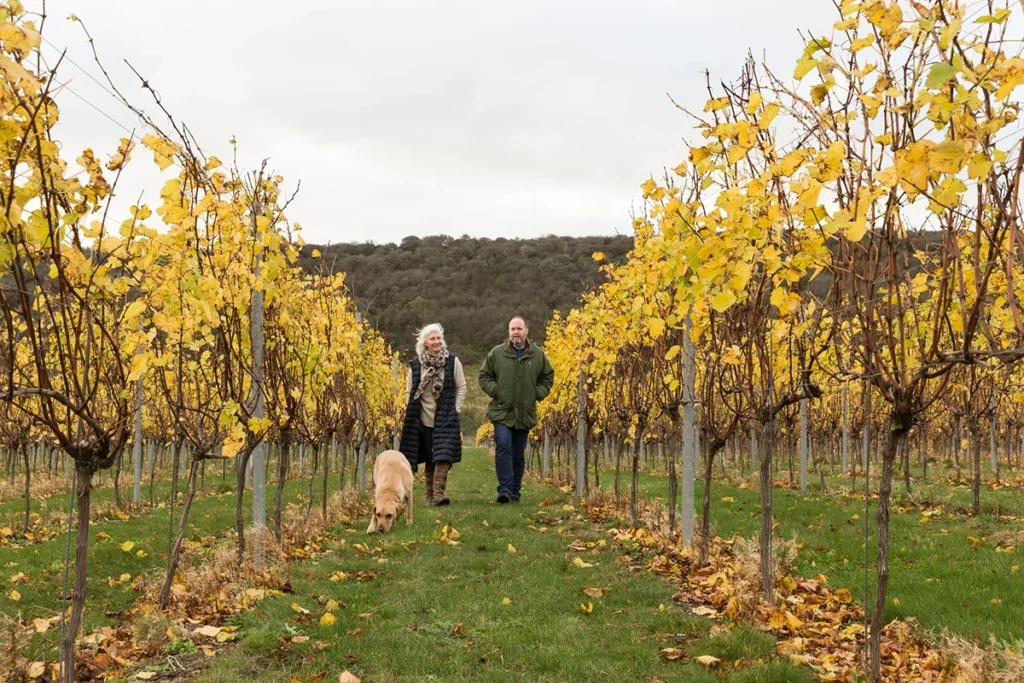 The right size and style
All this capacity for expansion assumes that Rathfinny will indeed expand. At the moment, it produces 300,000 bottles per year; by 2030 it will be at full production, which will be 700,000 bottles. What are the key sizes for a producer like this? "If you produce 30,000 bottles, you can sell at the cellar door," says Mark. "It's a stretch, but in a good year you can sell that at the cellar door and in local shops and restaurants. Above 30,000 bottles, you need distribution beyond the region. That's expensive to do because you need someone to sell, so you need twice that volume to justify the extra person.
"When we started, I felt I didn't want to be on the tractor and making wine and selling wine – the three legs of the stool. So, I worked backward, and in order to have a very good vineyard manager, winemaker, and salesman, I would need to make 300,000 bottles. Then it's quite commercial, though when you look globally it's not very large—we wouldn't even be in the top 100 producers in Champagne, for example."
Rathfinny currently has a team of 49 full-timers: 12 in the vineyards, five in the winery, plus management, and about 20 in tourism. At harvest, there are up to 250 pickers, and they're all local, living within 10 miles (16km). "We've built up over the years," says Mark. The first year, there were 30 pickers, then 80, then 120, and 250 in 2020. They pick in the fall and prune in the winter, and it's clearly a source of pride to him to have built a local team with the right skills.
But the wines, the wines. What is the Rathfinny style? Picking is at about 10.5% potential alcohol, and they pick when the acid begins to drop: "We look at acid levels more than at sugar," says Mark, and there is "very little" chaptalization. Everything is fermented in steel, then blended in March/April. The red wine for the rosé gets six to eight months in used oak. The bottles have a very slightly wider bottom than usual, which gives a slightly larger surface area for the lees to interact with the wine. It gets about three years on the lees, and dosage is less than 6g/l: The 2018 Blanc de Noirs is 3.5g/l; the 2017 Blanc de Blancs, 4.5g/l.
There's a lot of focus on aging before bottling, so it's not all about autolysis—"We take a wine and add the autolysis on top"—and there are pronounced fruit flavors. All the wines are made in steel, and all do the malolactic, so the acidity is not aggressive or austere, but it still has that lovely pointed delicacy you get from chalk. There is also an effortlessness about the wines—they are at ease with themselves. There is no sense of trying hard. All are Vintage, and there are no plans to go down the Non-Vintage route.
Mark says, "Mike Roberts [of Ridgeview] said to me, 'You're not going to make still wines, are you?' No, I said. No." But there are some still wines—including Pinot Gris, which has lovely spice, and an elegant rosé that is 91% Pinot Gris and 9% Pinot Noir, with a bit of used oak on it. The still wines, under the Cradle Valley label, are sold at the cellar door, and they make only about 12,000 bottles. "We had visitors and nothing for them to taste, so we made still, with a red in 2018," the warmest of recent years. "It's very difficult to make good red in England." There's also a gin, which uses up the pressings of the Pinot Blanc, and a vermouth and a brandy, all under the Seven Sisters label, the Seven Sisters being a famous stretch of the undulating chalk cliffs just over the horizon.
Inevitably, the style will evolve: "Keeping the style we have, and improving it" is how Symington puts it. Rathfinny is now distributed in Britain by Liberty Wines, which also handles Charles Heidsieck Champagne, and Mark likes the layers of texture in Charles Heidsieck.
And the story of the Rathfinny shield, by the way, is that it is the red shield of East Sussex, with the six martlets removed and replaced with six white ovals to represent grapes; white because of the chalk. Or perhaps they could be bundles of checks? Not that anybody uses checks anymore, but still.